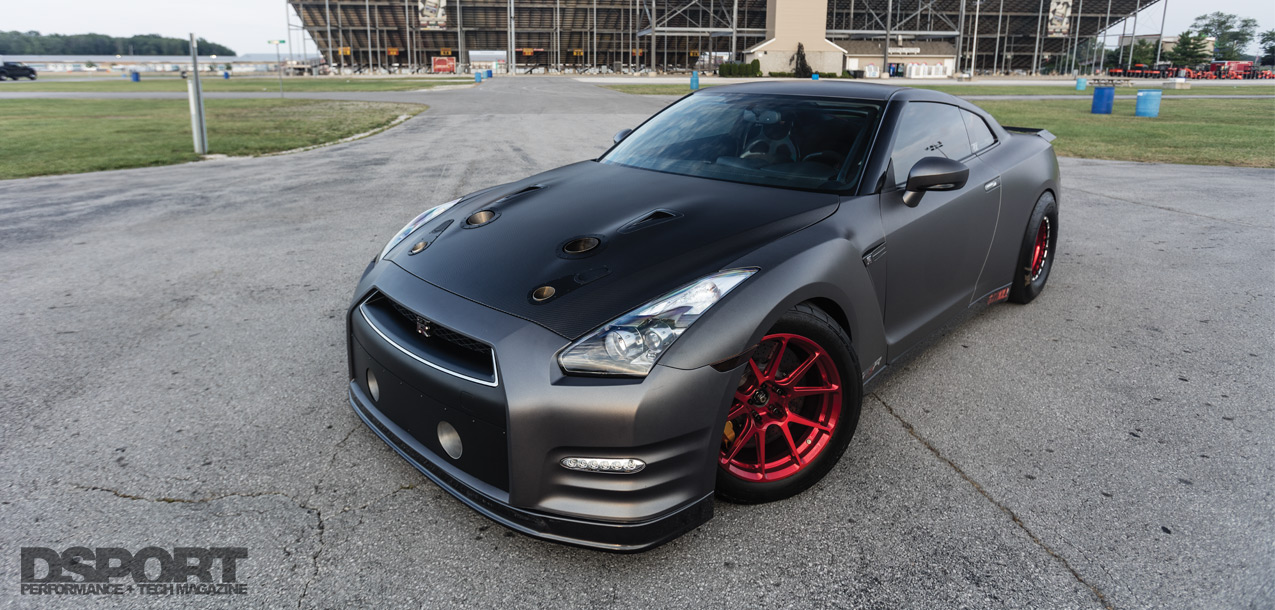 "I love this car! I'll never modify it. It's perfect, just as it is." Many can relate to this sentiment, and probably even more will admit to making changes shortly after. But the urge to upgrade always seems to overtake practicality and complacency. T1 Race Development's Tony Palo would be the first to admit it, since he started tuning and racing his R35 GT-R only two weeks after making that opening quote on his way home from the dealership.
Text and Photos by Richard Fong // Detailed Images Courtesy of Stuart Leiby @ T1 Race Development
---
Racer to the Core
Tony Palo has raced for more than a decade, setting numerous records and being the first to run an 8-second pass in a FWD streetcar. He opened his own shop, T1 Race Development, to put his expertise into customer builds made to win races and set records while furthering his own racing endeavors. When the GT-R was released in the U.S., he was fixated on owning one. "I think the GT-R stands tall without much competition to begin with. There's not a car on the street that can compete with the performance vs. dollar vs. amenities the GT-R can offer," Palo stated. He finally made his purchase in March of 2010. His ride home from the dealership was ironic, as he thought he would be satisfied with it as it stood. However, a few modifications and a trip down an airstrip at the Texas Mile told him that he couldn't have too much power and that there was much more to be had from the GT-R. This experience shifted his whole business model and his focus as he dove headfirst into the world of the GT-R.

From Daily Driven to Development Demon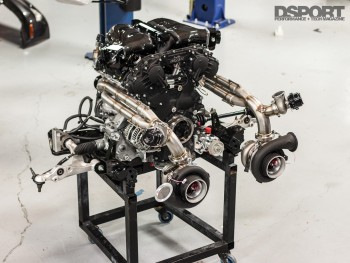 Palo's exploration of the GT-R, analysis of its strengths and weaknesses and just satisfying his personal need to constantly tinker with the car made his GT-R into a development platform for T1. Palo mused, "Being the guy that I am, I'm always testing and trying something new. Sometimes it works out on the performance side and sometimes it doesn't. But that's okay, because I'm happy to have learned something from everything that I do." To say the least, this GT-R has been through quite the evolution, going from stock to basic bolt-on upgrades to GT28 cartridge upgrades. Then, the engine was built and boosted with GT35 turbos followed by an upgrade to GT37 turbochargers. It took a big step when he upgraded to an AMS Alpha 20 kit before evolving further into its current iteration.
Muscular Mill
The capable VR38DETT engine that powers the GT-R has proven capable of incredible output given its relatively small displacement. While Palo had built large displacement VR38s i4.0-liter sizes, he wasn't satisfied with the reliability. These engines were filled with Hard Bloc and featured a dry deck and a copper gasket. He stated that there just wasn't enough cylinder head cooling, so he shelved that program for now. Instead, he elected to run with proven engine in this build up, a GT1R Stage 6 longblock. This configuration has powered numerous T1 customer vehicles running in the seven- and eight-second range. The engine retains its factory plasma sprayed cylinders while benefitting from stronger internals composed of Manley pistons, GRP aluminum connecting rods and a Bryant Racing crankshaft. To stiffen and strengthen the block, T1 made a custom chromoly main girdle. Up top, the cylinder heads feature GT1R's CNC port program and contain a complete Ferrea valvetrain with +1mm valves. ARP625 head studs supply the clamping force to the heads, completing the longblock assembly.

Big Boosters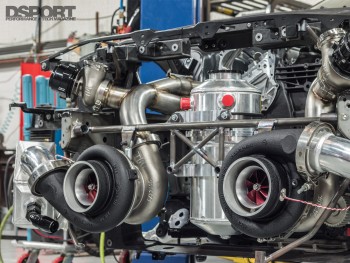 As if running an AMS Alpha 20 engine package wasn't enough, Palo's GT-R tuning division, GT1R, designed a custom setup for its test mule. Using 321 stainless-steel piping with Burns Stainless 3-into-1 collectors, GT1R fabricated exhaust manifolds that feed spent gasses into a pair of Forced Performance HTZ4505 turbochargers positioned low and at the front. Instead of using air-to-air intercoolers, a set of air-to-water heat exchangers neatly position in line with the compressor discharge of each of the T4-framed turbochargers. Titanium wastegate dump pipes and exhaust tubing vent through ports in the hood. The entire system, from manifolds to exhausts, showcases a deliberate and thoughtfully symmetrical piece of functional, fabrication artistry.
Extreme Fuel for Extreme Power
The chilled air charge leaving the custom intercoolers flow through AMS Alpha 73mm throttle bodies before distributing to the intake ports by way of an AMS Alpha carbon-fiber intake plenum. At the intake ports, a heavily fortified fuel delivery system can be seen. A set of Injector Dynamics' new ID1700 injectors serve as the primary injectors while ST Consulting's massive 5,500cc/min injectors operate as the secondaries. GT1R developed a custom fuel delivery system centered on a Kinsler TP1300 mechanical fuel pump driven off the bellhousing propeller shaft to keep the thirsty injectors well supplied. Does it seem like overkill? Well, since Palo elected to fill the tank with Methanol, the fuel volume demands are higher and thus warrant the seemingly outrageous fuel system. And, to manage such a system, he chose a MoTeC M1 engine management system to orchestrate, regulate and datalog all of the engine's functions. As Palo refined the tables, the boost was progressively increased. Once the boost pressure reached 55 psi, the GT-R put down 2,160 horsepower and 1,430 lb-ft torque to the hubs of a Mainline Pro Hub 4000 chassis dynamometer.