In a world separate from the smog-laden, automotive bureaucratic nightmare that is the United States, a far off land called "Australia" is home to more than its fair share of R32 Skyline GT-Rs. Some are driven on Australian streets and thoroughfares simply as exotic sportscars, but others are subject to a barrage of modifications in the name of straight-line drag-racing performance. Australians tend to be fanatical about drag racing and the Skyline GT-R platform, so seeing one on the road or on a track in Australia is hardly an uncommon sight. To stand out from the norm, Australians have had to aspire for a combination of these goals consisting of full-interiors and street tires coupled with blisteringly fast quarter-mile times in the single digits. In Australia and around the world, achieving this duality of street-driven race-vehicle affords the car entry into an exclusive group of performance vehicles known as Club RH9. It is this club that Paul Diemar set out to gain entry to with his R32 Skyline GT-R, tacking on the desire to be known as the quickest and fastest GT-R to achieve such a feat with low-mounted twin turbochargers.
Text by Richard Fong // Photos by Dean Summers
---
(Quick) Runs In The Family
Racing is quite natural for the Diemar household. Diemar's wife Stacey was the fastest woman in the Super Street Class behind the wheel of this R32 GT-R, affectionately dubbed, "Twoogle". To aid Diemar's admission into Club RH9, Twoogle's RB26DETT mill took a trip to Croydon Racing Developments for reinforcement. The longblock was torn down before being de-burred and acid dipped, after which it received a fresh bore hone. The factory crankshaft was then micro polished and assembled with a set of Cosworth Racing pistons and JUN Auto connecting rods. To minimize the notorious occurrences of oil starvation in the new RB26 assembly, a JUN Auto racing oil pump was installed along with a TOMEI Powered oil restrictor and 9-liter Metalcraft baffled oil pan.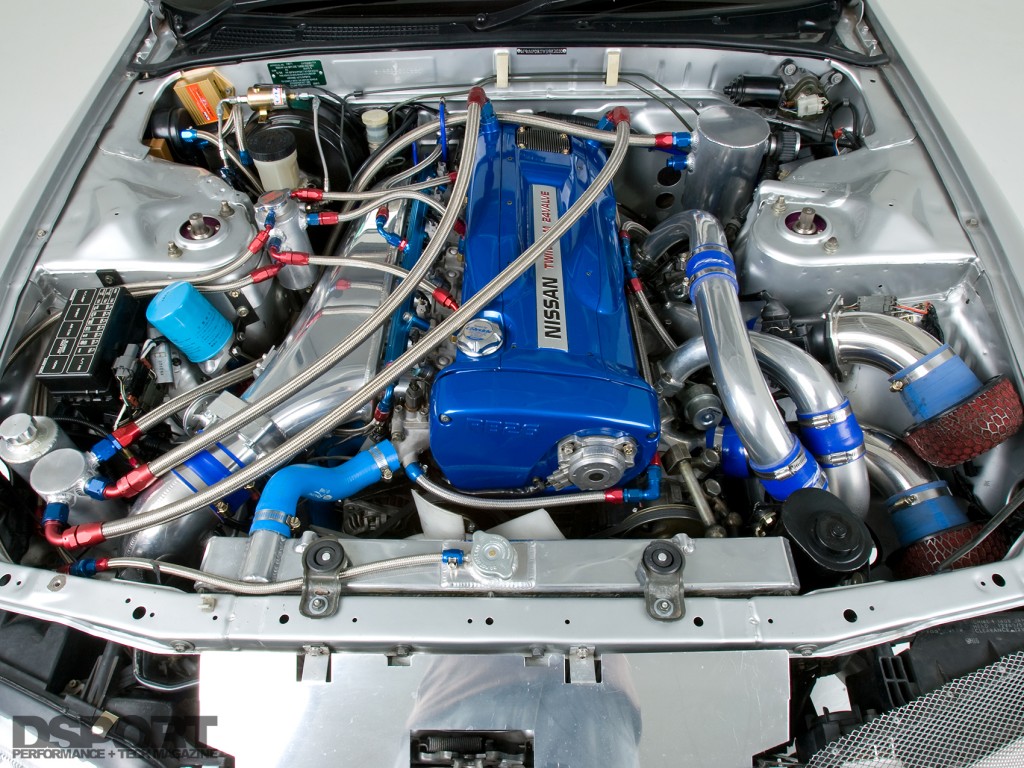 Easier Breathing
With the new rotating assembly in place, the cylinder head and valvetrain were upgraded to better exploit the RB26's power-producing potential. Croydon race ported the cylinder head before seating oversized JUN Auto +1mm valves, springs and titanium retainers. TOMEI Powered buckets and shims were installed and measured to ensure proper valve clearance for a set of custom-ground camshafts of undisclosed specifications. The head was then reunited with the block by way of ARP 1⁄2-inch head studs to ensure head-to-block seal integrity, even under extremely high-boost conditions.
Induction Production
While Nissan engineers favored the responsiveness that individual throttle bodies delivered, aiming for peak power figures required optimizing the induction system for wide-open-throttle operation. Thus, the factory individual throttle bodies were scrapped in favor of an aluminum Hypertune manifold with a monstrous 102mm throttle body. The enlarged plenum and straight runners of the manifold distribute the incoming air charge chilled by a GReddy 5-row intercooler to the intake ports. As the charge reaches the ports, a six- pack of Blitz 1,000 cc/min injectors spray atomized race fuel into air stream on the way to the combustion chambers.
Snails Down Under, Horsepower Up & Over
Diemar had already achieved mid-to-low 10-second passes with this setup and a pair of HKS GT2540 turbochargers hanging from the exhaust manifold so he knew that breaking into the 9-second club would require more. A pair of HKS GT-RS turbochargers mated to low-mount stainless-steel manifolds were used to supply more boost pressure and more efficiently satisfy the aspiration demands of the rebuilt RB26 engine. With an A'PEXi Power FC regulating the fuel and ignition timing, the built RB26 turned the dyno's rollers to the tune of 673 horsepower at 25 psi boost pressure.
Getting Down The Track
While producing gratuitous amounts of power was essential for cutting quicker elapsed times at the strip, getting the power down efficiently was equally important. An OS Giken 5-speed short-ratio transmission was installed and equipped with a custom NPC twin-plate clutch capable of transferring up to 1,000 horsepower. Cusco's 1-way front differential and a NISMO 2- way rear differential were enlisted to distribute power properly to each of the R32s driving corners.
A set of powder-coated factory wheels from a R34 Skyline GT-R wrapped with Mickey Thompson drag radials translates the engine torque into the R32's forward movement.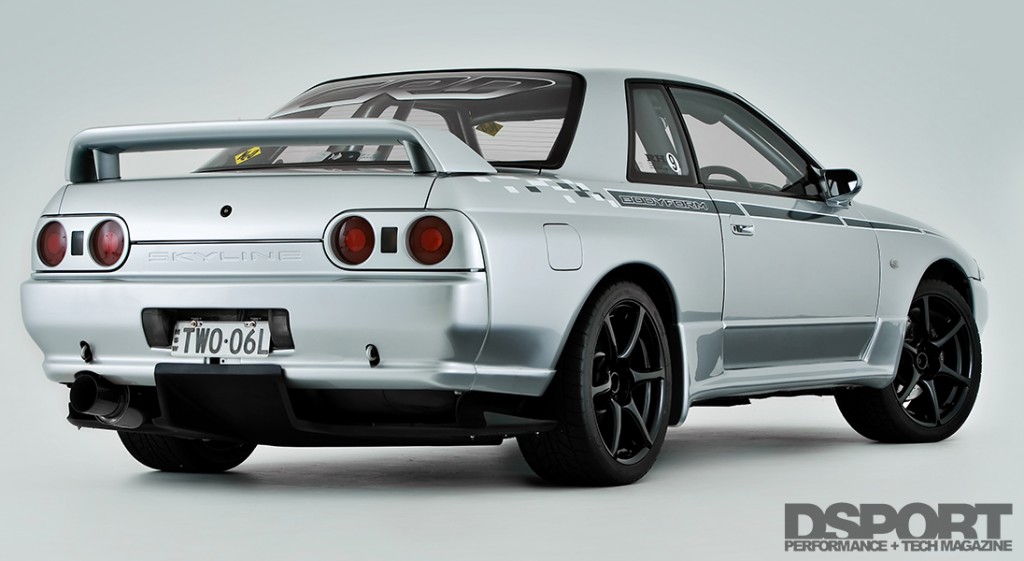 Quick 60's
Since Diemar's Skyline didn't produce outrageous 4-digit horsepower, further modifications in the name of efficiency had to be uncovered and exploited to reach the single-digit goal. Losing traction or spinning tires would have been an incredible waste of resources and a preventable loss so the R32s suspension system was upgraded with a set of HKS coil-over dampers. These work in conjunction with a host of suspension links that ensure proper squat and launch geometry, ensuring the largest tire contact patch during each launch. Working on the other end of the power-to-weight ratio, Diemar removed as much weight out of the chassis as could be spared. The interior features the bare essentials for racing in the street class only, including a six-point cage that satisfies the Australian National Drag Racing Association's requirements for safety and a FIA-certified BRIDE Zeta III race bucket coupled with Willans Harnesses. These modifications, in addition to Diemar's incessant practice and long hours of seat time, have allowed him to achieve consistent 1.4-second 60-foot times at the strip and completed the final piece of the puzzle that was required for entry into the elusive Club RH9.
Admission Granted
Diemar's efforts were not in vain as his new setup finally allowed him to break into the single-digit realm and earn a certified and legitimate nine-second time slip. This was followed up with several more 9-second passes, his best of which set his personal best record e.t. at 9.972-seconds at 139 MPH and a lightning- fast 60-foot time of 1.412-seconds. Diemar's personal 60-foot record also placed him on Australia's High Performance Imports magazine's list of top 10 60-foot times on drag radials. Since achieving this feat, Diemar has continued to raise the bar on himself, further improving his elapsed times and securing tenure in the elusive Club RH9 while coyly setting sights on the new, more elusive target, Club RH8.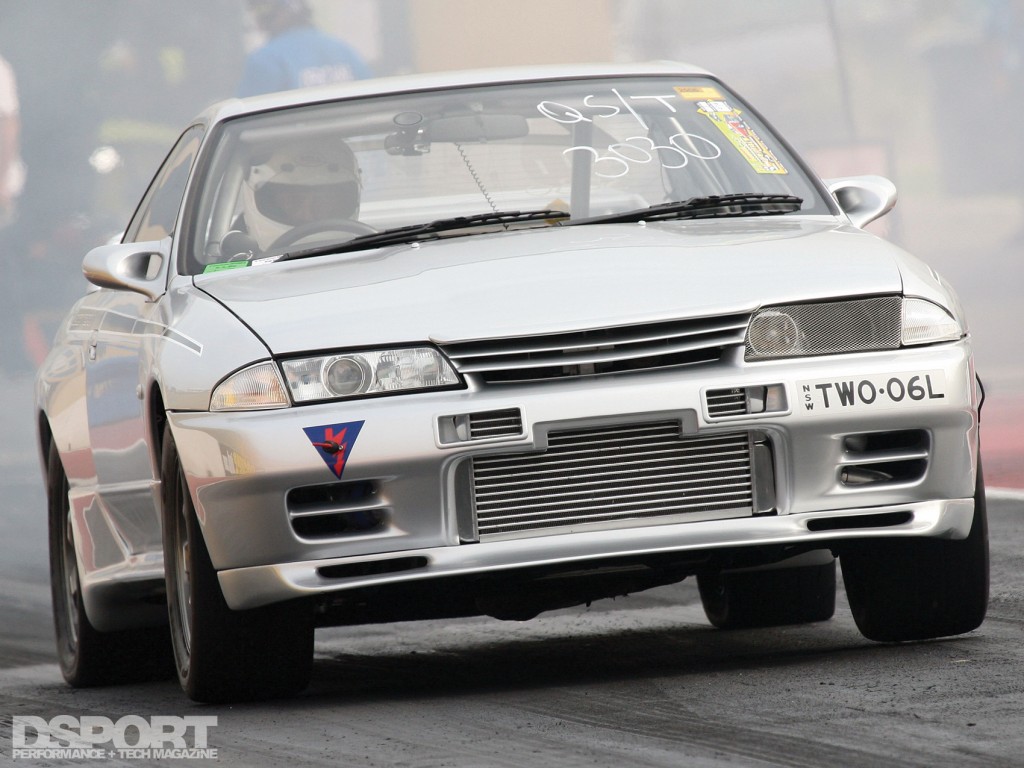 ---
SPEC SHEET
| VEHICLE | |
| --- | --- |
| Year / Make / Model: | 1993 Nissan Skyline GT-R |
| Chassis Code: | BNR32 |
| Vehicle Weight: | 3,333 lbs. |
| Peak Boost: | 25 psi |
| ENGINE | |
| --- | --- |
| Engine Code: | RB26DETT |
| Displacement (cc): | 2,568cc |
| Bore & Stroke (mm): | 86mm x 73.7mm |
| Peak Horsepower: | 673.8 whp |
| Peak Torque: | N/A |
| Dyno Type: | Mainline DynoLog Dynamometer |
| Engine Builder: | Croydon Racing Developments |
| Block Modifications: | Acid dipped, Deburred, Tapped for 1⁄2-inch Stud |
| Machine Work: | Croydon Racing Developments |
| Pistons/Compression Ratio: | Cosworth Forged Pistons |
| Connecting Rods / Crank: | JUN Auto Connecting Rods |
| | Micro Polished Factory Crank |
| | ATI Race Harmonic Balancer |
| Camshafts: | Custom Ground Camshafts |
| | OS Giken Cam Gears |
| | GReddy Timing Belt |
| Valves/Springs/Retainers: | JUN Auto +1mm Valves, Bronze Valve Guides, |
| | Titanium Retainers, Springs, Cam Cap Studs |
| | TOMEI Powered Buckets and Shims |
| Cylinder Head Modifications: | Croydon Racing Developments Race Ported |
| Cylinder Head Gasket: | GReddy Head Gasket |
| Head/Main Studs: | ARP 1⁄2-inch Head Studs |
| Intake Manifold/Throttle Body: | Hypertune Intake Manifold |
| | Hypertune 102mm Throttle Body |
| Air Induction System: | HKS Racing Suction Reloaded |
| Fuel Injectors: | Blitz 1,000 cc/min Injectors (x6) |
| Fuel Delivery System: | GReddy Dual-feed Fuel Rail |
| | Bosch 040 In-tank Pump |
| | Bosch 044 Inline Pumps (x2) |
| | Bosch Inline Fuel Filters (x2) |
| | Performance Metalcraft Fuel Surge Tank |
| | SARD Fuel Pressure Regulator |
| Engine Management System: | A'PEXi Power FC |
| Boost Controller: | Blitz SBC-iD III Boost Controller |
| Ignition System: | HKS Twin Power Ignition System |
| | SplitFire Ignition Coils |
| Exhaust Manifold: | Stainless Steel Manifold |
| Exhaust System / Downpipe: | GReddy Stainless-steel Downpipes (x2) |
| | GReddy 4-inch Exhaust |
| Wastegate: | HKS Wastegates (x2) |
| Blow-Off Valve: | Blitz Blow-off Valves (x2) |
| Intercooler: | GReddy 5-row Intercooler |
| Cooling System: | Top Secret "Super Radiator" |
| | Nissan N1 Water Pump |
| | Hypertune Coolant Overflow Tank |
| Oil System: | JUN Auto Reinforced Oil Pump |
| | Performance Metalcraft 9-liter Sump |
| | GReddy Oil Cooler |
| | TOMEI Powered Oil Restrictor |
| Performance Electronics: | Blitz Power Meter-iD III |
| | Carel Inlet Temp Meter |
| | Dirt Garage 2WD/4WD Switch |
| Etc: | NISMO Engine Mounts |
| TURBOCHARGER | |
| --- | --- |
| Turbocharger: | HKS GT-RS (x2) |
| Frame: | T25 |
| Compressor Wheel Specs: | 71.1mm Major, 51.2mm Inducer |
| Turbine Wheel Speds: | 53.8mm Major, 47mm Exducer |
| Turbine Housing: | 0.64 A/R |
| CHASSIS/DRIVELINE | |
| --- | --- |
| Shocks, F&R (Make & Rate): | HKS Hypermax Circuit Coilovers |
| Additional Suspension Components: | Cusco Tower Braces (F&R) |
| | JIC Magic Upper Camber Arms (R) |
| | NISMO Full Rear Arm Kit |
| | Noltec Upper Camber Arms (F) |
| | Rear Subframe Bushings |
| | TEIN Radius Rods (F) |
| | HICAS Delete |
| Transmission: | OS Giken Short-ratio 5-speed Gear set |
| | Line-locker Kit |
| Clutch / Flywheel: | NPC Custom Twin-plate Clutch |
| Differential(s) (Make & Type): | Cusco 1-way LSD (F) |
| | NISMO 2-way LSD (R) |
| | GReddy High-capacity Front Diff Cover |
| Wheels (Make, Size & Offset): | Factory R34 GT-R Wheels, 18×9-inch |
| Tires (Make & Size): | Toyo/ Mickey Thompson Drag Radials |
| Brake Pads (Front & Rear): | Bendix Ultimate Brake Pads |
| Brake Lines: | Stainless-steel Braided Brake Lines |
| Etc.: | Cusco Master Cylinder Brace |
| INTERIOR | |
| --- | --- |
| Roll Bar / Cage: | 6-point Roll Cage (ANDRA-approved) |
| Seats: | BRIDE Zeta III (D), BRIDE Brix II (P) |
| Harnesses: | Willans Harnesses |
| Gauges: | Autometer NOS, boost and oil pressure |
| | Scuderia Racing Speedometer |
| EXTERIOR | |
| --- | --- |
| Front Bumper: | Bodyform N1 Bumper |
| Front Lip Spoiler: | Garage Saurus Lip |
| Side Skirts: | Bodyform N1 side skirts |
| Underbody Diffuser: | Top Secret |
| Mirrors: | Ganador |