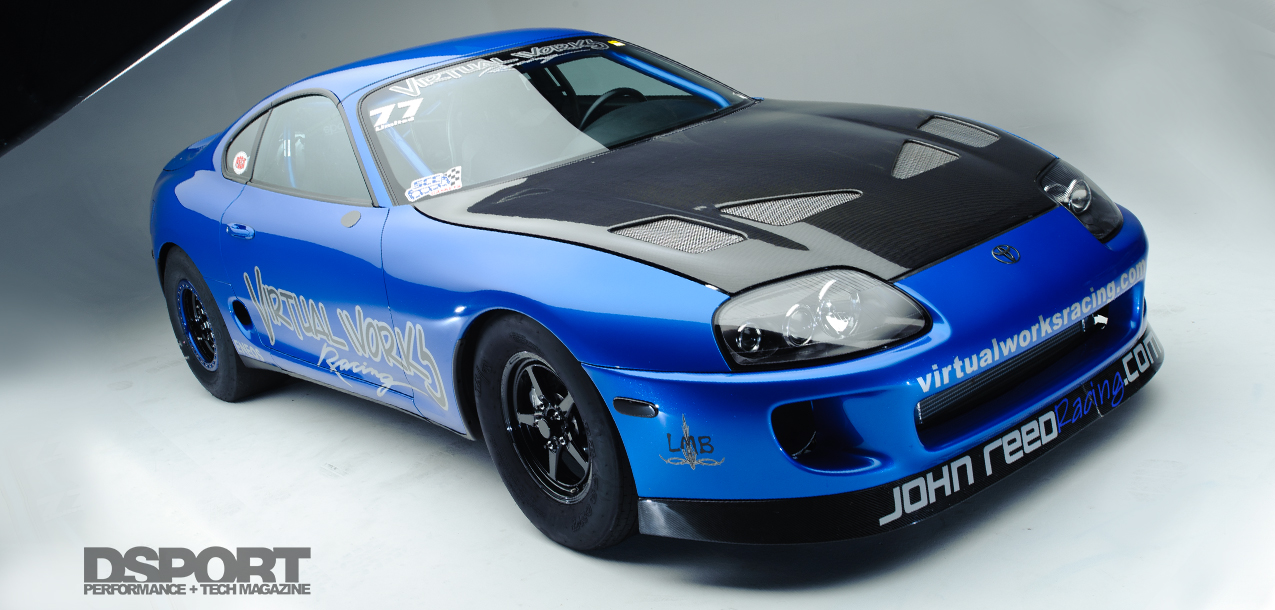 Creation and creativity sound similar but are not the same.
The skill to create versus the gift of creativity come from opposite sides of the spectrum, but with a balance of both the possibilities become boundless. In the realm of high-performance cars, boundlessness is essential for extracting every ounce of potential. When the foundation is the Toyota Supra MKIV, boundlessness takes on a whole new meaning. By Richard Fong // Photos by Michael Ferrara
---
Despite numerous changes to the engine bay, the cockpit remained largely stock, with the exception of a rare TRD 10,000 RPM Tachometer and Auto Meter gauges.
Virtual Reality
For fabricator Dana Westover, the JZA80 Supra has always been his favorite. He bought this Toyota Supra in 2001 with a goal of exploring its capabilities and uncovering every possible ounce of horsepower from the 2JZ-GTE engine. He opened Virtual Works Racing (VWR) as a spin off of his fabrication business, Virtual Works. Over the course of nine years, this Supra served as VWR's test platform, constantly improving as new and improved products were developed and proven on both the dyno and the track. Before long, the Supra went from a daily driver to a full-race, record-setting track machine.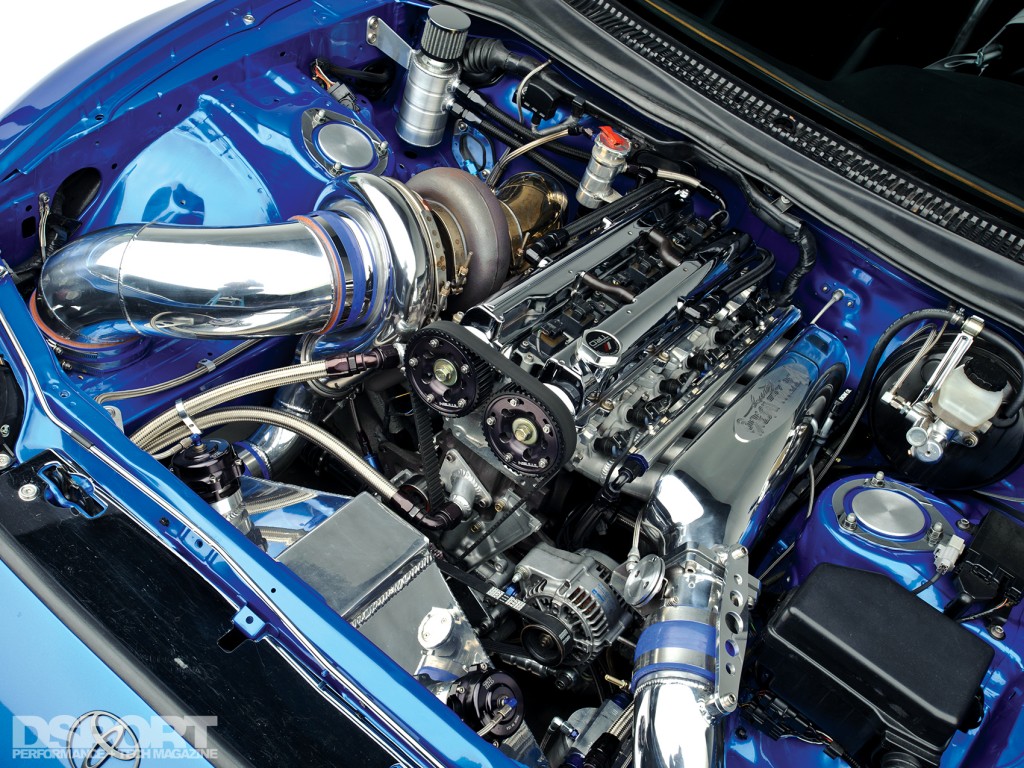 Over And Over Again
This Supra has endured a number of rebuilds and reconfigurations over the course of nine years. The overbored block received a fresh rotating assembly that increases the displacement of the 2JZ-GTE engine to 3,353cc. For increased airflow in and out of the engine, a VWR race port service takes advantage of a complete Ferrea valvetrain actuated by high-lift Jun Auto 272-degree camshafts. The added displacement and port work serves as an improved foundation for generating horsepower and permits the effective use of a larger turbocharger. A VWR manifold feeds spent gasses into a Precision Turbo & Engine (PTE) GT4780 turbocharger. The GT47 compressor draws ambient air through a VWR induction system then forces the air through a custom VWR air-to-water intercooler.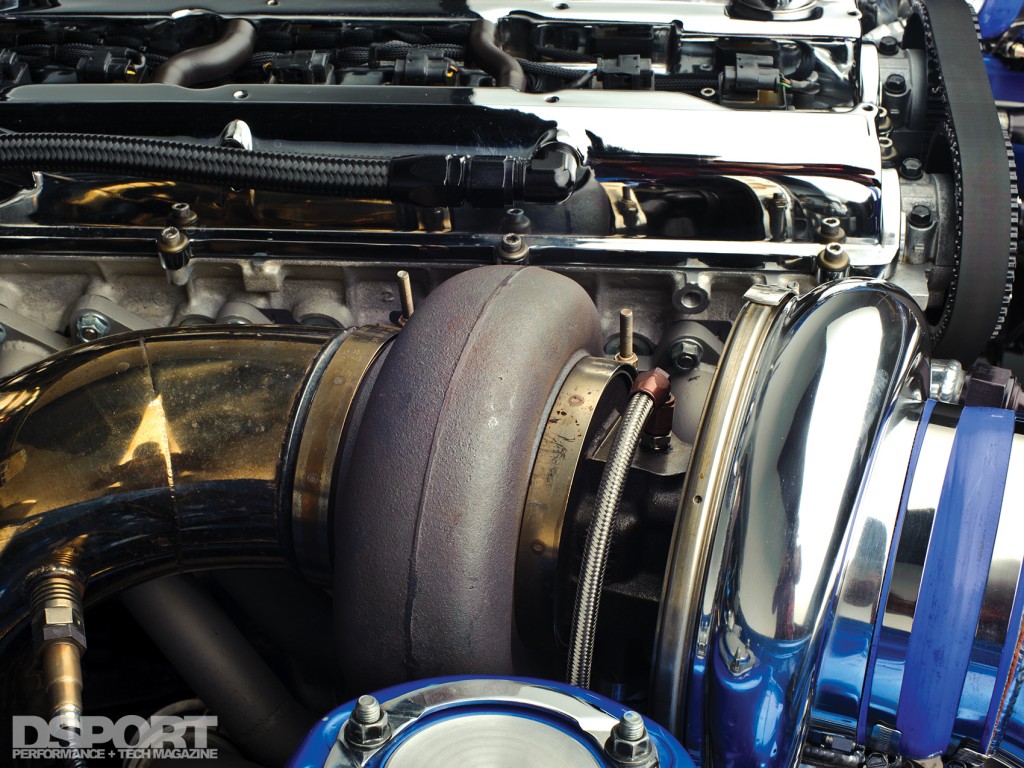 A Precision Turbo & Engine GT4780 turbocharger supplies boost pressure to the 3.4-liter 2JZ engine to make 1,377 wheel horsepower.
The chilled aircharge then flows to VWR's latest intake manifold, which distributes the airflow to each of the intake ports. Mammoth PTE 160 lb/hr injectors rely on a Weldon 2345 fuel pump to supply 120-octane VP Import race fuel for the stroked and poked 2JZ mill. A MoTeC M800 engine management system regulates fuel delivery and ignition timing. With the chassis strapped to a Dynojet chassis dynamometer, John Reed tuned the MoTeC system, extracting 1,377 horsepower and 823.98 lb-ft torque to the wheels.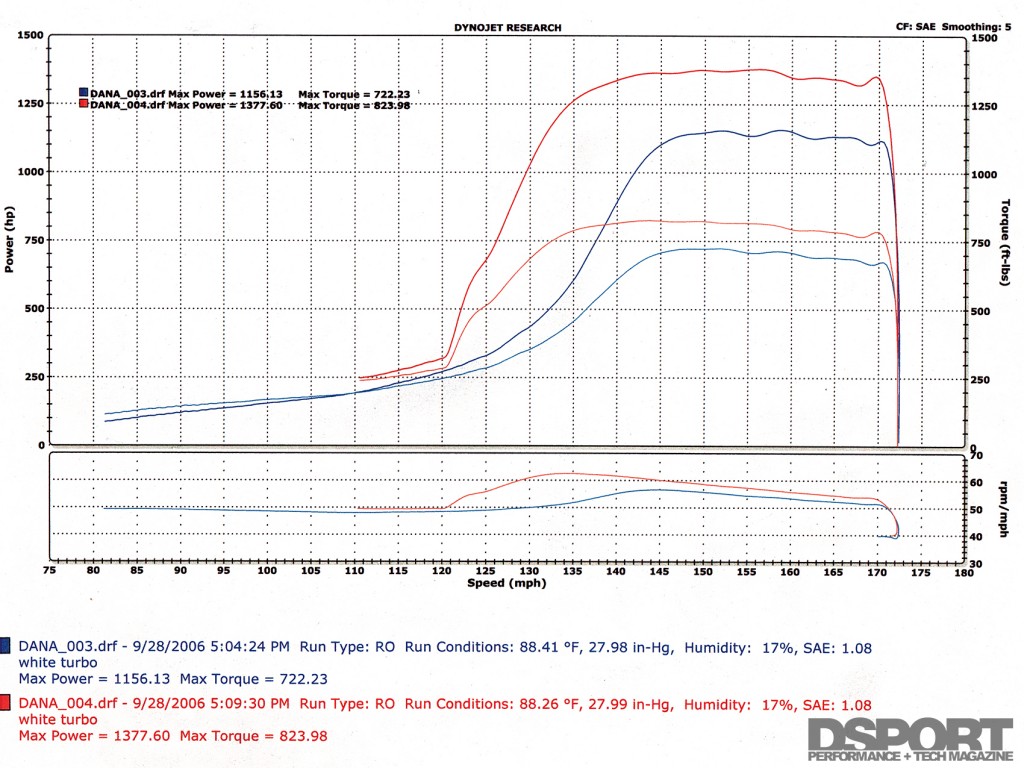 Heat Exchange: Air-to-Water Intercooling

Forced induction pressurizes the intake charge but increases the temperature of the charge as well. To increase the density of the incoming air, intercoolers help to lower the temperature by way of heat exchange. An alternative to the typical air-to-air intercooler is the air-to-water intercooler. With ice water as a heat exchange medium, cooler, denser air can be supplied to the engine. However, air-to-water intercoolers require water, which adds complexity to the design along with more weight, pumps and additional plumbing. While the ballast from the water would be detrimental in a road-race application, for drag racing it helps to keep the nose down and ensures the coolest incoming air charge for greater horsepower production.

Billet Main Caps: Keeping The Crank From Walking

Parts made from a billet of 4340 steel offers significant strength advantages over cast iron. Given the incredible forces applied to the stroker crankshaft, a set of Pro-Gram Engineering billet steel main caps replaced the factory pieces to ensure that the crank stays put. Although cast iron offers tremendous strength, billet steel main caps resist distortion better and offer improved durability.
Grip To Go
Transferring power from the crankshaft to the tires required a strengthened driveline and an improved method of delivery. Aiming for quick quarters, the six-speed manual transmission was ditched in favor of a Powerglide two- speed automatic transmission and a ProTorque torque converter. From the output shaft, a VWR four-inch aluminum driveshaft turns a TRD LSD that splits power between the Weld 15×10-inch drag wheels mounted with MT 28x15x10.5-inch drag slicks.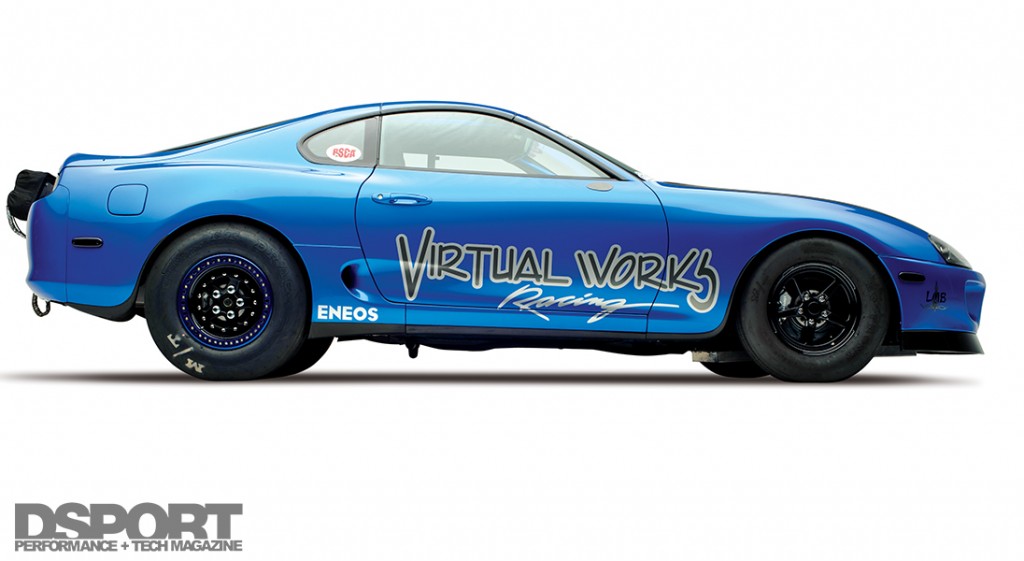 SFI 25.5 vs 25.3 – Class Compliance

When asked what would have been done differently, Dana comments that he would have built the Supra to SFI 25.3 compliance instead of just 25.5. So what's the difference between these classifications? A 25.5 chassis is described as a full-body car with a factory or modified floor pan, firewall and an OEM frame or unibody construction. A chassis that meets this requirement would be rated for 7.50-8.49-second passes. An SFI 25.3 chassis, rated for 6.50-7.49 seconds, is described as a full bodied car with an aftermarket shell and tube frame, OEM body shell and frame with a modified floor pan and firewall, or a uni-body with modified floor pan, firewall and roll cage. These requirements are for a 3,600 lbs. maximum.
Supra Rockin' Records
In 2004, this Supra achieved new heights, becoming the first full-weight Supra to break into the 8's. It wouldn't see 7's until six years later at Lone Star Motorsports Park. On March 21, 2010, Dana unleashed a personal best pass of 7.95 at 176 MPH. In addition, Dana captured the 2010 P.S.C.A. Limited Street class championship. But he's not done yet. The plan is to continue chipping away at the E.T.s while staying consistent in the process. As the evolution of this Supra continues, so will its achievements.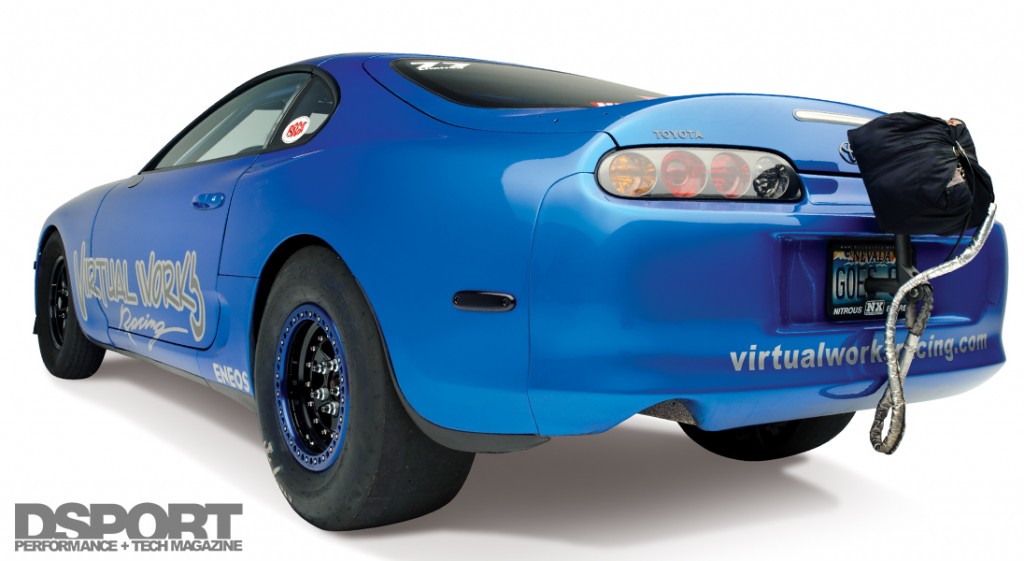 ---
SPEC SHEET
| VEHICLE | |
| --- | --- |
| Year / Make / Model: | 1993.5 Toyota Supra MkIV |
| Chassis Code: | JZA80 |
| Competition Class: | Outlaw |
| Vehicle Weight: | 3,420 lbs |
| Launch RPM: | 4,700 RPM |
| Shift RPM: | 8,100 RPM |
| Redline RPM: | 8,500 RPM |
| Peak Boost: | 35 psi |
| Fuel: | VP Racing VP Import |
| ENGINE | |
| --- | --- |
| Engine Code: | 2JZ-GTE |
| Displacement (cc): | 3,353cc |
| Bore & Stroke (mm): | 87mm x 94mm |
| Peak Horsepower (@ RPM): | 1,377 whp @ 8,850 RPM |
| Peak Torque (@ RPM): | 824 lb-ft @ 8,700 RPM |
| Dyno Type: | Dynojet Dynamometer |
| Engine Builder: | Virtual Works Racing (VWR) |
| Block Modifications: | Overbored 0.040 |
| Machine Work: | HBR Performance |
| Pistons/Compression Ratio: | CP Pistons 9.3:1 Compression |
| Connecting Rods / Crank: | Carrillo Connecting Rods |
| | BC Brian Crower Crankshaft |
| | Pro-Gram Engineering Billet Main Caps |
| Camshafts: | Jun Auto 272-degree Camshafts |
| Valves/Springs/Retainers: | Ferrea Valves, Springs & Titanium Retainers |
| Cylinder Head Modifications: | VWR Race Port Service |
| Cylinder Head Gasket: | Factory Head Gasket |
| Head/Main Studs: | ARP Fasteners Head and Main Studs |
| Intake Manifold/Throttle Body: | VWR Intake Manifold |
| Air Induction System: | VWR Custom Induction |
| Fuel Injectors: | Precision Turbo 160 lb/hr Injectors (x6) |
| Fuel Delivery System: | Weldon 2345 Fuel Pump |
| Engine Management System: | MoTeC M800 |
| Engine Management Tuner: | John Reed |
| Ignition System: | HKS Twin Power DLI |
| Spark Plugs: | NGK 5671 |
| Exhaust Manifold: | VWR Manifold |
| Exhaust System / Downpipe: | VWR 5-inch Turbo-back Exhaust |
| Wastegate: | TiAL Sport Dual 60mm Wastegates |
| Blow-Off Valve: | TiAL Sport Dual Blow Off Valves |
| Intercooler: | Virtual Works Air-to-water Intercooler |
| Nitrous Oxide: | Nitrous Express 225Hp Single Fogger |
| Cooling System: | VWR Custom Radiator |
| Oil System: | VWR Custom External Filter |
| Fuel Cell: | VWR Custom 5-gallon Fuel Cell |
| TURBOCHARGER | |
| --- | --- |
| Turbocharger: | Precision Turbo GT4780 |
| Frame: | T6 |
| Compressor Wheel Specs: | 80mm |
| Turbine Wheel Speds: | GT47 |
| Turbine Housing: | 1.08 A/R |
| CHASSIS/DRIVELINE | |
| --- | --- |
| Springs, F&R (Make & Rate): | Eibach Springs |
| Shocks, F&R (Make & Rate): | Koni Coilovers |
| Transmission: | Powerglide |
| Transmission Gearing: | 1.81:1(1), 1:1(2) |
| Final Drive: | 3.76:1 |
| Clutch / Flywheel: | ProTorque Torque Converter |
| Differential(s) (Make & Type): | TRD LSD |
| Axles / Driveshaft: | VWR 4-inch Aluminum Driveshaft |
| Wheels (Make, Size & Offset): | Weld 15×3.5-inch (F), 15×10-inch (R) |
| Tires (Make & Size): | MT 27.5×4.5-inch (F), 28x15x10.5-inch (R) |
| Brake Calipers (F&R): | Strange Engineering Caliper (F&R) |
| Brake Rotors (Diameter, F&R): | Cross-drilled Strange Engineering Rotors (F&R) |
| Brake Pads (Front & Rear): | Strange Engineering |
| Brake Lines: | Custom Stainless-steel Braided Lines |
| Etc.: | 5/8-inch ARP Wheel Studs (R) |
| INTERIOR | |
| --- | --- |
| Roll Bar / Cage: | DRD Fabrication SFI Spec. 25.5 Chassis Cage |
| Seats: | Sparco EVO Seats |
| Harnesses: | Simpson 6-point Harnesses |
| Gauges: | TRD Tachometer |
| EXTERIOR | |
| --- | --- |
| Front Lip Spoiler: | Paisley Carbon-fiber |
| Hood: | TRD Vented Hood |
| Headlights, Taillights: | 97-98 Version |