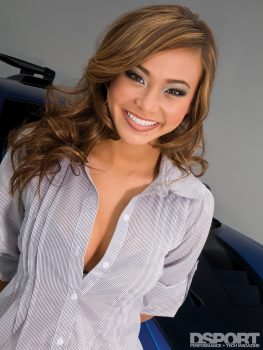 DSPORT: Michelle, tell us a bit about yourself.
Michelle Waterson: I am half Caucasian and half Thai. I was born in Colorado Springs, Colorado. I spent the first two years of my life in Germany before moving back to the States and settling in Aurora, Colorado. Now I live and train in New Mexico.
DSPORT: While growing up, was it just you and your parents or did you have siblings to keep you company while you traveled?
Michelle Waterson: I have an older brother named Max and a younger sister named Shanna and I love them both dearly.
DSPORT: What was it like being the "middle" kid?
Michelle Waterson: Growing up with my brother and sister has left me with tons of memories. My sister and I were always at each other's throat, but now we are the best of friends. I always looked up to my brother and he was actually the one who got me into martial arts. Growing up I wanted to be just like him, so I followed him around and always took his advice. I guess it paid off considering I'm currently pursuing my career as an MMA fighter. He was my "Mr. Miagi".
DSPORT: Modeling and MMA are not typically two flavors that are thought to taste great together. You started training in the martial arts at a young age, how did you get started in modeling?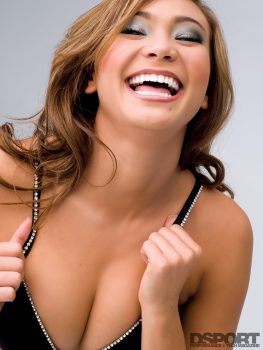 Michelle Waterson: I started modeling in 2004 after I graduated high school. I did a bikini contest at a car show and ran into Bill Montgomery who is the president of International Allstars. With his help, I started traveling all around the United States as a spokesmodel.
DSPORT: Kicking ass and taking names is obviously more than a hobby for you too. How did you get into mixed martial arts?
Michelle Waterson: I grew up practicing martial arts. I took two years of Wushu and then I decided that I wanted to try a more physical art. My mother and I went to Thailand and while we were there I decided to try Muay Thai. After my first day, I fell in love with Muay Thai. After just a couple of amateur Muay Thai fights, I made the switch into MMA.
DSPORT: Well your father doesn't have to worry about you then. How long does it take you to submit a creepy guy in a bar?
Michelle: I'm a non-confrontational person. There is almost always a non-violent resolution to any situation.
DSPORT: Since you practiced martial arts while growing up, would you have considered yourself a tomboy?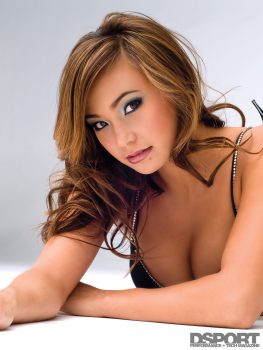 Michelle: I went through a bunch of different stages growing up. I went through a girly stage, a nerd stage and yes, of course, a tomboy stage. I was always the small kid in class so I felt like I had to be extra tough and would kick all the boys in the balls.
DSPORT: You are over that stage right?
Michelle: Try me.
DSPORT: I'll just proceed with caution. Other than ball kicking, how would you describe your personality?
Michelle:  I'm ambitious, fun loving, loyal, adventurous and honest.
DSPORT: Do you think your friends would agree with you?
Michelle: For the most part yes, but they would probably include crazy, caring and dependable. They tell me I'm always there when they need me.
DSPORT: What does it take to intimidate you? What are you scared of?
Michelle: The only thing that would scare me would be getting trapped in a room full of brown recluse spiders.
DSPORT: What does an MMA fighter do for fun?
Michelle:  Do a cartwheel through some sprinklers.
DSPORT: When you're not doing cartwheels, what do you do when you're just chilling at home?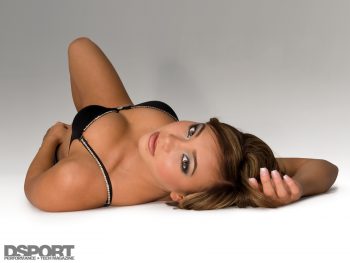 Michelle:  Usually I'll watch Dr. 90210 or CSI or I'll throw in a movie.
DSPORT: Do you prefer sportscasr or SUVs?
Michelle:  Honestly, I prefer sportscars; they are fast and make getting through traffic easier. SUVs, on the other hand, do let you hit speedbumps without worrying about scraping.
DSPORT: Please give us some warning the next time you're out driving. Thanks for joining us.
Michelle:  Thanks for having me. The photo and DVD shoot was a blast. I can't wait to see the pics and video. Before I go, I just want to say hello to all the DSPORT readers and my family. Wish me luck on my next fight!
---

2016 Update
Michelle Waterson is currently ranked #12 among UFC's Strawweights with a 13-4-0 record.  She's set to fight Paige VanZant at UFC Fight Night on Dec 17th, 2016