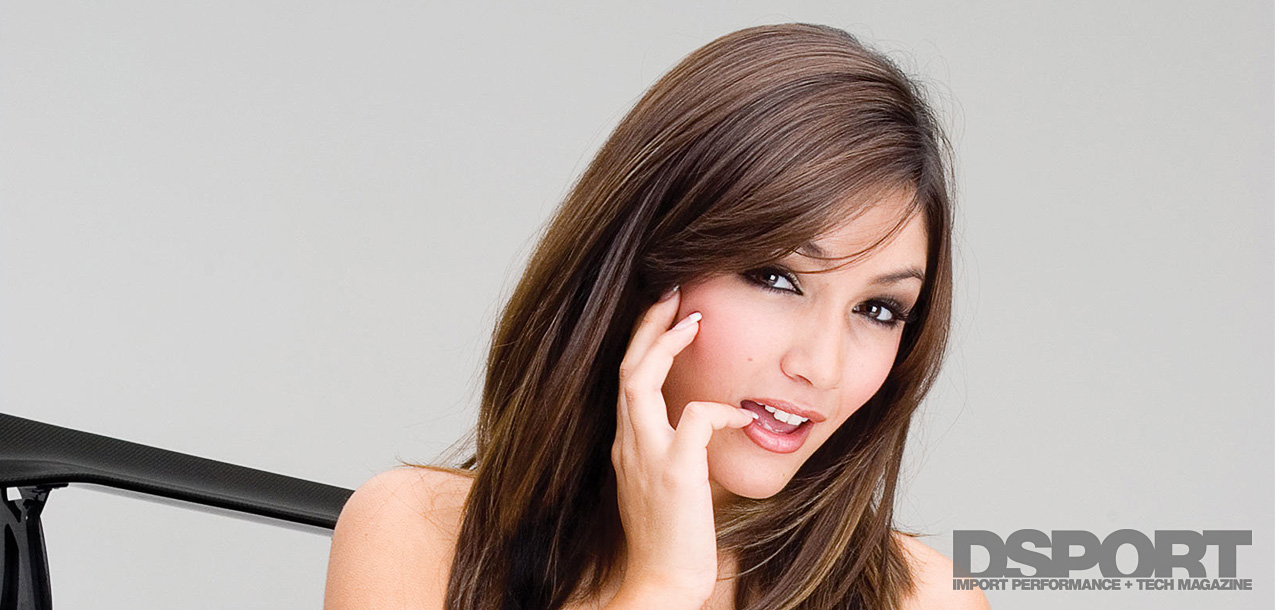 Our first interview
with the ever-ubiquitous Misa Campo, before we even called them "First Dates."
Where were you born?
I was born in Montreal, Quebec, Canada. When I was two, I moved to Newport Beach, California to be closer to my relatives and live with my father. I lived there until the age of 10. Since then, I have moved back and forth between Montreal and California with my mom and two sisters. Right now I'm currently residing in Montreal. Of course, I miss the weather in Southern California since it gets cold in Montreal. I need someone to warm me up.
How did you get involved in modeling?
It all started by bartending at Jet and System Night Club in Montreal. My bosses convinced me to try import modeling. They helped me get started by introducing me to Sport Compact Performance. This is one of the biggest and best car shows in Canada. I tried it out, loved it, and ended up gaining the title "Miss Rocawear" for 2006. Ever since then, I just couldn't stop trying to move forward in this industry. I have way too much fun. I would've missed out on so much if it wasn't for my bosses and friends back home.
Did you enjoy high school?
No, I didn't enjoy high school at all. I had the worst teachers (except in gym) and the worst friends ever. Maybe I'm exaggerating. The good thing that came from my high school experience is that I met two of my closest friends. I was the worst student. I was always skipping class. I was expelled and reenrolled a few times. Even though, I still somehow maintained my grades and I graduated early.
Are you currently attending college?
No. I feel like school just isn't for some people and I'm part of that group.
What are your career goals?
I actually have a lot of business ideas running through my head. I'd also love to be a Sports Illustrated Model one day.
Why is there a stereotype of French-Canadian tourists being cheap and rude?
I hadn't heard about the cheap stereotype. In Montreal everyone seems to tip 15 percent or more which seems to be the same as the States. I could see where the rude stereotype originated from. There are a lot of rude people that live in Quebec. I wish I could tell you why. Maybe everybody's angry that they are forced to be bilingual.
Why does Quebec want to separate from Canada?
Ok. So maybe I should have paid more attention in class to answer this question better. From my perspective it just seems that Quebec doesn't want to be a bilingual society. If Quebec had its way everything would be in French.
Do you have any brothers or sisters?
I have two very hot sisters named Jen and Marie. I love them so much.
What would you like people to know about you?
Well, I guess everyone should know that I'm the biggest dork that ever existed. My secret is out now. I also love to eat (Filipino food especially). I'm super easy to please that way. Bring me a plate of lumpia and I'll have a smile on my face the rest of the week. I can't stand over-dramatic people and drama. One of my pet peeves is when people chew with their mouths open. It's so gross.
Can one person make a change in the world?
Of course one person can make a change. Any action can lead to a series of events and consequences which always leads to an outcome. It's like a Donnie Darko effect. Whether good or bad, intentional or not, everything can change with even just one word from a person's mouth.
If you could change something about yourself, what would it be?
I don't think I would change anything. It's not because I'm conceited, but because I'm actually really happy with myself. At least, for now.
Name something that you would like to be really good at?
I want to be really good at flare bartending. I wish I could learn but I just haven't found the time yet!! I met a few people who are amazing at it and I'm so jealous.
So you actually liked Cocktail with Tom Cruise? You are the biggest dork we have ever interviewed. You should probably keep that to yourself in the future.
Yes. I won it and it's in my DVD player.
Would you rather chill on a beautiful beach or go skydiving?
Why not both? How about skydiving above a beautiful beach? If I had to pick, I would most definitely rather go skydiving. You've got to love the adrenaline rush. I'm actually going next summer with my friends.
What are some things that you are passionate about?
Right now, I'm really passionate about my job. I love bartending. I feel as if I belong behind the bar. Bartending is probably the thing I get most excited about, or maybe I just like alcohol too much.
What is your dream car?
My dream car is the Koenigsegg CCX.
What do you like about that $700,000 Swedish Supercar?
Because I like to go fast. That car is pretty crazy. 800 horsepower in a carbon-fiber car that weighs 2600 pounds… that would be pretty fun.
What are you driving right now?
No car right now. It's safe to say that the Koenigsegg CCX will probably not be my first car, but it never hurts to dream.
---