A Nerf foam dart attack, a Silly String ambush and a hula-hoop challenge were no match for this month's cover model, Trinity Dang. Trinity braved the 50-degree weather in her swimsuit to allow us to test some of the slow-motion capabilities of one of our new video cameras. A model without a model's attitude, Trinity quickly won us over.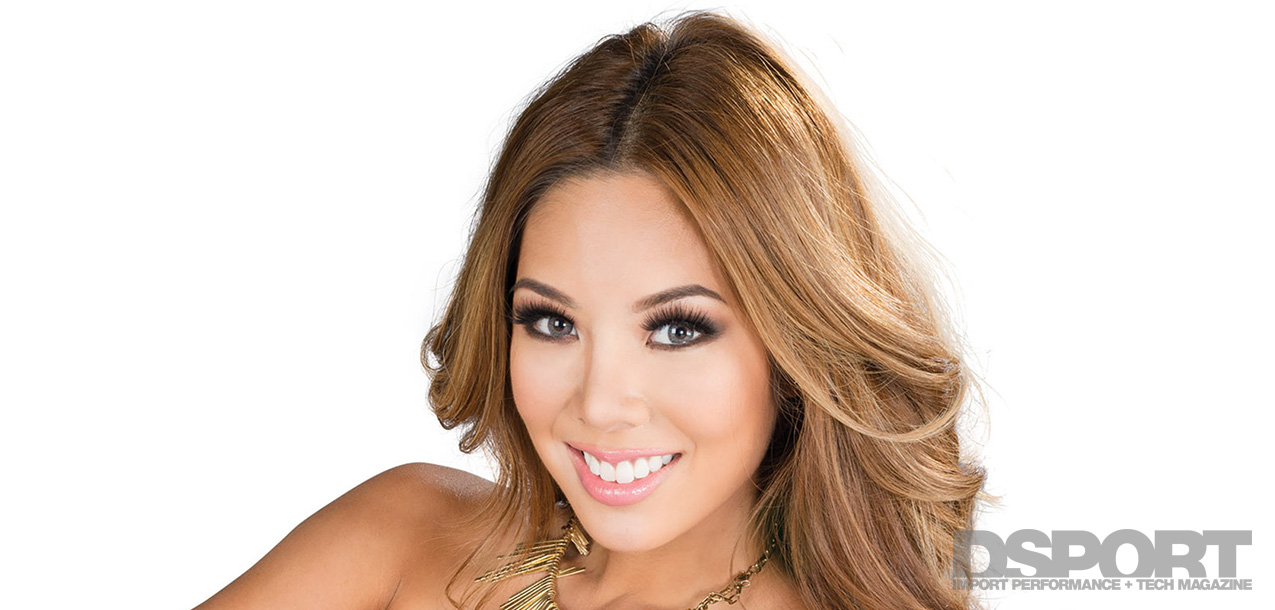 Some of our cover models aren't that familiar with our title. Did you know about DSPORT before today?
I've actually known about DSPORT for a while. DSPORT is everywhere. I'm really happy to be going on the cover. I like that DSPORT is a true performance magazine. That's a lot more interesting than show coverage and stuff like that.
Would you consider yourself a performance enthusiast?
Most definitely. I used to have a NISMO 350Z. That car was a blast. Now, I prefer the comfort, class, performance and style of Mercedes.
So how did you get into modeling?
I started modeling last year. I didn't originally approach it with much seriousness. A photographer friend of mine asked to do a test shoot and everything kind of blossomed from there. I fell in love with modeling.
Based on the fact that you actually followed the pre-shoot instructions and arrived with a ton of wardrobe, it seems you take modeling seriously. Is it still fun or just work now?
I think you can go pretty far in life by just following directions. When I decide to do something, I give it my best effort. For me, modeling can be serious fun.
How did the shoot go for you today?
The shoot was really fun. It was probably the most fun cover shoot that I've ever done. Val did great makeup and hair, the food was awesome and everyone on set was relaxed. I felt comfortable right off the bat. I just wanted to shoot in as many outfits as possible before I had to catch my flight back.
Speaking of food, you have a passion for a simple side dish?
I love French fries. All kinds of French fries from the skinniest shoestrings to the thickest steak fries. If they are crispy and I have sauce or ketchup, it's on. I will eat them all. Actually, I think I love anything fried. Fry it and I'll eat it.
Being that you are from NorCal, we feared that your favorite foods would have the word "organic" or "vegan" in it. Do you get dirty looks liking real food?
It's not that bad up there, but I will be moving down to SoCal soon. You guys have to show me around.
No problem. Are you planning to stay in school after the move?
Yes. I've completed my first two years and now I want to finish up at a four-year university. I'll probably get a part-time job bartending, like I'm doing now. It works well when you are trying to juggle school, modeling and work.
We understand you aren't too big on movies, but you do have a passion for a TV series.
Yes. I get bored watching movies, but I watch Family Guy religiously. I could watch every episode from season one to whatever they are on now continuously. I love it.
So once you're done with school, where do you see yourself in five years?
Five years from now, I will probably be living somewhere in Asia. I recently visited Vietnam and I loved it. At first, the culture shock hits you, but you quickly fall in love with the country, the food and the people. You can get three meals a day from the street vendors for about a dollar. I'll probably move to Vietnam first and branch out from there. It's funny that so many of the new business owners in Vietnam right now are actually from America.
Any parting words for the DSPORT readers?
I want to send a big thank you to DSPORT for the opportunity to be on the cover. I also want to thank my family, friends and all of my fans that have been there to support me. Without all of you, I would not be here today. Much love.
---