Nike Vision Spring 2016 Performance Eyewear
Nike Vision's new collection offers runners of all levels highly technical designs engineered for both speed and comfort. Designed around the specific needs of runners, the Spring 2016 assortment pushes the emphasizes comfort, ventilation and clarity. The result is eyewear that conforms to the shape of the user's face to maximize grip and comfort, and stays on during movement and high activity. Nike Vision creates performance eyewear that conquers glare, shadow and unpredictable weather with precision optics for every sport and environment.
The ZEISS teams in Germany and Italy developed metrics for a new mold specific to Nike Vision's eyewear – starting from scratch, their goal was to create a mold that would be as close to optically perfect as possible. Once produced, the mold was polished using the same diamond cutting techniques to polish ultraprecise optical surfaces, ensuring minimal blur and removing all flaws in the eyewear's mold.
Additional Features:
• The eyewear's nose pad is suspended to allow air to flow underneath the frame, and reduce fogging
• A minimized, lightweight nose pad allows additional airflow
• Strategically placed openings in the temple arms allows for additional airflow and prevents moisture accumulation
• The lens reduces fogging by allowing air to circulate around the top and bottom of the lens
• Soft rubber channels on the inside of the temples enhance airflow, wick away sweat and grip skin as the athlete heats up (*Only available on the Vaporwing and Vaporwing Elite) COMFORT
• Self-adjusting features include:
o A self-adjusting nose pad that conforms to the shape of the wearer's nose for a comfortable,
individualized fit
o Self-adjusting temple arms conform to the shape of the athlete's head for a comfortable,
one-of-a-kind fit
• The nose pad "floats" on the frame to stabilize and act as a shock absorber during movement
The Nike Vision Spring 2016 Running Collection:
NIKE VAPORWING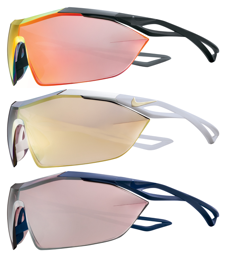 MSRP: $395.00
Features:
The lens becomes the frame with optimum optical clarity, using lighter materials than the average performance eyewear on the market today. The eyewear cuts through wind, reducing resistance. Flex points along the temples automatically adjust to the shape of the athlete's head, to provide a secure fit. A Floating Nose Pad automatically adjusts for optimum grip and comfort, while acting as a shock absorber and increasing airflow. The arms of the eyewear adjust to the moisture level for added comfort. The material is smooth when dry and grips when the athlete begins to sweat. Soft rubber channels on the inside of the temples wick away sweat from contacts points and increase airflow.
Available Colors:
Matte Black (EV0914-001)
Matte White (EV0914-100)
Matte Team Red (EV0944-600)
NIKE TAILWIND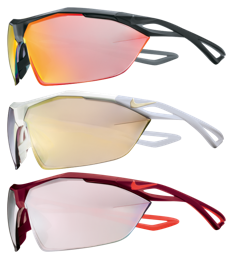 MSRP: $145.00-$165.00
Features:
Nike Max Optics provide precise clarity and reduce distortion. The eyewear cuts through wind, reducing resistance. Flex points along the temples automatically adjust to the shape of the athlete's head, to provide a secure fit. A Floating Nose Pad automatically adjusts for optimum grip and comfort, while acting as a shock absorber and increasing airflow. The arms of the eyewear adjust to the moisture level for added comfort. The material is smooth when dry and grips when the athlete begins to sweat. Soft rubber channels on the inside of the temples wick away sweat from contacts points and increase airflow. Interchangeable lenses available.
Available Colors:
Matte Black/Wolf Grey (EV0915-001) ($145.00)
Matte Black/Bright Crimson (EV0915-007) ($145.00)
Matte Voltage Green/White (EV0915-303) ($145.00)
Matte White/University Red (EV0946-106) ($165.00)
Matte Obsidian/Deep Royal Blue (EV0946-404) ($165.00)
NIKE BANDIT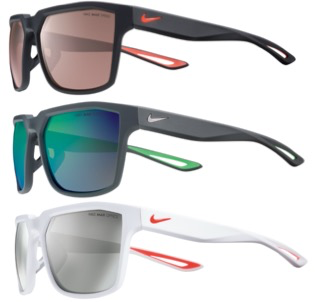 MSRP: $145.00-$165.00
Features:
Nike Max Optics provide precise clarity and reduce distortion. The eyewear cuts through wind, reducing resistance. Flex points along the temples automatically adjust to the shape of the athlete's head, to provide a secure fit. A Floating Nose Pad automatically adjusts for optimum grip and comfort, while acting as a shock absorber and increasing airflow. The arms of the eyewear adjust to the moisture level for added comfort. The material is smooth when dry and grips when the athlete begins to sweat. Soft rubber channels on the inside of the temples wick away sweat from contacts points and increase airflow. Heat Channels (tiny holes built into the top of the frame) allow heat to escape and cool air to circulate, preventing fog and moisture buildup.
Available Colors:
Matte Black/Golf Grey (EV0917-006) ($145.00)
Matte Obsidian/Deep Royal Blue (EV0917-404) ($145.00)
Matte Black/Bright Crimson (EV0950-001) ($165.00)
Matte Black/Silver (EV0949-003) ($165.00)
Matte Black/Gold (EV0949-007) ($165.00)
Matte White/Bright Crimson (EV0949-106) ($165.00)
Anthracite/Gunmetal (EV0949-061)
Nike Vision
www.NikeVision.com