If you want to build a vehicle that brings your company attention, the recipe is pretty simple. Make it look good and make it go fast. That's exactly what the Iron Chefs at Signal Auto have done with their flagship R34 Skyline GT-R. If there has ever been a car that can do it all, this may just be the one. The Signal Auto R34 has proven to be an all-around performer from the dragstrip to the circuit while being a head-turner due to its wild paint and wicked body.
Text & Photos by Michael Ferrara
---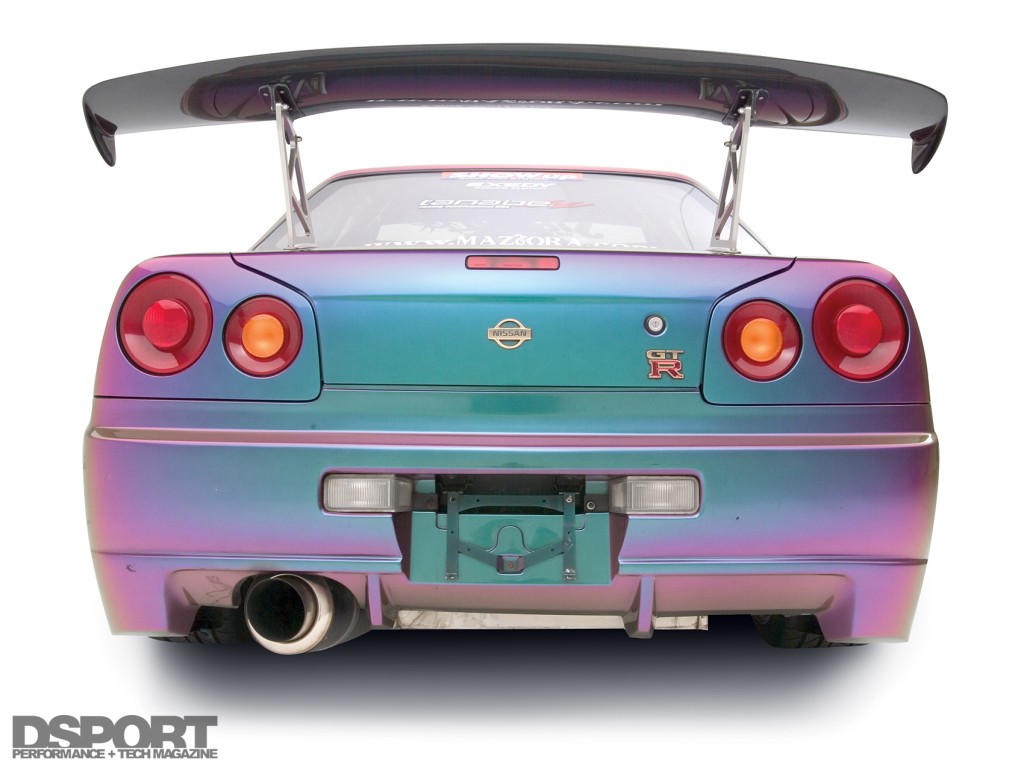 RH9 and Beyond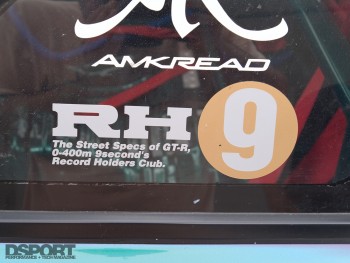 The ultimate status for a street-tire vehicle in Japan is to attain RH9 status. The only way to get into Club RH9 is to run a 9-second pass on radial tires. The Signal Auto R34 has not only accomplished that feat, but it has bettered it by becoming one of only a handful of GT-Rs that has dipped into the 8s on street tires. Can you say Club RH8?
In its Drag set-up, the Signal Auto R34 relied upon a 2.8-liter HKS-stroker-kit RB engine (87mmx77.7mm). This engine was fed by a pair of HKS 3240 turbos cranked up to produce 33 psi of boost pressure at the manifold. The intake manifold was also converted to a single 100mm throttle while TOMEI 280-degree high-lift (11.8mm) camshafts were selected to control the valve events. The combination generated roughly 1000 horsepower.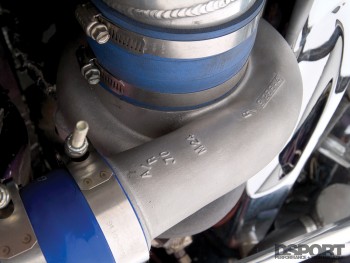 After reaching the goals set in the drag-racing configuration, Signal set out to develop a new combination that would allow sub-minute laps at Japan's Tsubaka circuit. This time the decision was made to go with a 2.7-liter TRUST stroker setup (87mmx75.7mm) with the shortblock. The 2.7-liter setup would use a slightly shorter stroker to reduce piston speeds and increase the rev-ability of the engine. Instead of the highly-aggressive drag-race cams, the head would be set up with medium-lift Trust 280-degree cams (10.8mm lift). For better boost response, a GReddy T88-34D single turbocharger would replace the twin HKS 3240 turbos. For more mid-range power, the single-throttle-body intake manifold would be swapped to a GReddy surge tank teamed with the factory individual throttle bodies. The new combination was well chosen and the R34 accomplished its goal by running the Tsubaka course in under a minute; an achievement that few cars could rival.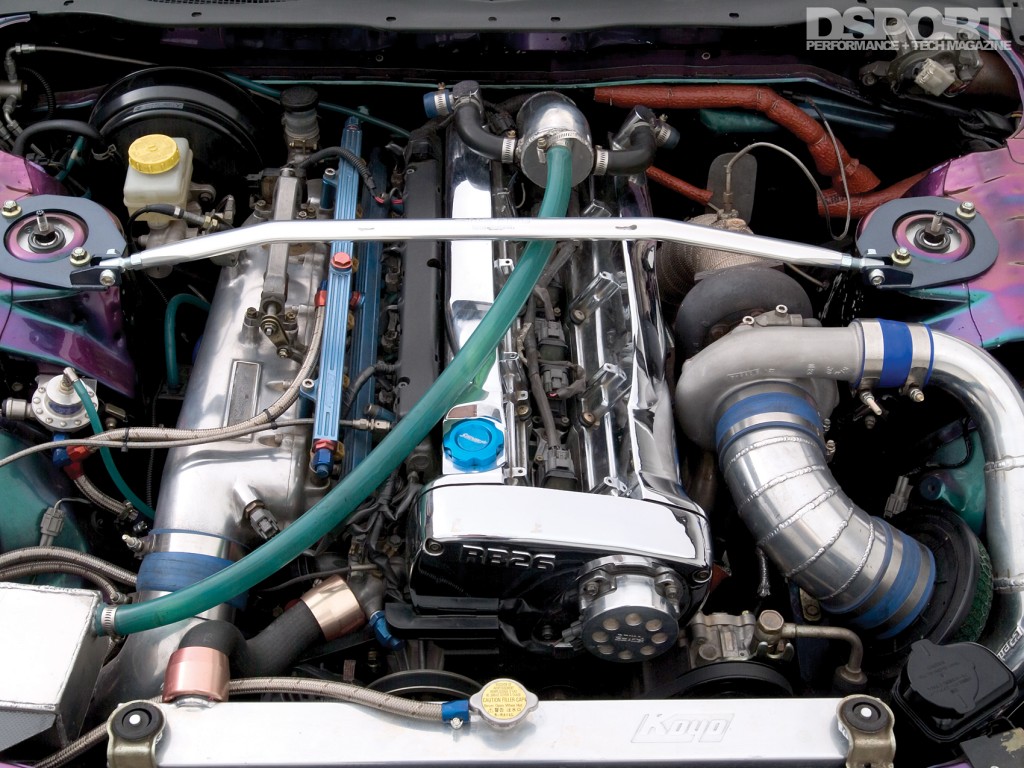 Now on U.S. soil, the evolution continues. With its sites set on some short-circuit time attacks, the combination has changed once again. This time the GReddy turbo has been replaced by a smaller, single GT35 turbo. The GT35 sacrifices horsepower for response when compared to the T88. However, this tradeoff pays off in quicker lap times on the shorter courses that don't let horsepower take over.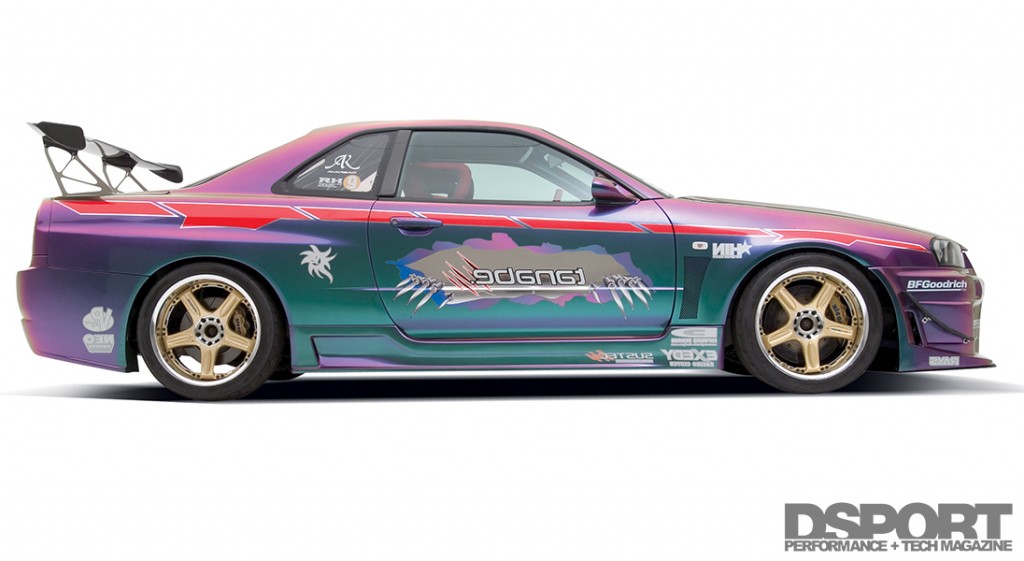 More Than Just a Powerful Engine
Power may be the main ingredient in this car's recipe, but it's the complimentary components of this car that add to its flavor. Power is only of use when it can be controlled. Controlling the application of the engine's power to the wheels is an Exedy tripe-disc, carbon-carbon setup. The unit's three discs provide three times the surface area of a single-disc setup while the carbon-carbon design provides smooth engagement. A Holinger 6-speed sequential transmission ensures that the revs don't drop too much between shifts.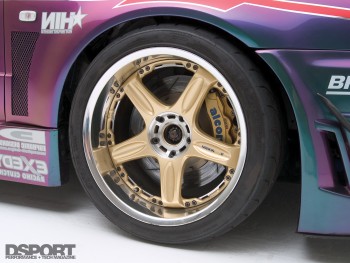 Once the car is in motion, the Tanabe Sustec Pro coil-over suspension takes over. Tanabe 18kg/mm springs carry the weight of the nose while 14 kg/mm coils carry the weight of the rear. The Sustec Pro suspension for this GT-R is much stiffer than the over-the-counter version set up with 14kg/mm front and 12kg/mm rear springs. The Sustec Pro suspension utilizes threaded-body struts that allow both height and preload adjustments. The Sustec Pro suspension also allows the dampener's compression and rebound to be dialed in for improved performance at high speed. Vehicle speed is kept in check by massive Alcon 6-piston front calipers and Alcon 4-piston rear calipers.
For visual impact, a set of 18×10 Volk GT-C wheels have been fitted with BFGoodrich G-Force KD tires of the 265/35/ZR18 variety. The skin has been covered in Mazoora Andromeda. It's a color with multiple-personality disorder. From one angle and lighting, it's purple; from another angle it's green or even gold. Signal Auto hood and bumpers finish off the car's aggressive look.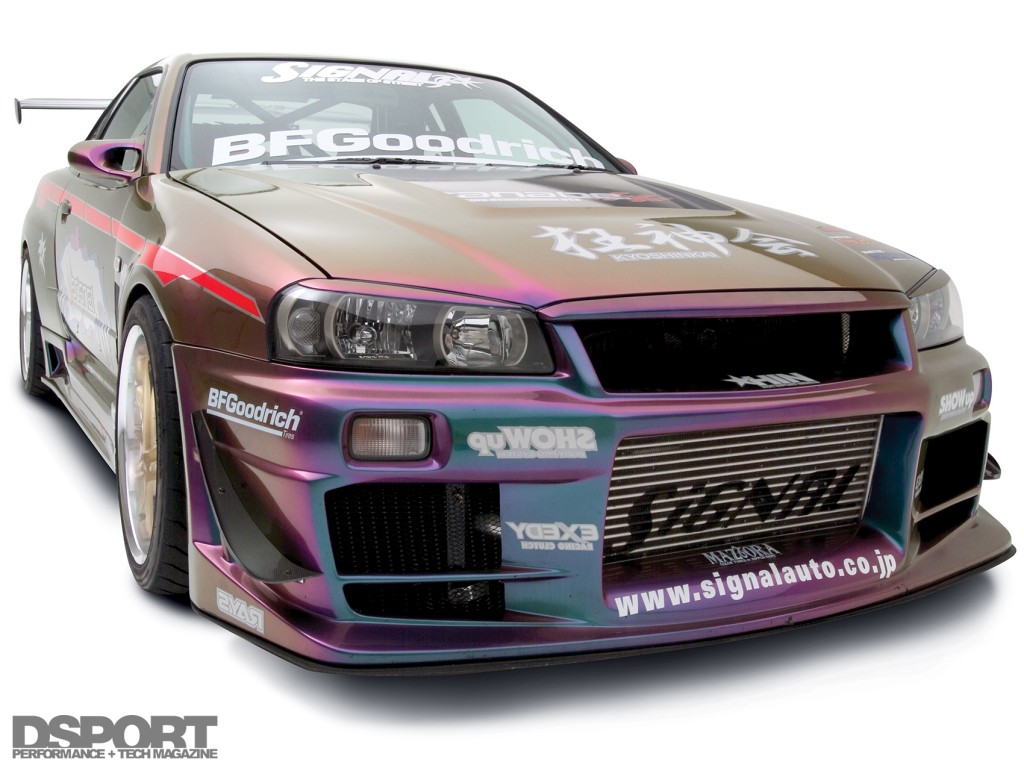 Signal Auto R34 Bottom Line
While only a fraction of a percent of our readers will ever have the opportunity to own a GT-R, there's nothing wrong with having a dream. From the Signal Auto R34, we learn that if one is given a strong enough foundation, there's no structure that can't be built. From drag, to big circuit and now on to short circuit, the Signal Auto R34 has visited many battlefields and has emerged a proven warrior.
---
SPEC SHEET
| VEHICLE | |
| --- | --- |
| Year / Make / Model: | 1999 Nissan Skyline GT-R |
| Chassis Code: | R34 |
| Competition Class: | Outlaw |
| Vehicle Weight: | 3,000 Lbs. |
| Weight Bias (F/R): | N/A |
| Launch RPM: | 7,400 RPM |
| Shift RPM: | 9,200 RPM |
| Peak Boost: | 2.2 kg/cm2 (31.24 psi) |
| Fuel: | 118 Octane |
| ENGINE | |
| --- | --- |
| Engine Code: | RB26DETT |
| Displacement (cc): | 2700cc (Circuit); 2771 (Drag) |
| Bore & Stroke (mm): | 87mm x 75.7mm |
| Bore & Stroke (mm): | 87mm x 77.7mm (DRAG) |
| Peak Horsepower (@ RPM): | 900 HP @ 9,200 RPM |
| Peak Torque (@ RPM): | 568 Lb/Ft @ 7,100 RPM |
| Dyno Type: | Dynojet |
| Block Modifications: | N/A |
| Machine Work: | Signal |
| Pistons/Compression Ratio: | TRUST 8.9:1(CIRCUIT); HKS (DRAG) |
| Connecting Rods / Crank: | TRUST (CIRCUIT); HKS (DRAG) |
| Camshafts: | TRUST (CIRCUIT) |
| Valves/Springs/Retainers: | HKS / HKS / Original |
| Cylinder Head Modifications: | Signal Custom |
| Intake Manifold: | TRUST |
| Fuel Injectors: | Sard 1,000cc Injectors x 6 |
| Fuel Delivery System: | Triple Bosch Pumps, GReddy Rail |
| Engine Management System: | HKS F-Con V-Pro |
| Boost Controller: | HKS |
| Spark Plugs: | TRUST |
| Exhaust Manifold: | TRUST |
| Exhaust System: | Signal/Tanabe Titanium |
| Wastegate: | TRUST |
| Blow-Off Valve: | TRUST |
| Intercooler: | TRUST |
| Nitrous Oxide: | N/A |
| Cooling System: | Koyo Aluminum Radiator / |
| | FAL Electric Fan |
| Oil System: | HKS Oil Pump |
| Gauges: | Nismo & GReddy |
| TURBOCHARGER | |
| --- | --- |
| Turbocharger: | GT35R (Current) |
| Drag Setup: | HKS 3240×2 |
| Tsukaba Setup | GReddy T88-34D |
| CHASSIS/DRIVELINE | |
| --- | --- |
| Springs, F&R (Make & Rate): | Tanabe 18kg (Front) |
| | Tanabe 14kg (Rear) |
| Shocks, F&R (Make & Rate): | Tanabe Sustec Pro |
| Additional Suspension Components: | Tanabe |
| Transmission: | Holinger Sequential |
| Transmission Gearing: | N/A |
| Final Drive: | 4.10-to-1 |
| Clutch / Flywheel: | Exedy Carbon Triple Disc |
| Differential(s) (Make & Type): | Cusco |
| Axles / Driveshaft: | Carbon Driveshaft |
| Wheels (Make, Size & Offset): | Volk GT-C 18×10 |
| Tires (Make & Size): | BFGoodrich K/D 265/35/18 |
| Brake Calipers: | Alcon 6-piston / Alcon 4-piston |
| Etc: | Stiffened Frame with Chromoly Bars |
| INTERIOR | |
| --- | --- |
| Roll Bar / Cage: | Signal Original |
| Seats: | Bride |
| Harnesses: | Simpson |
| EXTERIOR | |
| --- | --- |
| Bumpers: | Signal |
| Hood: | Signal |
| Spoiler/Wing:: | Signal Carbon GT-wing |
| Mirrors: | Ganador Carbon |
| Paint: | Mazoora Andromeda |
| Custom Body Work: | ShowUp Body Pro System |