When Toyota released its AE86 Corolla in 1983, the engineers could not have imagined the cult following this humble, rear-wheel drive sport compact would eventually garner. Over two decades after its production ceased in 1987, loyal fans of the platform continue to build, show, drift, drag and road race the AE86. Then in 2012 Toyta paid homage to its affordable and sporty Corolla by releasing the 86 in Japan, known as the Scion FR-S in the USA. This rear-wheel drive coupe (jointly developed with Subaru, whose model is named the BRZ) embodied the spirit of the original AE86, affordable, nimble and fun to drive.
Text and Photos by Richard Fong
---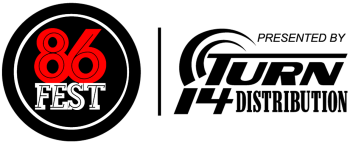 Broad fanaticism and interest, along with an entirely new generation of enthusiasts prompted the creation of 86FEST, a celebration of all things 86. On Sunday, September 21, 2014, the third annual 86FEST presented by Turn 14 Distribution commenced, as a host of 86s, FR-S and BRZ filled the lot at Irwindale Speedway in Irwindale, California.
GO WEST
This free event organized by MotorMavens drew enthusiasts from across the nation, with some traveling from distant locations such as New Hampshire, Pennsylvania, Florida, Georgia, North Carolina, Iowa, Texas and even Toronto, Canada. Just the car show alone featured 240 entries, while the parking area was itself a car show numbering in the hundreds. Over 4,000 attendees flooded the grounds throughout the day, checking out the cars and the vendor row, which contained nearly 70 aftermarket displays.
---
FAITHFUL OLD AE86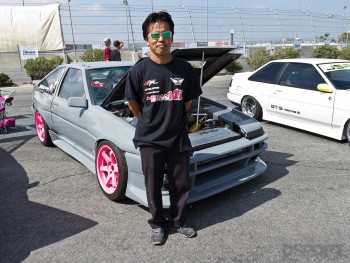 While the sheer volume of FR-S and BRZ present overshadowed the number of original Toyota AE86s, there were still a decent number of original hachirokus at the event. Formula Drift driver Taka Aono displayed his retired Formula Drift Corolla that he now uses when instructing at Drift School USA. Nearby, former Formula D driver John Russakoff of JSP Fab displayed his repurposed AE86 drag car. He stated that this F20C powered Corolla would make its first showing at the IDRC Finals in Fontana, CA. Making anywhere from 800 to 1,000 horsepower, it should easily produce single-digit time slips.