Just as the fall signals the end of the summer,
it also concludes the motorsports events season. Hence, the IDRC drew some of the quickest racers out to Auto Club Dragway in Fontana, California on Octover 18-19, 2014, for the 2014 IDRC International Finals. The season finale was packed was packed with activity, as Mountune held its first ever ST 1/4-Mile Challenge, the IDRC held a beginner's drag racing school and the INSTAFAME Car Show added to the racing excitement over the weekend.
Text by Richard Fong // Photos by Kevin Convertito, Rommel Estrada, Richard Fong and Tyrone Lincoln
---
ROUNDING UP THE OUTLAWS
The quickest competitors for the weekend were gathered together in the Pro Outlaw class. The standards were set high as the top seeded Santos Renovales Sr. set a high bar with an 8.385 second pass at 163.95 mph, his new personal best. But Renovales faced stout competition, as Erick's Racing supported the Panamanian driver Abal Gallardo, who brought his Civic from Panama to compete. JSP Fabrication's John Russakoff, who transformed his AE86 drift car into a 800-plus horsepower turbocharged F20C powered drag car, also a single digit competitor. These eliminations raised pulses, as the competitors laid down single digit passes through each pairing. Renovales eventually met with Gallardo in the semi finals, eliminating the visiting competitor with an 8-second time slip. Renovales then faced second seed Navid Pajoufin in the finals. These drivers put down scorching 8-second passes, as Renovales edged out Pajoufin by 0.092 seconds to take the class victory.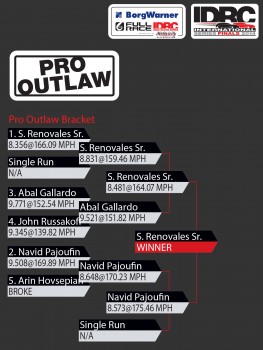 Pro Outlaw Qualifying Positions
Pos
Car#
Driver
Car
Time
MPH
1
341
S. Renovales Sr.
83 Corolla
8.385
163.95
2
555
Navid Pajoufin
94 Civic
8.815
168.72
3
332
Abal Gallardo
92 Civic
9.481
146.83
4
275
John Russakoff
85 Corolla
12.746
68.46
5
285
Arin Hovsepian
240Z
13.423
64.06
Low ET Top Speed
8.385 sec 168.72 mph
S. Renovales Sr. Navid Pajoufin
---