The Petersen Automotive Museum in Los Angeles has definitely got a winner on its hands with the new Keith Haring art cars exhibit
, previewed during the opening reception on a rainy Thursday night in December. This exhibit featured five of Haring's original works: a 1963 Buick Special, a 1991 BMW Z1, a 1971 Land Rover Defender, a Honda CBR1000F Motorcycle and, one of my favorites, a go-kart that Keith painted while attending the 1984 Le Mans 24 Hour Race. If you're not familiar with Keith Haring, his art made a big splash on the New York City street culture scene back in the 1980s that expressed concepts of life, death and war through his refreshing and simplistic tribal graffiti art style. He quickly became a well-respected Pop art icon alongside the likes of Andy Warhol and Jean-Michel Basquiat. Tragically, the world lost this rocketing talent to AIDS-related complications at the young age of 31 in 1990.
Text and Photos by Paul Laguette
---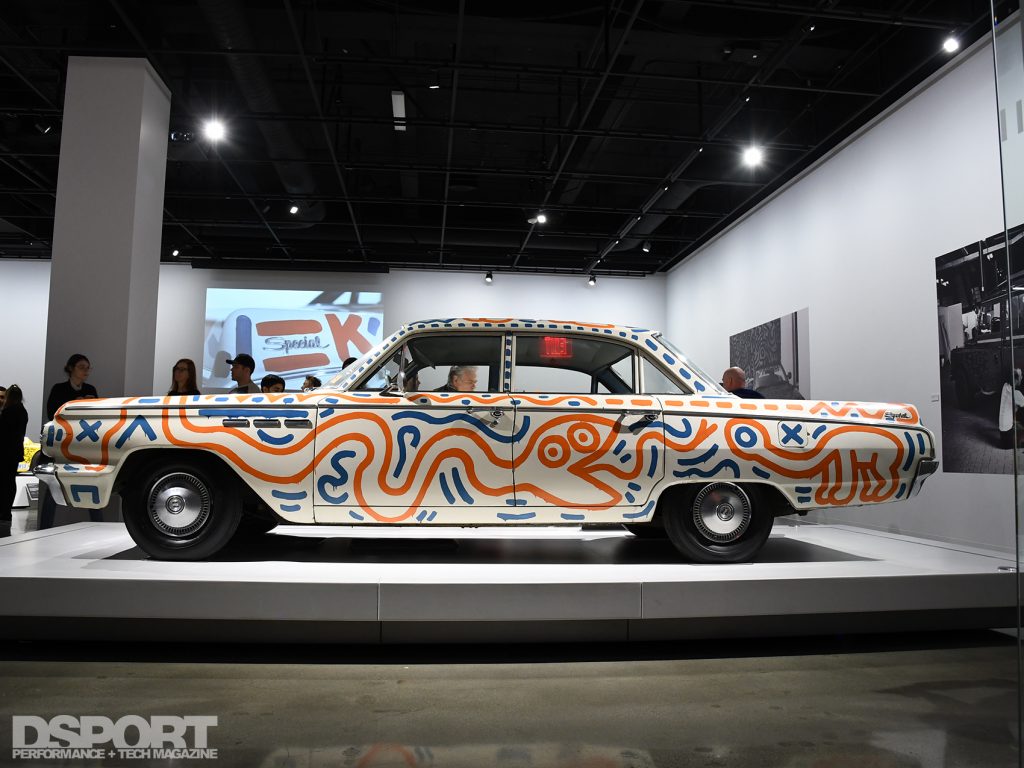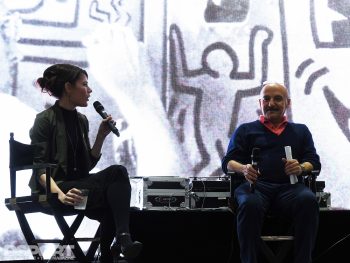 This exclusive LA event started off with a brief introduction by KCRW's Edward Goldman, who hosts a weekly radio segment called 'Art Talk'. As both an automotive and art enthusiast, I found Edward to be the perfect person to kick things off with an introduction to Haring's art. As the curtains were pulled back, the crowd was quickly welcomed in by Keith Haring's whimsical and colorful hand-painted 1963 Buick Special. As a big fan of Keith's art, it set the tone and brought a big smile to my face and all the other invited guests. Moving through this tiny room was like navigating a Walmart during a Black Friday sale, but I was still able to move my over six-foot-tall, 200-pound frame easily through the sea of onlookers and gawkers. As I paused for a second to get my bearings, I met up with art critic Edward Goldman from KCRW's 'Art Talk'. I'm such a big fan of his weekly reporting of the ever growing LA art scene. Having him there meant I was at the hottest art happening in town. He summarized the evening by saying "Keith is truly with us tonight in spirit." The body of work made you feel his presence.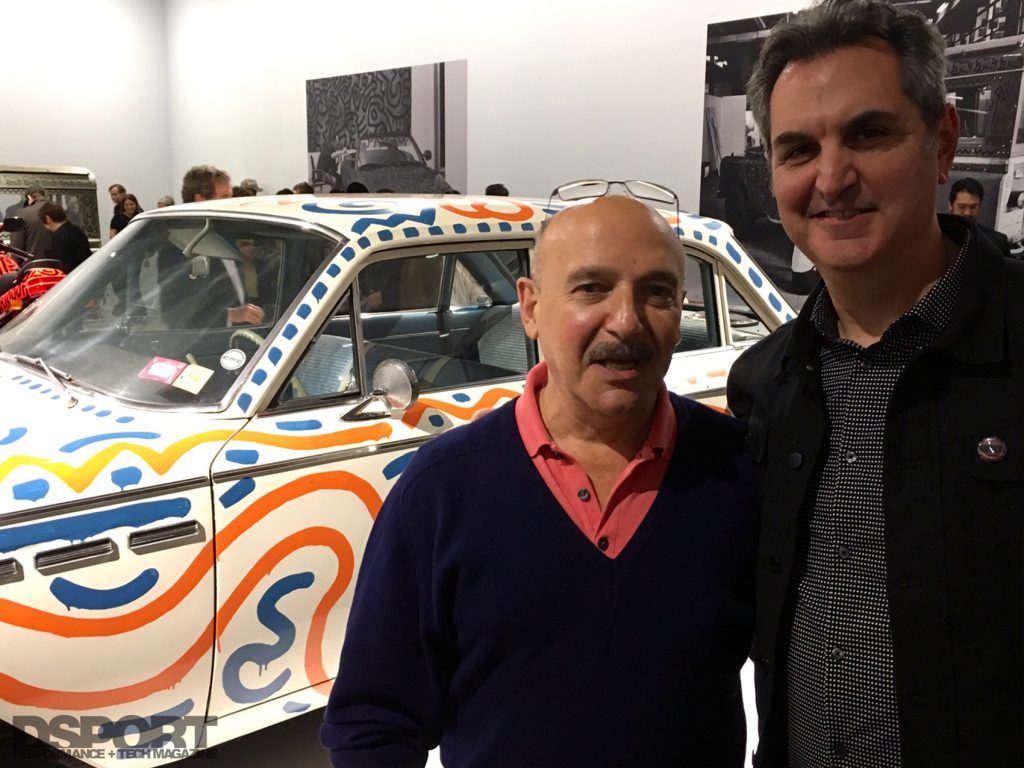 Moving on, I approached the BMW Z1. I couldn't help but notice just how current Keith Haring's work remains. He has been gone for over 25 years now, but his creativity still inspires the street art scene around the world to this day. It was also an exciting moment for me as an automotive nut and specifically a huge BMW fanatic. I had never seen a Z1 in person since they never officially made it to the U.S. That ended up being a highlight of the evening for me. This quirky two-seat roadster with a 2.5-liter straight-six engine and dropped down doors was a car I really wanted to own when it first came out in the late 80s.
As both a car enthusiast and art lover the exhibition resulted in a collision of my two favorite worlds in many ways. I can confidently say that there were, by far, more of the knowledgeable LA art scene goers that I normally see attending LACMA or MOCA exhibitions than the Petersen's typical crowd of car guys dragging the entire family out to see a bunch of old classic cars. Regardless of your affiliation, it's nice to know a venue such as the Petersen Automotive Museum in Los Angeles exists and has found its niche along Wilshire Avenue's museum row. It is a definite must for anyone visiting from out of town looking for a quality destination and a memorable L.A. Landmark experience. Young or old, it will not disappoint. If you haven't visited them since their recent major remodel, you will be very impressed with the new modern layout and sophisticated design.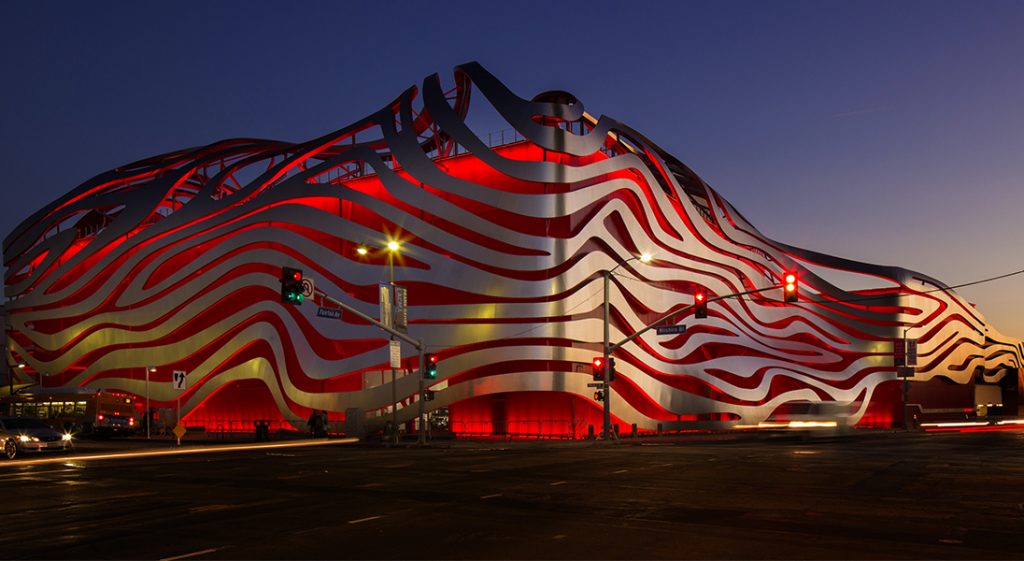 The Petersen Automotive Museum was recently remodeled and has quite a sophisticated design now. Sad to say when I use the words 'sophisticated design' that does mean the AM/PM Mini-mart with soft serve ice cream has gone the way of the woolly mammoths and the Saber-toothed cats just down the street in the tar pits.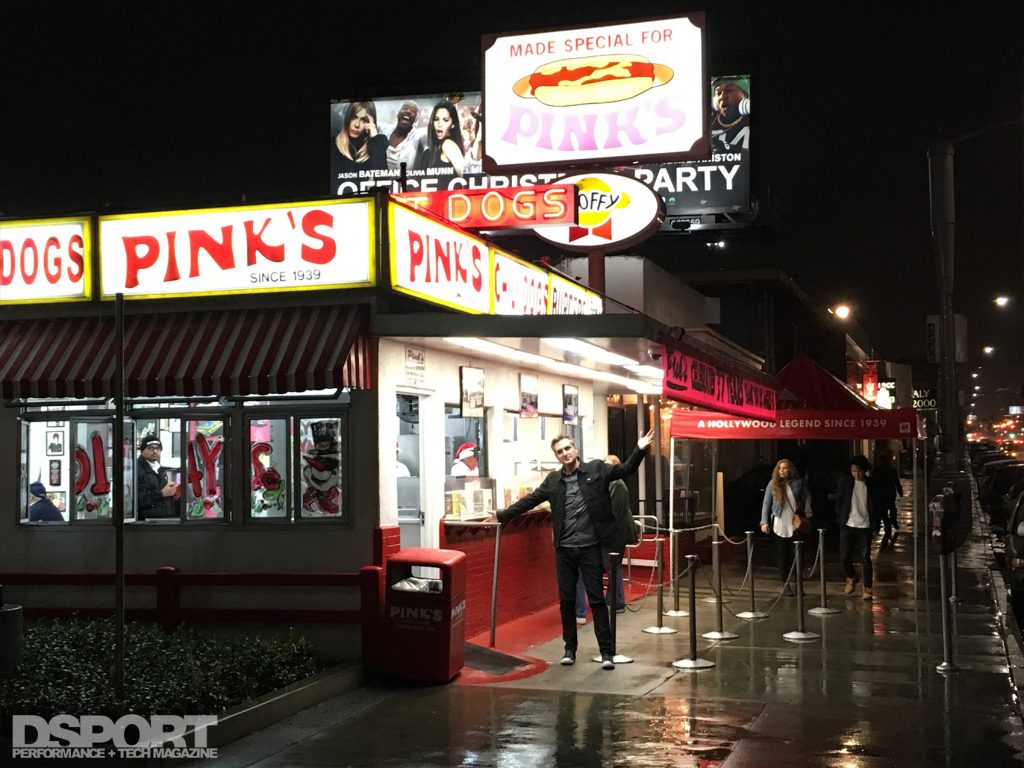 Quick side note: A rainy late night will guarantee the line at Pink's across town will be short. I always order an over-cooked grilled dog and an extra toasted bun with mustard chased down with a glass bottle of Coke. The perfect pick-me-up for the drive back to Orange County.