The term "future-proof" is a dangerous one to throw around for any modern technology. Many mobile device manufacturers regularly push out their latest hardware while deeming the previous generation outdated. You can't go shopping for a laptop without the expectation that there will be a new model next year that is thinner, lighter and more powerful. Even automotive technologies follow this pattern, with engine management solutions and active suspension continually proving more effective than ever before with every update. In the cockpit, the motorsports industry pushes data acquisition technologies forward, making gigantic strides in the last decade. Despite the trend of continually evolving dashes and data acquisition systems, Stack introduces its ST9918 LCD Motorsport Display as a highly capable dashlogger that aims to be future-proof.
Text by Cameron Parsons // Photos by Cameron Parsons and Joe Singleton
---
Strong Roots
The Stack ST9918 LCD Motorsport Display is the manufacturer's latest offering of a professional racing dash, following a long history of supplying racing teams with data logging solutions. The company's involvement in motorsports data acquisition dates back to the mid-1980s, taking part in legendary racecars in Formula One and IndyCar, up to more recent prototype and rally cars. Despite the use of this hardware in top-tier racing series with big budget teams, Stack systems have been available to consumers for decades, allowing racers and teams to utilize the same technologies in their own projects. To the benefit of the smaller teams and independent car owners, many of the features that were once available only to those with deep pockets are more affordable and accessible than ever before.
Place in Line
Although Stack's lineup of dashes and data loggers has generally increased in both functionality and affordability, the ST9918 is no entry-level consumer display. This full-color, customizable LCD dash and data logger serves as the manufacturer's flagship product in the motorsports world. It carries the most features and highest performance, but these highlights add up to a $2,499.95 MSRP. To this end, this dash belongs in a racecar or at least in a performance track car. Roadcars would hardly take advantage of the ST9918's broad range of functionality.
On the Outside
At first sight, the ST9918 display looks gigantic. The 7-inch TFT LCD screen is framed by an 8.28×5.16×1.35-inch carbon composite housing. This makes for a beautiful presentation of data on the screen, however, it may be a struggle to make it fit well in some vehicles. On the face of the dash, four buttons allow for display switching and menu navigation. 16 multicolor LED lights fill out the bezel to provide engine speed for shifting, as well as configurable alarms. On the back of the display, a single 37-pin connector simplifies wiring, and four 8-32 threaded brass inserts provide solid mounting points. The fit and finish of this ST9918 previews the quality of its construction, showcasing a robust form factor while still sporting an appealing look.
Hardware
The Stack ST9918 LCD Motorsport Display is loaded with features and capabilities to keep its users informed with every aspect of a car's performance. The unit houses a built-in 3-axis accelerometer and allows for the connection of an external GPS sensor. These items work together to provide data on acceleration, deceleration and cornering forces and speeds, as well as GPS-based lap timing and track mapping. The ST9918 features two configurable RS232 connections and two configurable CAN connections, adding to the amounts of data for logging and analysis. These communication mediums enable reading channels like GPS, ECU data, telemetry and additional sensors. With sample rates of up to 1,000 Hz recording onto 4 GB of internal memory, this dash logger can record accurate data for more laps than anyone can drive in one session.
Don't let the wires scare you, each one is labeled for proper connection with wiring references in the manual.
Communications

M1 Configurable CAN port – Up to 1 Mb/s (customer electronics package integration)
1 Configurable RS232 port: GPS
1 Ethernet port: (Configuration, Data Exchange, Firmware Upgrades)
1 USB port: (Data exchange, configuration, Copy and upload, firmware upgrades)
Stack engineered the ST9918 to stand as the framework for data displaying and logging for the future, which means compatibility and modularity are critical. In order to meet the needs of many types of platforms in different racing and performance environments, Stack offers a wide variety of add-ons and sensors. This includes optional hardware to measure temperatures, pressures, RPMs, speeds, lambda and displacement (potentiometers) all around the car.
Data Logging

Max number of channels: 128
Max sample 1,000 Hz
Max total samples per second: 8,000
Internal Memory: 4GB solid state internal
Supplied with DataPro Analysis software
Data Security: Pin code prevents data review by unauthorized personnel

Stack offers a wealth of additional sensors for fine tuning handling performance, including suspension potentiometers.
Making Connections
The LCD Motorsport Display looks good on the outside and carries the latest hardware on the inside. All that's left is making it work with your vehicle. With an Ethernet or USB connection, any PC running Windows XP or newer can communicate with the dash for configuration, firmware updates or data downloads. Once connected, Stack's DataPro so ware opens the full list of features and customizability for the dash. From here, you can edit the various channels and calibrate them to your liking. The ST9918 allows for extensive customizability, which can be both good and tedious. The good part is that this dash is highly capable as an information display and a data logger. Using the DataPro so ware, users can configure the many different types of available sensors, and adjust how they display information on screen. This includes layout templates that can utilize a sweeping RPM bar, standard dial gauges, plain numerical readouts and illustrated graphical displays. Conditional alarm graphics and warning LEDs can even be set to deliver important messages to the driver. The list of features can go on seemingly forever, which is where the downside comes in. The near-limitless level of customization means that tuning this dash exactly to your liking could take a lot of time and tedious work. Although the DataPro so ware attempts to make the process a mostly drag-and-drop a air with pre-configured templates for many data channels, most users won't get very far without closely studying the manual.
Users can acquire brake pressure and fuel pressure sensors through Stack to add to the 9918's utility.
Once everything is set up, the ST9918 operates flawlessly. The display adjusts its brightness based on ambient light, dimming itself in low light conditions and brightening itself to be easily readable in direct sunlight. Information displayed on screen refreshes quickly and, with a track configured in the GPS settings, logs data automatically. If you want to take full advantage of the motorsports aspect of the ST9918, you can even purchase the Pro So ware Pack and a few hardware accessories from Stack to utilize the telemetry feature. This means that while you're driving on track, your crew can monitor the data channels in real time from pit lane. For anyone who wants to review data a er a session on track, the DataPro so ware offers the ability to download sessions and view the properties of the various channels from each lap. The ability to synchronize the data with video and GPS position on the track only adds to the dash's utility for drivers and engineers alike.

Top Tier
Stack offers one of today's most capable and most versatile dash loggers in its ST9918 LCD Motorsport Display. Priced at $2,499.95, it sits at the higher end of the spectrum compared to most street dashes but is competitively affordable for the racing world. Its extensive list of features and capabilities makes it more attractive to racers and serious automotive enthusiasts. However, this is no "plug-and-play" piece of hardware. In order to unlock its full potential, most users will need to spend a lot of time and effort getting it set up just right. But with all the wiring and channel settings in order, the ST9918 will deliver most car owners, engineers and drivers everything they could ask for out of a dash logger and more.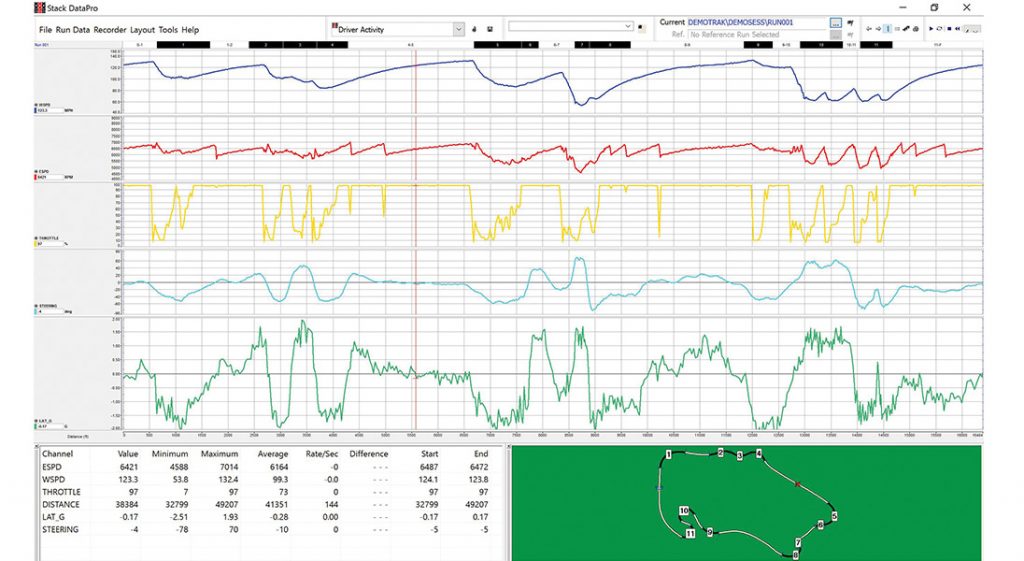 Although the dash setup process can feel complicated in its level of detail, the DataPro data analysis software is very intuitive and helpful for tuners and drivers to get a better understanding of the car's performance.
| Stack ST9918 LCD Display | |
| --- | --- |
| Dimensions (Wide x High x Deep) | 8.28×5.16×1.35 Inches |
| Housing Construction | Carbon Composite |
| Screen | 7-inch TFT LCD |
| Resolution | 800×480 Pixles |
| Operating Temperature Range | -7 Degrees Celsius to 80 Degrees Celsius |
| Vibration/Shock | Handles up to 20g continuous vibration, up to 50g shock |
| Weather Proofing | IP65 Sealed |
| Weight | 700 grams |
| Alarm LEDs | 16 Configurable, Multicolor Shift and Warning lights |
| Inputs | 4 Pulse/Digital or Analog Inputs, 8 Configurable Analog Inputs (0-5V or 0-12V) |
| External Switches | 4 Switches/Control Outputs |
| Accelerometer | Internal 3-Axis Accelerometer with +/- 8g range |
| Vehicle Communications | 2 Configurable RS232 Connections, 2 CAN Connections |
| Device Communications | 1 Ethernet Port, 1 USB Port |
| Data Capacity | 4 GB |
| Sampling Rate | Up to 1,000 Hz |
| Power Consumption | 800mA |