TURN 14 DISTRIBUTION ADDS AMS PERFORMANCE TO LINE CARD
Text by Turn 14
Horsham, PA (March 25, 2020) — Turn 14 Distribution, the industry leader in aftermarket performance parts distribution, has added the exceptional vehicle components manufactured by AMS Performance to its line card.
"AMS Performance offers a broad range of products including intake and exhaust systems, electronics, engine and driveline components, suspension components, and more. The company specializes in products for turbocharged cars and has a long history that dates back to modifying the original 2.3-liter Ford turbo engine," said Mike Malloy, Divisional Purchasing Manager, Turn 14 Distribution.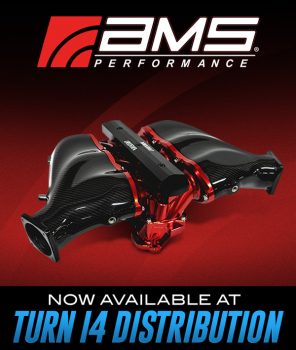 "AMS Performance's products are considered top of the line among enthusiasts; based upon its accomplishments at racetracks all over the world, its brand equity is well-deserved. We are committed to building a long-standing legacy together."
The goal of AMS Performance is to provide the highest quality, best-performing products available. First and foremost, AMS is an engineering company, which uses computer-aided designs and mechanical engineers with years of motorsports experience to develop its products.
Each AMS part is assembled and checked for fitment and function. Before its components are built into full AMS Products, each one is thoroughly inspected for metrological integrity. Precision crafted jigs ensure that every assembly meets or exceeds standards for dimensional tolerance. By utilizing extensive research and development and rigorous testing programs, AMS will never compromise the quality or performance of its products.
AMS and its sister brand Alpha Performance have been at the top of the game for 15 years. AMS Performance has built a strong reputation with the Mitsubishi EVO and Nissan GT-R platforms. The company has many products in development for several existing and forthcoming vehicle platforms, designed to continue its long legacy of championship-winning vehicle components.

About Turn 14 Distribution
Founded in 2007, Turn 14 Distribution is a leading Performance Warehouse Distributor. It offers a range of proprietary online tools like real-time inventory, exact shipping quotes, international shipping quotes, and manufacturer-direct drop-shipping. Turn 14 Distribution's goal is simple; to serve as a true resource and provide consistently exceptional service to all of its customers. For more information about Turn 14 Distribution, visit its website at www.turn14.com.