TURN 14 DISTRIBUTION ADDS FUELAB TO LINE CARD
Text by Turn 14
Horsham, PA (September 4, 2019) — Turn 14 Distribution, the industry leader in performance automotive parts distribution, has strengthened its product assortment with the addition of FUELAB's fuel delivery products to its distribution centers.
"Turn 14 Distribution is pleased to bring the innovative products offered by FUELAB to our customers," said Kyle Shelley, Turn 14 Distribution's Director of Sales.
"FUELAB products are a top choice of late-model domestic performance shops, and the company has invested into the development of products for the diesel truck market with its Velocity lift pumps and fuel system components, which include fuel pressure regulators, fuel filters, and other accessories."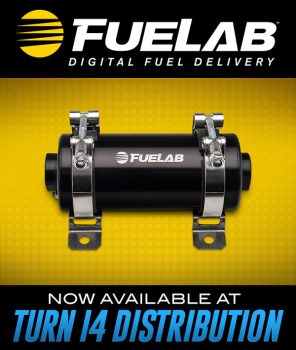 Since 2005, FUELAB has introduced some of the most innovative fuel delivery products the automotive aftermarket has ever seen. It all started with its Prodigy line of speed controllable DC brushless fuel pumps and has grown to include the award-winning, patented 529 Series Electronic Fuel Pressure Regulator, along with over 1600 different items related to performance fuel systems.
FUELAB can provide fuel system products from individual components to total on-demand fuel systems, along with custom solutions for specific fuel system configurations. FUELAB's products are premium quality and are bolstered by the company's technological experience and knowledge to make it work seamlessly.
Enthusiasts and championship racers in all forms of motorsports rely on FUELAB. The company's technology advantage, supported by continuing investments in research and development, has been the foundation of its growth and will continue to ensure the highest quality product for its customers, now and in the future.

About Turn 14 Distribution
Founded in 2007, Turn 14 Distribution is a leading Performance Warehouse Distributor. It offers a range of proprietary online tools like real-time inventory, exact shipping quotes, international shipping quotes, and manufacturer-direct drop-shipping. Turn 14 Distribution's goal is simple; to serve as a true resource and provide consistently exceptional service to all of its customers. For more information about Turn 14 Distribution, visit its website at www.turn14.com.