Horsham, PA (May 16, 2019) — Turn 14 Distribution, the industry leader in performance automotive parts distribution, will be hosting its Third Annual Car Meet presented by KW Suspensions. The event will take place June 15, 2019, from 11 am to 2 pm at the company's 272,000 sq-ft distribution center, located at 3035 Campus Drive, Hatfield, PA.
Text by Turn 14
---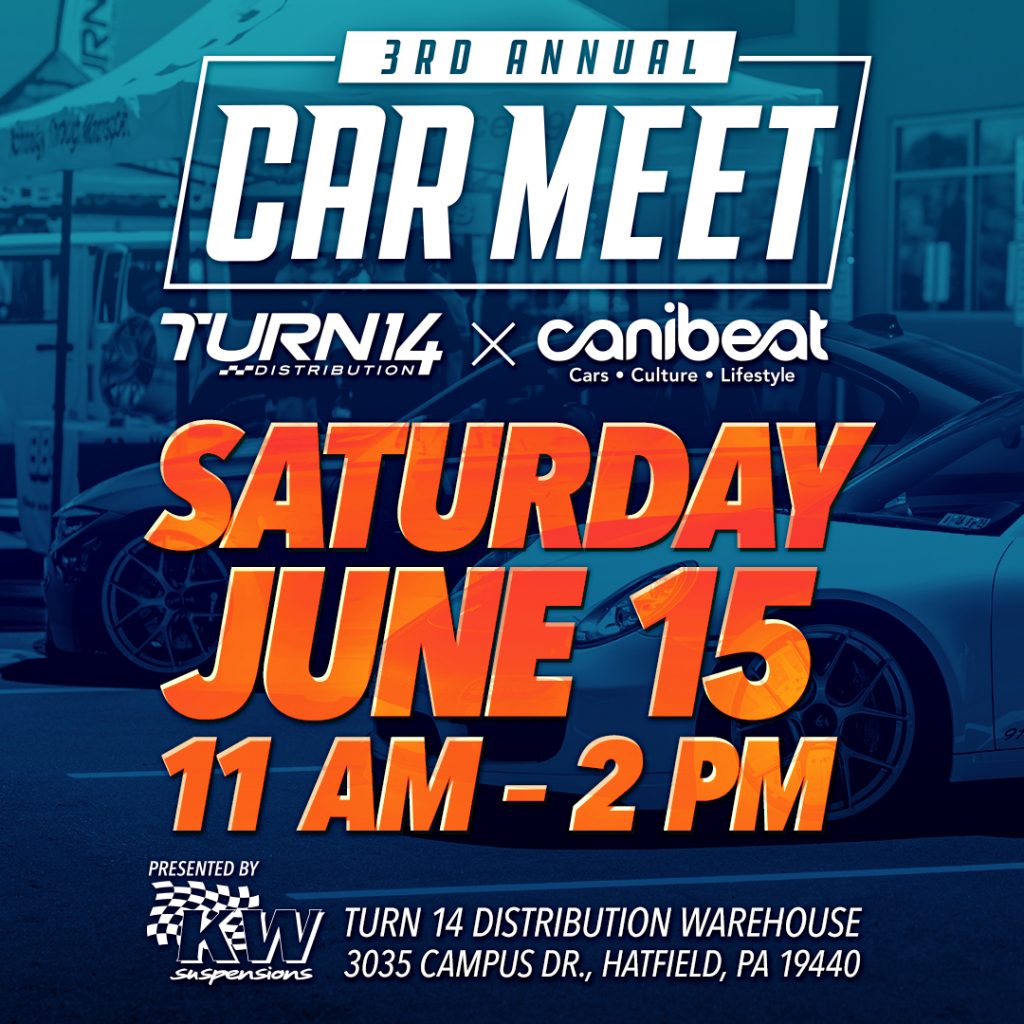 TURN 14 DISTRIBUTION HOSTING THIRD ANNUAL CAR MEET ON JUNE 15, 2019
Following the event's success over the last two years, Turn 14 Distribution has collaborated with well-known event promoter Canibeat to share their experience and community reach with respect to producing and organizing high-quality car meets. You can expect to see a variety of tastefully modified vehicles of all makes and models, for both the street and track.
For 2019, Turn 14 Distribution has introduced pre-registration for cars who wish to participate in the car show portion of the event. Each entrant will have the chance to win an award in one of five categories applicable to their vehicle. The award categories are Modern Performance, Domestic Performance, European Performance, Truck & Off-Road, and Overall Best in Show.
To support the event, Turn 14 Distribution has enlisted assistance from some of its most illustrious vendor partners across all market segments. Air Lift, Akrapovič, AWE Tuning, BBS Wheels, BMR Suspension, Edelbrock, fifteen52, Fleece Performance, FOX Factory Inc., KW Suspensions, LUND, Mackin Industries, Manley Performance, Mishimoto, Rolling Big Power, Vibrant Performance, and Wilwood Engineering will be displaying products along with modified vehicles at the event.
In addition, the midway displays will include local and regional performance shops and retailers. Companies including Crown SpeedLab, Gear One Performance, R/T Tuning, and Subimods will be displaying the products and services they offer along with some of their completed automotive builds.
Excitement for the event is high, with a wide range of local car enthusiast groups planning to attend. The event will feature live entertainment courtesy of two DJs on-site, a hospitality tent with seating and shade, and food trucks offering refreshments and food for purchase. The meet is open to the public, free to enter, and all are welcome to attend.
Front Street Media and enthusiast source Speed Academy will publish online event coverage following the event. Additional information regarding the event is available on Turn 14 Distribution's social media pages, which has links to the Eventbrite and Facebook event pages.
About Turn 14 Distribution
Founded in 2007, Turn 14 Distribution is a leading Performance Warehouse Distributor. It offers a range of proprietary online tools like real-time inventory, exact shipping quotes, international shipping quotes, and manufacturer-direct drop-shipping. Turn 14 Distribution's goal is simple; to serve as a true resource and provide consistently exceptional service to all of its customers. For more information about Turn 14 Distribution, visit its website at www.turn14.com.