If you haven't tuned into a Red Bull Global Rallycross Championship (GRC) race, you're missing out. This series puts together a formula that's unlike anything else in motorsports. First, the cars. 600 horsepower, 600+ lb-ft of torque, six-speed sequential gearbox, all-wheel drive, and zero-to-sixty in under two seconds. What makes these specs even more impressive is the environment that these machines are used in. Instead of taking turns around an empty road course trying to set a fast lap, GRC drivers battle door-to-door on short tracks composed of dirt, gravel and tarmac, surrounded only by walls. If the changing road surface and lack of runoff doesn't mix things up enough, tracks also include jumps that send cars flying with all four wheels off the ground. All of this adds up to some of the most intense and exciting racing you can find today. As the 2016 season came to a close, we received an invite at the DSPORT office to visit the Port of Los Angeles for the final race of the year. I was the lucky one who got to attend and ride passenger in the Subaru WRX STI racecar.
By Cameron Parsons
---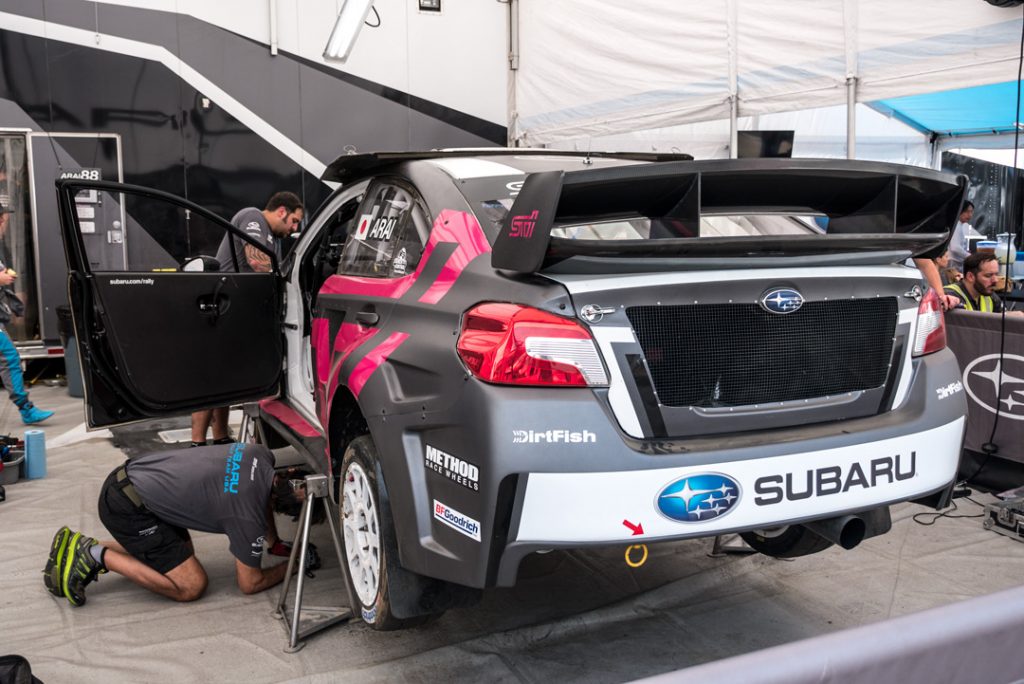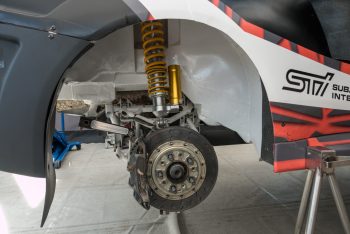 This weekend being the season finale, Subaru Rally Team USA fielded three cars to close out 2016 with a large presence. Chris Atkinson, David Higgins and Toshihiro (Toshi) Arai piloted the WRX STIs for this event, kicking off the weekend with ride-along laps around the course. I was paired with Toshi, who carries a strong reputation in racing, particularly outside of the U.S. His experience dates back to 1997 in the World Rally Championship, the Production World Rally Championship, Intercontinental Rally Challenge, and European Rally Championship, each of which he competed from behind the wheel of a Subaru. I rarely ride passenger in any racecar, but in this case, I knew I was in capable hands.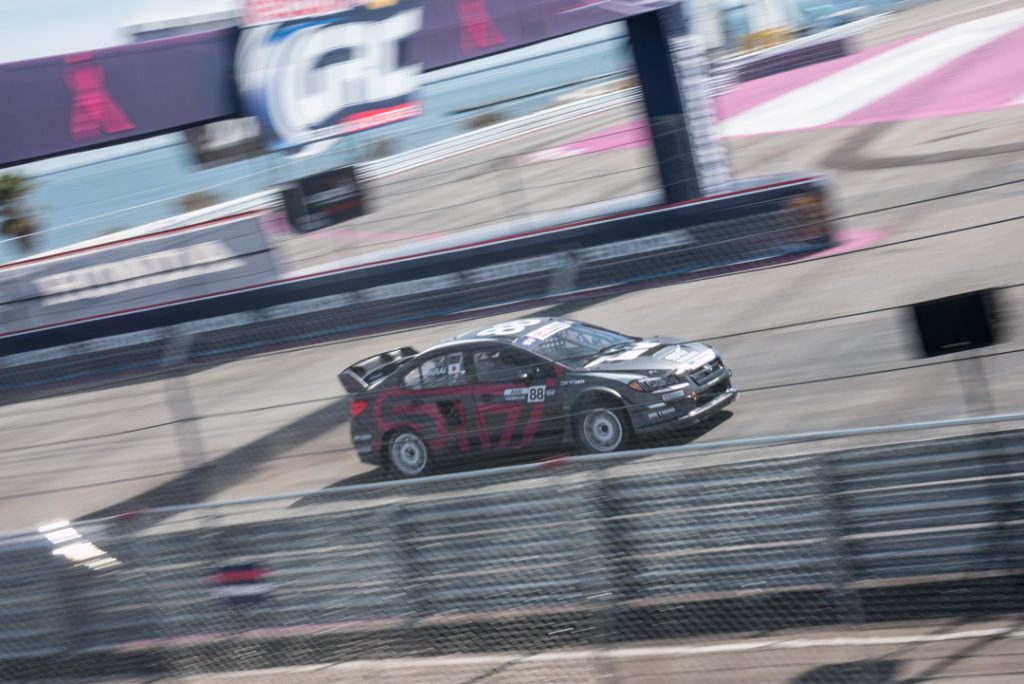 Just before crawling into the passenger seat, I was handed a helmet and flame-retardant suit – the need for safety gear was a good sign we'd be going fast around the track. Fully geared and ready, the Subaru team strapped me into the car and shut the door to seal us in the cabin, which quickly heated up like a sauna under the Los Angeles sun. With just a few minutes left before we started our laps, I asked Toshi if he's gotten comfortable with the track yet. He shook his head and informed me that this would be his first time seeing a lap of the track. Great. He rolled the car up to the starting line and stood on the rev limiter, he was setting out to drive this course like he's already done 100 laps before. As soon as we launched, the forces punched me back into my seat, the climb to 60 MPH in under two seconds is no joke. The car screamed in all of its 600 horsepower glory as he took us down the main straightaway. At first, there was a bit of a sensory overload as there was so much sound and vibration in the cockpit. The hard acceleration and deceleration, spaced out by going sideways through all the corners, can be a disorienting experience if you're not paying attention. He carried us through the handbrake corners with precision and built up plenty of speed to get the car a few feet off the ground over the track's big jump. Before I knew it, we had already completed our laps.
After riding passenger in one of these insanely quick cars, I've found a whole new respect for what these drivers, teams, and vehicles are capable of. All I can think now is: how can I get to drive one?
Check out the video below to catch a glimpse of what it's like to ride in the Global Rallycross Subaru WRX STI.