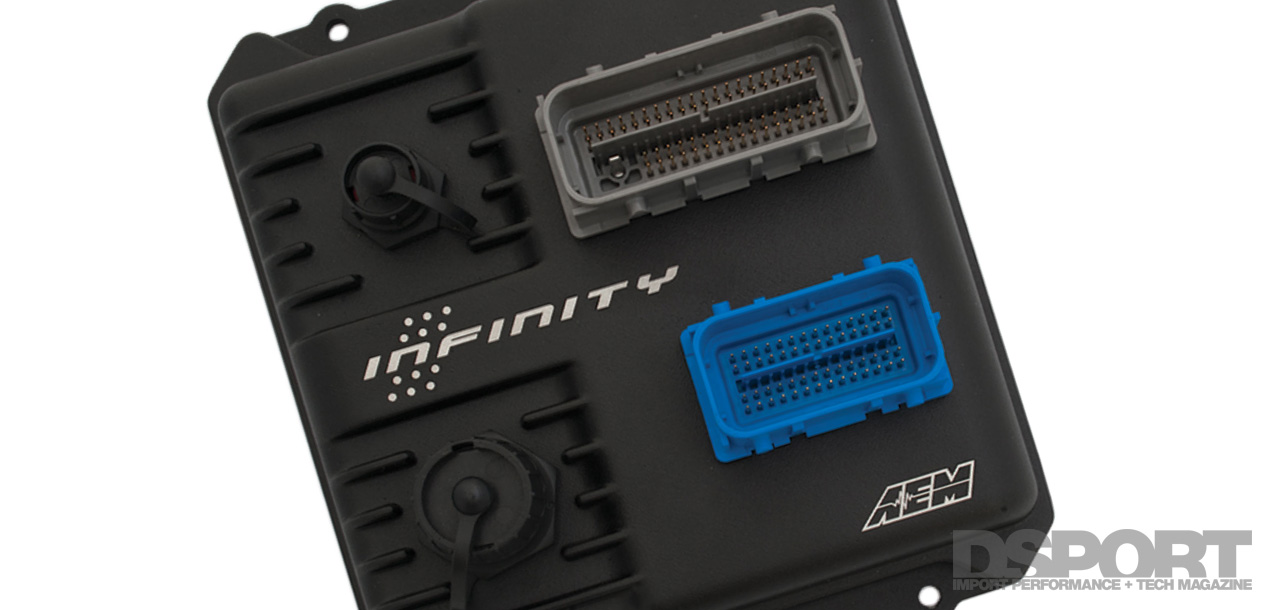 The Interface
The Infinity-10's graphical user interface is a fresh-design. The user can set up the display for his or her personal preferences or specific tuning agenda. To get the engine up and running quickly on the new system, an ECU Setup Wizard takes complex calibration setup work and simplifies it through a smart interface.
Once the engine is up and running, the Infinity-10's data logging playback mode allows for calibration editing and all controls are synched to the logged data. This allows you to edit calibration data exactly where you need to and minimizes your tuning time. A new, advanced data logging analysis package is also included.
---
On Paper
Based on the specifications and information that we've been able to gather on the AEM Infinity-10 EMS system, it appears to have all of the right stuff to make for a killer engine management system. As such, we can't wait to get a unit for testing. Currently, AEM is still in the process of planning the production lineup for the release dates for the PnP AEM Infinity-10 EMS systems.
INFINITY-10 FEATURES:
6″ L x6″ W x2″ H (1.125″ H w/o connectors) 24 Ounces/680.4 Grams
Cast, sealed aluminum enclosure
126-pin Motorsports-quality harness with fully-sealed automotive connectors
Compatible with all factory and performance aftermarket sensors
Includes start-up configurations
Runs on Windows-compatible software
Tune using weatherproof USB communication port
Encrypted maps prevent unauthorized usage or sharing
12 peak-and-hold injector drivers
10 (0-5V) ignition driver outputs
23 analog inputs
14 general-purpose outputs
8 digital inputs
6 VR differential pairs
4 Cam controls
*2GB of internal data logging standard, 32GB max
Electronic boost control
Flex fuel compensation: Fuel, Ignition and Boost (requires flex fuel sensor)
Full idle control
Two-channel H-Bridge for drive-by-wire or other DC motor control
Programmable traction control based on wheel speed or engine acceleration
Two-channel adaptive knock control
Programmable launch control
User configurable soft-cut rev limiters, two-step rev limiters and anti-lag
Wet or dry nitrous control (up to 4 stages)
Works with all AEMnet-equipped devices
Two-Channel CAN included
Internal Engine Simulator