The Dyno
Baseline
The factory ECU makes the STi change its performance on a daily basis. Since our last trip to the dyno, the power dropped by 8.5 horsepower. Checking the data, the boost also dropped from 17.5 psi to just 16.6 psi.
295.7 WHP @ 16.6 psi
Dynamic Test Systems Dyno
---
Test 1 GReddy Profec B-Spec II Boost Controller
We had hoped to raise the boost level to see how much power the stock turbo could make. Unfortunately, the factory ECU didn't want to cooperate and fuel cut was encountered when we went beyond stock boost levels. However, the controller dramatically improved performance by increasing low and mid rpm boost levels. Boost response was nearly instantaneous. Power increases of 30 horsepower were seen between 3,500 and 5,000 rpm. At 5,700 rpm, the factory turbo runs out of steam.
297.4 WHP @ 5,855 RPM
16.6 psi BOOST
---
Test 1B and 1C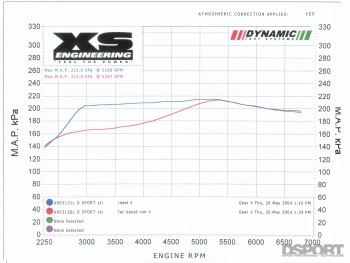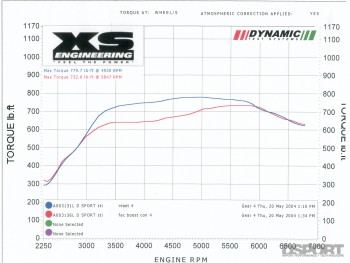 Test 1B: Notice the improvement in boost response. With factory boost control full boost not realized until 5,200 RPM. With GReddy PRofec B-Spec II boost hits peak at 3,000 RPM. Test 1C: The additional low-end and midrange boost translated into some significant torque increase from 3,000 RPM to 5,500 RPM. These numbers represent torque at the wheels.
---
Test 2 PERRIN Performance Turbo Inlet Hose
Adding the turbo inlet hose added 1.7 peak horsepower and allowed the boost to reach 17.4 psi.
299.1 WHP @ 5,918 RPM
17.4 psi BOOST
---
Test 3 104+ Octane Booster
We've tested 104+ Octane booster on a number of vehicles in the past and we've always seen power increases. This time, the power went in the wrong direction in a big way. Either 104+ Octane booster has changed their formula or the factory STi's ECU is playing tricks on us. It's our guess that the ECU is the culprit and we plan to retest 104+ Octane booster after the reflash.
284.7 WHP @ 5,781 RPM
16.9 psi BOOST
---
The first pull on the dyno revealed that our STi was down over eight horsepower from its previous session. The data revealed that the pulls during part II were made at 18.5psi and that this baseline was only showing 16.6psi. All of a sudden the power loss made sense. Why and where had we lost 2 psi of intake manifold boost pressure did not make sense. After searching high and low for a boost leak, we found nothing. The show must go on so we installed the GReddy Profec B-Spec II boost controller. The controller was dialed in on the dyno but fuel cut would occur when the boost exceeded 16.6 psi. We dialed the boost in for 16.6 psi or maximum boost pressure while tailoring the response curves to get us up to maximum boost as quickly as possible. The results were an extra 30 horsepower from 3500 to 5000rpm. That's the type of performance increase that you can really feel on the streets and you are able to use in every gear at nearly any speed. After the Profec was evaluated, it was time to install the PERRIN Performance turbo inlet hose. Once in place, we picked up almost two additional horsepower while ensuring that no turbo inlet restrictions now exist. Finally, we tested octane booster and lost a great deal of power, something which we were not expecting.