Do you know who your enemy is? Sometimes he can be in your presence without you knowing. Often times, he can be sitting in the same room every single day. I recently purchased a brand-new 2019 Subaru WRX. It wasn't until Tyler, our Events and Marketing Manager, bought his also brand-new 2019 Honda Civic Si and challenged me – that's when things got heated. Now that we're past the dramatic introduction, let's get into the fun. DSPORT now possesses two compact performance vehicles that are under $30,000. Each car has its own loyal fan-base and a great reputation in the aftermarket. If you're an avid reader, you know what comes next: Test and Tune. Since both cars are employee cars, we will raise the stakes and race in the end of each stage. The question is, which car wins?
Text and Photos by Bassem Girgis
DSPORT Issue #207
---

Honda Civic Si
Backed by the durability, longevity, and motorsport heritage of Honda's reputation, the Honda Civic Si cannot be denied as a contender for just about any car – when approached correctly. The 2019 Si features a 1.5-liter, direct-injection, in-line, turbocharged, four-cylinder engine. This engine delivers 205 horsepower at 5,700 RPM and 192 lb-ft of torque between 2,100 and 5,000 RPM. Power is sent to the front wheels through a six-speed manual transmission. The Si is equipped with an adaptive damper system, MacPherson strut front suspension, and multi-link rear suspension. Finally, traction is maximized thanks to the Helical limited slip differential.

Subaru WRX
While the Civic Si has a reputation in motorsports, the WRX is a rally-bred animal. Despite lacking comfort characteristics, the WRX makes up for it in raw performance that's affordable for most. Powered by a flat-four (Boxer) 2.0-liter, direct-injection, turbocharged engine, the WRX delivers 268 horsepower at 5,600 RPM and 258 lb-ft of torque between 2,000 and 5,200 RPM. Power is sent to all four wheels through a six-speed manual transmission. The WRX shines when it comes to traction, thanks to the all-wheel drive system, double wishbone rear suspension, and its overall sport-tuned suspension.

2019 Honda Civic Si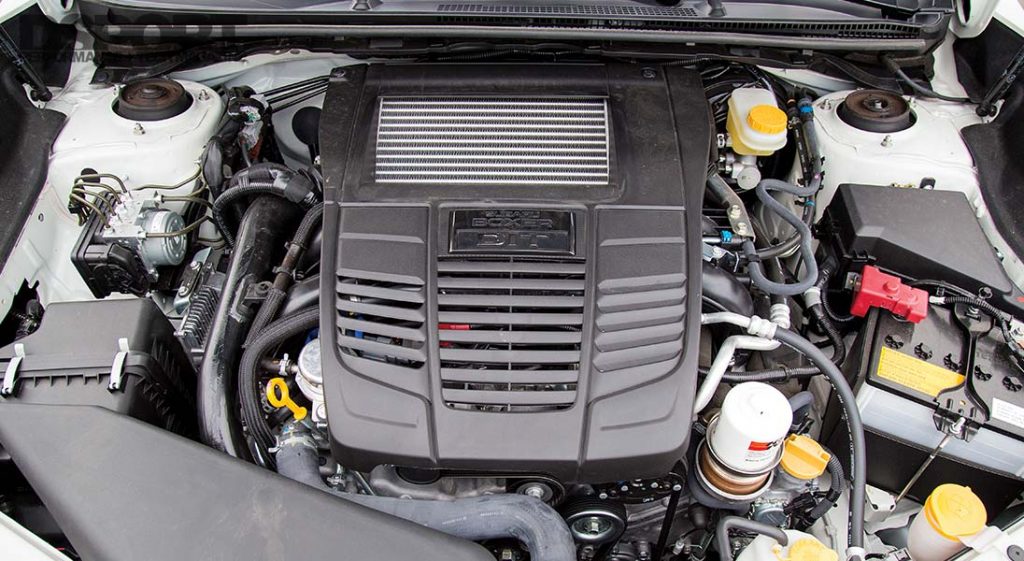 2019 Subaru WRX
On the Dyno
While the manufacturer provides us with flywheel horsepower, we wanted to see how much of it makes its way to the wheels. The Honda Civic Si is expected to have a lower drivetrain loss than the WRX, since power is sent to the front two wheels, while the WRX distributes the power over four wheels. On the dyno, the Civic Si delivered 190.41 of peak whp and 190.45 lb-ft of peak torque running on 18.6 psi of peak boost. The WRX delivered 244.95 peak whp and 247.18 lb-ft of peak torque when running on 19 psi of peak boost. Both power and torque come on early in the Civic Si. The power curve consistently and smoothly goes up until it reaches the 6,500 redline RPM. Torque, however, peaks at around 3,300 RPM and starts making its way down. In the WRX, power and torque come on later than the Si, but once boost kicks in, they viciously climb up. While the WRX's redline is higher than the Si, both power and torque start dropping after the 5,500 RPM mark – a problem caused by the lack of airflow through the head. Perhaps addressing some other airflow bottlenecks could slightly improve this drop.

The Stages
If you know our standard test and tune procedure, you know we like to target the upgrades that will yield the most performance while being affordable for everyone. Both cars will receive catback exhausts, intakes, intercoolers, as well as a tune. The WRX will start with the Stage 1 91 Octane base map from the Cobb Accessport, while the Civic Si will get a similar map from Hondata. Both will receive similar tires, but as the builds progress, we will continue exploring new parts and give you a rundown of what works and what doesn't. This will give you a clear idea of what parts complement your WRX or Si the most. Each stage will feature a similar level of modifications. In the end, both cars will make their way to the dragstrip for a final showdown, and may the best man and his car win.

While the Subaru WRX packs more power and torque, the Honda Civic Si is significantly lighter in weight. The AWD in the WRX should provide a better launch, but only if done just right, otherwise, it will bog and lose the race.
Pros and Cons
While you may think the Subaru WRX will destroy the Honda Civic Si (given it produces 54.54 more peak whp and 56.73 more lb-ft of peak torque), you must remember the weight factor. The Honda Civic Si (four-doors) weighs 2,906 pounds, while the WRX weighs 3,272 pounds. This is a 366-pound difference. The all-wheel drive configuration of the WRX will provide better traction, but the Civic Si is no slouch, and the limited slip differential should reduce some of the wheel spin. The LSD would be able to use both tire contact patches to maximize the car's traction, which will result in a better acceleration time than a standard open differential.

Stay Tuned
Next time you see one of these cars, they should have a few upgrades along with dyno numbers and various testing results. Don't be quick to judge either car, you never know how each reacts to modifications. More importantly, keep a close eye on our YouTube channel (DSPORT), Instagram (DSPORT), and our Facebook (DSPORT Magazine). Be sure to subscribe, follow, and engage. This project will be featured on all of our platforms, and each platform will have a unique twist on the project.