When we first decided to hire our Marketing Director, Kareem, we weren't sure he would be the right fit. After all, he drives an automatic convertible Ford Mustang Ecoboost. Given his pony car had a turbocharger, we thought we would give him a shot hoping his marketing skills were better than his choice in cars. It didn't take long for Kareem to redeem himself when he, as they say, put the beating on our AWD WRX and FWD Civic Si on the drag strip. Kareem's success on the strip either meant Tyler and I were terrible drivers, or the 2.3-liter Ecoboost might have some hidden potential. Naturally, we decided to explore it more. In this Test and Tune, we will see how an intake, exhaust, and a tune would affect a bone-stock Ford Mustang Ecoboost.
Text by Bassem Girgis // Photos by Joe Singleton
DSPORT Issue #210
---

The Test Mule
2017 Ford Mustang Ecoboost, our parts will complement the four-cylinder 2.3-liter Ecoboost turbocharged engine. The engine delivers 310 horsepower at 5,500 RPM and 320 lb-ft of torque at 2,500 RPM (to the flywheel). Power is sent to the rear-wheels through a six-speed selectshift automatic transmission. We strapped the Mustang to our dyno to see how much of this power make it to the rear-wheels. The Mustang put down a peak 230.32whp and 275.49 lb-ft of torque when running at 21 psi of boost. With our baseline captured, it was time to get to work.
---
The Parts
Cobb Accessport V3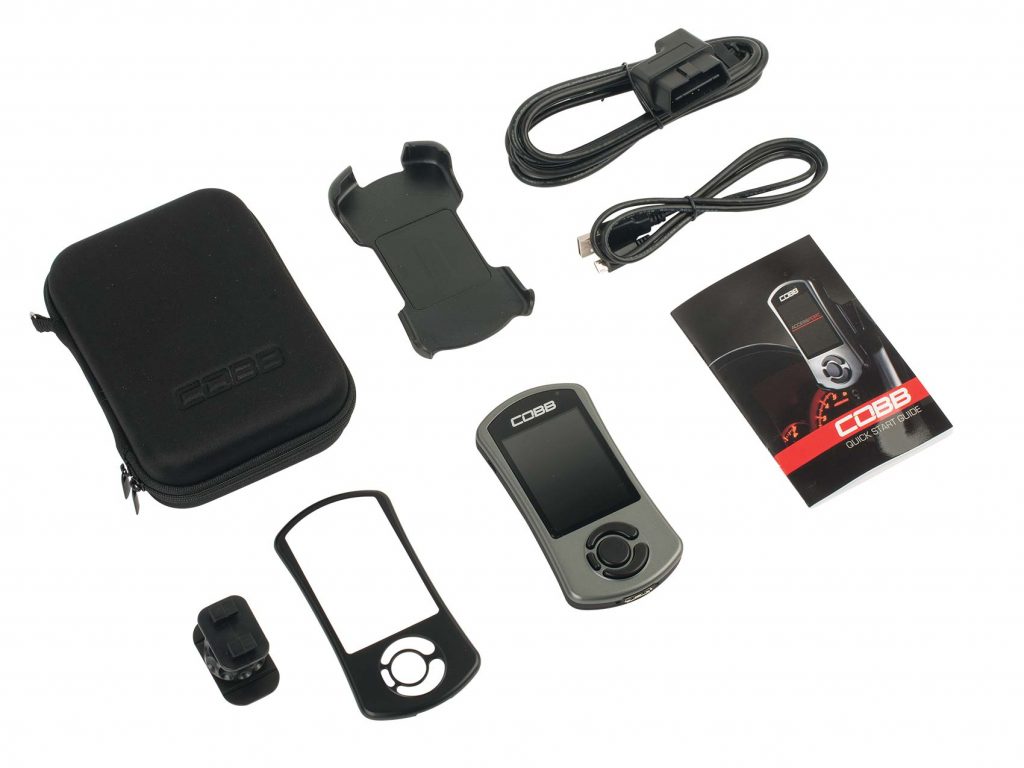 The Cobb Accessport is a device that offers simple ECU reflashing. With numerous pre-loaded maps, you can reflash your ECU to match any type of bolt-on upgrades you have on your vehicle. Decide to get serious with your performance and the Accessport will allow for custom tuning to accommodate these needs. Aside from ECU reflashing, this device offers tons of gauges that allow you to monitor the most critical engine data, including but not limited to boost, temperatures, knock, and just about anything your OBD-II port is capable of capturing.
---
AEM Cold Air Intake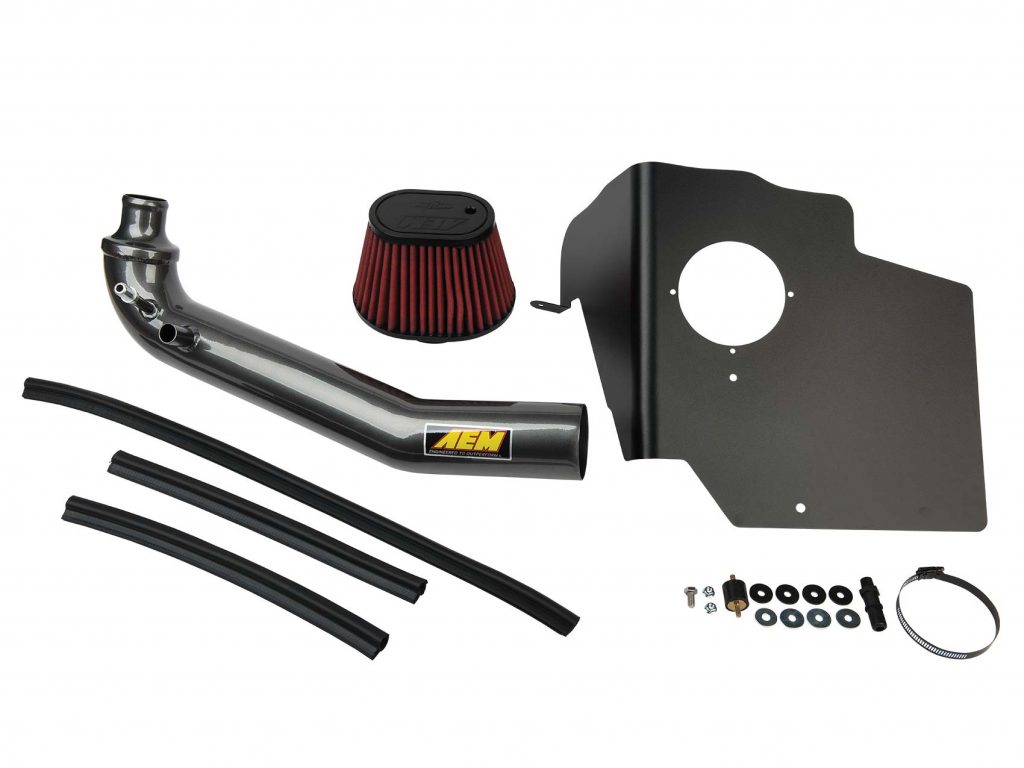 To help with airflow and cooler air, we chose the AEM cold air intake to go with our tune. Aside from not requiring any modifications to fit, this intake is CARB approved. The intake starts with AEM's washable and reusable air filter, estimated to last 100,000 miles before needing to be cleaned. While most newer vehicles don't show significant gains from an intake upgrade, we wanted to give this Mustang its best shot at sufficient air flow.
---
Borla S-Type Axleback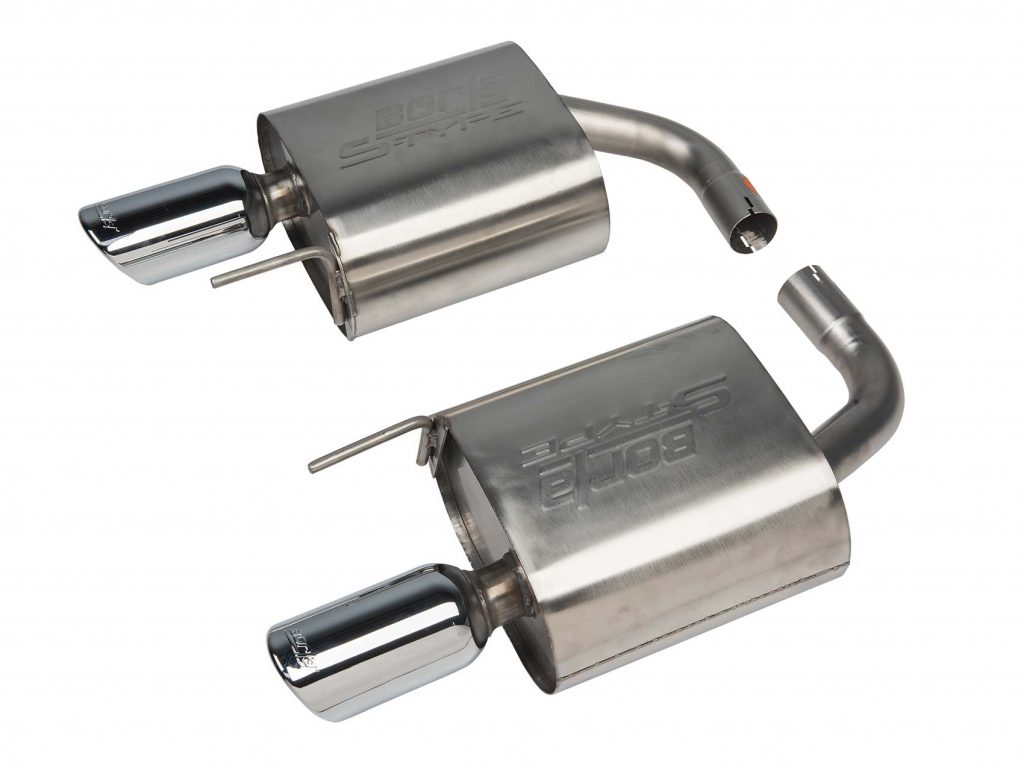 With the power gain expected from the Cobb tune, we wanted to address the sound of this Ecoboost. The Borla S-Type Axleback is constructed from 2.25-inch mandrel-bent stainless steel tuning designed specifically for the Ecoboost Mustang. Since we aren't replacing the downpipe or mid-pipes, this upgrade would mainly be for sound and looks, thanks to the four-inch chromed stainless steel tips. The Borla axleback features a cut and clamp design, meaning you have to cut your factory mufflers to fit it. If you can cut it neatly, you should experience no issues with installation.
---
Cobb ECU Reflash: Dyno
Starting with the Cobb Accessport, we chose the Stage 1 91-Octane pre-loaded map. After a quick reflash, our Ecoboost Mustang delivered a peak 275.16whp and 345.41 lb-ft of torque. This map raised the boost by two psi for a total of 22.93 psi. The off-the-shelf map provided a peak gain of 44.81whp (19.4-percent) and 69.91 lb-ft of torque (25-percent). The Stage 1 map didn't change the behavior of the power and torque curves much, allowing it to drive similarly to the factory tune, but with a significant increase in the fun factor.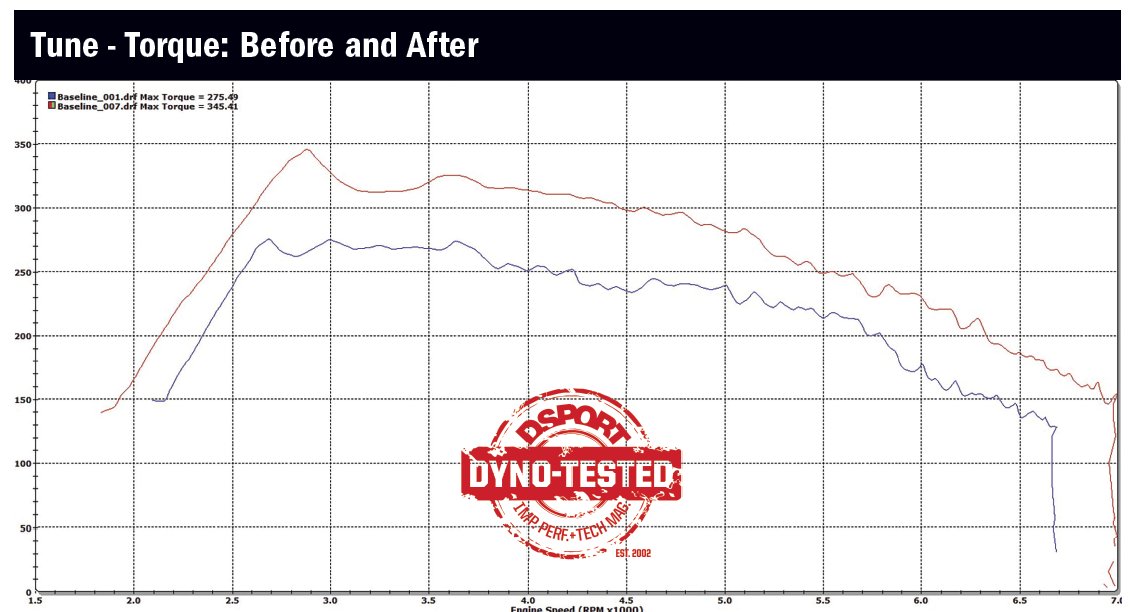 AEM Cold Air Intake: Dyno
While still strapped on the dyno, we took off the factory air box and replaced it with the AEM Cold Air Intake. Before running the car on the dyno, we noticed a complete change in sound character. With this system on, you can hear a pleasing roar mixed with the amplified blow-off valve sound when you let off the throttle. The intake complemented the Cobb tune, delivering 283.61 peak whp and 359 lb-ft of torque. By just slightly improving air flow and giving the engine cooler air, we were able to squeeze 8whp and 14 lb-ft of torque more from this 2.3-liter Ecoboost.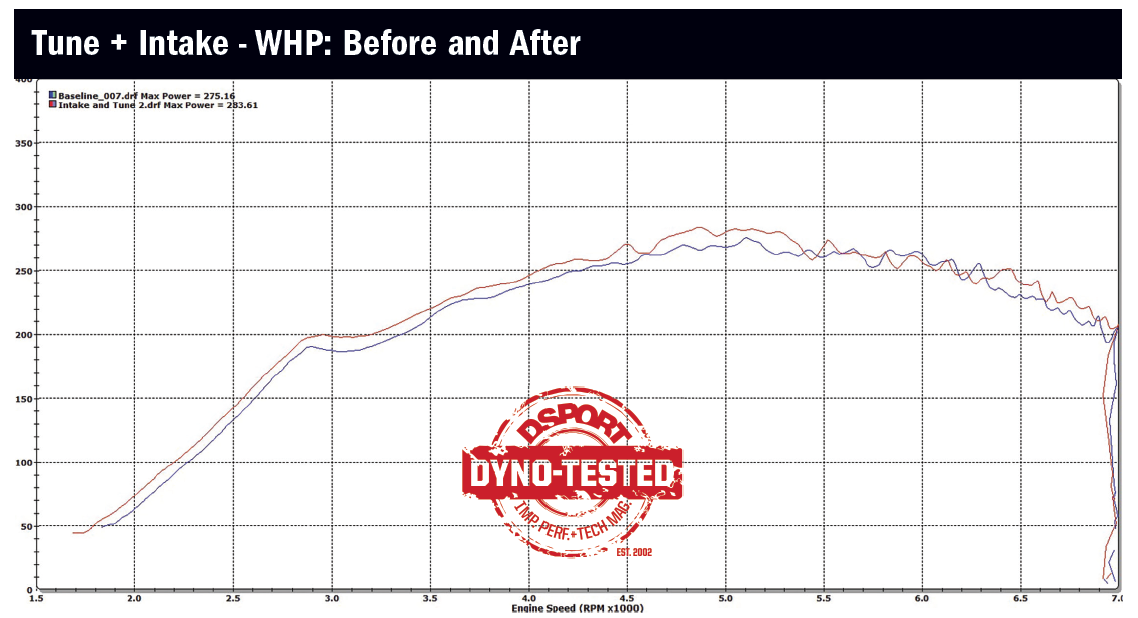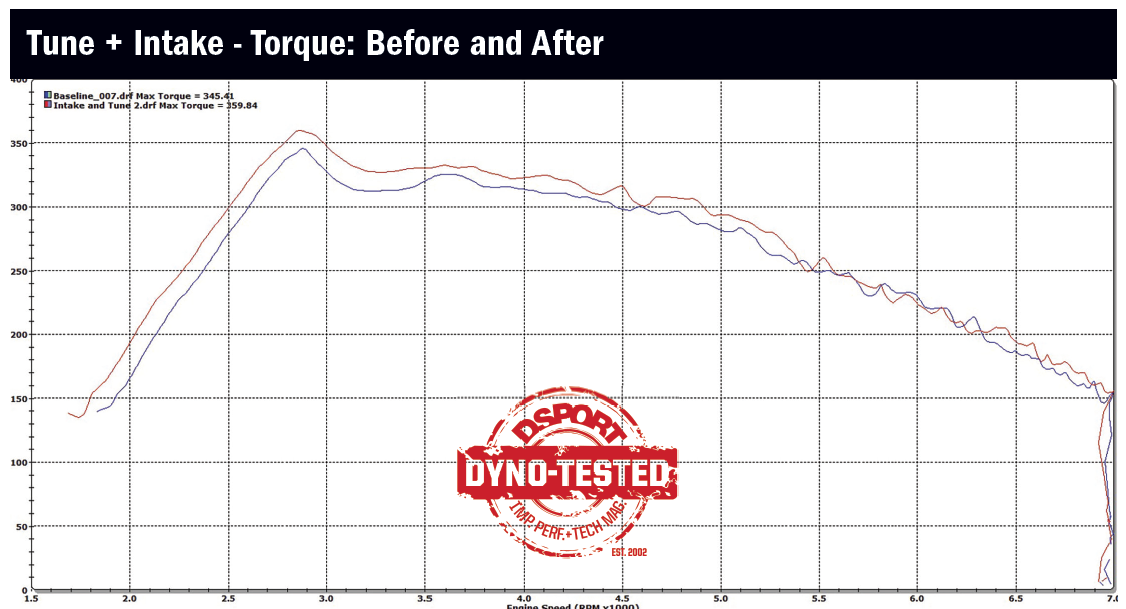 Borla S-Type Axleback

With the satisfying gains from just a quick reflash and an intake, we turned our attention to the exhaust note. Since the axleback comes last in the air flow bottleneck equation, we didn't get much improvement in regards to power and torque (2whp gain). Until we address the downpipe and mid-pipe, the axleback won't show power and torque potential, but it delivered in the sound and weight department. Our factory mufflers weighed 16-pounds each for a total of 32-pounds, while the Borla mufflers were only 11.6-pounds each for a total of 23-pounds. This saves us almost nine-pounds of weight. As for the sound, our Mustang Ecoboost came to life, delivering a quiet exhaust note at idle, and a deep, aggressive roar when under load.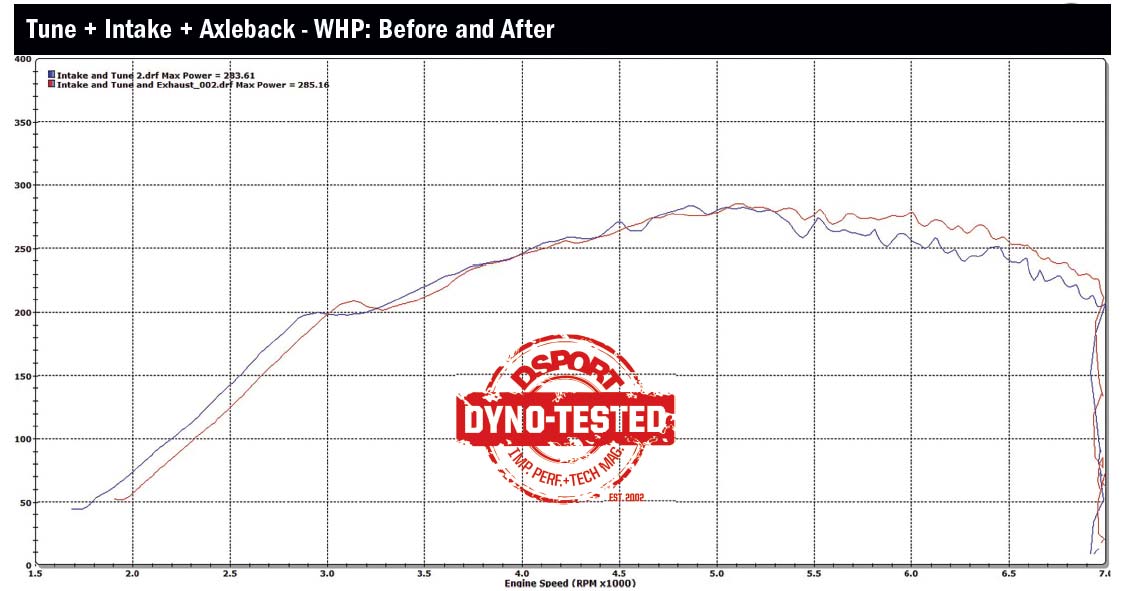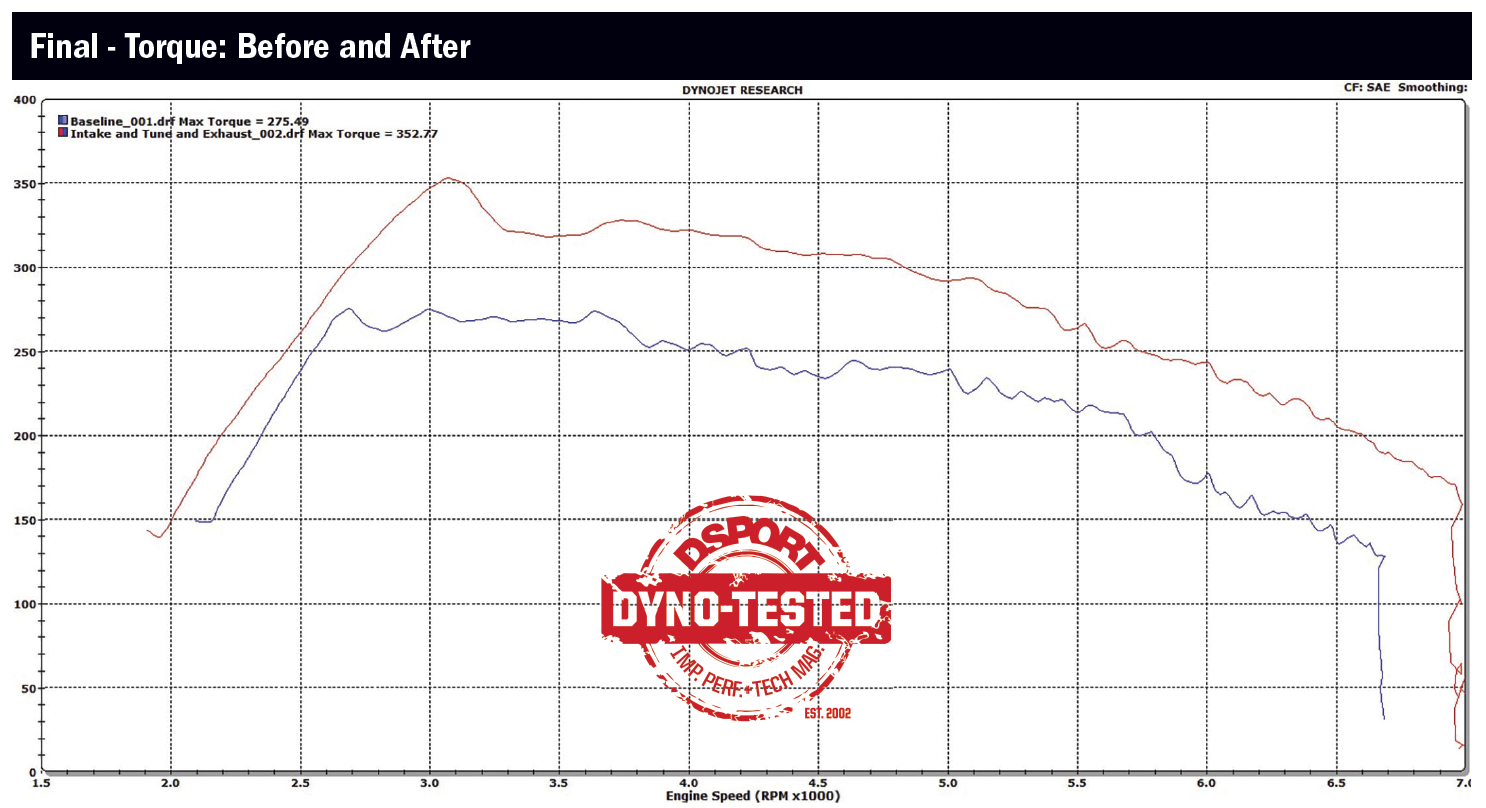 The Bottom Line
Our testing went exactly as planned. We picked up a great amount of power and torque, ensured the air going to the turbocharger is cool, and we gave the Ecoboost the deep roar it desperately needed. Next up, we will address some of the cooling components on this platform, starting with an intercooler, then a radiator, and finally an oil cooler to ensure the four-cylinder engine stays reliable on our weekly visits to the drag strip. In terms of more power adders, expect this Ecoboost to run on E85 (flex fuel) very soon, complemented with a custom tune that will maximize its performance. Stay tuned as we continue upgrading our projects and put them to the test every Thursday on the track.