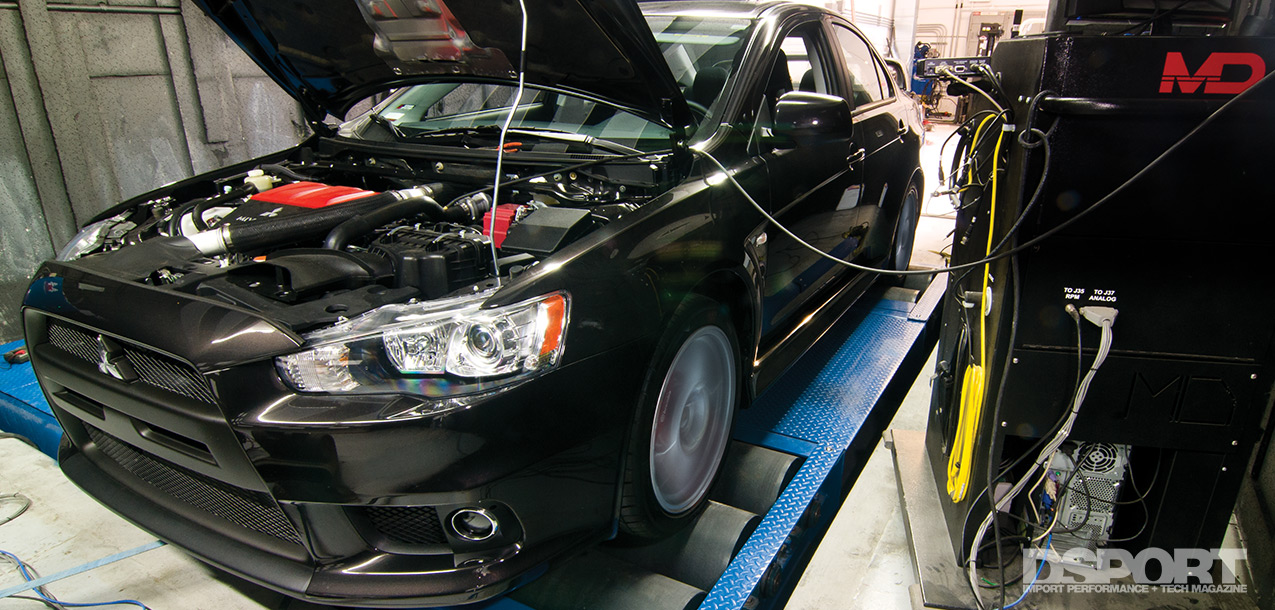 In our last installment of the Mitsubishi EVO X Test & Tune, we added an intake system and a turbo-back exhaust upgrade and fine-tuned our way to a peak increase of 71 WHP. The addition of the COBB AccessPORT and Boost Pill allowed increased levels of boost pressure from the factory turbocharger while maintaining proper air/fuel ratios. However, with the increased pressure levels comes elevated intake air temperatures and the risk of damaging or destroying factory intake charge plumbing as the OE piping wasn't designed to withstand elevated boost pressures for long periods of time.
Text and Photos by Arnold Eugenio // Dyno Testing by Jon Drenas / COBB Tuning SoCal
DSPORT Issue #118
---
Bring the Noise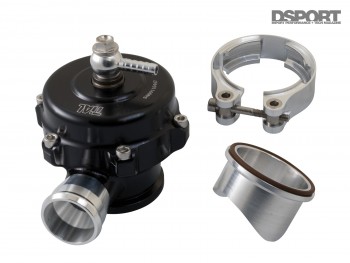 The EVO X's factory blowoff valve has a tendency to leak boost at pressures above 28 psi. The inconsistent and erratic boost pressures at high levels make consistent fuel and ignition table tuning difficult. Additionally, when smaller bypass or blowoff valves fail to shed boost quickly, the resulting build-up of pressurized air slows the turbocharger's compressor. This slowing not only shocks and fatigues the turbocharger but also wastes energy in re-spooling the turbocharger from a slower shaft speed.
The D'GARAGE EVO X utilizes a Tial QR blowoff valve to properly shed excess boost. The 1.34-inch outlet specific to Mitsubishi EVO and DSM applications can be run in either recirculating or vent-to- atmosphere configurations by simply purchasing the appropriate lower section.
The Parts
To continue our increase of intake efficiency, we opted to use a series of Cosworth's intercooler-related components. The EVO's factory intercooler pipes are fashioned from synthetic rubber pieces that can distort or inflate over time and under continuously increased boost pressures. Even if the units maintain their integrity, the expansion (and contraction under some circumstances) can lead to erratic boost and vacuum pressures, making the engine that much harder to fine-tune. The large-diameter piping found in the Cosworth I/C pipe kit not only allows for better charge airflow but also relocates the bypass valve mounting position to further reduce turbo lag and off-throttle boost shock.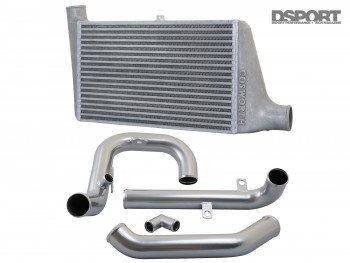 Cosworth's front-mounted intercooler provides a thicker and larger core that fits in the factory intercooler location that provides more fin-surface area with which to exchange heat. In combination with the high-flow aluminum end tanks, the intercooler is said to be able to flow up to 55-percent more air than the factory intercooler. The intercooler is also mounted with vibration absorbing rubber mounts to reduce mount fatigue that could lead to a disjoined intercooler core, connector piping or both.
To increase the turbocharged engine's exhaust efficiency, we decided to replace the last remaining piece of the factory exhaust, the downpipe. TOMEI Powered's stainless-steel downpipe combines a large, curved-bowl exit collector that is said to allow greater exhaust gas evacuation than the factory unit without taking up significantly more space. Additionally, the 3-inch piping and integrated flex joint offer maximum flow into the exhaust system while protecting the weld joints from engine and exhaust movement.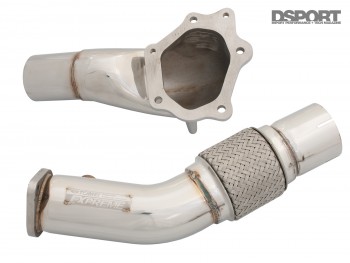 Finally, we chose to retune the fuel and ignition maps with the Cobb AccessPORT after the installation of each part. This was done to allow full control of the maximum boost pressure reached and to ensure that the power produced with each part would keep A/F ratios within safe operating parameters.
–