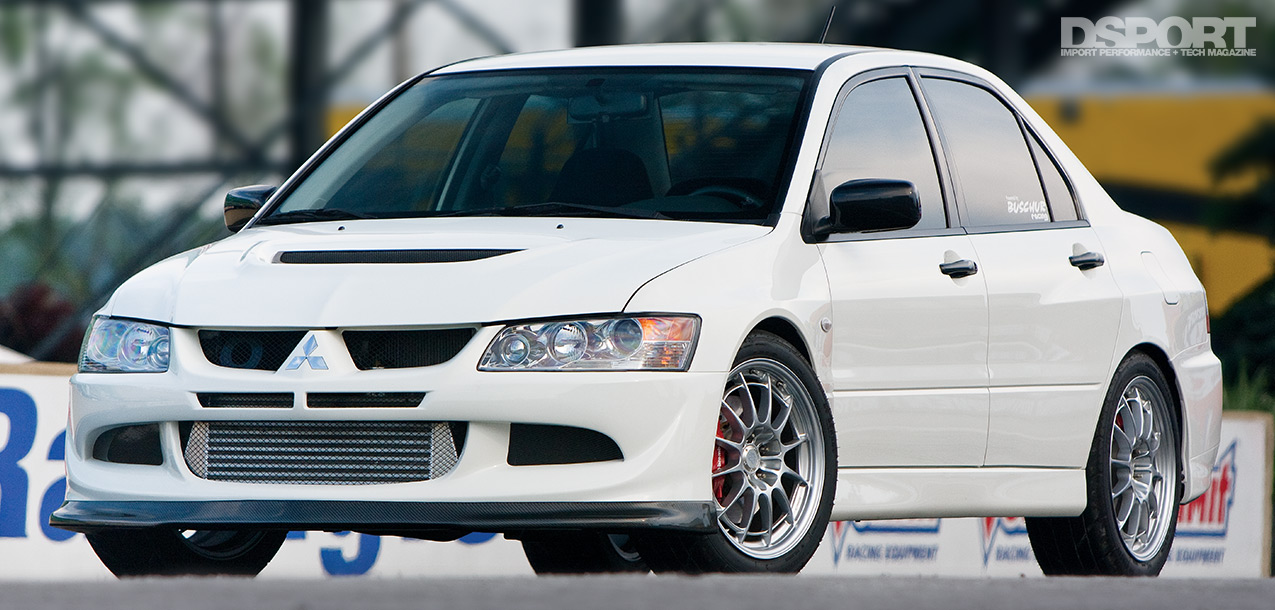 "No bull" has been the tuning the development philosophy behind Buschur Racing since the beginning.
Always a skeptic, David Buschur would test each and every component on the track before recommending it to others. If a part didn't make the car run quicker, it simply wouldn't be sold. Today, that philosophy continues as Buschur Racing (BR) builds demo cars to test new products. This "Bad 'Bish" is the EVO VIII RS that maintains a streetable posture while being able to make a serious challenge at the 8-second barrier. Few project cars can make that claim and even fewer can continue to function reliably once put through the wringer. When the wringer consists of hundreds of runs on a Mustang all-wheel-drive dyno and hundreds of passes at a world-class dragstrip just minutes away, thriving (or even just surviving) in this environment is nothing short of amazing.
Text and Photos by Richard Fong
---
Straight to Work
This RS has seen it all. Everything from bolt-on to exotic upgrades that promised the world has been under the hood at one time or another. During the first two years of testing, the RS was practically indestructible. When bad luck struck however, Buschur took a step back and reevaluated his game plan. He got the RS back in the saddle with a built engine setup that would hold up to the abuse while delivering the goods.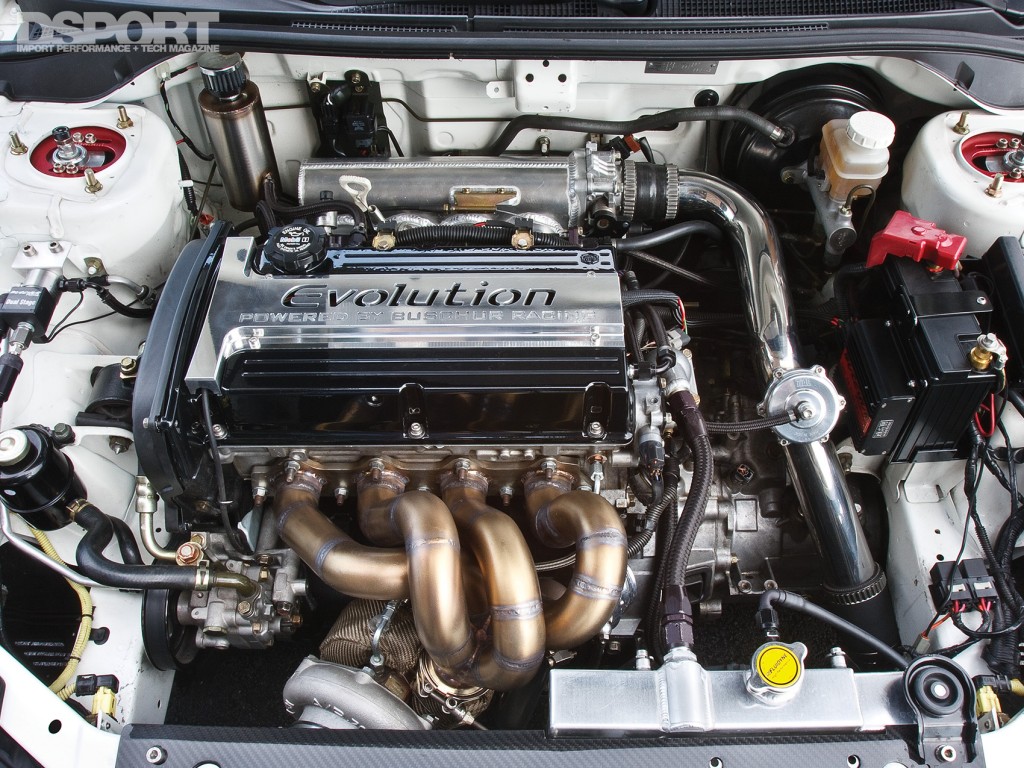 Stock Stroke, Big Poke, Long Rod
Since the majority of 4G63s on the road maintain the factory stroke, Buschur decided to build a hybrid 4G63/64 that would maintain the 4G63 factory stroke while providing the 4G64's 1.5mm- larger bore (86.5mm, instead of 85mm). Since the deck of the 4G64 block is 6mm taller than the 4G63, longer connecting rods were used. A set of Manley 10.0:1-compression pistons were teamed with the +6mm GRP billet-aluminum connecting rods to make the connection to the 4G63 crankshaft. This nets a final displacement of 2,068.8cc while the longer rods reduce side loading on the cylinder walls to extend engine life.
Maximized Efficiency
The right porting and camshaft combo ensures that the engine delivers stellar efficiency. Buschur racing ported the cylinder head and replaced the valvetrain with Supertech components. BR BF272 camshafts actuate the valvetrain for increased airflow in and out of the cylinders. ARP head studs keep the head on the block.
–
Sidebar- 4G64 Block: The Stronger Cousin
Mitsubishi equipped a number of platforms with the proven 4G63 engine for nearly 20 years. However, even the iron block of the 4G63 has its limits. According to Dave Buschur, "Once the 4G63 block reaches approximately 800 flywheel horsepower, cylinder pressures can split the cylinder wall. The 4G64 block has thicker cylinder walls and once destroked with a 4G63 crankshaft results in a better rod ratio. This reduces some of the piston-skirt side loads which reduces wear and increases longevity."