Die-hard fanatics boast the strongest faith and resolve when it comes to being loyal, for better or for worse. That is, of course, until that subject of loyalty gets crushed by a mind-blowing revelation. This happens with regularity when hardcore domestic fans get beaten by imports with smaller displacement, turbocharged engines.
Text and Photos by Richard Fong
---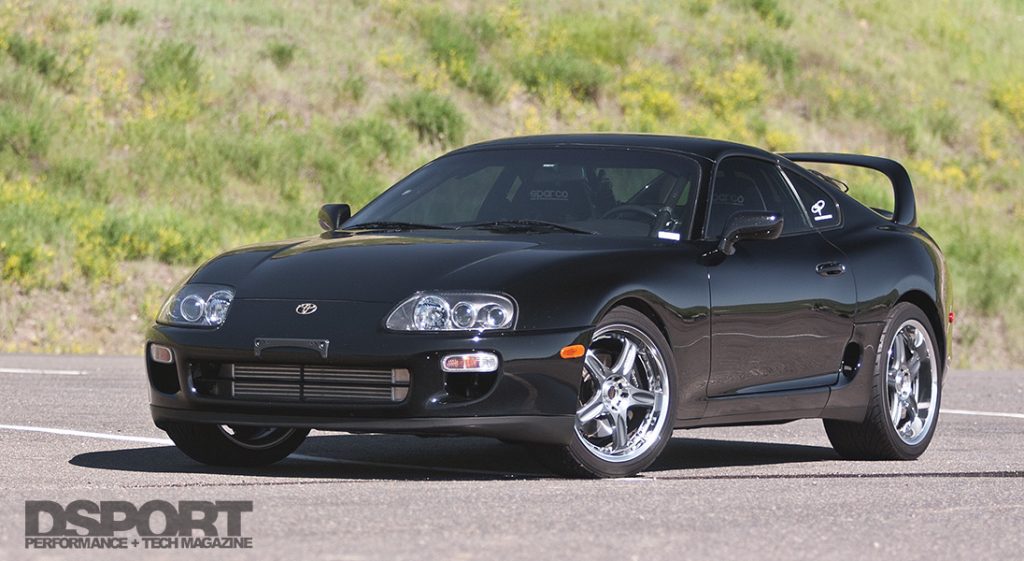 John Firth grew up a domestic fan, thanks to his father's influence. His social circle didn't broaden his interest in anything other than American iron either, especially since his friends all drove Camaros, Mustangs or Trans Ams. Even though Firth graduated high school when Japanese sportscars were on a steep ramp of popularity, he stuck to his guns and bought a Mustang GT prepped with aftermarket cylinder heads, bigger cams and an intake manifold. Firth enhanced his GT with a centrifugal supercharger kit, increasing the fun factor to a healthy 500 horsepower figure. Firth eventually dialed in his ride and locked in some mid eleven-second passes on the drag strip, making his GT a solid and competitive street platform.
Loyalty Lost
But Firth's faith in domestics was challenged while surfing one of the Mustang forums. He came across a thread discussing the merits of a 900 horsepower Supra that had stock engine internals. At first he couldn't believe what he was reading, knowing how much work went into his GT just to reach the 500hp level. He soon discovered that not only was this particular car legit, but also that Toyota's 3.0-liter, inline six-cylinder 2JZ-GTE engines made 600 hp on stock internals regularly. This discovery prompted Firth to forsake the domestic iron he had proudly represented and to embrace the technology and engineering philosophies of the Far East. After searching for several months, Firth finally managed to find this unmodified 1997 Supra Turbo.

Easy Street
Since Firth had his Mustang for drag racing, he wanted to build the Supra into a high-powered streetcar that could make 800 horsepower while navigating the streets and highways with ease. Firth's experience wrenching on his Mustang gave him the confidence to bolt-on a Sound Performance turbo kit to reach his power objective. A Precision Turbo & Engine 74mm GTQ turbocharger provided the boost and a GReddy 3-row intercooler chilled the air charge. He picked an AEM EMS V1 engine management system to regulate fuel delivery through a six-pack of 1,000cc/min injectors. He learned how to tune the EMS, and with this combination of parts, his Supra produced peak figures around 794 horsepower, satisfying his first goal for the build.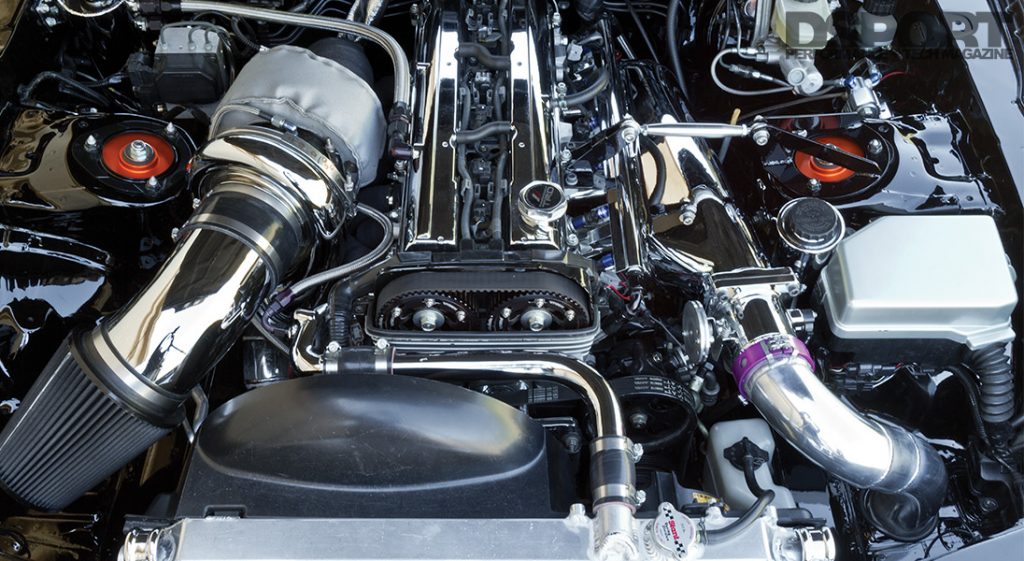 In April of 2005, Firth ran his first nine-second pass of 9.96 seconds at 145 mph in his home state of Indiana. Little did Firth know that it would be nearly seven years before he'd run another nine-second pass. He moved west to Colorado and encountered environmental challenges, namely elevation. This reality hit him hard, as his personal best slowed to a 10.2-second pass at 140 mph at Bandimere Speedway near Denver. He commented, "I knew that the altitude would slow me down compared to my times in Indiana, but I was surprised to have lost 0.3 seconds and 5 mph trying to get down the 1320. I competed at import drag racing events for three years in a row, unable to improve on my times. I just couldn't get back into the nines at that power level, the altitude was too much." The solution? Make more power.
Bugs in the Engine Build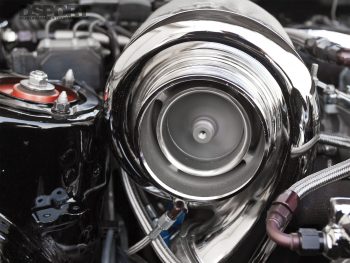 Ask anyone that runs at elevation and they'll tell you that the thin air can be challenging. Likewise, stepping up your engine's output is the way to quicken your times at the drag strip. Firth planned on a complete engine build, expecting to exceed the stock rotating assembly's capabilities. He bought a 2JZ engine block to build on to minimize the downtime. This engine included new pistons, rods and billet mains. He upgraded to a Precision Turbo & Engine GT4578 turbocharger, rated for 1,200 horsepower. He barely finished the engine break in as winter set in, so he was forced to wait until the spring to polish up the tune and hit the track. Once the spring thaw arrived, Firth anxiously got on the dyno and at 29 psi with VP Racing C16 race fuel in the tank, the Supra put down 954hp to the wheels. Unfortunately, this engine didn't last long, spinning a bearing shortly after tuning. The engine builder reconstructed the engine, but this time it lasted for only 200 miles. Frustrated, he returned to his garage, contemplated giving up, refocused and then plucked the 2JZ from the engine bay to be rebuilt again.
Getting It Done Right
After two failures, Firth decided that he should try working with a different shop. His research led him to Accelerated Performance, where Don Summerton had built a reputation of delivering solid and reliable 2JZ-GTE engines. Summerton tore down the engine and discovered that there were issues with the line bore on the mains, causing premature wear and bearing failure. After applying a proper line bore, the cylinders were bored 1mm over and assembled with a fresh set of CP Pistons. Carrillo HD connecting rods joined the pistons to the factory crankshaft, as the billet main caps were torqued onto the block using ARP main studs to secure the crank in its journals, completing the shortblock assembly. The spare cylinder head was ported and polished before +1mm Ferrea valves, valve springs and titanium retainers were installed. The head was then mated to the shortblock with ARP head studs providing the clamping force to secure the assembly together.
(L)  Cam gears allow the GSC Power Division S2 cams to be adjusted. (R) A custom line lock is used to launch the Supra.
Growing Pains
Getting back on the track was the first priority once the engine was tuned and functioning reliably again. Unfortunately, it ran so well that Firth found the limitations of other driveline components. When he first launched on some new 28×10.5-inch drag slicks, they hooked up so well that they caused the rear end to practically explode, spitting parts of the differential and ring gear out the back of the diff carrier. After upgrading to a TRD LSD, the clutch began to slip, prompting upgrades to the clutch. On separate occasions, he broke two upgraded OEM replacement driveshafts before stepping up to a Drive Shaft Shop one-piece aluminum driveshaft.
Back in the Nines
Despite the constant repairs, Firth finally dipped back into the nine-second realm, running a 9.9-second pass at 146mph on Bandimere Speedway's drag strip. When he studied the time slip, he realized that he was 0.2-seconds off on his 60ft. time and could trim his elapsed time by another two-to-three tenths of a second if he cut a good light. Even so, he finally got back into the nines with just under 950 horsepower.

Fuel Factor
Despite his love for the drag strip, Firth loved street driving even more. Unfortunately, at well over fourteen dollars per gallon for C16, a more affordable fuel solution was imperative. It was at this time that E85 was gaining traction as a very affordable alternative to racing fuel. Modern flex-fuel technology had also made significant advances in the aftermarket, making this option even more appealing. However, to support the nearly 40-percent increase in fuel delivery needs, Firth upgraded the fuel pumps with Walbro's latest E85 compatible 450lph fuel pumps. These pumps now supply a six-pack of Fuel Injector Clinic 2,150cc/min injectors at the intake ports. To regulate the fuel and spark events while also interpreting the signal coming from the ethanol content sensor, Firth chose ProEFI's 128 ECU. With the boost bumped up to 40psi, Firth adjusted the fuel and ignition tables. The Supra took another leap in power, producing 1,168 horsepower and 887 lb-ft torque as measured on a Dynojet dynamometer.
Man on a Mission
Firth plans to get back to the track soon to improve his times, especially since he now has over 200 additional horsepower on tap compared to when he broke into the nines at Bandimere. In the meantime, he continues to represent imports on the street and at local car shows, giving some mind-blown domestic fans a run for their money.
Firth would like to thank his wife, family and friends for supporting him through the roughest days at the track and at the dyno. He'd also like to thank Larry Prebis at Sound Performance, Don Summerton at Accelerated Performance, Sam Park at Importsports Performance and Hanksville Hotrods for their assistance with the build.