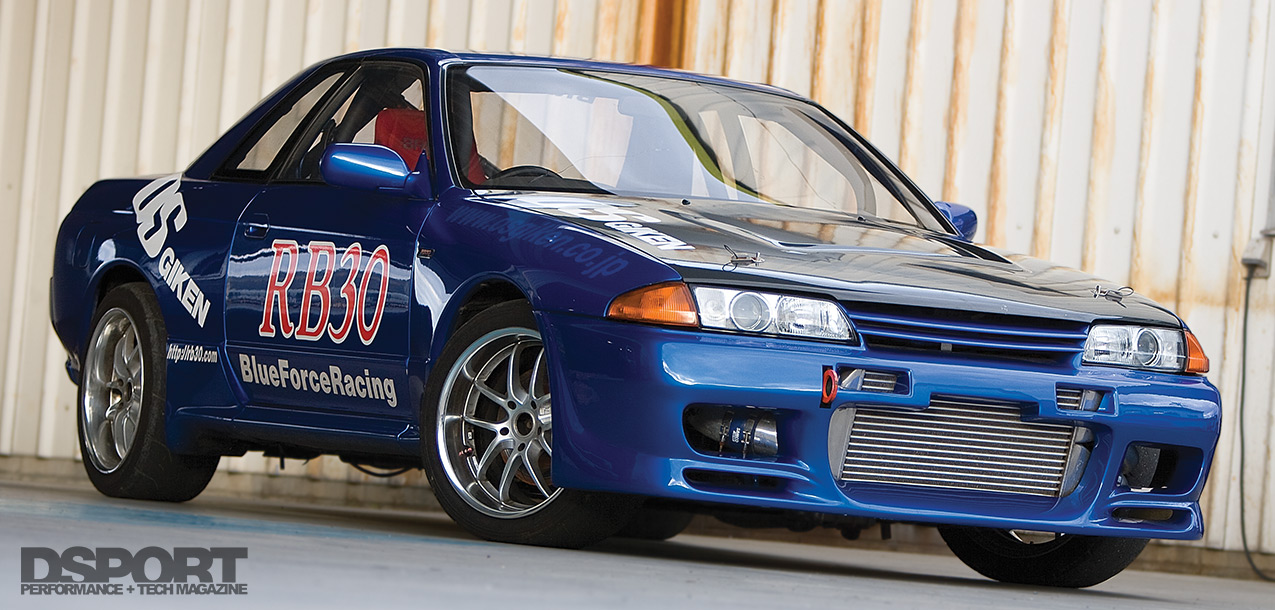 Dynamic Driveline
Putting the power down to the track surface is a challenge when generating high-horsepower figures. In order to effectively harness the massive torque of the RB30, a custom OS Giken R3C triple-plate racing clutch with lightened flywheel gets a grip on the horsepower and transmits those ponies to the quick-shifting OS Giken OS-88 6-speed sequential transmission. Once through the transmission, power is divided to the wheels by way of OS Giken's Super-Lock 1.5-Way limited- slip differentials in the front and rear.
The absence of the factory R32 GT-R spoiler gives this Skyline a cleaner and more drag-ready look.
Drag Platform
The Nissan Skyline GT-R happens to be an ideal racing platform. But in order to best benefit from the power being produced, a number of changes needed to be made. The objective of this build was to aim for fast 0-400m times. Starting with the suspension, the stock struts and springs went to the junk pile, while a set of HKS Drag Coilovers took their place. Featuring 8 kgf/mm springs up front and 6 kgf/mm springs in the rear, HKS valved the drag dampers specifically for drag racing. Competing in the street-tire class, soft-compound Yokohama Advan A048 tires in a 245/45R17 offering were chosen and mounted to Advan RG wheels.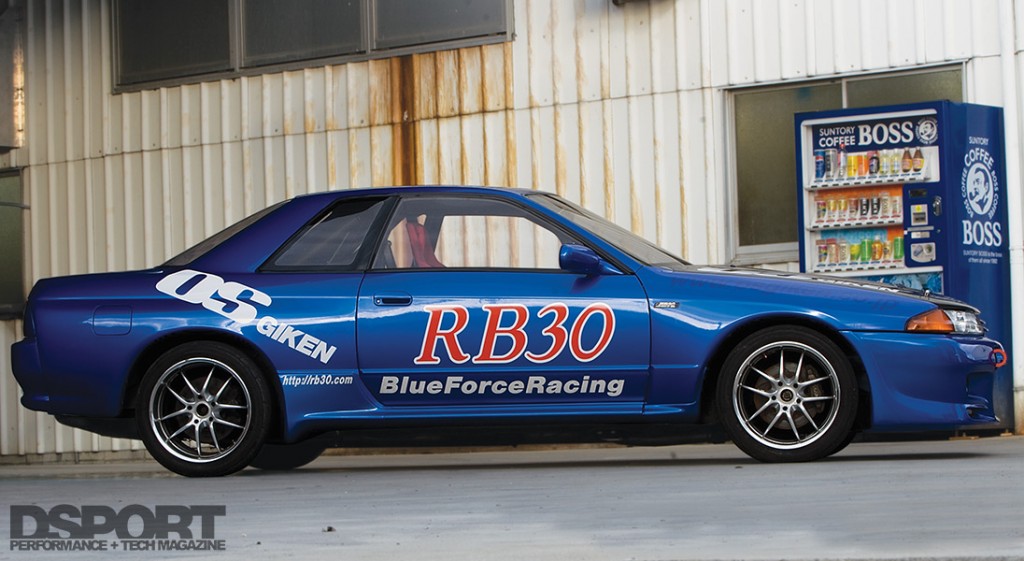 In The Cabin
Chassis reinforcement is important for handling, power delivery and driver safety. To stiffen the chassis and encase the driver, a 9-point cage was welded into the gutted GT-R's cabin. Besides protecting the driver, the cage also helps to reduce chassis flex upon launch. A Bride race- bucket and 5-point Sabelt harness hold the driver behind the wheel. The stock center console houses four HKS gauges monitoring engine vital signs. In the glovebox, OS Giken installed an HKS Additional Injector Control, Electronic Torque Split Control, ETC Drag Adapter and SARD Attack Meter.