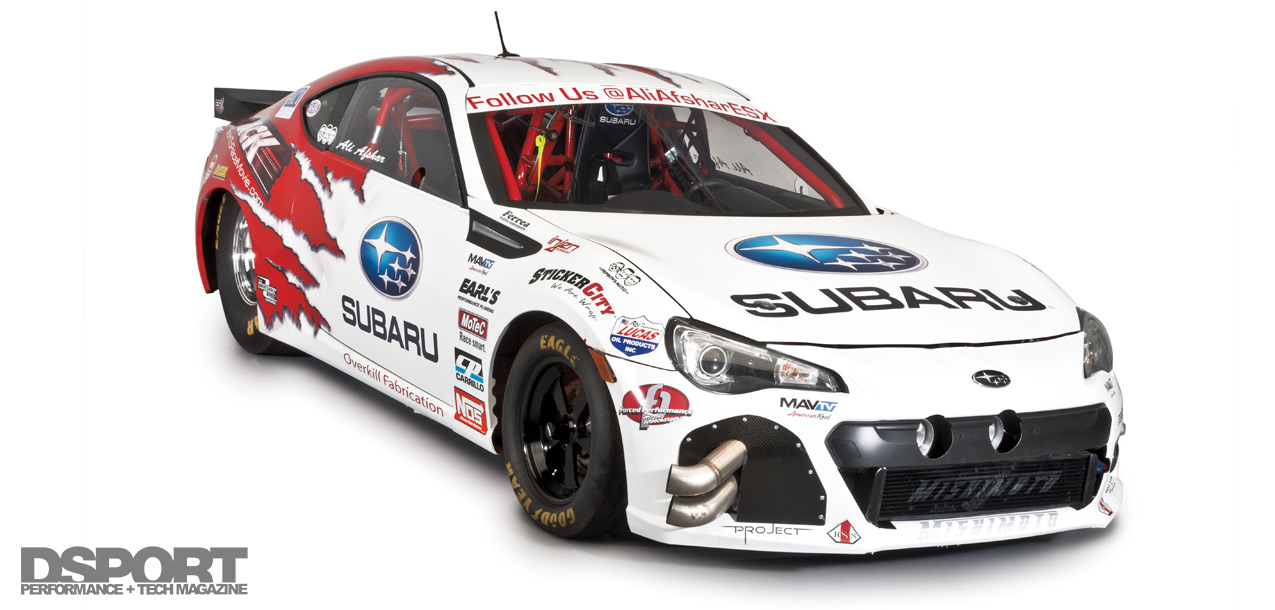 AIMING FOR THE RECORD IN ANYTHING requires a plan of great ambition, extensive research and preparation. Like the world record-setting Red Bull Stratos Project, where Felix Baumgartner skydived to Earth from the stratosphere, a number of aspects needed to be addressed and issues anticipated in order to successfully complete the skydive. Similarly, in the world of drag racing, to lay claim to the title of "quickest and fastest" requires a herculean effort, to defy physics in the battle for every fraction of a second and mile-per hour.
Text by Richard Fond // Photos by Michael Ferrara
---
Easy Street, Easy Decision
For Easy Street Motorsports' owner, Ali Afshar, aiming at a new record with Subaru's new BRZ platform made perfect sense. The racer/actor/movie producer has over a decade of experience with Subarus and has broken into the seven-second realm in his AWD Subaru WRX. An ambassador for Subaru Racing, Afshar acquired a BRZ in 2012, promoting it as the hero car in his latest production, "Born To Race: Fast Track". The vehicle made a number of public appearances at dealerships, charity functions and the 2012 SEMA Show in Las Vegas. Once the tour was over, Afshar focused on the RWD Subaru record, aiming for a low-seven-second pass.

The factory dash was fitted with carbon fiber panels to mount the switch gear and the MoTeC display.
Simple Six Solution
When attempting to set a record, keeping the setup simple leaves less chance for a failure. The relatively new four-cylinder FA20 did not have much development history and displaced only two liters. To reach his target horsepower goal of well over 1,400 horsepower, more displacement would be needed. Afshar explained, "When we set out to build the BRZ, we wanted consistent and reliable horsepower. We chose the Subaru EG33 engine that powered the early 90's sport compact Subaru SVX. This sixcylinder boxer engine displaced 3.3 liters, offering more displacement than any of the four cylinder options ever could, and it featured a traditional valvetrain without the complexities of the Active Valve Control System found in newer Subaru engines."
Five For Fighting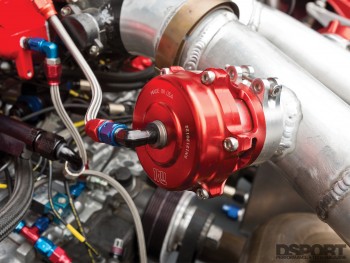 As a veteran of professional drag racing, Afshar knew the value of spares. Thus, he prepared to work with five engine builders to develop his EG33 race engine program. His purpose for doing so was to motivate them to step up their game on the engine build and to shorten the lead-time for the engines to be readied for testing and racing. All of the engine builders were supplied the same engine components, including EG33 blocks, Darton sleeves, CP Pistons, Carrillo connecting rods, custom camshafts, custom copper head gaskets and a complete Ferrea valvetrain. As these engines were intended only for drag racing and would be utilizing pure methanol for fuel, each builder filled the engine's water jackets with Hard Blok for added strength. They each blueprinted and assembled their blocks and performed cylinder head work to deliver the best possible flow for peak power output. Of the five builders, Tony Rigoli Racing and Ron Hendrix were among the first to finish in time for the first round of testing.

Dual Boost Duty
To reach beyond the 1,000-wheel horsepower mark, a sizable forced induction setup is essential. To that end, Afshar worked with Robert at Forced Performance for a solution. Robert recommended a pair of FP HTA Super 94 turbochargers for the job. He stated that this pair of turbochargers could deliver enough flow for over 1,800 horsepower, operating at over 125,000 RPM and 50-psi boost pressure. To feed the Super 94s, the factory cast manifolds feed high enthalpy gasses into custom Deeds Performance piping that breathe into the turbine housings. Throughout the course of testing, Deeds Performance designed several pipe iterations before finally positioning the turbochargers at the center of the bumper cover. The turbines discharge the spent gasses through downpipes that exit through the side of the front bumper.