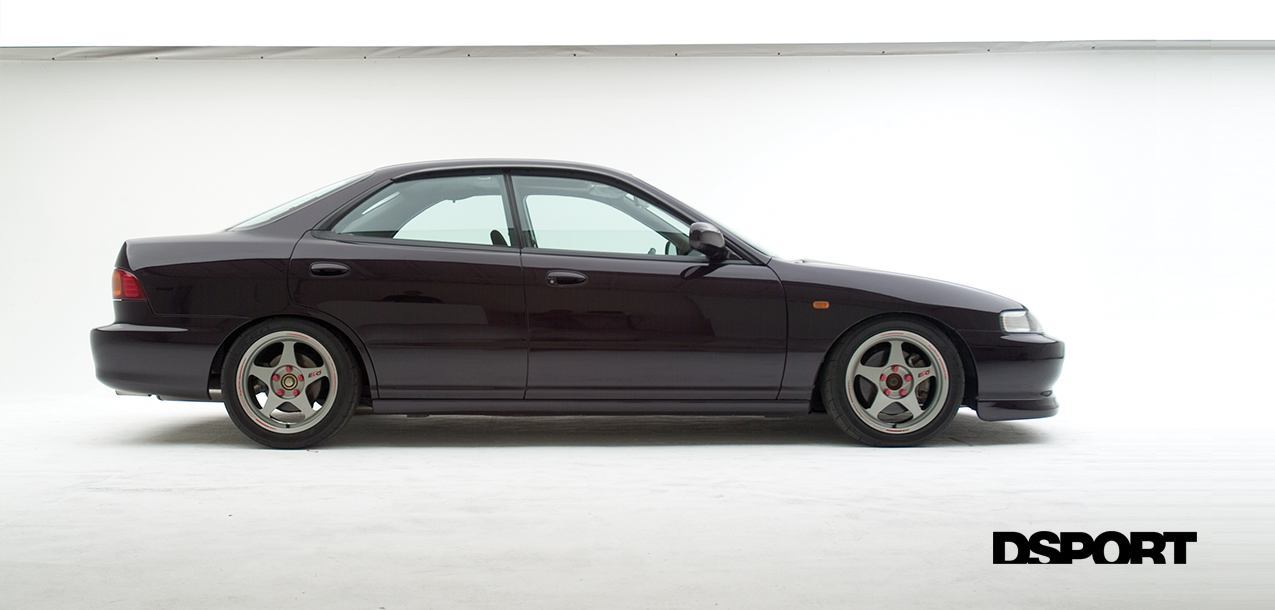 Everyone knows that guy that never drives his car
. You know, the friend that has a sick car but never drives anywhere. On occasion, he might bring his car out for a Sunday cruise but that's about it. The car rarely leaves the garage. Either he's scared of theft or after buying all those parts, he can't afford the gas. Rawgie Tagle of Orange County, California is the exact opposite of that guy. Rawgie can be seen rolling his Integra sedan to the racetrack, grocery store, work, anywhere and everywhere he needs to go. Heck, he even cruises with a baby seat in the back.
Story by Sami Sharaf // Photos by PMS (Phil, Mike, Sami)
---
The One
The first time Rawgie saw an Integra sedan, he knew he wanted to own one. He fell in love with the body lines and liked the rarity of the GSR sedan. The Integra GSR was rather appealing. The GSR's 170- horsepower came in the form of a B18C1, DOHC VTEC power-plant. The sedan was equipped with four- wheel disc brakes and a close ratio 5-speed transmission, giving it a sports-car feel. In 2000, Rawgie finally picked up a 1996 Integra GSR sedan. While the GSR offered a fun and practical means of transportation, Rawgie wanted more performance out of the four-door. As much of the Honda community, Rawgie decided to stick with the all-motor route. Dreams of 9,000 RPM revs and a factory limited-slip differential led Rawgie to swap in a Japanese Integra Type-R engine and transmission. With 200-flywheel horsepower on tap, the Integra came to life, but to Rawgie the car felt as if it was still sleeping.

Phase II
Rawgie drove the Type-R powered Integra for a while but the performance just wasn't cutting it. To quench his thirst for more power, Rawgie yanked out the JDM Type-R engine and transmission. Knowing that the four-door would need a lot more power to be fast, Rawgie opted for the turbocharged platform this time around. Since this was going to be his first turbo car, Rawgie made sure to leave room for error. Rawgie sent a GSR block to Benson's Auto Machine in Santa Ana, California. Dan Benson fitted the B18C bottom-end with a set of his Step Deck Sleeves at the factory 81mm bore size. The new ductile sleeves made way for a set of CP forged aluminum pistons in a 9.0:1 compression ratio. The new CP pistons were then attached to a set of Manley Performance connecting rods. Being guided by the stock GSR crankshaft, the rotating assembly was finished. Up top, Rawgie opted to use his JDM Type-R cylinder head. Supplying the airflow, a Type-R intake manifold and throttle body attach to the cold side of the head. With the bottom- end and cylinder head wrapped up, John Tran of Benson's Auto Machine began assembling the new engine.

Aesthetics Department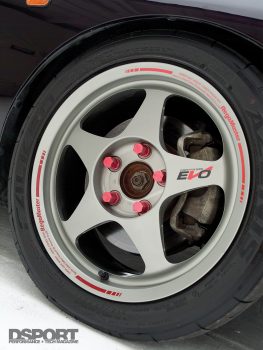 Since the Integra was going to be down for a bit longer, Rawgie went to work on the exterior of the sedan. Making a trip to Password-JDM, Rawgie picked up a 5-Lug Integra Type-R brake conversion and a JDM Type-R front-end. At M.O.B.Works Autobody and Paint, Miguel Ortiz headed a complete revamping of the Integra. First, the USDM front end was replaced with the JDM Type-R fenders, bumper, hood and core- support. This conversion added HID headlights to Rawgie's sedan as well. Next, Miguel shaved the side moldings and the factory GSR wing. With the addition of a 1998 rear bumper, the car was ready for paint. Rawgie selected the OEM Acura color of Black Pearl. Rawgie then installed the 5-Lug conversion and upgraded the suspension while he was at it. A set of JIC FLT-A2 coilovers set the height at all corners. Making the connection to the pavement, a set of 16-inch RegaMaster Evo wheels wrapped in Falken Azenis tires were selected. JDM Type-R sway bars, Spoon frontad rear strut bars and L-Con traction bars assist in the handling and traction department.
Boost At Last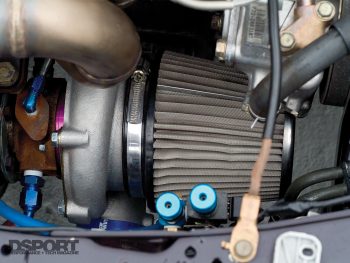 As John finished assembling the boost ready engine, Rawgie pieced together a turbo system of his own with the help of Fred, Adam and Tony of Evolution Racewerks. A Full-Race Motorsports equal length exhaust manifold was used to hang an Innovative Turbo Systems GT35R turbocharger. Regulating boost pressure away from the turbine, the crew opted for an HKS GTII 60mm wastegate. Charge air makes its way to a PWR Performance intercooler and then through Evolution Racewerks custom intercooler piping. On the hot side, wasted exhaust gas exits through an Evolution Racewerks downpipe and is taken out back by a custom Thermal Research Development exhaust system. As all the parts were coming together for the turbo system, the team shifted their attention to the fuel delivery system and engine management department. Fuel is pushed from the tank by a Walbro 255 liter/hour high-pressure in-tank fuel pump and makes its way to a Golden Eagle fuel rail to be sprayed by a quartet of RC Engineering 750 cc/min fuel injectors. An SX Performance FPR regulates fuel pressures to the rail. As the engine was being prepared for 20+ psi of boost pressure, the ignition system had to be upgraded as well. A MSD 6A ignition box was wired in along with an MSD Blaster Coil and MSD spark plug wires. For tuning, a Hondata s200b engine management system made its way to Rawgie's sedan.
The s200 system is made up of an interface box that connects to a modified ECU. All tuning was performed by Church Automotive in Torrance, California on their Dynapack chassis dyno. Cranking the boost on the TurboXS manual boost controller to 20 psi, the team at Church Automotive tuned the Integra to 485 wheel horsepower at 8200 RPM and 344 lb/ft of torque at 5300 RPM. Since, the Integra is Rawgie's only car; he is forced to drive it everyday. He doesn't mind though. With 485 wheel horsepower, we'd rock a four-door Integra too.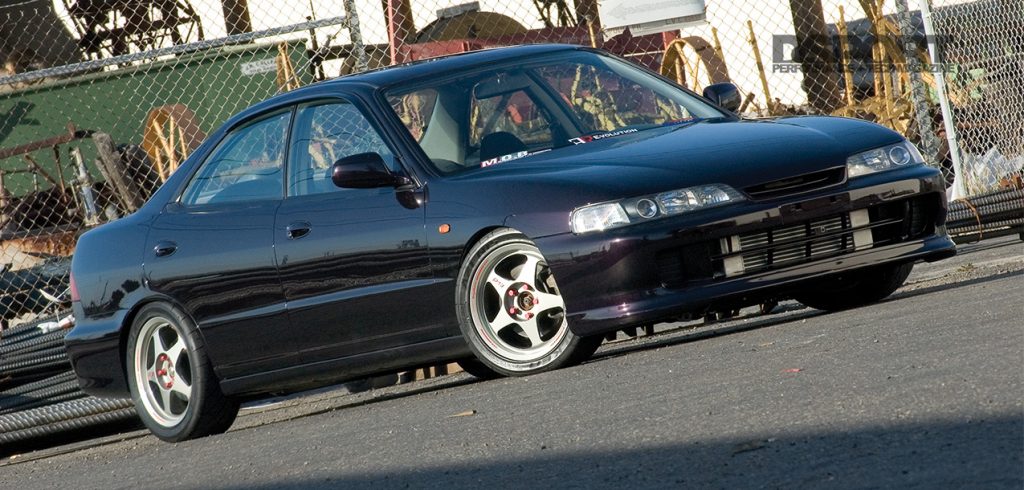 SPEC SHEET
| VEHICLE | |
| --- | --- |
| Year / Make / Model: | 1996 Acura Integra |
| ENGINE | |
| --- | --- |
| Engine Code: | B18C1 |
| Displacement (cc): | 1797cc |
| Bore & Stroke (mm): | 81mm & 87.2mm |
| Peak Horsepower (@ RPM): | 485 HP @8,200 RPM |
| Peak Torque (@ RPM): | 344 Lb/Ft @ 5,300 RPM |
| Dyno Type: | Dynapack |
| Pistons/Compression Ratio: | CP Pistons / 9.0:1 |
| Connecting Rods / Crank: | Manley Performance |
| Block Modifications: | Benson's Step Deck Sleeves |
| Machine Work: | Benson's Engine & Machine |
| Valves / Springs / Retainers: | ITR / JUN Valve Springs / ITR |
| Intake Manifold / Throttle Body: | ITR / ITR |
| Injection: | RC Engineering |
| Fuel Delivery: | Walbro 255 liter/hour, |
| | GoldenEagle Fuel Rail |
| | SX Fuel Pressure Regulator |
| Engine Management System: | Hondata s200b |
| Boost Controller: | Turbo XS Manual Dual Stage |
| Ignition: | MSD Spark Plug Wires |
| | MSD 6A Ignition |
| | MSD Blaster Coil |
| Spark Plugs: | NGK BKR7E |
| Turbocharger: | Innovate GT35R .63A/R 84 trim |
| Exhaust Manifold: | Full-Race Equal Length Manifold |
| Wastegate: | HKS 60mm GTII |
| Blow-Off Valve: | HKS SSQ |
| Exhaust System: | Thermal Research Development |
| Intercooler: | PWR Performance |
| Cooling System: | PWR Radiator |
| Gauges: | Defi D-link, EGT, A/F, Oil Pres., Boost |
| CHASSIS/DRIVELINE | |
| --- | --- |
| Springs, F&R (Make & Rate): | JIC FLT A2 |
| Shocks, F&R (Make & Rate): | JIC FLT A2 |
| Additional Suspension Components: | JDM ITR Sway Bars, Spoon F&R |
| | Upper Strut Bars, Lower Tie Bar |
| | L-Con Traction Bars |
| Transmission: | GSR |
| Transmission Gearing: | Factory |
| Final Drive: | Factory |
| Clutch / Flywheel: | Exedy Hyper Twin Disc |
| Differential(s) (Make & Type): | Factory Open |
| Axles / Driveshaft: | Factory |
| Wheels (Make, Size & Offset): | RegaMaster Evo 16″x7″ |
| Tires (Make & Size): | Falken Azenis 215/45/16 |
| Brakes (F&R): | JDM ITR |
| Etc.: | Rays Lugnuts |
| INTERIOR | |
| --- | --- |
| Seats: | Memory Fab s68 |
| Harnesses: | Crow Enterprize 5-Point Cam-Lock |
| EXTERIOR | |
| --- | --- |
| Bumpers: | JDM ITR |
| Hood: | JDM ITR |
| Lip Spoiler: | JDM ITR |
| Headlights: | JDM ITR HID |
| Paint: | OEM Black Pearl by Mob Works |