The Nissan Skyline GT-R was engineered with one purpose in mind, to take out the competition in the world of motorsports. In 1989, the R32 was the first Skyline to wear the GT-R nameplate since its semi-retirement in 1973. The return of the R32 Skyline GT-R resulted in domination of Group-A racing and JGTC in Japan as well as touring car championships in Australia. The competition scrambled to keep up with the car that one Australian publication dubbed, "Godzilla." This was all good and well for everyone else in the world, but the Skyline GT-R platform was never offered in the United States.
Text and Photos by Richard Fong
---

Beast Goes East
Staten Island, New York resident Nat "Hard Looks" Insumran became an instant fan of the Skyline GT-R after studying its history and learning of its performance capabilities. However, getting this dream car was no easy task. U.S. Federal safety and equipment compliance rules made importing and registering a Skyline GT-R impossible. Determined, Insumran searched and researched tirelessly until he came across an importer who was legally bringing in Skyline GT-Rs for use on American soil. After two-years looking for an R32 that was configured exactly as he would have built it, Insumran hit yet another wall as the vehicle had been sold before he even had a chance to put in an offer. Undeterred, Insumran kept up his search for another year before coming across the same R32 that had been previously purchased from under him. A quick flight to Salt Lake City, Utah, a depletion of his lifetime savings and several signatures later, the black Skyline GT-R was on a trailer headed for Staten Island the next day.
Reverse Engineering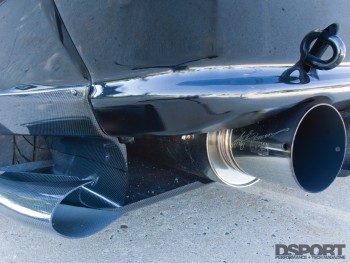 While Skylines have proven to be competent in a number of motorsports disciplines, Insumran desired a well-rounded streetcar. Owning one of just a handful of 100-percent federally legal and drivable Skyline GT-Rs made conversion into a full blown racecar pointless. Instead, his desire was to build a well-balanced street car; capable of lapping the circuits and making highway blasts while retaining the daily-driven comforts (power steering, air conditioning and a complete sound system.) Streetability fell short at first, since the car was previously equipped with a NISMO triple- plate clutch and massive 4.5-inch exhaust. Swapping out the triple-plate for an Exedy twin- plate clutch made the commute much easier. Installing an HKS Hi-Power exhaust reduced the exhaust note down to a more acceptable decibel level and eliminated the droning at cruise.
Oil Pump Trump

The weakest link with RB26DETT engines is the stock oil pump. At sustained high RPM operation, the oil pump gears are known to fail, resulting in oil starvation and subsequent engine damage. A number of solutions exist, ranging from Nissan N1 oil pump upgrades to even higher-capacity aftermarket oil pumps like those offered by TOMEI POWERED.
JDM Appeal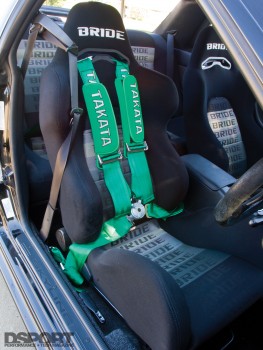 With drivability restored, Nat completed the process of refining his R32 GT-R. Today, the exterior remains largely intact, save for an Abflug lip spoiler and a Top Secret carbon-fiber diffuser. BRIDE Brix II and XAX II seats add support for the driver and passenger respectively. Takata harnesses secure the occupants in place. The rear seats are upholstered with BRIDE fabric to match the front seats while steering input is conveyed through a Key's Racing steering wheel.
–
–