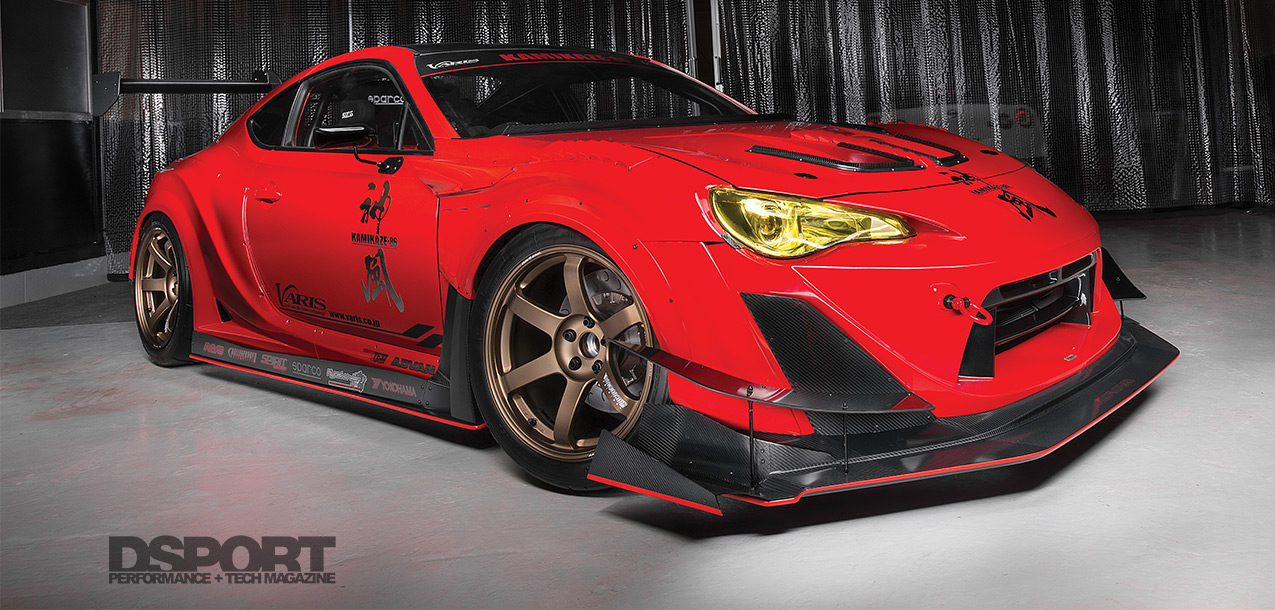 "Is this it? Have we reached the limit?" When building any platform for racing, there's a point of inflection when going faster becomes exponentially harder and astronomically more expensive. At that point, the question becomes whether to march forward with the existing platform or to start over from scratch. Whether it's an aerodynamic limitation or a lack of a reliable drivetrain solution, chassis-specific issues cause tuners to retire old race programs and move on to newer platforms. This calculated decision must be made sans emotion in order to pursue quicker lap times.
Text by Jun Chen // Photos by Rob Shaw (BackFromLeave)
---

FROM OLD TO NEW
For ASSO, the pilot behind the famous VARIS / Cyber EVO CP9A Evolution 5, the limits of his four-door sedan had been pushed plenty far. The 20-year-old chassis sported a 600+ whp 4G63 engine with MIVEC and a specially tuned variant of VARIS' Extremor aerodynamics package aptly named the 'ASSO' version. Together with years of tuning, this combination of aero and power amounted to a 56.687-second lap time at Tsukuba Circuit. While that tuning car record may have been blistering fast when it was set in 2008, in 2017 it puts the CP9A all the way down in 45th place. After unsuccessful attempts to better the record in 2012, these challenges ultimately raised the question: "is it time to move on to a more capable platform?" The answer was "Yes".

TWO DOOR OPPORTUNITY
In 2012, the FR-S/BRZ/86 chassis spurred excitement among enthusiasts and manufacturers worldwide. Tuning companies began developing parts for this newly affordable platform at a pace not seen since the early 2000s. As a manufacturer of aero parts, VARIS embraced the chassis just as fiercely as any other tuning company. They began development of the ZN6 chassis with its Arising I lip kit followed by its Arising II kit, which replaced the factory bumpers with VARIS-designed units. These two kits both improved the aesthetics of the ZN6 but still retained the standard narrow body.
While developing aero parts for this new chassis, VARIS also recognized the coupe's relatively light curb weight of 2,800 lbs. This, paired with its low-slung shape, made it a solid candidate for ASSO's replacement time attack vehicle. Realizing this platform provided an opportunity for a new race program, VARIS began development on a race aero package that incorporated a fender solution. Built upon its Arising II kit, VARIS released its Widebody kit for the ZN6 in 2013. This complete aero package featured 50mm front fenders and 65mm rear fenders that work together with a revised front bumper, side skirts and rear bumper to cheat the air. Although there are a number of race cars already sporting the VARIS Widebody kit, these aero parts would ultimately lay the foundation for VARIS' own time attack formula – the KAMIKAZE-86.

AERO IS EVERYTHING
Starting with VARIS' existing widebody kit for the 86, the team has added and revised a number of parts to better improve the performance and help ASSO chase the tuning car record at Tsukuba Circuit and Fuji Speedway. These include front fog-light deletes, fender louvers, a more aggressive splitter paired with canards, and a ducted carbon-fiber hood designed specifically for the V-mounted radiator setup. In the rear, the KAMIKAZE-86 received a massive GT wing, rear diffuser and side spats
to match. Despite VARIS already having logged some data on its current Widebody aero package, they plan on utilizing all upcoming circuit events to review the shape of each part to maximize the aero potential of the KAMIKAZE-86.

NO "FA" FOR NOW
Heavily reviewed by the automotive press, the single issue that journalists and consumers alike took with the platform was its underpowered engine. Since then, we've seen the ZN6 chassis swapped with a 2JZ, a Ferrari V8, and everything in between. Although many of these swaps are simply done "just because", the team at VARIS knew that the engine needed to provide reliable power and withstand repeated abuse on the track.
Like most race teams campaigning the 86, VARIS initially turned to the 2JZ-GTE engine to power its new race machine. Although this 3.0-liter, iron block, straight-six engine can easily deliver upwards of 1,000whp, it also weighs a hefty 600 lbs. To put this in perspective, the vehicle's original engine, the FA20, weighs just 377 lbs. Keeping with a proven reliable engine, VARIS turned to the 2JZ's unassuming little brother, the 3S-GTE. Weighing in at just 420 lbs., the four-cylinder alternative to the 2JZ helps keep the vehicle close to its 53/47 weight distribution from the factory. However, in stock trim, the 3S-GTE only made 220 horsepower at the crank. VARIS knew they'd have to turn up the boost.
TOTAL TUNE UP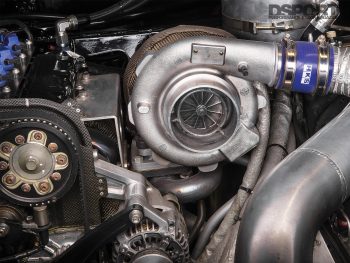 To increase the power potential of the 3S-GTE, VARIS turned to master engine builder Eichi Ito at RISING. Ito-san began by fortifying the engine's internal components. This included treating the bearings and pistons to WPC surface treatment for reduced friction and increased strength. The cylinder head and block surfaces received modification and a metal head gasket to keep the engine together under increased cylinder pressures. To deliver the increased boost, VARIS worked with Mitsubishi Turbochargers to build a one-off turbo for the KAMIKAZE-86. Paired with a V-mounted intercooler setup and custom piping featuring Wiggins clamps throughout, this setup delivers a claimed 700 horsepower. Fuel delivery consists of a trunk-mounted fuel cell plumbed into twin Bosch 044 in-line pumps with a surge tank feeding SARD 2,000 cc/min injectors.
A V-mounted intercooler setup and custom piping with Wiggins clamps sits at the front end, delivering chilled air to the turbo.
All of this power is put down through a R33 GTS-T Type-M transmission mated to the engine using a custom bell-housing and OS Giken triple-disc clutch. The KAMIKAZE-86 features RAYS Engineering's latest Volk Racing TE37 SAGA wheel in an 18×10.5 square setup wrapped in Yokohama ADVAN A050 rubber in 295/30R18. To keep the sticky 295s planted to the ground, VARIS partnered with Spirit Racing Shocks for a coil-over suspension solution. A set of AP Racing six- piston front, four-piston rear calipers clamp 355/345mm discs by way of Endless TYPE-R brake pads to bring the 86 to a halt.
ONLY THE NECESSITIES
Inside, the KAMIKAZE-86 only keeps what it needs and sheds everything it doesn't. Completely stripped of all street amenities, a full custom weld-in roll cage adds chassis rigidity and safety. Keeping with the safety theme, ASSO selected a Sparco cockpit consisting of a single Pro-ADV bucket seat with head protection, six-point harness and P310 steering wheel. In place of the passenger seat is the the battery, housed inside an aluminum box. A carbon fiber dashboard featuring a switch panel and Racepak IQ3 further reduces weight. VARIS also utilized a Racepak Smartwire power control module to simplify the vehicle's wiring and eliminate the need for fuses and relays.

A full custom welded roll cage fills out the interior with Sparco Pro-ADV seat, 6-point harness and P310 steering wheel.
ON THE PROWL
ASSO and VARIS' newest project draws a commonality with its previous CP9A project: a constant evolution of tuning. While the KAMIKAZE-86 debuted at Tokyo Auto Salon in January and Osaka Auto Messe a month later, the car will finally begin shakedown testing at both Tsukuba Circuit and Fuji Speedway. Further tuning to the vehicle will be made after that as ASSO chases quicker lap times. Look for production KAMIKAZE-86 aero parts to debut in November at the SEMA Show. As Yahagi-san, the founder of VARIS, would say, "aero parts are not simply dress-up parts. They are an indispensable tuning part to increase the potential of the car."