Bad experiences and misdirection rank high on the list of enthusiast fallouts with their car and the automotive industry. Getting taken for a ride applies to more than just passengers in a taxicab. While there are a number of shops chasing the almighty dollar with little regard for customer service, it's the honest and reputable tuners that keep the industry alive and well.
Text and Photos by Richard Fong
---
Customer For Life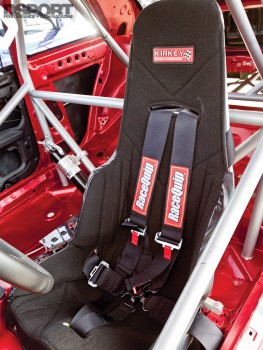 For Canadian Ben Marcus, finding good customer service required him to cross international borders. He encountered a less-than-stellar experience with a local shop that did more harm than good to his 1996 Mitsubishi Eclipse GS-T. Scouring the net, Marcus came across STM Tuned. After paying STM a visit, he decided to bring his ailing GS-T to New York for repair work. Marcus commented, "I was impressed with their knowledge and experience, but I was blown away by their down-to-earth honesty. Emery called me periodically over the course of five hours, telling me what he discovered as he got my GS-T into working order. When I got the car back, it was a 150-percent improvement over how it was when I dropped it off. This positive experience made me a loyal customer."
Fresh Venture
Marcus decided to explore the all-wheel drive realm with the purchase of a 2000 Subaru Impreza 2.5RS. This clean and rust-free chassis seemed to be a good starting point, as it already had a STi bottom end and a Vishnu turbo kit installed. After making a few passes down the 1320 at low boost, Marcus was having fun but realized that there was more to be had. Taking it upon himself to continue the build, he began working on the engine in search for quicker and faster trips down the strip.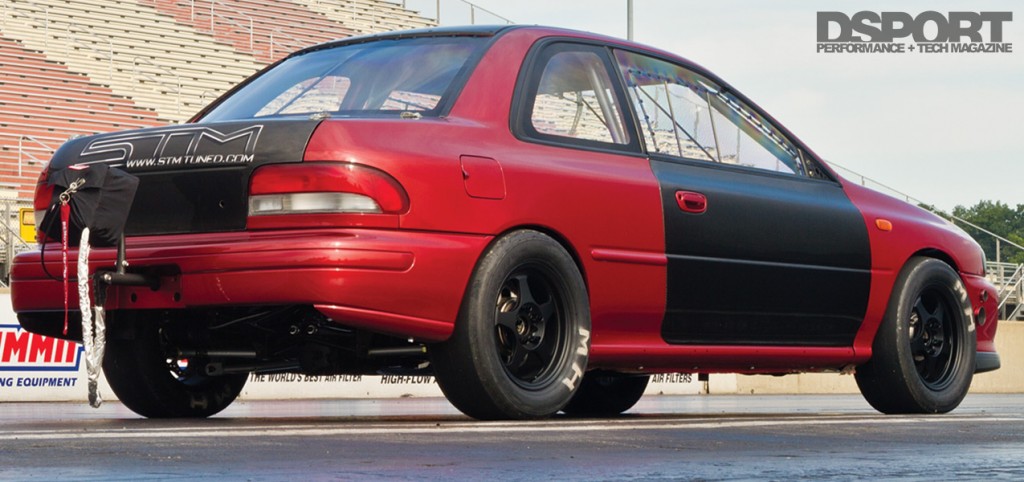 DIY Drama
It was at this point that the build became more headache than happiness. Marcus explained, "The next year and a half was very trying as I built and blew four longblocks in the quest for more performance. I snapped aftermarket head studs, destroyed piston skirts and cracked sleeves. I thought I could just build these engines on my kitchen table at home, but my relative inexperience led to engine builds that would pop after only 1,000 miles. I gave it my best, but it was time for me to leave the engine build to the professionals." Marcus got back in touch with his friends in America for help.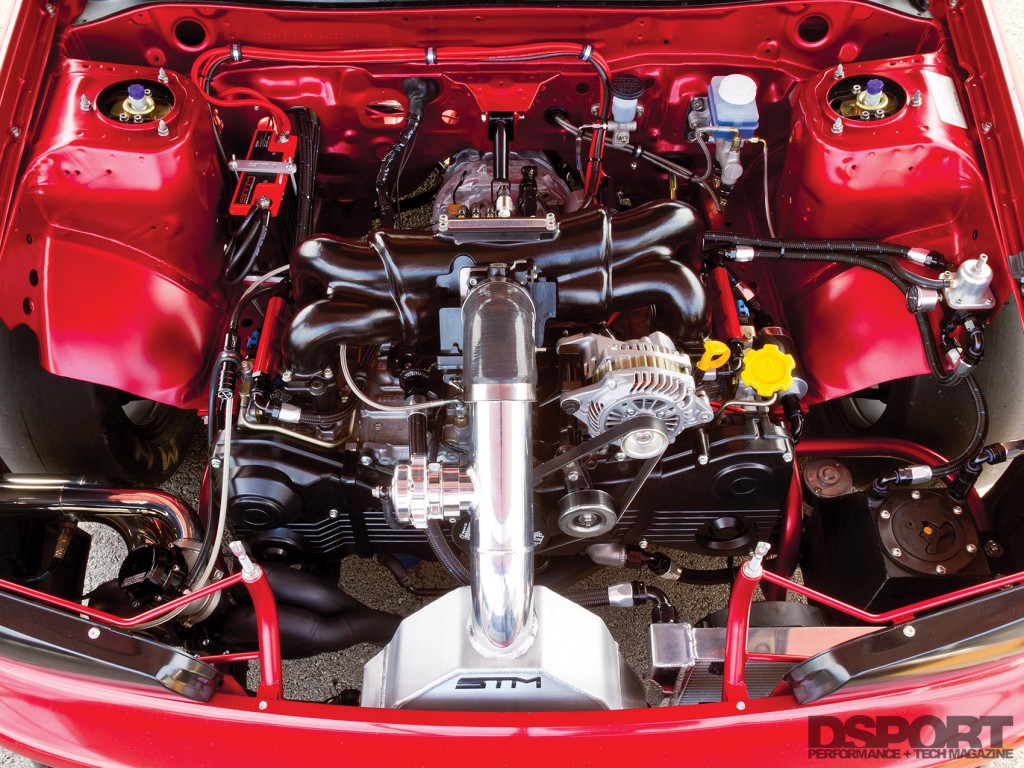 Race For A Record
Although STM had been known as a Mitsubishi specialist, they were up to the challenge of putting Marcus' RS on the fast track to quickness. Having a clean Subaru Impreza RS already made his machine unique, but to set a record with it would make it extraordinary. Ultimately, reaching this objective would require an adjustment to the strategy. "The reality is that it is very difficult to make a Subaru go fast. The 2.5-liter engine is not designed to handle extreme horsepower levels and function reliably," commented Marcus. But to set a record would require a combination of increased power and weight reduction.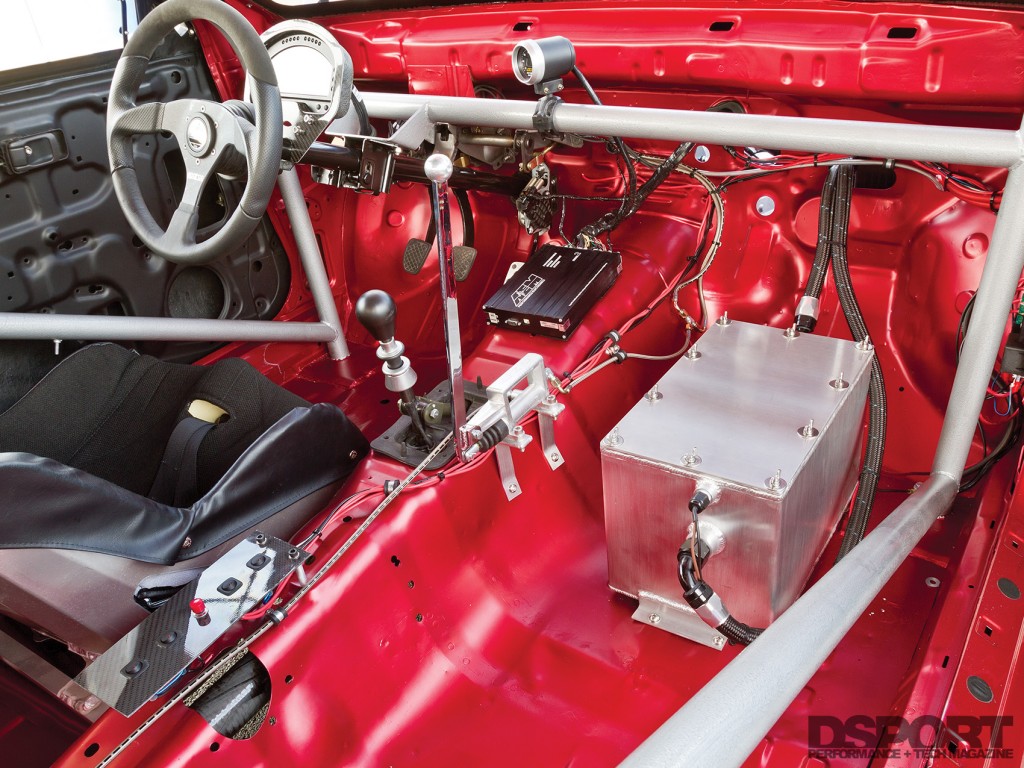 Mighty Mill
Marcus' fifth EJ257 block went to Kirkum Automotive (KA). KA installed a set of Darton ductile-iron sleeves to provide a solid foundation to build upon. KA also installed copper o-rings for improved containment of cylinder pressures. From KA, the block traveled to Chicago to be assembled by AMS Performance. AMS filled the cylinders with JE Pistons linked to the factory crank by way of Manley I-beam rods. The heads were profiled to accommodate the big lobes of the GSC Power Division S3 camshafts before receiving a complete Supertech valvetrain.
Fabrication Frenzy
While the engine was being assembled, Austin at STM went to work on the Subaru Impreza RS chassis. He removed every ounce of unnecessary steel while welding in the requisite NHRA 8.5 certified cage. A combination of carbon fiber hood, trunk lid, doors and roof skin replaced the factory steel panels to further lighten the chassis. A set of TSSFAB chromoly sub frames replaced the factory pieces at both the front and the rear for added strength. This effort proved worthwhile, as the chassis now tipped the scales at just over 2,000 pounds. Once the engine returned from AMS, Austin fabricated a forward-facing exhaust manifold to channel high enthalpy gasses into the turbine of a Precision Turbo & Engine PT6765SP turbocharger. A custom air- to-water intercooler chills the air charge before it is channeled through a Skunk2 72mm throttle body and the forward facing Cosworth intake manifold.
From The Crank To The Corners
While the STi's six-speed transmission has proven to handle well beyond the factory EJ's typical horsepower output, grabbing gears as quickly as possible becomes essential when fractions of a second could make the difference in the pursuit of a record. Thus, a Pfitzner Performance first-through-fourth dog engagement gear set with a 3.54-to-1 final drive ratio ensures that the EJ stays in the boost with each gear change.
Powered Up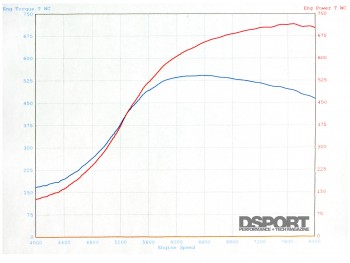 With the right hardware in place, it was time to put the software to work. STM wired in an AEM EMS V2 to handle engine management duties. Commanding a quartet of Fuel Injector Clinic 2,150cc/min injectors, Kapral tuned the EMS for E85 fuel. At peak boost pressure of 36 psi, the RS put down 715 horsepower and 542 lb-ft torque to the rollers of STM's Mustang Dynamometer. Compared to an unmodified STi, this is an improvement of 219 percent.
Rocking Records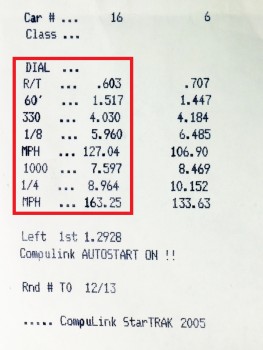 Marcus debuted his Impreza RS at the 2013 Buschur Shootout in Wakeman, Ohio. It garnered plenty of attention, but not nearly as much as it did at its first actual attempt at the quarter mile. On September 10, the RS made its first pass down the 1320 in competition trim. The Subaru delivered an impressive 9.166- second blast that eclipsed at 158.92 MPH. While this performance delivered relief and satisfaction, it wasn't the record. Marcus and STM Tuned would not remain idle for long. Exactly two weeks later, they returned to the track and rocketed to a 8.964-second pass at 163.25 MPH. This effort reached the target and captured the 2.5-liter/six-speed record.
Lessons Learned
With the experience and knowledge of the staff at STM Tuned, Marcus reached his goal with the RS. He concluded, "Without experience or guidance, it's best to leave engine building to the professionals. When you've invested in quality but costly parts, you want to get the build right the first time. After what I went through, most people would suggest purchasing a different vehicle. Personally, transforming a 16-second car to run in the is an rewarding feat as not many would succeed at such a challenge. That uniqueness is what sets my build apart from the others and to me, made it worth the effort." With the right parts, the right team and an endless supply of determination, no record is safe.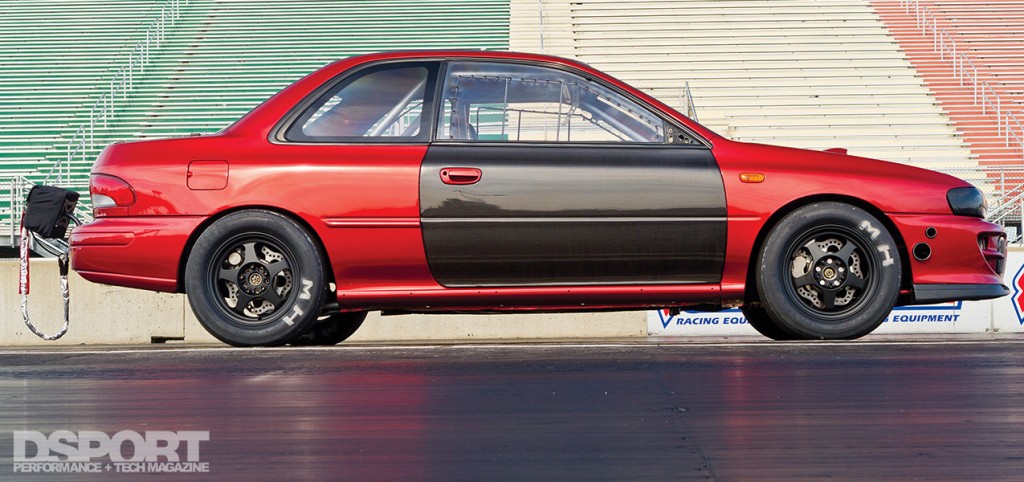 SPEC SHEET
| VEHICLE | |
| --- | --- |
| Year / Make / Model: | 2000 Subaru Impreza 2.5 RS |
| Chassis Code: | GM6 |
| Vehicle Weight: | 2019lbs |
| Launch RPM: | 6,500 RPM |
| Shift RPM: | 8,000 RPM |
| Redline RPM: | 9,500 RPM |
| Peak Boost: | 36 psi |
| Fuel: | E85 |
| ENGINE | |
| --- | --- |
| Engine Code: | EJ257 |
| Displacement (cc): | 2,457.4cc |
| Bore & Stroke (mm): | 99.5 mm x 79.0 mm |
| Peak Horsepower (@ RPM): | 715 whp @ 7,700 RPM |
| Peak Torque (@ RPM): | 542 lb-ft @ 6,300 RPM |
| Dyno Type: | Mustang MD-AWD-500 Dynamometer |
| Engine Builder: | AMS |
| Block Modifications: | Darton Sleeves, O-ringed |
| Machine Work: | Kirkum Automotive Dansville, NY |
| Pistons/Compression Ratio: | JE Pistons, 8.5:1 Compression |
| Connecting Rods / Crank: | Manley I-Beam Rods, 2009 Nitride OEM Crank |
| Camshafts: | GSC Power Division S3 Camshafts |
| Valves / Springs / Retainers: | Supertech +1mm Valves, |
| | Dual Springs & Ti Retainers |
| Cylinder Head Mods: | Head Castings Filed Down For Cam Clearance |
| Head/Main Studs: | ARP L19, ARP Case Bolts |
| Intake Manifold: | Cosworth Reversed Intake w/ TGV deletes |
| Throttle Body: | Skunk2 72mm Throttle Body |
| Fuel Injectors: | Fuel Injector Clinic 2,150 cc/min (x4) |
| Fuel Delivery System: | Weldon 2345A w/ FPR |
| Engine Management System: | AEM EMS V2 |
| Engine Management Tuner: | Emery Kapral |
| Boost Controller: | Hallman MBC |
| Spark Plugs: | NGK |
| Exhaust Manifold: | STM Forward Facing |
| Exhaust System: | STM Side Bumper Exhaust |
| Wastegate: | Precision Turbo & Engine PW46 |
| Blow-Off Valve: | TiAL Sport 50mm |
| Intercooler: | STM Air-to-Water Intercooler w/ Icebox |
| Cooling System: | STM Small Radiator Kit |
| Oil System: | P&L Motorsports Race Oil Pump |
| | KillerB Oil Pickup, Baffle & V2 Oil Pan |
| | STM 2 Gallon Fuel Cell |
| TURBOCHARGER | |
| Turbocharger: | Precision Turbo 6765SP |
| Frame: | T3 |
| Compressor Wheel Specs: | 67mm |
| Turbine Wheel Specs: | 65mm |
| Turbine Housing: | T3 V-band .82AR |
| CHASSIS/DRIVELINE | |
| Springs, F&R (Make & Rate): | Swift Springs, Drag Spec |
| Shocks, F&R (Make & Rate): | D2 Adjustable Dampers |
| Additional Suspension Components: | TSSFAB F/R Chromoly Tubular Subframes, |
| | STM Solid Motor Mounts/ STM Tubular |
| Transmission Cradle Mount Transmission: | PPG Drag Ratio Dog Box |
| Transmission Gearing: | 3.08:1, 1.88:1, 1.35:1, 0.96:1 |
| Final Drive: | 3.54:1 |
| Clutch / Flywheel: | Exedy Triple Plate Clutch |
| Axles / Driveshaft: | The Driveshaft Shop Pro-level Rear Axles, |
| | Stage-5 Axles and Carbon-fiber Driveshaft |
| Wheels (Make, Size & Offset): | Enkei RPF-1, 16×7-inch (F&R) |
| Tires (Make & Size): | Hoosier Quick Time Pro 26×9.5×16-inch |
| Brake Calipers (F&R): | The Brake Man Storm Brake System |
| Brake Rotors: | The Brake Man Revolution Rotors |
| | 12-inch (F)/10-inch (R) |
| Brake Pads: | The Brakeman Pads (F&R) |
| Brake Lines: | Stainless-steel Braided |
| Etc: | Torque Solutions Bushings and Shifter |
| | STM ABS Delete Kit |
| Roll Bar / Cage: | STM 8.5 Certified NHRA Cage |
| Seats: | Kirkey Aluminum Seat |
| Harnesses: | Racequip 6-point Harnesses |
| Steering Wheel / Quick Release: | Sparco Wheel |
| Gauges: | AIM Pista Digital Dash |
| EXTERIOR | |
| Front Lip Spoiler: | Custom |
| Hood, Trunk Lid: | Carbon Creations |
| Doors: | Seibon Carbon Doors |
| Headlights: | STM Headlight Delete |
| Taillights: | GC STI Tail Lights |
| Paint: | Sedona Red Pearl |
| Etc.: | Aerosim Research Carbon Roof |
| | 1/8-inch Lexan Windows |