Some ask, "why? while others ask, "Why not?"
While there are those who have paved the way with parts combinations that have been tested and proven, there are others who explore unconventional solutions to achieve the same results or better. Sometimes a builder chooses the less popular conventions to see what happens. Others assemble a car using off the wall components just to prove that it can be done.
Text and Photos by Richard Fong
---
Why Not?
In the case of Force-Fed Performance, owner Justin Miller wanted to demonstrate that there was more than one recipe for a high-powered street EVO. He stated, "Seven years ago, people told me I was crazy for running methanol and a GT35R turbocharger to make 568 whp from a stock 4G63 block, yet this is not so shocking today. They also asked why I would run such a large turbocharger and comprehensive fuel delivery system on a streetcar. I did it simply to show that a crazy setup making power could still be made usable on the street." As technology and techniques have evolved, the performance bar has been raised in turn. Miller thought of a new plan and took aim at loftier goals. With his 2006 Mitsubishi Evolution IX serving as the foundation, he set in motion a plan to reach 800 wheel horsepower.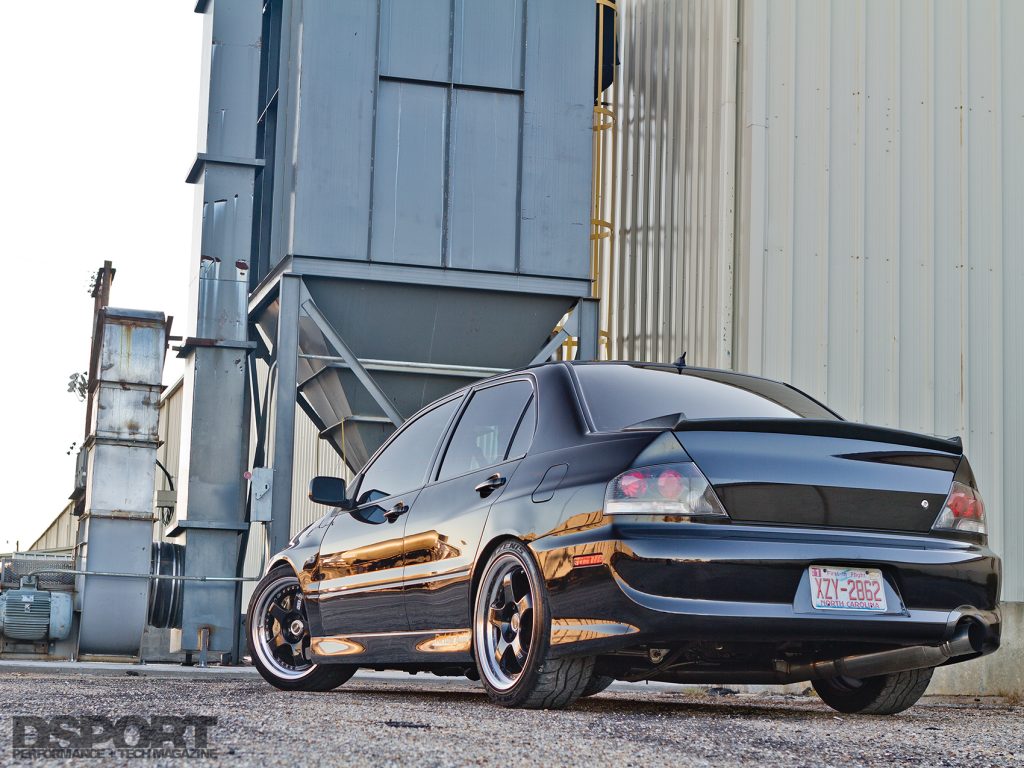 A Different Formula
While technology and forced induction have proven to be the great equalizer that allows small displacement engines to compete with V8s twice their size, a little extra displacement helps to shift the power curve to make the engine more responsive. Since Miller selected a large twin scroll BorgWarner AirWerks S400SX turbocharger to supply boost pressure, increasing displacement was essential. To drive the S400SXs massive turbine, a larger- displacement 4G64 shortblock built by Buschur Racing replaced the 4G63 unit under the hood. Equipped with relatively high compression 10.0:1 JE Pistons and lightweight GRP aluminum connecting rods, the 16 percent larger 2,378cc block generates additional high enthalpy exhaust gasses compared to the stock 4G63. To improve the volumetric efficiency of the bottom end, Miller applied Force-Fed's CNC race port program to the variable-valve-timing MIVEC cylinder head.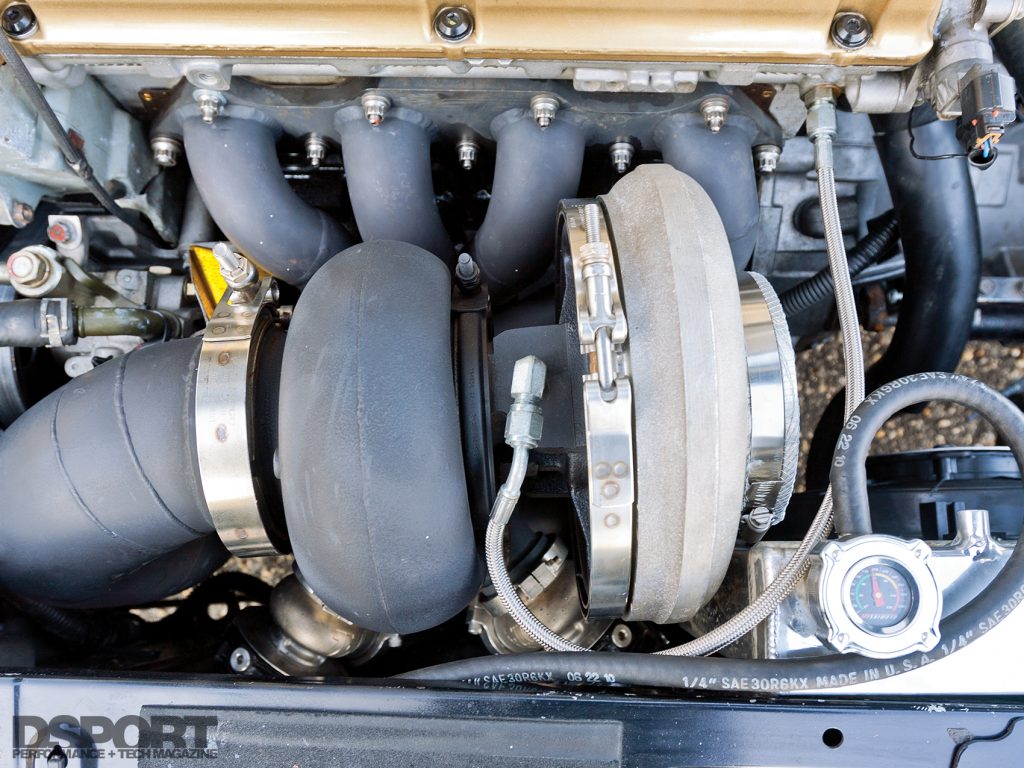 Finishing the Equation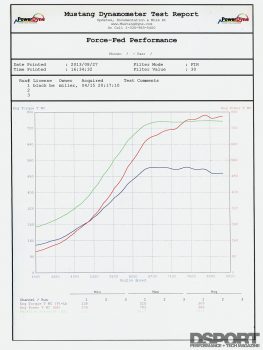 With the engine side of the equation complete, attention shifted to fuel delivery and engine management. Although Miller used to favor methanol, the performance, availability and cost of E85 made it his new fuel of choice. But, like methanol, E85's hydrophilic properties make it just as corrosive and its similar specific energy require specialized fuel components for proper and reliable function. To that end, Miller and his team at Force-Fed laid out a custom fuel system to accommodate E85. The factory fuel tank was specially modified with sumps on each side of the tank to ensure an uninterrupted supply of fuel to the variable-speed Fuelab Prodigy 42401 fuel pump. The pump's speed is regulated by the Haltech Platinum Sport 2000 engine management system, which also regulates the duty cycle of four Fuel Injector Clinic 2,150 cc/min injectors. Force-Fed's resident tuner Babi Berrios dialed in the fuel and ignition timing while progressively increasing the boost pressure. At a staggering peak boost of 50 psi, the EVO spun the rollers of a Mustang AWD Dynamometer to 783 horsepower and 525 lb-ft torque. Compared to a stock EVO on this same dynamometer, this is a relative improvement of 240 percent.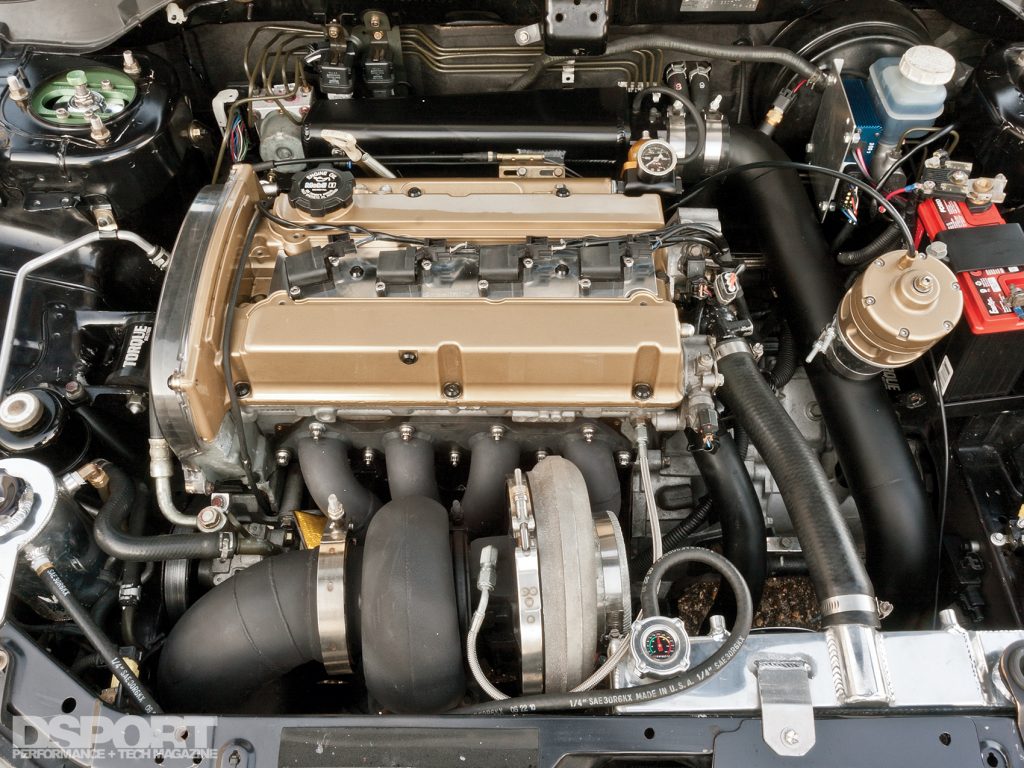 Optimized Street Potential
Taking the appropriate step to ensure that the EVO could sustain the increased horsepower and torque being applied to the driveline, Miller relied on his experience to address the weak links. He sent the transmission to John Shepherd at Shepherd transmissions to be fortified with REM treated gears and fresh ancillary components. A billet side cover strengthens the transfer case, reduces flex and reduces the necessary bearing preload for improved bearing longevity. At the back, a TRE 12-disc Max Lock limited-slip differential ensures that the rear wheels receive an equal amount of torque to apply to the pavement. Confident that power could be delivered reliably, Miller chose an Exedy triple plate clutch to transfer power from the crankshaft to the driveline.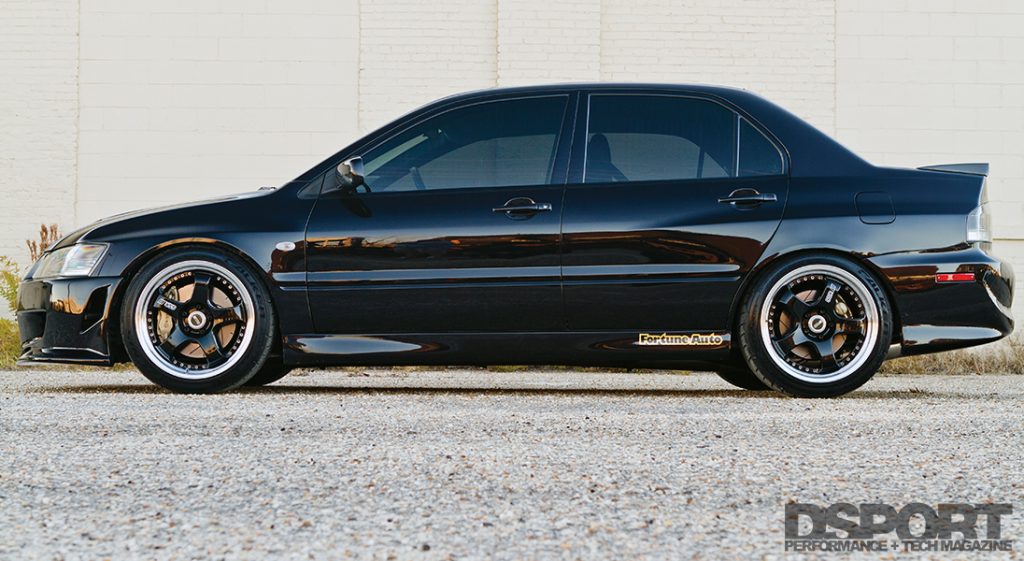 Negating Naysayers
There's no greater satisfaction than seeing a build through to completion. Producing a street- going machine of this caliber, construction and performance made the effort all the more worthwhile. Miller concluded, "The best part of the build was when it was finally completed and hit the dyno, it blew people away. We showed that all the crazy ideas not only worked, but in some cases were better than stock and superior to other popular aftermarket solutions. Like any build, we've had our ups and downs with this project. You sometimes have to expect blown gaskets and blown hoses when it hits high boost. It just comes with the territory. Everything we did was with a purpose. If we did anything differently, we would be just like everyone else, and that would be boring." Although this EVO IX build won't stop people from asking the question, "Why?", it demonstrates that there are plenty of reasons to ask, "Why not?"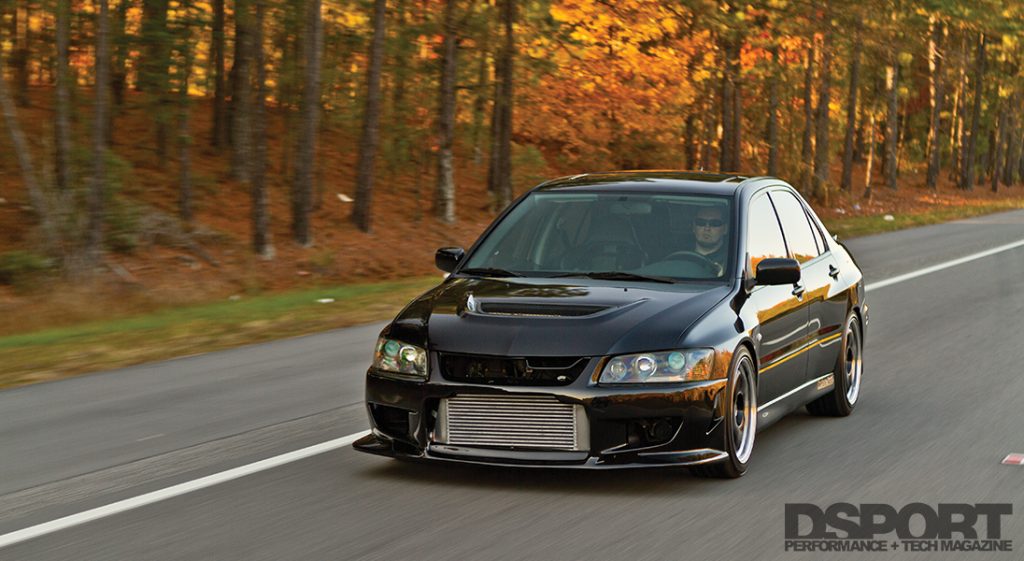 SPEC SHEET
| VEHICLE | |
| --- | --- |
| Year / Make / Model: | 2006 Mitsubishi Evolution IX |
| Chassis Code: | CT9A |
| Vehicle Weight: | 3,400 lbs. |
| Launch RPM: | 6,500 RPM |
| Shift RPM: | 9,500 RPM |
| Redline RPM: | 10,500 RPM |
| Peak Boost: | 50 psi |
| Fuel: | E85 |
| ENGINE | |
| --- | --- |
| Engine Code: | 4G64 |
| Displacement (cc): | 2,378.2cc |
| Bore & Stroke (mm): | 87mm x 100mm |
| Peak Horsepower (@ RPM): | 783 whp @ 7,900 RPM |
| Peak Torque (@ RPM): | 525 lb-ft @ 7,500 RPM |
| Dyno Type: | Mustang AWD Dynamometer |
| Engine Builder: | Buschur Racing |
| Block Modifications: | Copper O-ringed |
| Pistons/Compression Ratio: | JE Pistons, 10.0:1 Compression |
| Connecting Rods / Crank: | GRP Aluminum Rods |
| | Factory 100mm Crankshaft |
| Camshafts: | Kelford Camshafts |
| | 288-degree (F), 282-degree (R) |
| Valves/Springs/Retainers: | Supertech Valves |
| | Kiggly Racing Springs& Ti Retainers |
| Cylinder Head Modifications: | Force-Fed Performance CNC-Race Port |
| Cylinder Head Gasket: | Factory bored to 87mm |
| Head/Main Studs: | A1 Technologies L19 |
| Intake Manifold/Throttle Body: | Driven Innovations Intake Manifold |
| | Boomba Racing 75mm Throttle Body |
| Fuel Injectors: | Fuel Injector Clinic 2,150 cc/min (x4) |
| Fuel Delivery System: | Driven Innovations Fuel Rail |
| | Fuelab Prodigy 42401 Fuel Pump/FPR |
| Engine Management System: | Haltech Platinum Sport 2000 |
| Engine Management Tuner: | Babi Berrios |
| Boost Controller: | Hallman Pro |
| Ignition System: | SpoolinUp Custom CDI Unit w/ Dynatek Box |
| Spark Plugs: | Denso IHK27 |
| Exhaust Manifold: | Extreme Turbo Systems Custom T4 Twin-scroll |
| Exhaust System / Downpipe: | Force-Fed Performance Custom |
| | 4-inch Down Pipe and Exhaust |
| | Aero Turbine Muffler |
| Wastegate: | TiAL Sport MV-R (x2) |
| Blow-Off Valve: | Procharger 60mm |
| Intercooler: | Extreme Turbo Systems 5-inch Intercooler |
| Cooling System: | B&M Oil Cooler |
| Cooling System: | Custom Half-cut Mishimoto Radiator |
| Fuel Cell: | Factory, Custom Sumped |
| Performance Electronics: | AEM Wideband and 50 psi Boost Gauge |
| TURBOCHARGER | |
| --- | --- |
| Turbocharger: | BorgWarner Airwerks S400SX |
| Frame: | T4, Twin-scroll |
| Compressor Wheel Specs: | 71.08mm Inducer |
| Turbine Wheel Speds: | 100.2mm Exducer |
| Turbine Housing: | 1.25 A/R |
| CHASSIS/DRIVELINE | |
| --- | --- |
| Springs, F&R (Make & Rate): | Fortune Auto 9 kgf/mm (F), 5 kgf/mm (R) |
| Shocks, F&R (Make & Rate): | Fortune Auto 500 Series Drag-spec Dampers |
| Transmission: | Sheptrans Built |
| Clutch / Flywheel: | Exedy Hyper Triple Plate Clutch |
| Differential(s) (Make & Type): | Factory Transfer Case w/LSD |
| | TRE 12-disc Max Lock (R) |
| | Billet Side Gear Cover |
| Axles / Driveshaft: | The DriveShaft Shop 900hp Axles (F) |
| Wheels (Make, Size & Offset): | SSR Professor SP1 18×9-inch +31 (F&R) |
| Tires (Make & Size): | Falken Tires RT615, 245/40R18 (F&R) |
| Brake Rotors (Diameter, F&R): | DBA 4000 Rotors (F&R) |
| Brake Pads (Front & Rear): | Ferodo DS2500 (F&R) |
| Brake Lines: | Stainless-steel Braided |
| Etc.: | Tirado Custom Coatings – Powder Coated Calipers |
| INTERIOR | |
| --- | --- |
| Roll Bar / Cage: | Sparco Harness Bar |
| Gauges: | AEM UEGO and 50PSI boost |
| Etc: | Pioneer AVIC-D3 Navigation |
| | Ralliart JDM Console |
| | Blitz Shift Knob |
| EXTERIOR | |
| --- | --- |
| Front End: | C-West |
| Spoiler/Wing:: | Rexpeed Type-C |