Small guerilla armies consistently defeat some of the most capable and properly-trained government armies around the world. In these instances, unconventional tactics and methods lead to victory over superior forces. In the motorsports' arena, there is no combative force bigger than an OEM. Blank-check budgets and extensive staffs of engineers, fabricators and mechanics allow automotive manufacturers to dominate nearly any class of competition that they see fit. When XS Engineering of Garden Grove, California was given an opportunity to battle an OEM, they knew conventional warfare would be out of the question. Instead, XS Engineering would assemble a small army of tuners, mechanics and technicians to wage war. Incorporating the five fundamental tactics of guerrilla warfare, XS uses intelligence, ambush, deception, sabotage, and espionage to give paramount organizations a run for their money.
By Sami Sharaf Photos by Michael Ferrara
---
The Battleground and the Enemy
XS Engineering agreed to partake in the Street Tuner Challenge, a build off where they would compete against two other builders. To make the build even more interesting, each vehicle's build would be televised and judged in various categories. At the end of the 12-week buildup, the three vehicles would compete at Buttonwillow Raceway in Southern California to earn top bragging rights.
For this competition and to have a capable vehicle for future time-attack-type events, XS Engineering selected a vehicle platform with unmatched potential. XS Engineering located an R32 Nissan Skyline GT-R. This GT-R would wage war against one European and one Domestic competitor. ABD Racing represented the European market with a Jetta Mark-V while General Motors enlisted their Performance Division to construct an all-American Chevrolet Cobalt SS. Even though the teams were not instructed to build their cars for a specific purpose, each tuner had a build goal in mind. ABD focused their attention on the street-ability of the Jetta. GM decided upon building the Cobalt as a purpose built road racer. XS Engineering would took a total-tuning strategy to exemplify to limits of a street-performance vehicle.
Considering GM's Performance Division their fiercest competitor in this show, XS developed a battle strategy to overthrow the corporate titan.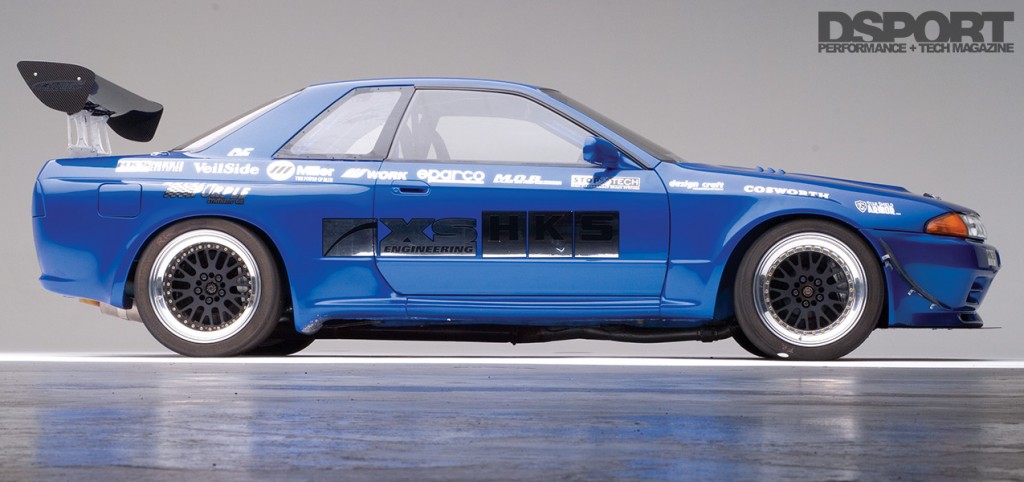 Intelligence
XS Engineering is considered by many to be one of America's top- tuning facilities. XS implements revolutionary tactics in the services and products they offer. Earning a reputation for selling, installing and tuning high-end components, XS continues to incorporate aggressive research and development into their manufactured products. Looked upon as a "full-service" tuning shop, XS Engineering stuffs its bays with vehicles receiving professional-grade engine and chassis upgrades, race preparation and street-level modifications. A two-wheel-drive DynoJet 248 chassis dynamometer and four-wheel-drive Dynamic Test Systems chassis dynamometer are critical to XS Engineering's intelligence gathering.
Fortifying their position as a distinguished tuning facility, XS Engineering constructs competition- winning vehicles year-after-year. This provides a substantial tuning database. XS' own employee's cars showcase their tuning abilities by modifying the vehicles with a mixture of high-quality components. The cars receive off-the-shelf XS products, technical services as well as other reputable-manufacturers' parts. Aiming to construct an aggressive, radical and unconventional car this time around, XS put together a strategy to get the GT-R up to the task of battling the corporate-backed Cobalt.
Ambush
Concerning themselves with the build at hand, XS went to work on their R32 GT-R. Not worrying about the components and strategies used by the other two teams, XS utilized the ambush tactic. They sought to construct the Skyline and wait until all three cars were at the racetrack to attack. The other teams hand no idea what was going on behind the bay doors during the 12 week build time. However, they did know the factory specifications of the GT-R.
Stories of unbelievable horsepower figures follow the GT-R. What is most surprising is that in stock form the GT-R's factory-issued manners are quite polite and timid.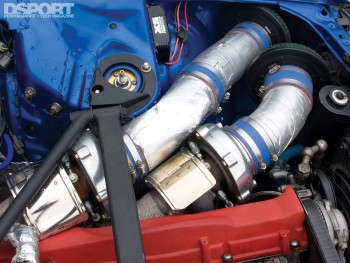 The R32 is driven by a dual-over- head-cam inline six-cylinder engine known as the RB26DETT. The RB26 features a factory bore of 86mm with a stroke of 73.7mm which creates a displacement of 2568cc. The small displacement six-cylinder sports an 8.5-to-1 compression ratio. The low-compression ratio RB26 allows twin-T28 turbochargers to generate the power. In stock trim, the R32 produces a modest 280 horsepower and 260 lb/ft of torque to its all-wheel-drive system. Its all- wheel-drive system combined with its capability of supporting monstrous amounts of horsepower gives tuners plenty of reasons to celebrate the GT-R. Even with its stock internals in place, the RB26DETT can endure more than double its factory-horsepower output. The GT-R is superior to many vehicles in factory form. However, this R32's trip across the world was made to highlight XS Engineering's innovation, technical expertise, and workmanship.