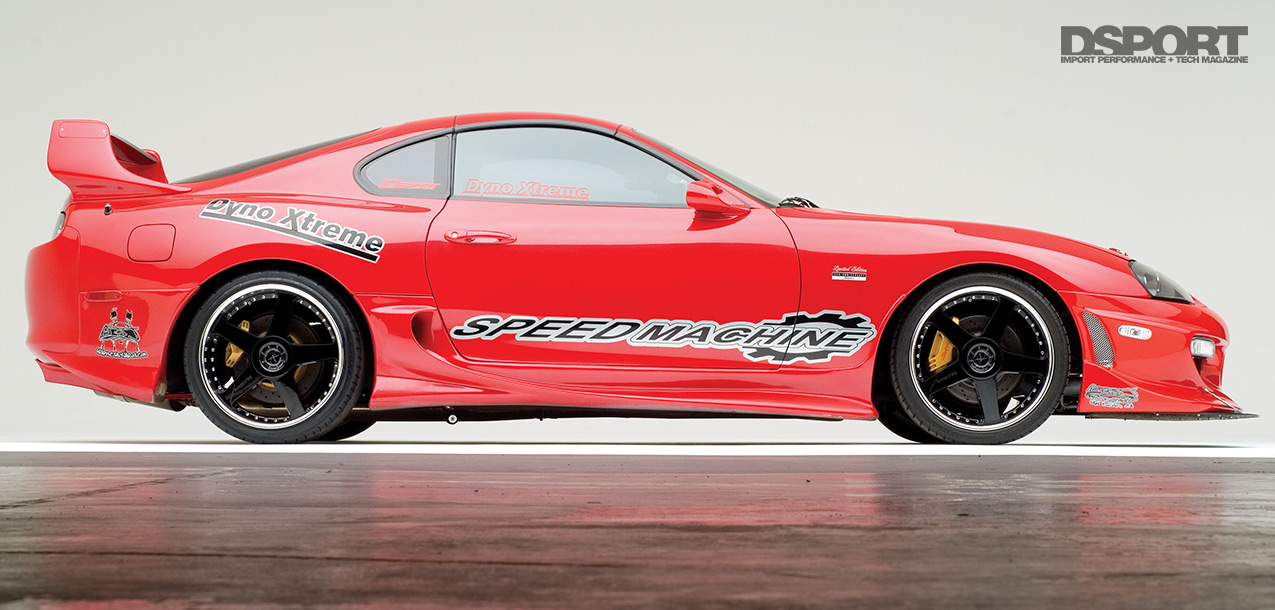 The JZA80 twin-turbo Supra is arguably the best import-performance vehicle to be sold in the United States. For brothers Tony and Kyle Nino, the Supra was their dream car. Older-brother Tony purchased this Supra in June of 2005 with the intent of building a 700-horsepower, daily-driven street monster. During the course of the project, the performance bar was set at running 9s and generating 1000 wheel horsepower. Unfortunately, Kyle was killed in a motorcycle accident a few months ago. Showing respect for his late brother, Tony decided to continue the build in his brother's memory.
Text & Photos by Michael Ferrara
---
The Powerplant
There's more ways than one to skin a cat and there's obviously more than one performance combination that can make the 2JZ engine sing. To meet the original 700-horsepower goal, a buildup was done with the HKS 2835 twin-turbo system. This system performed flawlessly with the complementary components and stock engine. On race gas, Tony claims this setup yielded 750-wheel horsepower while delivering 10.8-second performance on BFG drag radials. While running 10s is quite an accomplishment, the plan was set in motion to build a combination that would produce the power to run 9s. Working with DynoXtreme of Stanton, California, the 9-second powerplant was built.
The engine that is now between the shock towers has been build to survive at the 1000-horsepower level. The factory crankshaft is now driven by 8.5-to-1 forged aluminum CP Pistons and Carrillo 4340 forged- steel connecting rods. Up top, the cylinder head has been reworked to accept +1mm S/TEC valves, Crower valve springs and Crower retainers. HKS 272 camshafts orchestrate the valve events while ARP Fasteners head studs secure the head to the block.
Boost and Fuel
To provide the airflow for the big- power numbers, a Virtual Works turbo manifold feeds the single PTS- 76 turbocharger a steady supply of exhaust gas. After the exhaust has powered the turbo, a four-inch downpipe directs the fumes through a HKS Hiper Titanium exhaust. Once the desired boost level is reached, an HKS GT2 wastegate directs surplus exhaust gas to the atmosphere. On the cold side, this turbocharger sends its compressed flow to a GReddy front-mount intercooler. Once chilled, the charge air is directed into the cylinder head by a VeilSide intake manifold featuring a 100mm throttle body.
To provide the fuel for the fire, a pair of Walbro in-tank 255lph pumps transfers the fuel from the tank to the fuel rail. These pumps feed a half- dozen 1000cc/min RC Engineering injectors. Currently, the injectors take cues from a G-Force modified factory ECU receiving signals from an HKS VPC and an A'PEXi S-AFC. According to Tony, he's planning on swapping over to a Power FC or AEM EMS stand-alone engine- management system in the very near future.