Few of today's sportscars can challenge the performance potential of Toyota's JZA80 Supra Turbo. The fourth-generation Supra is arguably one of Japan's top sportscars ever built. Much of the vehicle's popularity is due to the incredible 2JZ-GTE engine design. No other Japanese engine has ever challenged the 2JZ in terms of potential power output. As a result, the Supra has created a cult-like following and tuning community like no other.
Hardcore fanatics take Supra builds to an entirely different level. Stroker kits, bigger turbos and nitrous-oxide injection allow for incredible power figures from the 2JZ-GTE engine. As a result, Supra owners tend to spend an inordinant amount of time dialing in more power at the dyno. However, most high-power Supras are more than just dyno queens. Case in point, Amit Bhakta has actually used his Supra's immense power to reach 243 mph.
Text and Photos By Richard Fong
---
"Big Red" is the result of the try something a little different mentality. Rather than build a single-turbo engine (like 99-percent of other 1000+ whp Supra owners), Amit focused on a big-twin setup instead. This meant finding a performance combination that would allow a twin turbo setup to excel. To drive a pair of big turbochargers, more displacement was a must and nitrous-oxide assistance might also be needed.
Originally, the experimental big-twin engine was meant for one of Amit's other Supras. However, that Supra kept falling behind schedule at the body shop. When Amit came across this 1997 Renaissance Red Supra, it was the ready, willing and able recipient of the big-twin- turbo engine that was on the drawing board.
Big Power for Big Red
To start, Amit brought the chassis and the components to Tommy Banh at Autobanh Motorsports (ABM) in Houston, TX. With a clear vision of Amit's goals, Tommy and his team got straight to work on the affectionately named "Big Red" Supra. ABM technicians bored the 2JZ block to 87mm. Anticipating tremendous gains in power, a set of billet steel main caps were chosen to replace the factory pieces that hold the crankshaft in place. ABM line bored and honed the new caps on the block ensure the crankshaft would be in line. With the machine work complete, the cylinders were filled with 9.5:1 compression CP Pistons. The pistons connect to a BC Brian Crower stroker crankshaft by way of Carrillo connecting rods. This new rotating assembly increased the 2JZ displacement to 3,353cc.
Moving from the block to the head, increasing the airflow through the ports became the next focus. ABM ported and polished the head before seating the Ferrea +3mm stainless-steel intake valves and +3mm inconel exhaust valves. The new valves were fitted with Ferrea's complete valvetrain line, including dual valve springs, titanium retainers and locks. Sound Performance-spec 300-degree camshafts by Crane Cams take advantage of the porting and big valves thanks to increased lift and longer duration. The longblock assembly was then cinched together with ultra-strong ARP L19 head studs. The L19 head studs feature superior strength and stretch resistance to keep the cylinder head from lifting from the block under the high cylinder pressures encountered at high-horsepower levels.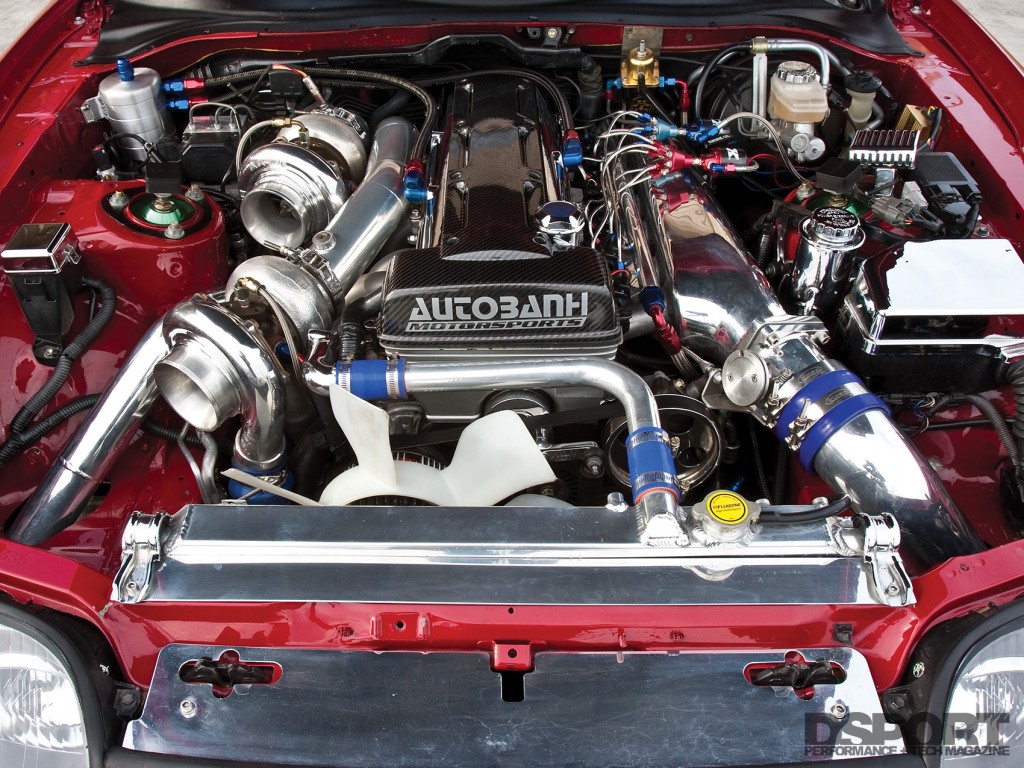 Big Twins, Big Power
Completion of the longblock prompted a shift in focus to the forced induction system. ABM fabricated a stainless-steel exhaust manifold to accommodate the big Precision Turbo & Engine (PT&E) T-67 turbochargers. Spent gasses leave the turbos and flow through a custom exhaust composed of 3-inch downpipes and a 5-inch Burns Stainless race muffler. On the cool side of the turbos, custom intercooler piping connects the compressor outlets to the Virtual Works Racing (VWR) front-mount intercooler. Additional hard pipes link the intercooler to the Accufab 4-inch throttle body and VWR intake manifold. The intake manifold runners feature PT&E 165 lb/hr injectors fed by an ABM -10AN fuel rail. VP Racing's VP Import race fuel fills the rail by way of a Weldon fuel system comprised of a 2345 fuel pump, fuel filter and fuel pressure regulator. With adequate fuel delivery in place, igniting the air fuel mixture would require an improved spark delivery. NGK Racing plugs receive spark energy from an HKS DLI Ignition amplifier to ensure strong and consistent ignition with each complete combustion cycle.