Perpetual change might be the only means to satisfy the needs of the modification-hungry.
While most will build with an end goal in mind, others never see their project coming to an end. Dan Stockmar's vision for his EVO VIII has been constantly morphing, as his need for change pushes him to continue making modifications. Already a Mitsubishi fanatic, Stockmar had owned a second-gen Eclipse GS-T until 2005 when the engine let go. A ride in his friend's EVO drew his interest and a test drive got him hooked.
Text and Photos by Richard Fong
---
Addiction Is Good
Stockmar is not ashamed to admit that boost is addicting and that he gets bored easily. His early modifications to the engine started with basic bolt ons and a modest 350 horsepower. This snowballed into 420 horsepower, and then 500. Eventually, his stock engine let go and he was faced with another dilemma. Should he rebuild the engine to stock specifications or bump up the displacement? To satisfy his want for power, he decided upon the displacement increase.
AEM Serial Gauges line the A-pillar while an Aeromotive FPR maintains fuel pressure. AEM adjustable cam gears facilitate optimum cam timing.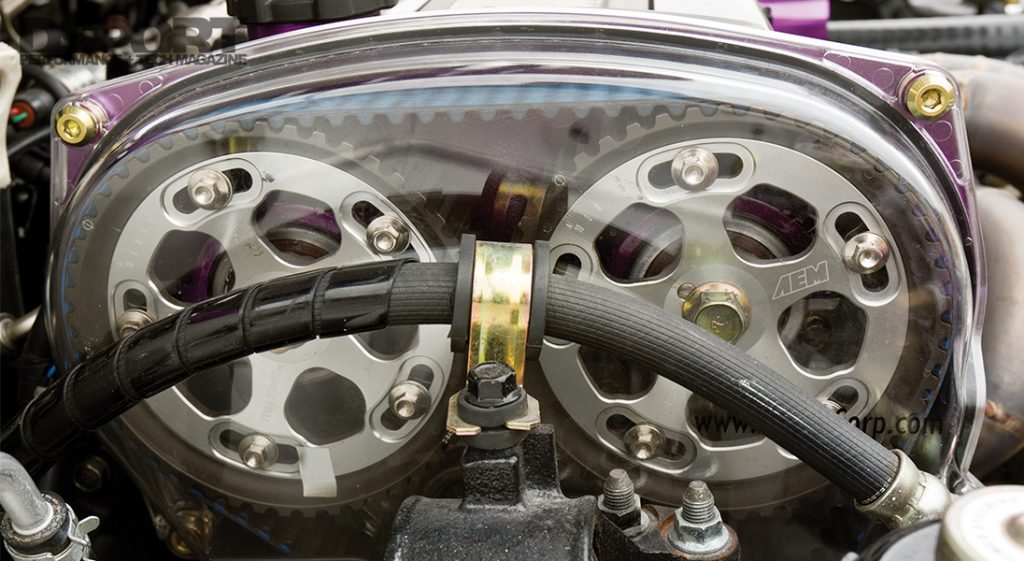 Displacement Fix
The EVO was taken to Carz Performance in Lakewood, Colorado to be rebuilt. The 4G63 received a 2mm overbore and hone before the cylinders were filled with 10.0-to-1 compression Ross pistons. Manley Turbo Tuff connecting rods join the pistons to a K1 Technologies 97mm billet-steel crankshaft. The increased bore and stroke yielded an increase of 309cc bringing the new displacement up to 2,307cc. With the rotating assembly finished, efforts were redirected to the cylinder head. The head was dropped off at Madcap Racing for port work before a full Supertech valvetrain was installed. Comp Cams 280-degree duration bump sticks provide lift for the valves. Once assembled, the higher-flowing cylinder head was secured to the block with high-tensile-strength ARP L19 head studs.

High On Boost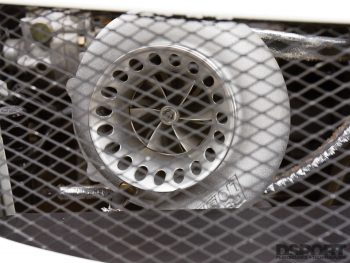 The increased horsepower goals in conjunction with the higher displacement of the newly-built engine required a change in the turbo sizing. Stepping up from the 500 horsepower that the engine produced while displacing two- liters required a larger turbo to complement the increased displacement of the built engine. Dan chose a Precision Turbo & Engine 6765 turbocharger to provide the boost pressure for the new setup. A specially-designed Extreme Turbo Systems tubular manifold positions the 6765 turbo with the inducer facing forward. This allows ambient air to flow directly to the turbo from the opening in the bumper. The compressed air flows through aluminum piping to an Extreme Turbo Systems 4-inch bar-and-plate intercooler to exchange heat. Once chilled, the charge flows through a Mil. Spec throttle body to be distributed to the cylinders by way of a Wilson V2 intake manifold.

No OD On E85
To achieve Stockmar's horsepower aspirations, switching from premium pump gasoline to E85 fuel was essential. However, E85 fuel requires much greater volumes per combustion cycle as compared to 91 octane. Therefore, a quartet of massive Fuel Injector Clinic 2,150 cc/min injectors was installed. Buschur Racing's Double Pumper fuel delivery system ensures a constant and steady flow of E85 fuel for the injectors. AEM's EMS stand-alone system regulates the injector duty cycle in addition to the spark timing of the Buschur Racing coil-on-plug ignition system. With 33 psi of boost held steady by a Hallman manual boost controller, Carz Performance's Lucas Guadagni refined the EMS fuel and ignition tables. Stockmar's EVO VIII generated 718 horsepower and 586 lb-ft of torque as measured on a Superflow dynamometer. Compared to the EVO VIII's baseline pull of 250 horsepower, this is a 187-percent improvement in power over the stock configuration.

Intervention: Aerodynamics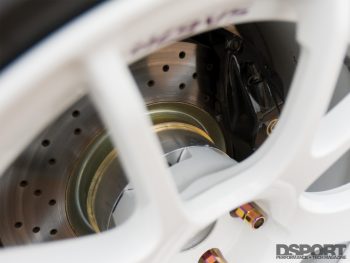 With the EVO reaching its power production goal, Stockmar shifted his attention to the exterior. He wanted a unique and distinguished appearance for his EVO. The search led him to Voltex Racing's Cyber EVO wide-body kit. The wind-tunnel-tested aerodynamic pieces, which were designed for competition, put Stockmar's EVO in a class of its own. To best complement the wide-body kit, 18×10-inch Wedsport SA-67R wheels along with aggressive wheel spacers were selected to fill the widened wheel wells.

Show N' Go
Stockmar is a regular at car meets and occasionally enters car shows. He has won a number of "Best of Show" awards, affirming that his vision is far from distorted. But don't let the Voltex Cyber EVO widebody kit fool you, this EVO not only gets shown and driven, it is raced regularly. Stockmar has always been a fan of the 1320. His best effort at Bandimere Speedway was a 11.87- e.t. at 119 MPH on street rubber back when the stock engine made 420 horsepower. He can't wait to get back to the track to try out his new setup. What more could be desired? Stockmar comments, "The next step for me is to get a Shepherd Racing-built transfer case and some stronger axles. My goal for the 2.3-liter engine was 700 horsepower, which was accomplished at only 30 psi. The engine still has room to grow for the next time that I feel inclined to make another change." Given his track record, the next relapse should bring about another dramatic change to this already stunning EVO.