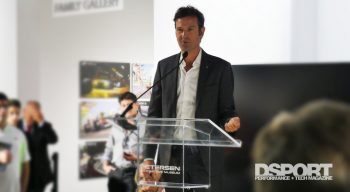 The Petersen Automotive Museum's latest exhibit, celebrating 70 years of Ferrari, had me reflecting back on my childhood. As a child, I fell immediately in love with cars. As I grew up I drew pictures of cars all the time (apparently on the walls too, as my mother told me on many occasions). One thing was a given, I always reached for my red crayon when I started drawing. Even at five years old, red seemed like the correct color to render an automobile with. Red looked fast! My red crayon was always the first crayon to get completely worn down or break in half from drawing too hard on paper, and on the walls.
With that said, I was pleased to see The Petersen name the Ferrari exhibit "Seeing Red: 70 Years of Ferrari." Although Ferrari cars come in a variety of colors, all the cars on display are fittingly red. A color synonymous with the Maranello sports car manufacturer. Reflecting back, I can still remember the first time I saw a Ferrari. It was 1972, I was seven years old and my parents had just arrived home from a vacation in Europe. As gifts for my brothers, they purchased red Ferrari model cars from Italy. I was so excited. Even more so since those red Ferrari cars raced by on our new color TV as my dad watched the Monaco Grand Prix.
Why all these memoirs of my past? It's hard not to enter a nostalgic mood as you walk around these beautiful red machines that shaped not only automotive history, but motorsport history as well. No other car manufacturer can claim they've entered every Formula One Grand Prix race since the series inception. Ferrari has been and remains a top producer of beautifully designed high performance sports cars desired the world over. I can't think of one performance car manufacturer that can come close to the cutting-edge design that Ferrari puts into every car. As 70 years has raced by, the yellow shield adorned with a prancing black stallion remains a key player in shaping automotive design trends and technology.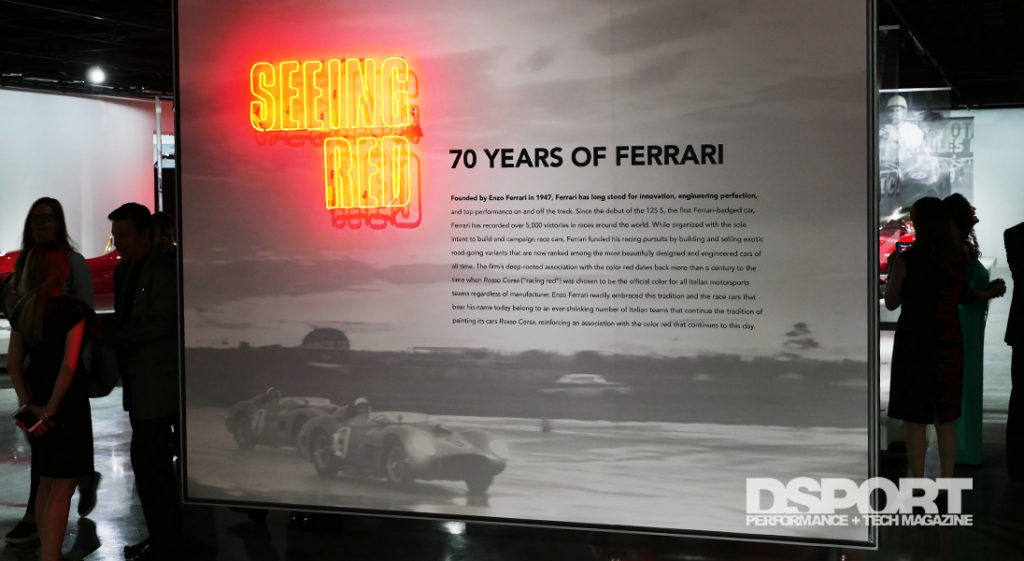 I had to be realistic to what the Petersen would have on display. With seven decades of history, Ferrari has produced some of the most iconic and beautiful cars. Only limited by space, what the Petersen was able to curate for this exhibition was a very pleasing mixture of both past and present. I'm sure all the knowledgeable car enthusiasts who witness this show will be very pleased with what is on display. I did my best not to say, "Where's the 512 and the P4?." We all have our favorites. I can say I came away happy that The Petersen has another home-run with this show.
Text and Photos by Paul Laguette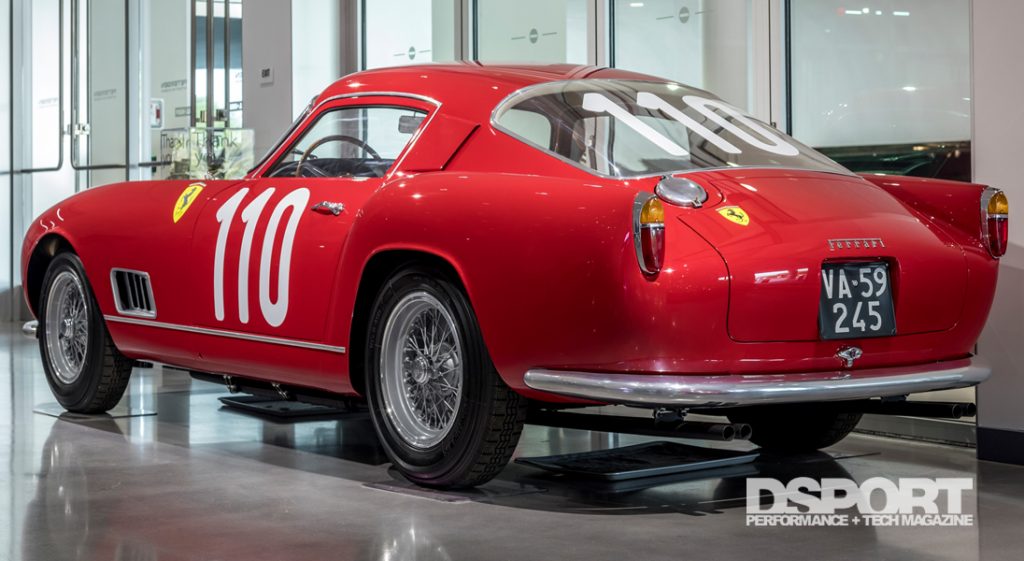 ---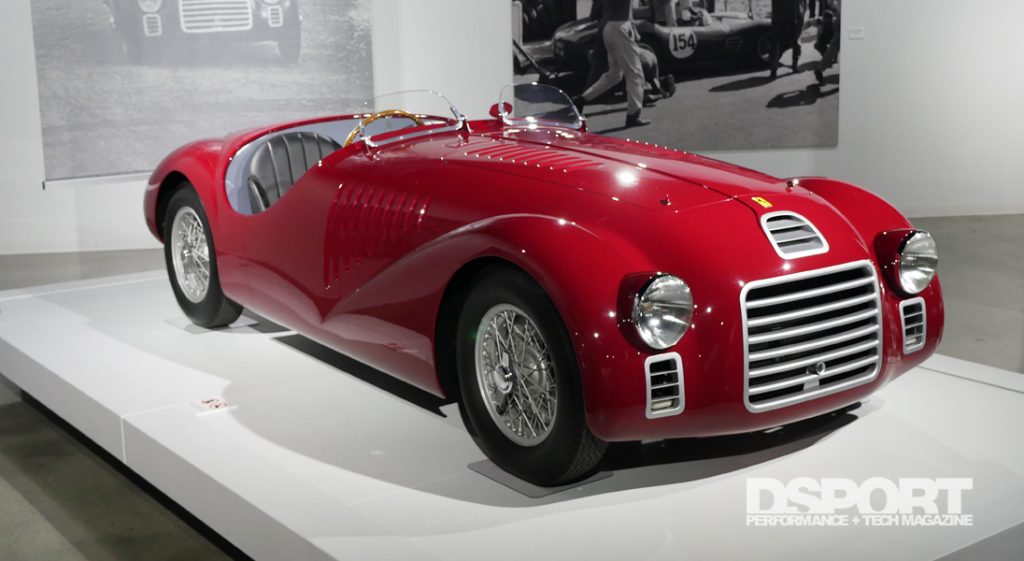 1947 FERRARI 125 S
TOP SPEED: 130 MPH / HORSEPOWER: 118
ENGINE: 1.5 LITER V-12 / NUMBER BUILT: 2 (TOTAL 125 S'S)
COLLECTION OF ROGER WILLBANKS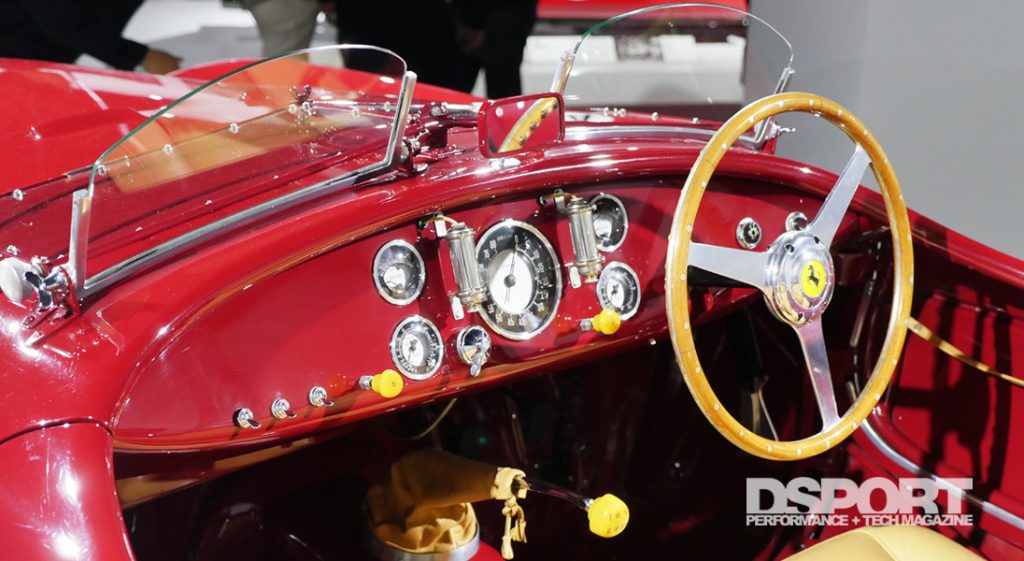 1949 FERRARI 166 MM BARCHETTA
TOP SPEED: 136 MPH / HORSEPOWER: 140
ENGINE: 2 LITER V-12 / NUMBER BUILT: 25 (TOTAL SERIES I BARCHETTAS BY TOURING)
COLLECTION OF ROBERT M. LEE TRUST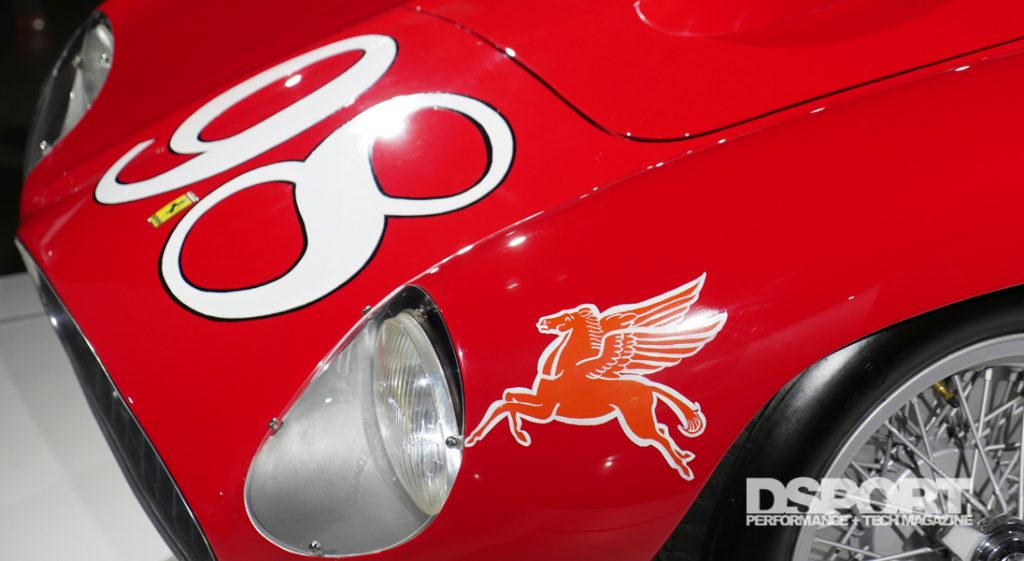 1955 FERRARI 857 SPORT
TOP SPEED: 160 MPH / HORSEPOWER: 280
ENGINE: 3.4 LITER INLINE-4 / NUMBER BUILT: 4 (TOTAL 857 SPORTS)
PRIVATE COLLECTION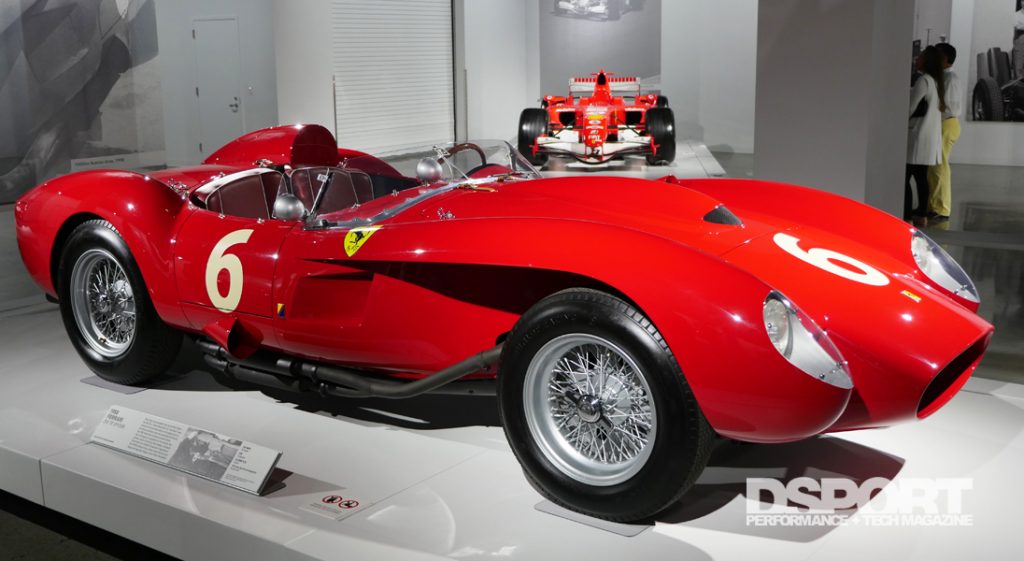 1958 FERRARI 250 TR SPYDER
TOP SPEED: 167 MPH / HORSEPOWER: 270
ENGINE: 3 LITER V-12 / NUMBER BUILT: 19 (TOTAL 250 TR'S BY SCAGLIETTI )
COLLECTION OF CHARLES NEARBURG
1961 FERRARI 250 GT CALIFORNIA SPYDER SWB
TOP SPEED: 173 MPH / ENGINE: 3 LITER V-12
HORSEPOWER: 280 / NUMBER BUILT: 56 (TOTAL CALIFORNIA SPYDER SWB'S)
COLLECTION OF ROB AND MELANI WALTON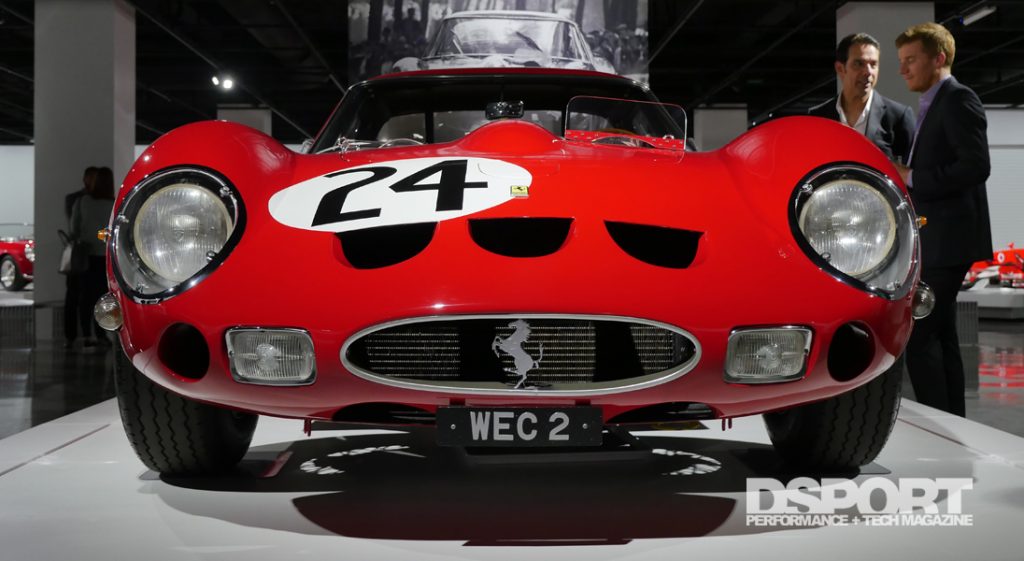 1963 FERRARI 250 GTO
TOP SPEED: 173 MPH / HORSEPOWER: 300
ENGINE: 3 LITER V-12 / NUMBER BUILT: 39 (TOTAL 250 GTO'S)
WILLLIAM E. CONNOR COLLECTION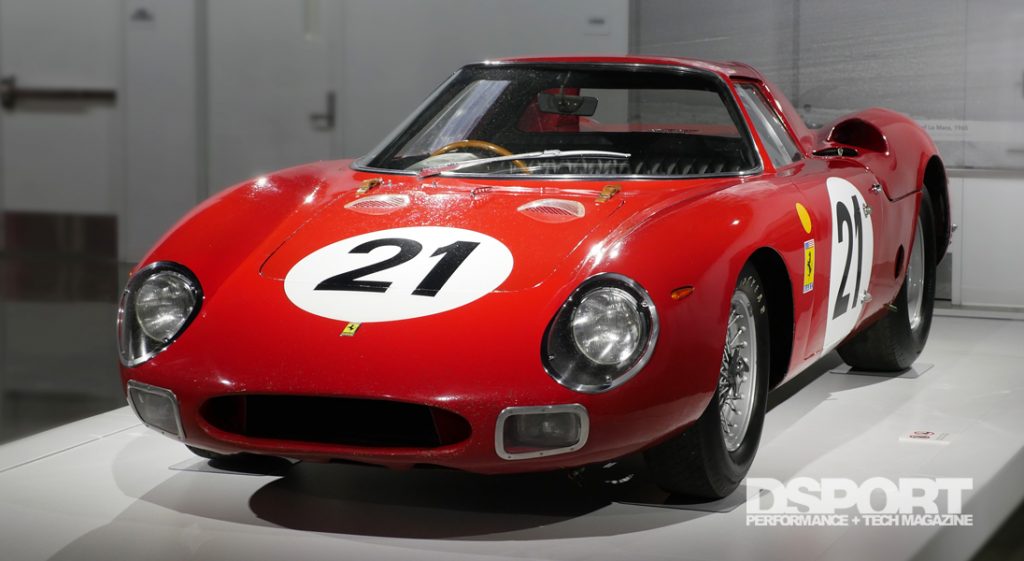 1965 FERRARI 250 LM
TOP SPEED: 183 MPH / ENGINE: 3.3 LITER V-12
HORSEPOWER: 320 / NUMBER BUILT: 32 (TOTAL 250 LM'S)
COLLECTION OF THE INDIANAPOLIS MOTOR SPEEDWAY MUSEUM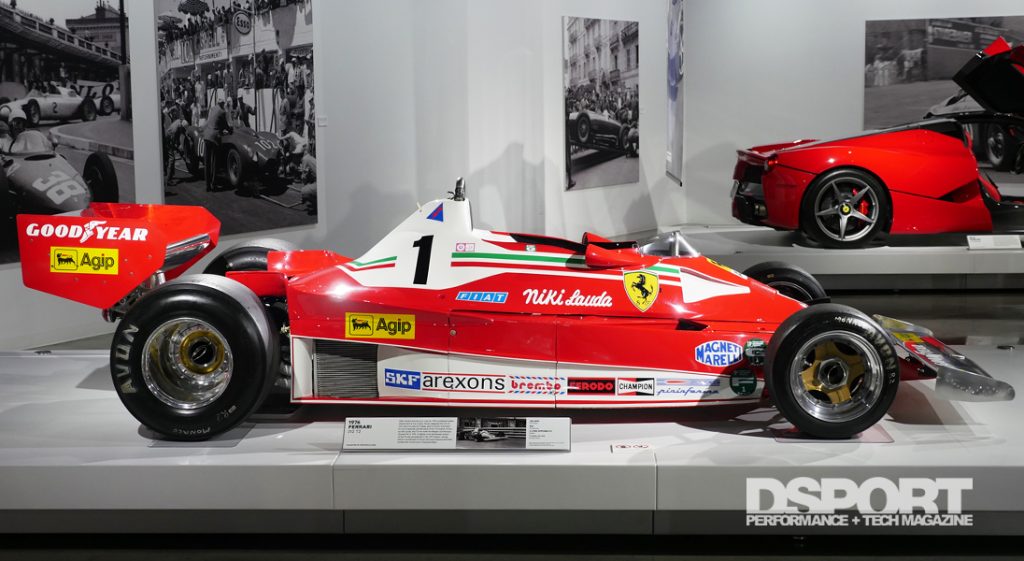 1976 FERRARI 312 T2
TOP SPEED: 180 MPH / ENGINE: 3 LITER OPPOSED-12
HORSEPOWER: 500 / NUMBER BUILT: 7 (TOTAL 312 T2'S)
COLLECTION OF CHRIS MACALLISTER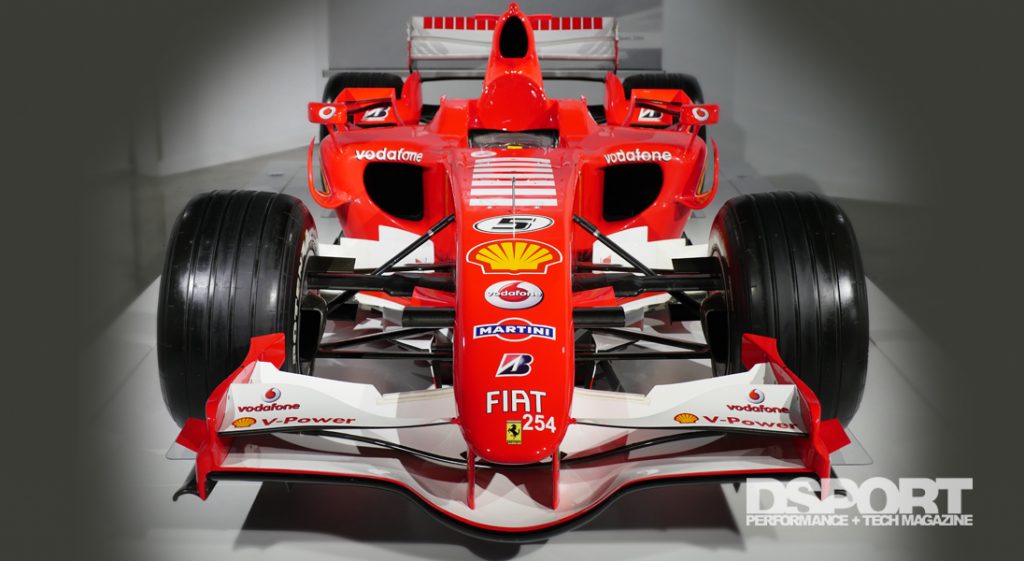 2006 FERRARI 248 F1
TOP SPEED: 217 MPH / HORSEPOWER: 785
ENGINE: 2.4 LITER V-8 / NUMBER BUILT: 2 (TOTAL 248'S)
WILLIAM E. CONNOR COLLECTION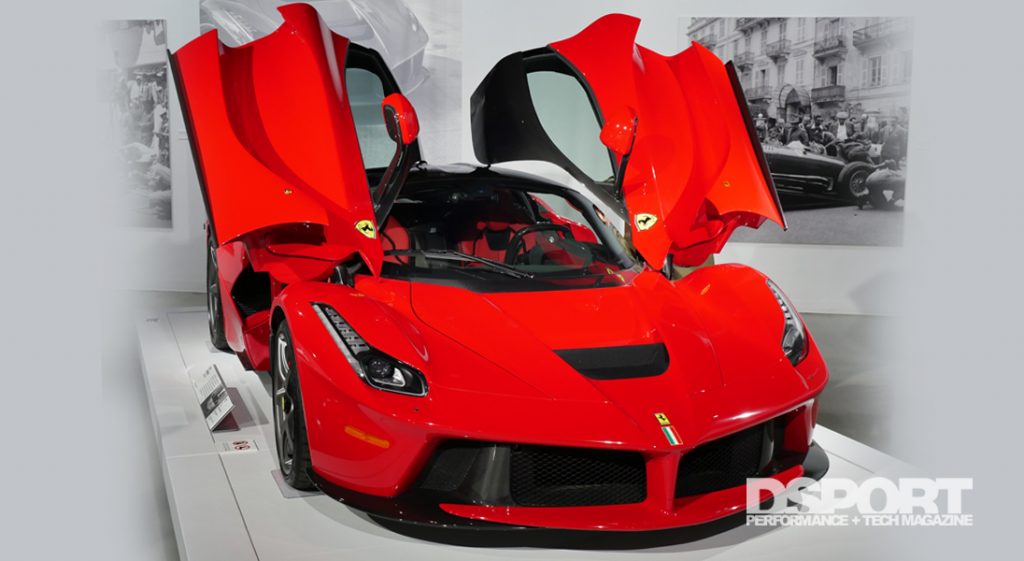 2014 FERRARI LAFERRARI
TOP SPEED: 218 MPH / HORSEPOWER: 949
ENGINE: 6.3 LITER V-12 HYBRID / NUMBER BUILT: 500 (TOTAL LAFERRARIS)
THE TONY SHOOSHANI COLLECTION