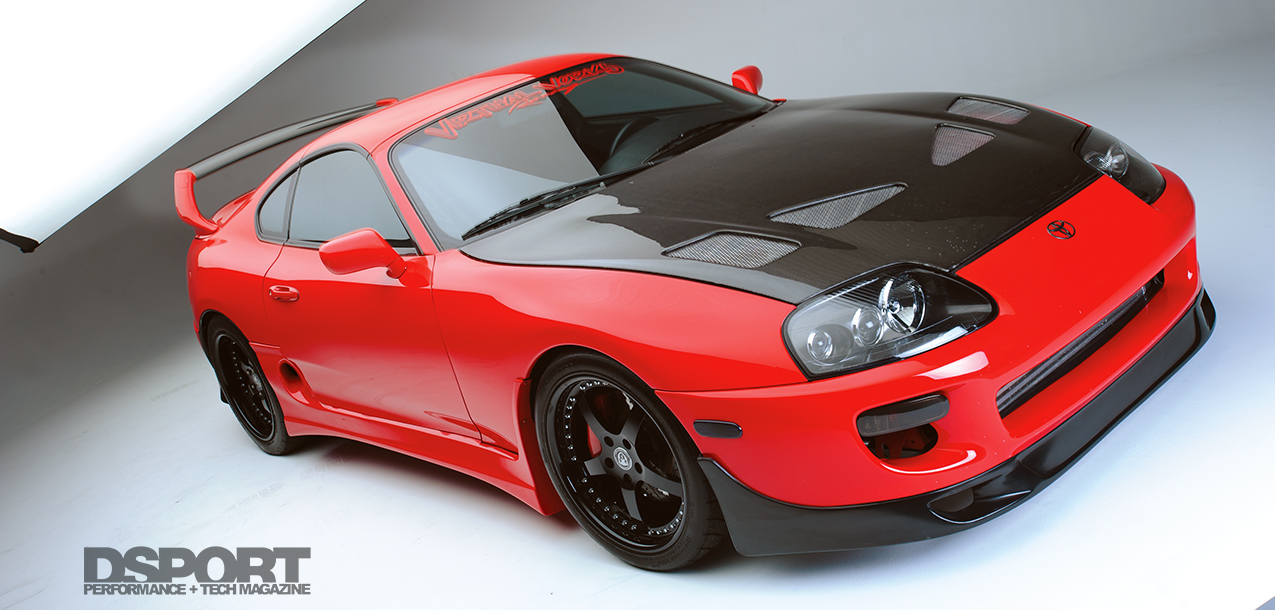 "Don't go too far" is one of the first rules that any child hears.
Of course, no child ever listens. Instead, they often have to learn that and every other lesson for themselves. In the case of Dana Westover of Las Vegas, Nevada, his 7-second race-only Supra is the epitome of taking things too far. This 1,300-horsepower, two-speed automatic, drag-only Supra only sees action when its slugging it out on the dragstrip. Once a killer streetcar, that Supra went too far to remain streetable.
Text and Photos by Michael Ferrara
---
Extreme Reliability
When Dana came across this 1995 Supra, his chance to build a streetable solution was at hand. Of course, a stock engine wasn't going to get the blood flowing. A built engine, upgraded turbocharger and the parts to match would all be in order. For peak reliability, billet-steel main caps were fitted to the block. This upgrade required the line boring and line honing of the block to ensure that the main saddles were perfectly straight for the crankshaft. The block's cylinders were bored 1mm over and honed for the recommended wall clearance before being fitted with forged-aluminum 9.3-to-1 CP Pistons. Carrillo forged steel rods connect these pistons to the factory 86mm crankshaft. These simple upgrades allow for extreme reliability.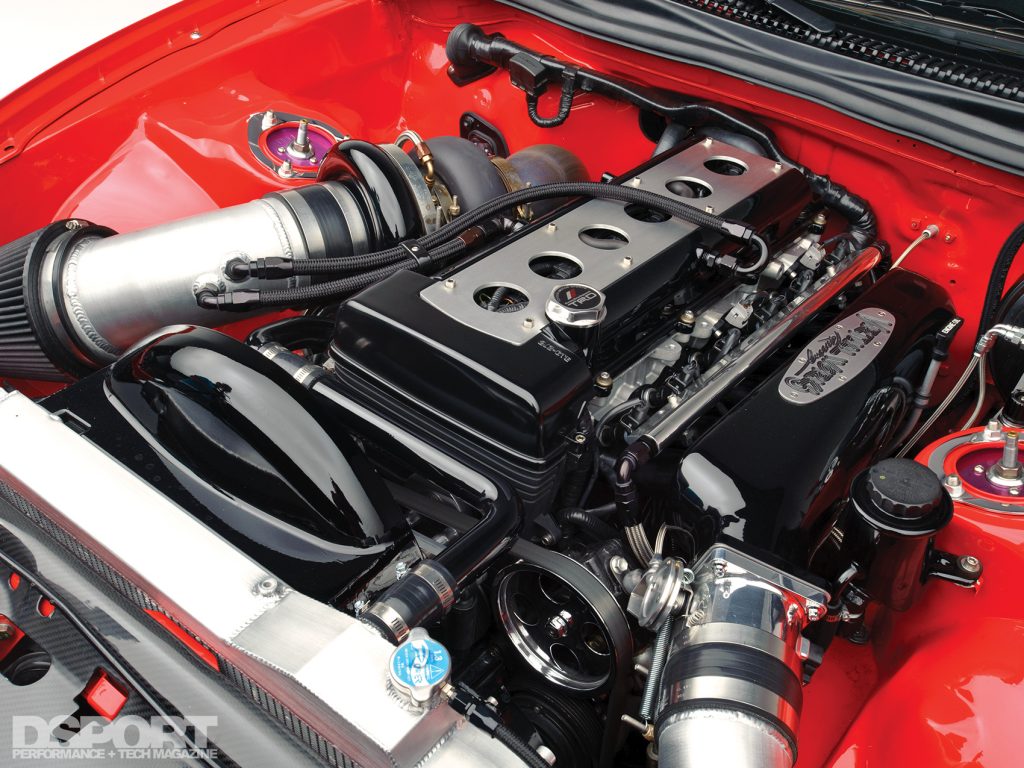 Headed in the Right Direction
To improve volumetric efficiency, Virtual Works Racing (VWR) treated the cylinder head to a "race port" service before installing the HKS 280-degree camshafts. The cylinder head and cam upgrades are optimized thanks to the VWR intake manifold. While many mistakenly believe that cylinder-head work and high-performance camshafts are not necessary on a boosted application, the reality is that they allow more power to be made at lower boost levels. Lower boost levels reduce the demand on ignition and fuel systems while reducing the likelihood of detonation. Bottom line, cams and head work on boosted applications are well worth the money.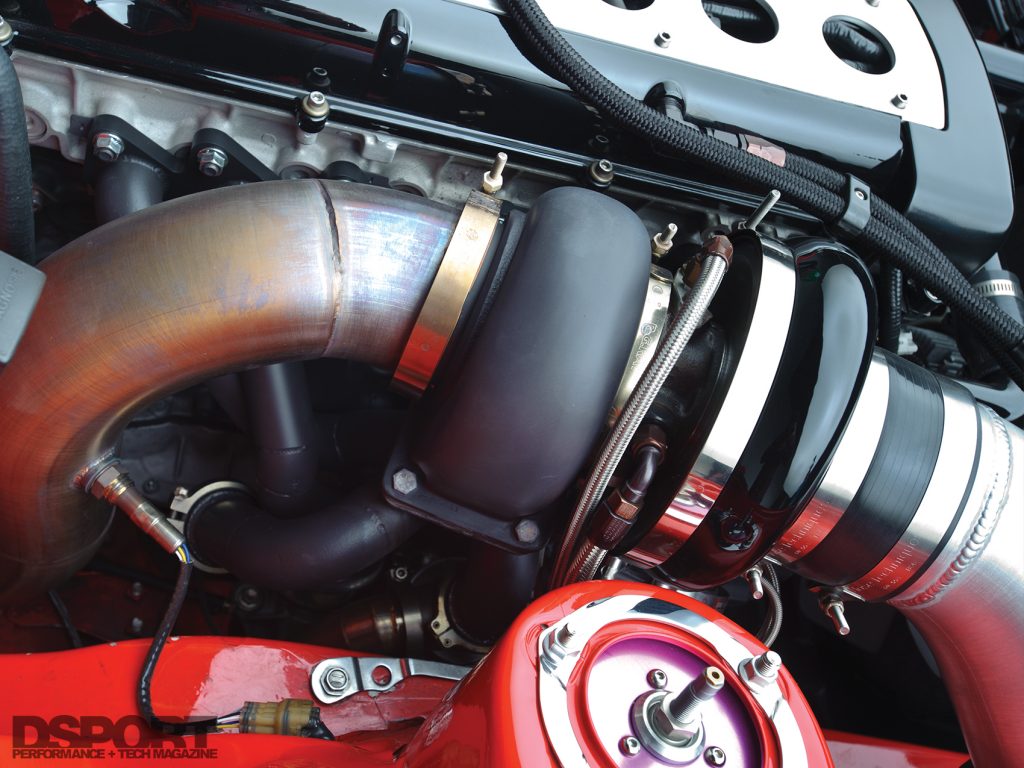 Bettering the Boost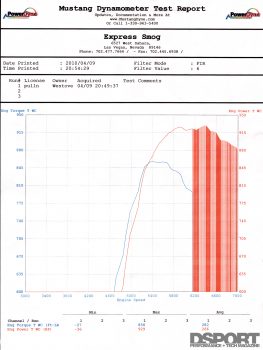 While a number of Supra owners fixate on horsepower numbers and earn the moniker of "Dyno Queen," Dana looked for a turbocharger solution that would provide serious response and power output. A VWR equal- length exhaust manifold is home to a Precision Turbo & Engine (PTE) GT42-72 turbocharger. This turbocharger starts life with a 74mm inducer. To meet class rules for certain sanctioning bodies, PTE machines the wheel to a 72mm inducer. The end result is a 50-trim compressor featuring the new GTX aerodynamics from Garrett. A drop of the throttle rockets boost response while delivering over 600 ft-pounds of torque by 4,600 RPM and by 5,400 RPM torque checks in at nearly 850 ft-pounds at the wheels. Over 900 wheel horsepower carries from 5,600 RPM through 6,600 RPM. Peak power checked in at 929 WHP at 6,400 RPM; for comparison, a stock Supra makes 270 WHP at 5,900 RPM on this same dyno. Peak power has been more than tripled. This power isn't realized on race gas, however. It's realized on fresh-from-the-pump E85.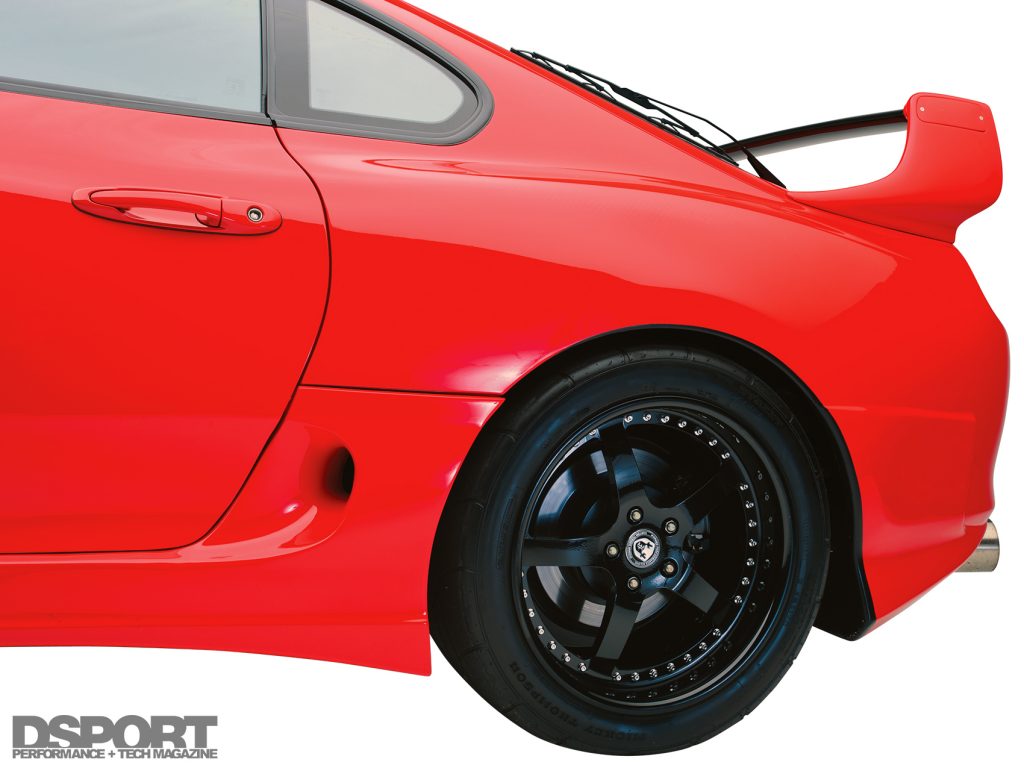 Applying the Power
After more than tripling the original engine output, the factory driveline needed much attention. While the factory Getrag V160 6-speed transmission handles amazing amounts of power, the same can't be said for the stock clutch or driveshaft. A Tilton Engineering triple-plate clutch solved the clutch challenge while a lightweight VWR 4-inch aluminum driveshaft keeps its shape while transferring the power to the TRD limited-slip differential.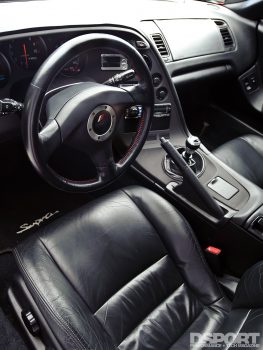 Simple & Clean
A 6-point cage with removable side bars keeps the driver safe without hampering the ingress and egress from the vehicle. A TRD tachometer and HKS knock-amp display are the only improvements made to the control surfaces of the cabin. On the outside, a Wings West lip spoiler, TRD vented hood and TRD wing do just enough to set the Red Supra apart from the crowd.
Peaked Performance
According to Dana, "This build actually went smoothly. What sets this Supra apart from others is the detail in the engine bay. Admittedly, I got carried away with the refinement, but it was fun." On its first visit to the strip, the Supra bolted on a set of slicks and managed a 10.3 at 142 MPH. After dialing-in the suspension setup, the Supra should soon see nines. "I'm really happy with the Supra and I currently don't have any plans to change it. If I did it all over again, I'd probably pick a different color and go with the 3.4-liter stroker kit. But that would be it." Sounds like Dana learned his lesson.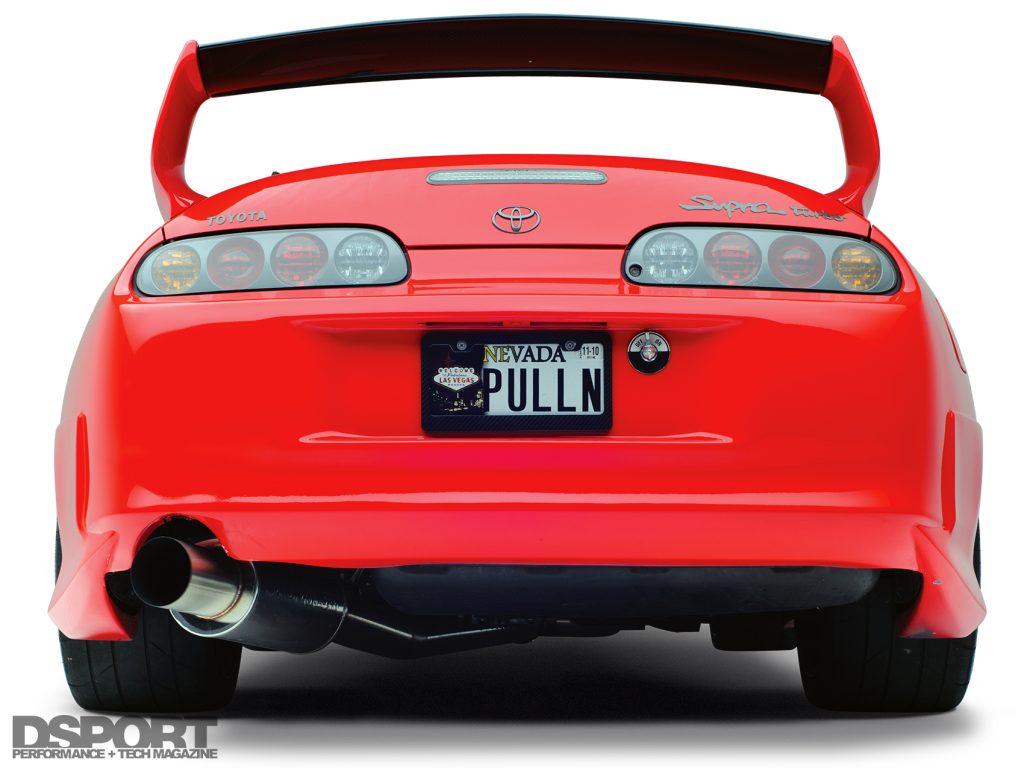 SPEC SHEET
| VEHICLE | |
| --- | --- |
| Year / Make / Model: | 1995 Toyota Supra MkIV |
| Chassis Code: | JZA80 |
| Vehicle Weight: | 3,550 lbs |
| Weight Bias (F/R): | 52/48 |
| Launch RPM: | 5,800 RPM |
| Shift RPM: | 8,100 RPM |
| Redline RPM: | 8,500 RPM |
| Peak Boost: | 31 psi |
| Fuel: | E85 |
| ENGINE | |
| --- | --- |
| Engine Code: | 2JZ-GTE |
| Displacement (cc): | 3,068cc |
| Bore & Stroke (mm): | 87mm x 86mm |
| Peak Horsepower (@ RPM): | 929 whp @ 6,400 RPM |
| Peak Torque (@ RPM): | 858 lb-ft @ 5,400 RPM |
| Dyno Type: | Mustang |
| Engine Builder: | Virtual Works |
| Block Modifications: | Bored & Honed Cylinders +0.040 |
| Machine Work: | HBR Performance |
| Pistons/Compression Ratio: | CP Pistons 9.3:1 Compression Pistons |
| Connecting Rods / Crank: | Carrillo Connecting Rods |
| | Pro-Gram Engineering Billet Main Caps |
| Camshafts: | HKS 280-degree Camshafts (IN&EX) |
| Valves/Springs/Retainers: | Ferrea Valves, Springs & Titanium Retainers |
| Cylinder Head Modifications: | Virtual Works Race Port |
| Cylinder Head Gasket: | Factory Head Gasket |
| Head/Main Studs: | ARP Fasteners Head Studs and Main Studs |
| Intake Manifold/Throttle Body: | Virtual Works Intake Manifold |
| | Accufab 90mm Throttle Body |
| Air Induction System: | Virtual Works Custom Induction |
| Fuel Injectors: | Precision Turbo 160 lb-hr Injectors (x6) |
| Fuel Delivery System: | Weldon 2345 Fuel Pump |
| Engine Management System: | HKS F-CON V Pro |
| Engine Management Tuner: | Mikey Pineapple |
| Boost Controller: | Manual |
| Ignition System: | HKS Twin Power DLI |
| Spark Plugs: | NGK 5671 (7) |
| Exhaust Manifold: | Virtual Works Manifold |
| Exhaust System / Downpipe: | Virtual Works 4-inch Turbo-back Exhaust |
| Wastegate: | TiAL Sport Dual 44mm Wastegates |
| Blow-Off Valve: | TiAL Sport Blow Off Valve |
| Intercooler: | Virtual Works Front-Mount Intercooler |
| Cooling System: | Fluidyne Radiator |
| TURBOCHARGER | |
| --- | --- |
| Turbocharger: | Precision Turbo GT42-72 |
| Frame: | Garrett GTX4202R, Modified by PTE |
| Compressor Wheel Specs: | 50-trim, 102.3mm Major, 72mm Inducer |
| Compressor Housing: | 0.60 A/R, Ported Shroud |
| Turbine Wheel Specs: | 84-trim, 82mm Major, 75mm Exducer |
| Turbine Housing: | 1.01 A/R, Divided-inlet T4 flange |
| CHASSIS/DRIVELINE | |
| --- | --- |
| Springs, F&R (Make & Rate): | HKS Drag Coilovers |
| Shocks, F&R (Make & Rate): | HKS Drag Coilovers |
| Transmission: | Factory Getrag V160 |
| Clutch / Flywheel: | Tilton Engineering Triple-plate Clutch |
| Differential(s) (Make & Type): | TRD LSD |
| Axles / Driveshaft: | Virtual Works 4-inch Aluminum Driveshaft |
| Wheels (Make, Size & Offset): | iForged Wheels 18×9-inch (F), 18×11-inch (R) |
| Tires (Make & Size): | BFGoodrich 265/35R18 (F), MT 305/40R18 (R) |
| Brake Rotors (Diameter, F&R): | Cross-drilled Rotors |
| Brake Lines: | Custom Stainless-steel Braided Line |
| INTERIOR | |
| --- | --- |
| Roll Bar / Cage: | 6-point Cage |
| Steering Wheel / Quick Release: | TRD Steering Wheel |
| Gauges: | TRD Tachometer |
| | HKS Knock Amp |
| EXTERIOR | |
| --- | --- |
| Front Lip Spoiler: | Wings West |
| Hood: | TRD Vented Hood |
| Spoiler / Wing: | TRD Wing |
| Headlights, Taillights: | 97-98 Version |