In the midst of the Honda Civic's popularity, the Acura Integra was born as the more refined, sporty, luxurious version of the common Japanese vehicle. In 1986, one years after its introduction in Japan, the United States got its first taste of the Integra. Coupe, hatchback, and sporting a brand-new engine, the Integra made all of the sense for any Civic fan that wants a little more. Like many, Alex Jackson needed more, and the mission was to get into the Vtec Club and start racing.
Text by Bassem Girgis // Photos by Joe Singleton
DSPORT Issue #214
---

The History
America's first Acura Integra came equipped with a 1.6-liter DOHC 4-cylinder engine. This small displacement engine delivered 113 horsepower, complemented by four-wheel disc brakes, sporty suspension, and a much nicer interior than the Civic. A few years later, the engine grew in displacement to a 1.8-liter, putting down 130 horsepower. By the time 1994 came around, the Acura Integra got its power from a 1.8-liter RS engine that delivered 142 horsepower, with the optional 170 horsepower engine found in the GSR model. The Acura Integra tremendously grew in popularity, and through the '90s, these cars were found on road courses and drag strips all around the world. Today, the Acura Integra is a classic sports car that invites various engine swaps to make it that much better.
$1,000 Shell
Alex Jackson approached this project with the end goal in mind. He wanted to race it at the Vtec Club as often as possible. Before this Integra, Alex purchased a 1991 Civic EF, and he liked the front-wheel drive setup. Shortly after, he decided to part ways with his Civic and get into an Integra. The goal was to swap the engine with a K-series engine and start racing shortly afterwards. Alex found an Integra shell for under $1,000. "The main problem was the paint, which was terrible," said Alex Jackson. "I really like white cars, so I had to send it to the painter. This took three months to finish and held up the project." While the paint job slowed down all progress, Alex was ready to complete the car the second it came back with its new fresh coat.

The K-Swap
Using a freshly painted shell, Alex put a K20A engine in his 1994 Integra. The K20A sports all stock internals. A K-Tuned 72mm throttle body allows for additional air to get into the cylinders, with a custom three-inch intake to facilitate that. Everything from the downpipe to the exhaust tips were replaced to ensure there is optimal exhaust back pressure. To accommodate the air flow increase, Honda RDX 410cc injectors were used with the help of a Walbro fuel pump. With this setup, Jackson's Integra put down 219 horsepower and 158 lb-ft of torque to its front wheels. This is accomplished when running on 91-octane fuel. With the engine complete and set up to run in the Vtec Club, it was time Alex turned his attention to suspension and brakes.

Standing Out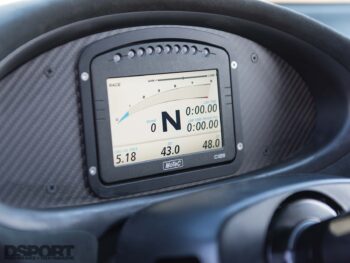 There are tons of clean Acura Integra examples out there, but what makes this one special? "I feel it stands out based on the parts used, like the MoTec PDM and C125 dash," Alex explained. He ensured there are no corners cut when building this project. Only top of the line parts were used, from full custom wrapped Alcantara dash and doorcards, to the chassis wiring harness and the AC vent deletes. No suspension or brake parts were left unchanged. From coilovers to bushings, the Integra was set up for success in its new home on track. With everything buttoned up, it was time to take the Acura on track and see what it can do.
On Track
Alex Jackson couldn't wait to get his newly-built Integra to the track. He recorded a best time of 1:57 seconds at Buttonwillow CW 13. At Chuckawalla CW, the Integra put down a 1:59.7 second time. Finally, he had a best time of 1:25.09 at CCW Streets of Willow. On October 20th of 2019, Alex Jackson was able to capture first place at the Vtec Club round 4. This was followed by another first place win at Narita Dog Fight Attack Challenge for street tire, naturally-aspirated class. While all of these are quite impressive, Alex is aiming for more. "The goal for the car is a 1:54 N/A at Buttonwillow 13," said Alex. "I want to win overall A2 class for Vtec Club."

Ups and Downs
While you may think any project that starts with a shell should experience tons of obstacles, this wasn't the case for this build. Aside from the rough paint and some wrong parts ordered, Alex Jackson cruised through the build. "The most hectic part was getting the car to the alignment shop Friday morning and tuning it in the afternoon for a shakedown at BW13 on Saturday the following day," Alex recapped. This day, Alex ran a Sub-Two with one of the bolts holding the front control arm being loose. This showed Alex that this car is filled with potential, forcing him to raise the bar higher and reach for the stars in future races.

Onto the Next
When asked if he would do this build all over again, Alex responded, "I wish I could have spent more time to do a full-cage. Other than that, the car has been a workhorse and has done 10 to 12 events with little to no issues." Jackson plans on putting a full-cage in his Acura Integra next, as well as air jacks and a lot more weight reduction. If everything goes well, a Quaife sequential transmission might be in this Integra's future. Overall, collecting data on track seems to be one of the most important things for Alex. "I really think data is key to improving your driving, so the MoTec C125 is really the coolest thing in the car," said Alex. "Also the MoTec PDM, which made the wiring on the car go really smooth and just simplified the entire build." Alex Jackson is no stranger to quick cars, as he owns multiple platforms that are far quicker than the Integra. However, he built this car for a specific reason, which shows you that it doesn't matter how big your dream is, what matters is going through with it.