Ever since its introduction, the Scion FR-S has been a favorite amongst Japanese car enthusiasts. Its low entry cost, great handling, light weight, and sporty looks made it something special that anyone could have. However, everyone complained the 205 horsepower offered by the factory just isn't going to cut it. With so much potential being a rear-wheel drive, light on weight, and having all of the right looks; it would be a shame to count this car out. The tuner scene gave it a chance, and just like that, the Scion FR-S became a tuner's favorite and the perfect car to build. Mark Cowans bought his FR-S with humble goals, but after seeing what the industry is doing to this car, he decided to go all out.
Text by Bassem Girgis // Photos by Mark Cowans & Damian Forthun
DSPORT Issue #221
---

The Beginning
After owning a truck for five years, Mark realised he needs to spice up his days and get back into a car he can build. With numerous options on the market, Mark was intrigued by the FR-S' coupe layout and the front-engine rear-wheel drive configuration. "The design was fresh and I knew there would be a huge aftermarket support for it," said Mark Cowans. The design and configuration were enough to pursue Mark into buying his Scion FR-S in 2014. Upon taking delivery of the car, Mark couldn't find something he didn't like about the car. It handled well, drove nicely, and looked good doing it. However, this all changed when Mark drove his friend's turbocharged Scion FR-S. 

Change of Plans
Getting behind the wheel of a turbocharged FR-S exposed the factory limitations and the anemic power of this Subaru motor. "I immediately felt let down by the stock power band," he reminisced. While the car was set to be a mild project, driving a boosted FR-S made Mark notice all of his car's flaws. Suddenly, the factory wheels and stance weren't pleasing, and the acceleration was simply lacking. Mark realised the build will have to take a turn, and cutting corners was just not on the list. "It was originally a street car, but over the course of owning it, I got more and more immersed in the scene, which has largely driven my goals with the car," said Mark. Mark's goal has always been to keep the car drivable and ready to cruise at all times, and while it appears like a trailer queen, it definitely isn't."
Not All Sunshine
The build wasn't all smooth sailing. In fact, Mark had to face tons of issues before getting the car to where he wants it to be, like blown engines, popped head gaskets, broken lips, broken differential, and a list of other small problems. "I always wanted the performance to match the exterior, but the Subaru engine didn't always cooperate," said Mark. Just two weeks after building the engine, Mark had a blown head gasket. He wanted to save some money and decided to get an OEM head gasket with standard head studs, but the higher boost level changed Mark's plans. The second time he blew it was when he failed to keep an eye on the MAP sensor that was on there for four years throughout various modification paths and it eventually failed. This resulted in destroying a fully-built FA20 and warping one of the cylinders. Mark was too deep in it to give up, and another engine build was the result.

An AVO turbocharger boosts the FA20, bringing the power to 377whp and 295 lb-ft of torque when running on a conservative 16 psi of boost and E85 fuel through a Delicious Tuning Flex Fuel kit. 
Making it Right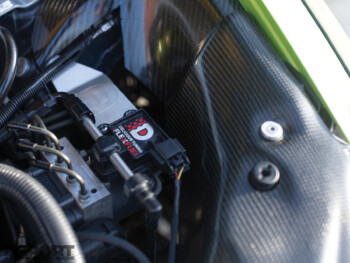 To get it right, Mark fully-built the engine again, with quality internals and more eyes kept on all components. To bring the power to the levels he wanted, Mark incorporated an AVO billet turbocharger kit with the stage 3 intercooler, radiator, and all of the supporting upgrades. To match the air with enough fuel, a DW 300c fuel pump feeds 700cc injectors. "The turbocharger was the most effective upgrade," said Mark. "It takes a 200 horsepower naturally-aspirated engine and doubles its power." The turbocharger completely changed how the car feels and drives. With this combination, the FA20 put down 377whp at 7,000 RPM and 295 lb-ft of torque at 6,500 RPM on just 16 psi of boost when running on E85 fuel. 

Class A Craftsmanship
The Scion FR-S went on to have great notoriety at SEMA and other shows thanks to the build quality and attention to details. "It's known worldwide and people respect the level of craftsmanship put into the car," said Mark. The exterior was equipped with a Pandem V3.5 Rocket Bunny kit with a Seibon carbon fiber hood to match the carbon fiber trunk. A custom vinyl livery became world-famous as it was displayed in front of center hall at SEMA with thousands of industry people walking back and forth past it. The interior was completely redone, now sporting Status Racing custom-stitched seats with a custom carbon fiber dash, door, and console accents. "These days it's very hard to stand out in the FR-S/BRZ community," said Mark. "Initially, it was the bright green and aggressive body kit that made the car stand out, but now I think it's the quality and the extent of the build."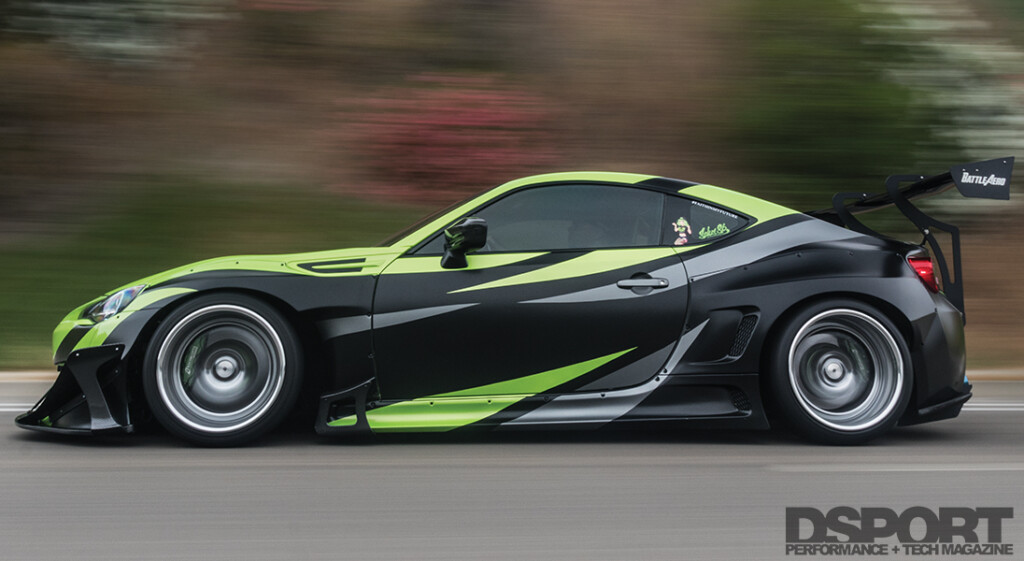 Leaving a Legacy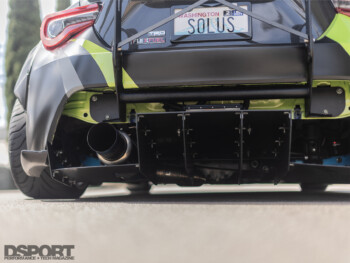 While no car project is ever done, Mark believes otherwise. "Every part of the car has been touched and modified to show a high quality level without sacrificing or cutting corners," he said. While Mark also believes cars are constantly-evolving journeys, he thinks his FR-S is actually done. He has no future plans for further upgrades, but he also believes things could change. If things do change, he might consider an engine swap to leave Subaru's boxer engine problems behind once and for all. Until then, he likes where the car is at. If he owned a time machine, however, Mark would go back and plan the entire build before taking the first bolt off. This would've saved him tons of hours and even more money. "If I have any advice for future builders, I'd say do it right the first time, it'll save you a lot of trouble in the long run," Mark concluded. While it's easier said than done, the least we can do as car enthusiasts is to visualize and plan the build before adding parts in our carts. In the end, prepare for the worst and enjoy the best.