When small-engined, front-wheel drive Hondas first became the unexpected stars of the import performance scene, ingenious builders and tuners figured out how to add all the things that made other performance marques better, faster and stronger. Increased displacement? Multi-liter increase engine swaps? Forced induction? Check, check and checkmate. That ingenuity carried through to further factory upgrades that saw larger, more-technologically advanced powerplants coming out of the Honda factories and even, in more recent years, OE forced induction solutions. The main facet of "Honda-ness" that has remained to this day is in the front-wheel drive configuration. This is where Honda cut its racing teeth and this is where it continues to blend street sensibility with track-capability.
Josh Harris, enlisted Navy sailor and mechanic for Makspeed in Temecula, Calif., bought this Honda Civic with little intention of doing more than the typical bolt-on aftermarket song and dance, ending with a bolt-on turbocharger kit. After completing the first setup and subsequently sending the original K20 powerplant to the scrapyard, a spare K24A2 found its way into the Civic and started the chain reaction that ended with the car as seen here.
Text by Arnold Eugenio // Photos by Joe Singleton
DSPORT Issue #244
---

It Starts with the Heart
Harris' addition of the K24A2 powerplant immediately gave the car an almost-half liter of additional displacement, not to mention boost-friendly factory power and torque curves. With the new heart in place and a custom-built Makspeed turbo kit bolted on, Harris took the car on a few outings with his dog box transmission and happily bounced off the factory-rev limiter until the transmission needed service. "I originally never wanted to AWD swap," Harris explained. "I pondered and played with the idea with a couple of my buddies. One day on my way to work, the input shaft splines on my dog box went and I thought that it would be the perfect time to convert to all-wheel drive."
While the transmission was getting serviced and upgraded for all-wheel-drive duty, Harris sourced the other parts for the current build including billet carrier bearings, S1 Built joints, and a custom-made driveshaft. "My boss and mentor Myles Bautista was a big help during the swap. There were a lot of late nights and multiple calls exchanged during the process."
The K24 swap was well-documented enough, but Harris' foray into mating a CRV all-wheel drive transmission into a K24-swapped FG2-chassis Civic had never been tried so there were no previous reference points to make the journey easier. "I had plenty of issues during the AWD swap process," he relates. "The main issue was having to significantly cut up the car, way more than I had anticipated, to get the AWD components to fit. Still, the process helped me sharpen my fabrication skills and I learned a lot during the whole process.

Simple Complexity
With the powerplant and transmission parts in place, some of the previous performance parts had to be reconfigured with their new orientations in and around the chassis. The custom Makspeed exhaust manifold diverges in opposite directions on the backside of the engine – one to vent exhaust gasses out of the passenger-side fender, eschewing the normal route underneath the transmission tunnel for now-obvious reasons, and the other to hang the Comp Turbocharger 6767 unit and Turbosmart 45mm wastegate. Boost bypass duties are handled by a Synapse Engineering 50mm blow-off valve.
The intake system is also greatly simplified, with intake air coming directly into the compressor side of the Comp turbocharger, through custom intercooler plumbing and a custom Makspeed front-mount intercooler that sits just in front of a Skunk2 radiator. The intercooler plumbing finally terminates at the K24's RBC intake manifold, making the transition from plumbing to chamber through a 68mm Honda OE J35 throttle body that retains the required drive-by-wire functionality.
On the fuel side of the combustion equation, a Magnafuel ProTuner 750 fuel pump sends a steady diet of E85 from the JEGS 12-gallon fuel cell to the GRAMS 1600 cc/min injectors. Spark is provided by the factory K24 accouterments with NGK Laser Iridium spark plugs as the sole upgrade. The entire air, fuel and spark procession is orchestrated by a Hondata Flashpro, tuned by Bautista to 570 whp on the Makspeed Dynapak dynamometer.

Fancy Feet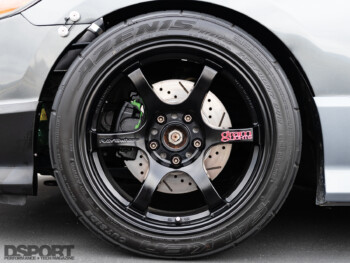 The fully-upgraded powertrain's feature performance comes from the custom Honda CRV all-wheel-drive transmission mated to the K24 and made to fit in the FG2's sheet metal. "If I had to do it all again, I would take my time doing the swap because I had to re-do a lot of things," Harris stated. This included cutting out gratuitous amounts of sheet metal and fabricating or sourcing custom components. To fortify the driveline for power produced above and beyond the source vehicle CRV's capability, Harris utilized a set of Gear-X dog gears, a Clutchmasters twin-disc clutch setup with matching lightened flywheel and an MFactory AWD Limited Slip Differential. These all help to motivate a quartet of 17-inch RAYS Engineering Gram Lights wrapped in Falken Azenis rubber, the chassis standing sure-footed on a set of KSPORT one-piece coilovers. Stopping power is enhanced with a set of StopTech stainless steel brake lines, drilled and slotted brake rotors, and EBC Green stuff pads.

Understated Dress
With great power comes a great responsibility to let people know who they're dealing with. Still Harris' style seems to be more "function as fashion", the only visual elements added being the Honda Factory Performance front lip and side skirts, and the Honda-requisite Mugen GT carbon fiber rear wing. That's not to say that Harris is done; in fact, he seems to just be getting started. "I plan to build a motor to make more power so that I can run a faster time, then have fun with it." As long as he keeps all four wheels on the ground, there's no telling how fast this one-of-a-kind Civic can be.