The level of upgrades on a car usually shows the level of commitment the owner has for the build. Bolt-on upgrades shows you're interested, a built engine shows you're serious, and a full carbon fiber interior and exterior shows you're all in. Jason Garcia chose the hard way, twice. After building his SEMA all carbon fiber R33 GTT and seeing how well received the build was, Garcia decided to do it again. This time, an R34 GTT was on deck for all carbon work to return to SEMA with another surprise. While his first build was a nightmare to complete, the second one brought its own set of problems. Here's how Jason Garcia's second all-carbon build came about.
Text by Bassem Girgis // Photos by Joey Jenrette
DSPORT Issue #224
---

How it Started
The love for Skylines ran deep in Jason's blood. "Prior to purchasing the R34, I owned an R33 for several years," said Jason Garcia. While the R33 became a one-of-a-kind build under Jason's ownership, he always had the desire to own an R34. Just like that, the hunt began. The first shot at purchasing a GTT ended up in Jason taking a flight to California only to find out the mileage was adjusted, as well as numerous other safety concerns. "Discouraged, I withdrew for a period of time to re-center myself and focus on finding the car I truly want," said Garcia. Then Christmas time came around and an opportunity presented itself. Another trip was planned, this time, Jason went home with his 1999 Nissan Skyline R34 GTT. By the time he got back to the hotel, Jason was already looking for all of the carbon fiber parts he can find.

The Plan
While still on his travel, Jason introduced his new project to his social media followers, and the build received traction before it ever began. One of his sponsors wanted the car at SEMA, which meant if Garcia accepts this, the pressure will be on. Car enthusiasts often work better under pressure, and this was no different for Jason. "Upon returning home, I began the process of tearing down the car," said Jason. "I instantly regretted not having spent more time enjoying the car, but I assured myself that my car would be back together and on the road again soon." The goal was to introduce this R34 to SEMA as an all-carbon Skyline, just like his R33 that he built. Having experience building an all-carbon Skyline would seem like a blueprint for the new project, but each car brought its own set of issues, and just like that, Jason was faced with the problems we all go through when going all in on a car build.
The exterior of the R34 is a mix of aftermarket carbon fiber parts and completely custom ones that aren't on the market. The result is an all-carbon Skyline.
Change of Plans
Jason quickly got to work, tore the car apart, and connected with the right shops that shared the same goals as he did. With the car delivered along with the parts needed, the shop dropped the ball and started lagging. "I stayed by my phone like an addict waiting for an update," Jason remembers. "One month passed, two months, three months – no updates." When he reached out to the shop, he found out that minimum work was completed and more money is demanded. "At his mercy, I complied." Jason was fed up after doing this for months and months. He made a trip to the shop only to find his dream car sitting under a pile of dust. Jason decided to take his car home and figure out Plan-B. He arrived at home and immediately started working on the car. Making the garage his new residence, Garcia found some help from a company that felt his pain. Unfortunately, sometimes you have to pay for other people's mistakes, which is exactly what Jason did. It was time to make the decision and call off the Skyline's debut for SEMA.

Go Time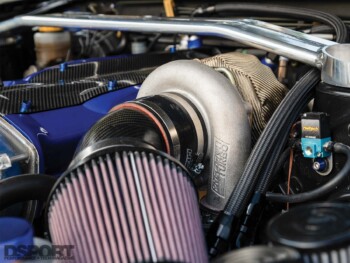 With the help of Lee from Monsta Performance, it was time to address the engine. Using the RB25DET engine as the foundation, the team kept all of the internals stock with the assistance of ARP head studs and Tomei gasket. The move to a 6466 Precision turbocharger was made, and a Walbro 460 feeding Injector Dynamics 1350 fuel injectors were added to match the bigger turbocharger. Running on E85 at 24 psi of boost, Jason's R33 GTT delivered 590whp and 542 lb-ft of torque. The original goal was 500whp on stock internals, but the nearly 100whp extra would still maintain the reliability of the RB25 while providing 100whp more worth of fun. Aside from making the SEMA show, the goal was to build a lightweight R33 that he can show and track, both in drag racing and road courses.

The Hard Way
The road to a complete car was in no way, shape, or form an easy route for Jason. He chose the hard way from the start in order to make something special, but the road took it and ran with it, providing him with heartaches and disappointments. "It was a rollercoaster throughout the build," said Jason. "I ran into issues getting it done before SEMA, then issues with the carbon fiber fitment, then issues on the engine side." Fortunately, the bad luck was followed by some good when he met Lee from Monsta Performance. The collaboration got the job done and Lee held his word, unlike the other shops he had worked with. As of right now, Jason will need some time to let his bank account rest after this intensively expensive build. The next step will be a swap to an RB30 to get the power figure to a whole new level. With the car being all carbon fiber, Jason continues to push it to the limits around tracks. The journey was rough for Jason, and while his SEMA debut didn't happen, and with all of the disappointments he had to go through, Jason still believes in his project and anticipates seeing it at SEMA when the show returns. Garcia took a very untraditional route with this build, and although things didn't work out throughout the project, he stuck by it and now he has a one-of-a-kind R34 sitting next to a one-of-a-kind R33.