In 1990, Nissan ran a Superbowl commercial for the 300ZX twin-turbo. We see the Z at high speed on a desolated highway or racetrack. The voiceover goes, "So I'm having this dream. I'm in a turbo Z. And these guys are after me. But they can't catch me." After a motorcycle and Formula car can't catch him, so a jet is sent after him. "Just as they are about to catch me… twin… turbos…. kick …in." You then see the 300ZX twin-turbo pull away from the jet. It was such a bad-ass commercial that Nissan never aired it again. Executives had second thoughts it would promote street racing. 
As someone that was street racing in Compton around that same time, Nissan executives had some reason to be concerned. For the racers that could afford one, the 300ZX twin-turbo was the ultimate foundation for a big power import car in the early 90s. HKS had a full complement of parts for the car to double its power and the JZA80 Supra and RX-7 FD were still a few years away.
Text by Michael Ferrara // Photos by Evan Oswald
DSPORT Issue #241
---

High School Crush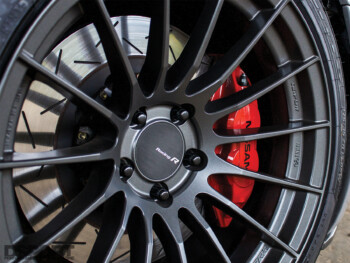 In 1990, James Moore of Georgia was entering high school and his first crush would be the new Z. Like most teenagers, his dream of owning a Z32 300ZX would remain a dream. From the time James got his license and for the 17 years following that, there wouldn't be a 300ZX in the picture. Then in 2009, James did a search for 300ZXs on craigslist and came across a completely stock and very clean 1993 300ZX. It wasn't a twin-turbo and it was an automatic, so it wasn't the 5-speed twin-turbo that was in the dreams. However, James was drawn to the car and decided to purchase it anyways. 
Five on It
For the next five years, James daily drove the 300ZX and suffered with the cloth interior, non-turbo engine and auto transmission. What the car lacked in performance, it made up in being rather unique on the road. Eventually, the modifications would start in 2014 and continue until present day.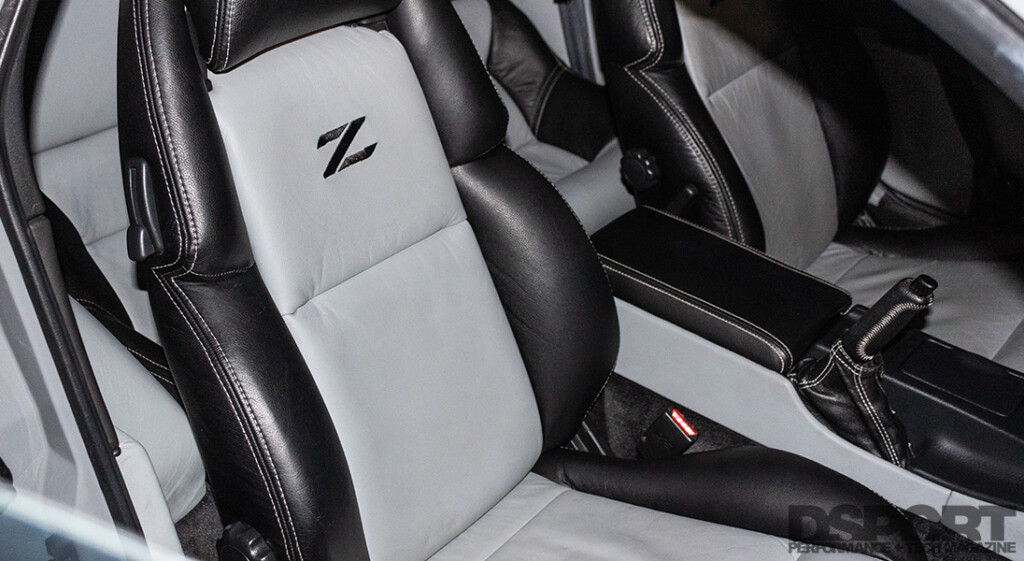 Top Influencers
Most project builds are the result an outside influence. For James, his build was heavily influenced by online communities and magazines before he found the tuning shops that ultimately decided the fate of this 300ZX. According to James, "The Z community is fantastic. After seeing so many powerful examples of the Z32 from Z1, I was hooked." Since the Z32 300ZX has zero room to work on the engine, just about anything that needs to be done requires the engine be dropped from the vehicle. As a result, finding tuners that specialize in these platforms should be considered a must. 
Five in It
Modifications began on this original non-turbo 300ZX when the original automatic began acting up. Instead of putting money into rebuilding the slushbox, James relied up Z1 Motorsports to have a 5-speed manual swapped into place. This modification by itself made the 300ZX so much more fun to drive. 

The naturally aspirated 3.0-liter V6 that originally came with the car was rated for 222 horsepower and 198 lb-ft of torque. It now has a twin-turbocharged VG30DETT that nearly triples the horsepower and torque.
Twin…Turbo…Kicked…In
Between the 5-speed manual swap and a new powerplant, the suspension and brake systems were addressed. 370Z Akebono 40th anniversary red calipers were teamed with Z1 Motorsports two-piece rotors to upgrade the original brakes up front. This combination significantly improved braking while still reducing the overall weight of the brake system. According to James, the high-point of the project build was taking a test drive with Jon Pharm of Z1 after the twin-turbo engine was swapped. The VG30DETT engine was built and fitted with upgraded turbos and an upgrade fuel system to generate over 650 horsepower at the wheels. With that kind of power coming from 93 octane pump gas with a shot of Boostane added, it is understandable that this would be the high point of the build. Of course, with that much power the next challenge was finding just the right clutch. When a 5-puck clutch let go and it resulted in some body damage done by the tow truck, James opted to invest in an RPS twin-turbo clutch to hold the power, take the abuse and go easy on the rest of the driveline.

Wide with Pride
While the 650whp VG30DETT engine swap delivered the best feelings to date, seeing the completed custom Twinz Design widebody on the 300ZX is an image that will never be forgotten. With the custom nardo gray selected by FairladyCustomz, James ended up with a 300ZX that is truly unique. 
Bottom Line
In 1990, Chubb Rock jumped upon the scene with a lean and a pocket full of green. Japan got Godzilla in the form of the R32 GT-R and the best Nissan had to offer in the States was the 300ZX twin-turbo. Few DSPORT readers were old enough to even have a driver's license in 1990. Now that it's nearly 30 years later, the Skyline GT-R market is hotter than ever with insane prices being fetched for fine examples. While everyone may want to own a Skyline GT-R, a properly-build Z32 project car can be a more obtainable head turner. This Z built by James and Z1 Motorsports is a continuous work in progress. Aftermarket seats and a roll cage (back seats are useless anyway) will be next on the agenda as James continues to enjoy his Z on the road and at car shows.