So you bought a Dodge Colt for $500, now what? If you got it for daily-driving purposes, you will probably be disappointed; and if you bought it to race, well, what were you thinking? Aaron Anderson dropped $500 on his 1992 Dodge Colt, and while it seemed like a strange choice for a racecar, his plan would make it far more appealing than any Dodge Colt advertisement. A swap to an all-wheel drive and a 4G63 made this Colt a force to be reckoned with. Here's how Aaron managed to make a Dodge Colt cool.
Text by Bassem Girgis // Photos by Bassem Girgis and Amber Ficarro
DSPORT Issue #212
---

The History
If you're not completely familiar with the history of the Dodge Colt, you may be surprised with the 4G63 choice. In 1971, Dodge introduced their subcompact vehicle, which was manufactured by Mitsubishi Motors, making the 4G63 like the distant relative to the Colt. At first, the Colt was a rebadged variation of the Galant (RWD) and Lancer, but eventually, it was switched to a FWD variant of the Mitsubishi Mirage in the late '70s. Fast forward to the year 1989, the Colt was then a hatchback in the United States with two engine options: a 1.5-liter and a 1.6-liter inline-four engines. Power started at 82 horsepower using a multi-point fuel injection system, which allowed the little Colt to reach a top speed of 99 mph. These numbers wouldn't serve anyone well on the drag strip, which meant Aaron Anderson had to take matters into his own hands.

The interior remains simple and function, with a 6-point roll bar, Kirkey Pro seats, and a set of gauges to display critical engine data.
$500 and a Dream
In the beginning of 2006, Aaron's friend was selling his 1992 Dodge Colt. The Colt was already set to receive a 4G63 engine from another friend that was planning on purchasing it. Things didn't go as planned with this transaction, and Aaron Anderson became the new owner of this 1.5-liter-powered Dodge Colt. "It pretty much just fell in my lap," said Aaron Anderson. Aaron was already racing his DSM, which was a 2G FWD with an automatic transmission. He had been racing it for a while, but he wanted to go quicker on the quarter-mile. He didn't want to keep upgrading a front-wheel drive, and he didn't have too much money to drop on this car. Luck was on Anderson's side when he bought this Colt for $500, which happened to be around the same time his other friend was selling a wrecked 1G DSM for another $500. Combined, this would give Aaron a much lighter vehicle and the much-needed 4G63 engine to swap into the Colt so he can finally go quicker.
The Plan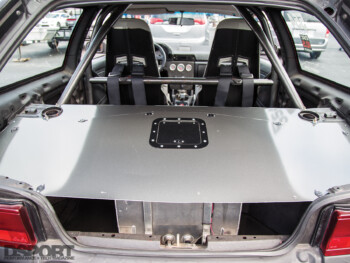 "I was really into WRC and loved the idea of a turbocharged all-wheel drive hatchback," said Aaron Anderson. After some research on a Colt forum, Aaron learned what he needed about the AWD conversion that would make this Colt come to life. "I liked that it could be turned into a total sleeper, and it was a unique car that not everyone had," Aaron reminisced. "The main focus with the car was always to drag race it, but still drive it on the street and keep it a budget build." Aaron quickly started on the car and gutted the interior, ditched the air conditioner, heat, windshield wipers, radio, and just about anything that won't be of service on the strip. The first goal was to run 13-seconds, which quickly turned into 12s, 11s, then 10s. With the plan set in place, it was time to execute and start making some power.

Making Power
Keeping the factory measurements on the 4G63, Aaron upgraded all of its internals to handle more power reliably. To get to the level he wanted, Anderson upgraded the factory turbocharger with a Garrett GT3582R. This measures 61mm for the compressor wheel and 68mm for the turbine wheel. A Bosch 044 fuel pump feeds 2,000cc injectors with E85 fuel to match the additional air from the turbocharger. With the Dodge Colt only weighing 2,370-pounds, it wouldn't be hard for Aaron to go quick. Running on 33 psi of boost, Aaron's Colt delivered 556whp at 7,200 RPM and 415 lb-ft of torque at 6,500 RPM. With this kind of power, it was time to hit the drag strip and see what the Colt can do.

Onto the Strip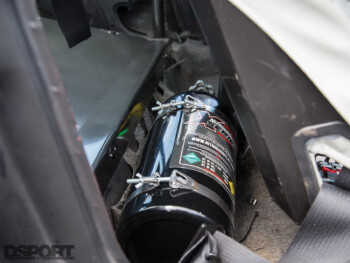 While Aaron was pushing his Colt further and further to improve his time on the strip, he ended up bending his valves when he over-revved the vehicle. This was around the time he converted to an AWD setup, upgraded the fuel system, and the turbocharger. With the new setup, Aaron ran in the 11-seconds while his clutch was slipping. The upgrades kept coming, and the 10-second goal continued looking more achievable. "We took it to the dyno and we turned up the boost until it made 556whp," said Aaron. "I wanted to keep it conservative since it still had the stock block. With the new engine upgrades, I started finding all of the weak links and flaws, but I was determined to get a 10-second pass." After a broken axle, several U-joints, and one T-case, Anderson finally recorded a clean pass of 10.6-seconds at 133 mph. 
Just Keep Racing
After running a best time of 10.2-seconds at 131 mph, Aaron is determined to get into the 9-second club. When Aaron first acquired this $500 Colt, he didn't care about the looks; he just wanted to build a budget sleeper. When the Colt became his best companion on the strip, Aaron decided to make it look as good as it drives. He got rid of the faded red paint and gave it a much cleaner paint job, along with a complete wire tuck and an extremely clean engine compartment. "My biggest achievement with the Colt is the fact that I owned it for 13 years, and I've been racing it with the same short block since the day I swapped it. I've never changed the bearings or even looked at them," Aaron recapped. Anderson has managed to save a vehicle that no one truly cared about, and turn it into a car that will always turn heads on the drag strip. Whether you like this Colt or not, can your car do this?