Getting impressed by an EVO at The Shootout event is not easy. After all, this is the biggest EVO gathering in the United States and EVOs tend to populate the track. So, finding one that stands out is quite difficult. At this year's event, I couldn't help but stop as I did a double-take when I saw Ben Hochman's black EVO 8. Most show cars don't race, and most race cars' looks wouldn't make you look twice. However, this EVO is capable of winning trophies at car shows, and get the quarter-mile done in just 9-seconds – all day long. What started as a new-age barn find became a regular at The Shootout and a force to be reckoned with.
Text by Bassem Girgis // Photos by Bassem Girgis and MaryBeth Kiczenski
DSPORT Issue #211
---

New Age Barn Find
When you think of a barn find, an image of a farm and a rusty vehicle often comes to mind. This was not the case for Ben Hochman's introduction to his Mitsubishi Evo 8. While visiting an old high-school friend, he couldn't help but notice this dusty Mitsubishi EVO 8 parked in the garage. When he displayed some interest in the vehicle, he found out that the clutch had gone out years ago, and simply no one has come around to fixing it. With only 17,000 miles on its odometer, Ben Hochman couldn't go home without this car. The EVO had been parked for years, and household members had been bumping into it as they walked back and forth past it in the garage. While it wasn't ready to hit the tracks or the pages of DSPORT Magazine, Ben Hochman had big plans for his newly acquired Mitsubishi. There are very few EVOs that drive on the street often, race often, go this fast, and look this good.
The Good & The Bad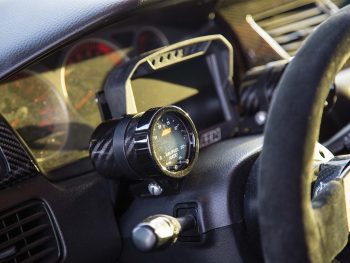 After owning a Subaru STI, Ben knew the four-cylinder all-wheel drive setup is right for him. Upon acquiring the EVO, Hochman had to step back and assess the project. While he loved the low miles on its odometer, he knew fixing the beat-up body won't be an easy task. Aside from the maintenance and cleanup, the engine was stuck since 2002 thanks to the SAFC controller and boost gauge that were being used without an AFR gauge. With lots of work ahead, Ben had every intention of going the distance and making this vehicle as well rounded as possible. "The cars we build here at Hochman Fabrication and Speed look as good as they perform," said Ben Hochman. "There are very few EVOs that drive on the street often, race often, go this fast, and look this good."
The Plan
A 9-second car was the plan from the beginning. Getting the Evo into the 9's is a road saved for those willing to face the sacrifice. Before getting the EVO to run consistently quick, Hochman experienced the heartache that comes with having your fourth-gear explode in the transmission. Of course, this ended up being an important step in the project, as it forced Ben to swap the transmission with a PPG dogbox. This would later prove to be one of the most important upgrades on the vehicle. To make the build even more special, Ben had the pleasure of custom fabricating tons of parts for his very own EVO out of his Hochman Fabrication and Speed shop, like the intake, exhaust manifold, downpipe, muffler, and much more. With the goal in clear sight, it was time to reach out to Boostin Performance and source a Boostin-Spec 4G63 engine.

The Power
The Boostin-Spec 4G63 block is decked, bored, and honed, with internals capable of handling over 1,000whp. Dual Aeromotive 340LPH fuel pumps deliver more than enough fuel through 2150cc injectors. Air is matched with a Forced Performance zero ball bearing turbocharger. Ben Hochman's Mitsubishi EVO 8 was able to deliver a peak 702whp at 7,800 RPM and 557 lb-ft of torque at 6,300 RPM on a Mustang dyno. This power is accomplished when running at 45 psi of boost on E85 fuel. Ben's EVO was finally setup to run in the 9-seconds, the only thing left to do was get it down to the end of the track on time.

Be Back in 9
"The best moment of the build was the time we reached our goal of 9-seconds," said Hochman. "I can still taste the sweetness of that achievement through memories." Ben didn't settle for the 9-second goal, he continued making some accomplishments with his EVO 8. "So far, my biggest achievements with the car are reaching the 9-second goal, best time of 9.63 at 153 mph, winning the last three import face off events in a row, and taking runner-up at The Shootout in the Stock Appearing class – which I plan to hopefully win this year." Shortly after Ben Hochman expressed his determination to win the Stock Appearing class at the 2019 Shootout, he was able to add this accomplishment to the list with a 9.946 time at 147.89 mph. This was the cherry on top.
The Future
Ben Hochman said he will win his class this year, and now he can say, "I told you so." Looking back at the build, Ben believes starting with the cage would be most ideal instead of needing to do it in the middle of the race season. As you may have guessed, Hochman has no intentions of stopping now. This year's Shootout in Ohio was a big accomplishment, but we can't imagine he will go a few more seasons in the 9-seconds. Maybe next year at The Shootout we can all anticipate an 8-second pass from Hochman since we know his block can handle some more torque. Ben has spent years fine tuning his EVO 8, and if you dream of owning a car that looks great and goes fast, you may need to ask Hochman a few questions.