"She needed me and I needed her – straight up love story," said Moe Ibrahim, owner of the only Toyota Supra left on a used car dealer's lot with no attention and no interest. The girl that worked at the school's cafeteria didn't have a chance with the cool kids. With a net on her hair and lasagna sauce on her apron, the cool kids always tried with the snobby cheerleaders and paid no regards to her. However, all it takes is for that cool kid to see her remove the apron and take the hair net off, hopefully in slow-motion, before he falls in love with her. He doesn't know why he wants her, but he just does. Moe and his Supra had a similar start, and instead of the hair net, the Supra had color-matched headlights, while the lasagna stain came in the shape of missing bolts, a poor body kit, and a very slow naturally-aspirated 2JZ-GE engine.
Text by Bassem Girgis // Photos by Aaron Eusebi (@iShotThat)
DSPORT Issue #221
---

The Dream
While we all cringe when we see some of the upgrades on the Fast and Furious cars, we have to give this franchise credit for placing these cars under the spotlight and help with their legendary status. Moe was in elementary school when the movie came out, and as soon as the first Supra made its way to the screen, he was hooked. "I straight up lost my mind. I wanted to slap my mother in the face," Moe shouted in excitement. Naturally, Moe dodged all of his homework assignments and started looking up Supra photos and videos on dial-up internet. "It was non-stop motivation from here," said Moe. "The curves, the sound, and everything about the car just had my name on it." With such a powerful dream at this young age, it was only a matter of time before Moe finds himself the Supra he wanted.

The Purchase
One night while Moe was surfing Auto Trader, he saw a listing of an old, beat-up Supra with a price tag that is too cheap for anything with that status. "I wanted a bone-stock Supra, not a washed-up one," he said. The Supra was on there for a while and even Moe had scrolled past it time and time again. At the time, the cheap price tag was all Moe could afford, so he decided to go and see it. Sitting overshadowed by a pre-owned Maserati and an Aston Martin, the Supra was in a rough condition. It had an old Veilside body kit smothering the entire car and nearly falling off. There were missing bolts, lug nuts, and worse of all, it was powered by a naturally-aspirated 2JZ-GE engine, with color-matched headlights and a less-than-pleasing overall presentation. With all odds against this Supra, Moe fell in love for some reason and he had to have it. On November 13th, 2010, Moe officially became the owner of an extremely rough 1994 Supra.

The Plan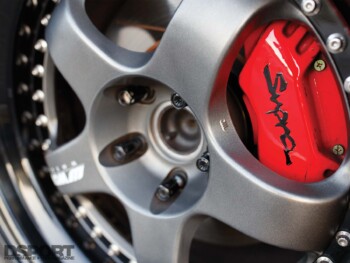 "I really hated the way this car was treated before it was in my hands," said Moe. "It wasn't horrible, but it wasn't how a Supra should be treated." Being in that rough of a shape gave Moe the opportunity to really dive into the platform and learn at an accelerated pace given he had to constantly do repairs on it. There was one goal in mind for this Supra, and that goal was made far before ever buying it. The plan was to create an extremely clean, capable car that reflects Moe's personality. As far as power, the 1,000whp club was the benchmark. "It's sort of mandatory for Supras these days, but realistically, 700whp would do. Once you get bit by the boost bug, there is really no such thing as enough," said Moe. With the plan set in place, it was time for Moe to dive into his Supra and attempt to undo what the previous owner has done. First things first, the naturally-aspirated engine had to go if Moe was planning on getting anywhere near his power goal.

Making Power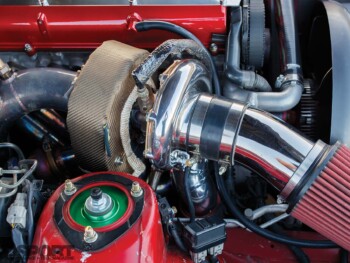 The best moment with this project for Moe was seeing the swapped 2JZ-GTE engine fire up. The process of taking the old engine out, putting the new one in, and firing the Supra up only took eight days. It didn't need much for the turbocharged 2JZ engine to make this power. Equipped with a Precision Turbo 7075 LS Series turbocharger, a Walbro 450 lph fuel pump, and 1200cc fuel injectors, the recipe was set for dyno day. With the supporting upgrades and E85 fuel, Moe's Supra put down 702whp and 580 lb-ft of torque at 30 psi of boost. "The 1,000whp is still the goal, but it's perfect where it's at right now for the streets," said Moe. "I daily drive the hell out of the car on some of the worst roads." Moe is making the best of his power and enjoying every bit of this Supra as a daily.
Look Good, Feel Good
The Supra made a complete transition since going to its new home at Moe's. With the old body-kit off the car, the Supra now sports a custom chassis mounted front splitter, Do-Luck hood, and tons of custom parts that make it quite special. Moe went on to win some trophies and awards for the car, displaying his hard work and giving inspirations for all car enthusiasts. The first few years of owning the Supra, Moe was always eager to get things done quickly, which resulted in using parts that shouldn't be on the car. While the years showed true improvement for the car, it taught him the patience needed when it comes to building cars and understanding that frustration is just part of the journey.