Few people would choose a 10th-generation Accord to go drag racing. Even fewer people would be able to modify their 10th-gen Accord to run deep into the 11s. Joel Felix of Colorado managed to modify his 4-door Accord to set the record for the quickest 10th-gen while building a 5,000 follower audience on YouTube. While an 11-second Accord is a blast, Joel set his sights on  acquiring a better suited sportscar to go quicker and faster. His plan was to get one of the purest sportscars ever to come out of Japan, the Mazda RX7 FD. While Joel may have had one plan, this S2000, named El Diablo, had another plan.
Text by Michael Ferrara // Photos by Henry Hom
DSPORT Issue #239
---

El Diablo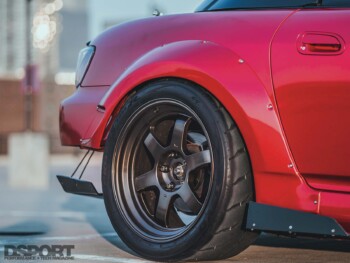 The day before Joel was set to pick up the RX7 FD, he noticed some pics of El Diablo on his friend's Facebook timeline. He hadn't spoken or seen his friend in some time so he messaged him to catch up. He quickly found out that his friend's experience with El Diablo had broken his friend's spirit. After getting burned by multiple tuning shops in his local area, his friend had given up on the S2000. Joel tried everything to motivate his friend, even offering to help wrench on the car himself. When he couldn't reignite the passion, Joel joked that he could buy it, fix it and make it one of the quickest and fastest S2000's in Colorado. The conversation went from joking to serious rather quickly. The next day, Joel drove over to see what he might be getting himself into. Joel says, "The S2000 was in pieces. No turbo, no manifold, and oil everywhere. But I sat in it, and it felt so natural. It felt right. I was sold instantly." Whether the decision was based on passion, reason or possession, Joel became the owner of El Diablo. His lifelong desire to purchase and build an RX7 FD would have to wait.
S2000 Foundation
The Honda S2000 is a proven and capable track car. Its lightweight and rigid chassis, capable suspension, close-ratio 6-speed transmission and high-revving VTEC engine allow it to excel on just about any track. The F20C and F22C engines have proven to be well-suited for upgrades especially when forced-induction is added to the mix. As for a drag-racing platform, the F20C/F22C engine can be properly built to support over 1,000whp. Unfortunately, the OEM transmission and rear end won't last long when the torque output is double, tripled or quadrupled.

It took a wide body kit from J's Racing to accommodate the 18 x 9.5 Volk TE37s wrapped in Toyo Proxes R888R tires.
T56 and 8.8
To handle the stress and strain of drag racing, the Honda 6-speed trans was replaced with a Tremec T56 transmission. Thanks to readily available adapter systems, the T56 is quickly becoming the "go-to" H-pattern upgrade for a number of import platforms looking for a tough domestic upgrade. Properly built, a T56 transmission can handle over 600 ft-lb of torque. If you can make 600 ft-lbs of torque at 8,800RPM, this translates into 1,000 horsepower. Thanks to its high-revving nature, the F20C/F22C is a great engine for making big power at high engine speeds while not requiring big torque numbers that chew up drivelines.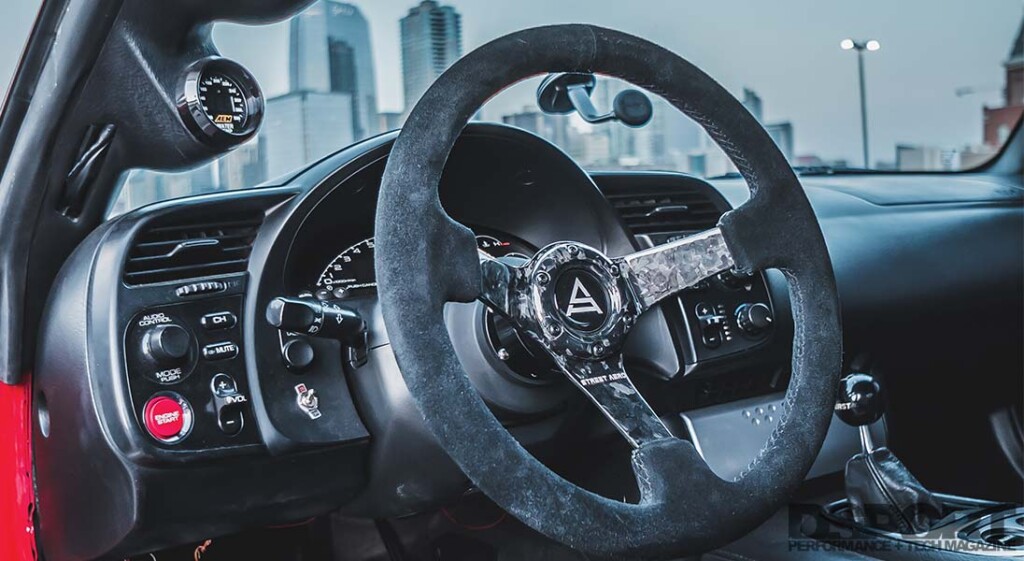 S2000's have an independent rear suspension with a differential that is a bit on the anemic side. Put too much torque and the factory ring and pinion will surrender. While a solid-axle conversion with a four-link or ladder bar rear clip would have been the go to for a drag racing vehicle years ago, it would have definitely changed the character of the vehicle considerably. By keeping the independent rear suspension, the S2000 remains an S2000. Using an 8.8-inch IRS rear end from a Ford Thunderbird adds power handling while providing many ring and pinion options. Best of all, it doesn't make the vehicle take a step backwards in technology to a solid axle which would make the vehicle one dimensional.

Big turbo, proper tuning and a relatively stock engine have already delivered 10-second performance at altitude. The plan is for 9's in the near future.
Boost is Best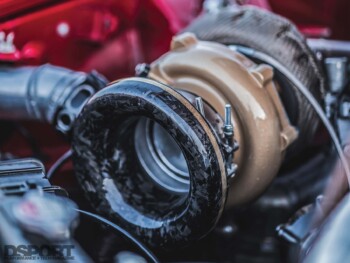 While VTEC technology allowed the F20C/F22C the distinction of the highest specific output naturally-aspirated engine title for a number of years, these engines don't truly shine until boost is added to the mix. The biggest gains are realized via turbocharging these 16-valve DOHC monsters. To that end, this engine is currently fed by a Garrett G35-1050 turbocharger. This latest generation of Garrett turbocharger features improved aerodynamics on both the compressor and turbine wheel for improved response and compressor efficiency. At 24psi of boost, the relatively stock F20C engine (ARP head studs, Supertech valve springs and retainers) is able to deliver over 750 horsepower at 7,200RPM. Considering that the compressor outlet pressure is probably close to 26 or 27psi before the charge air is pushed through the intercooler, the turbo is likely working at a 2.75:1 pressure ratio delivering about 75lbs/min of mass airflow. That lines up with a compressor efficiency of 76-percent which is very high. Pushing this turbo to a 3.5:1 pressure ratio (35 psi at intake manifold) on an engine capable of supporting the increased cylinder pressures would likely show 950-1,000whp on E85.

The Good, The Bad and the Future
Asked about the high and low points of the project so far, Joel said there has been plenty of highs and lows. Getting the disassembled car back together and running in the first week of ownership was a definite high point, as was being able to make over 750 horsepower on the virtually stock block. Running 10s the first time out with the T56 and 8.8 IRS rear end upgrade was also a high point. He has also been happy about how well the car has done in numerous car shows as it wasn't built with the intent of being a show car.
As for the lows points of the build, Joel says there were a lot more problems than originally anticipated. The turbo manifold that came with the car was cracked and when welding didn't fix it for good, it needed to be replaced. Joe is still having occasional nightmares of using that big deadblow hammer on the transmission tunnel to make room for the T56 transmission. While it turned out to work extremely well, the wait for the 8.8 rear end upgrade kit was almost six months which was way beyond the original timeline.
A number of components on the vehicle are dated or at the limit, so a host of upgrades will be needed to take this S2000 into the 9s. The series one AEM EMS is a period specific engine management system that is two generations behind current technology so this will be upgraded. The fuel system will need to be addressed as the current single pump is at the limit. A higher-capacity, triple-plate clutch, a clutch slipper valve and line-lock will be called upon for future torque management duty. As mentioned before, the engine will be built to handle the power necessary to get the S2000 into the 9s at altitude (Bandimere Speedway is a mile-high in the sky and typically has density altitudes in the 8,500 feet level).