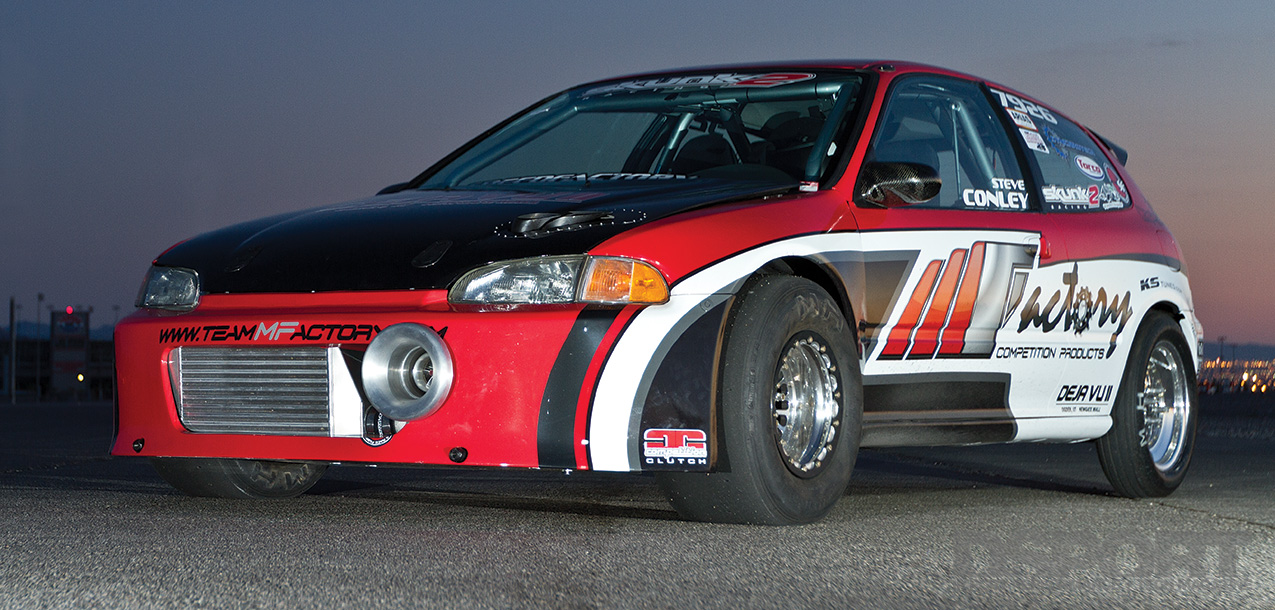 Import drag racing was at its peak during the turn of the century.
The quickest and fastest imports were just beginning to explore single-digit territory. Steven Conley was among the drivers defying physics and critics at the drag strip. In 2002, he built an H22-powered EG Civic running in the 10-second realm. In 2004, he switched from the H-series engine to a B-series engine. This engine setup had been tuned to 1,044 horsepower and propelled Conley down the 1320 to a best elapsed time of 9.38 seconds. However, this setup was littered with issues, as he faced engine management problems and lifted cylinder heads regularly.
Text and Photos by Richard Fong
---
BUCKED, BUT NOT BROKEN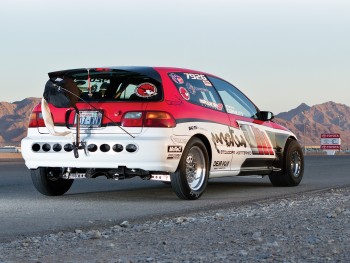 In 2011, personal issues along with the constant battles with his Civic's gremlins pushed Conley to his limits. He decided to part out the Civic and refocus on his life. However, when times are tough, getting back in the driver's seat is often the greatest form of therapy for the soul. "Drag racing is a release. It's about having fun, helping people out and working with great companies in racing and promotion," Conley stated. In August 2013, Conley reconnected with his friends in the automotive industry. With reforged alliances established, Conley started fresh on his quest to dominate at the drag strip.
NEW BEGINNINGS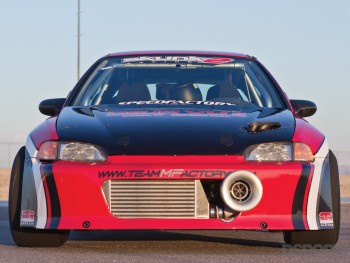 Conley's venture began at SpeedFactory Racing, where owner Matt Hurlbut just happened to have started working on a Civic CX shell. The rolling chassis had just been caged, which was ideal timing when Conley approached Hurlbut about a new vehicle build. Conley laid out his vision for the project and shortly after, purchased the chassis from Hurlbut, who also pledged SpeedFactory's support as the vehicle builder. Thus, work continued inside the chassis, as a Kirkey aluminum bucket and G-Force harnesses took their place within the new cage. Moving on to the exterior, a Jase Composite threepiece front end replaced the factory fenders and bumper in order to house the 24.5-inch M&H slicks mounted to Belak V2 drag wheels. A carbon-fiber hood completed the front end, as a carbon fiber hatch lid was selected to further aid with weight reduction. To help with aerodynamics, a Kaizen Speed drag spoiler helps to smooth the airflow after the roofline, while a Golden Eagle diffuser relieves the drag inducing air pressure from behind the rear bumper.