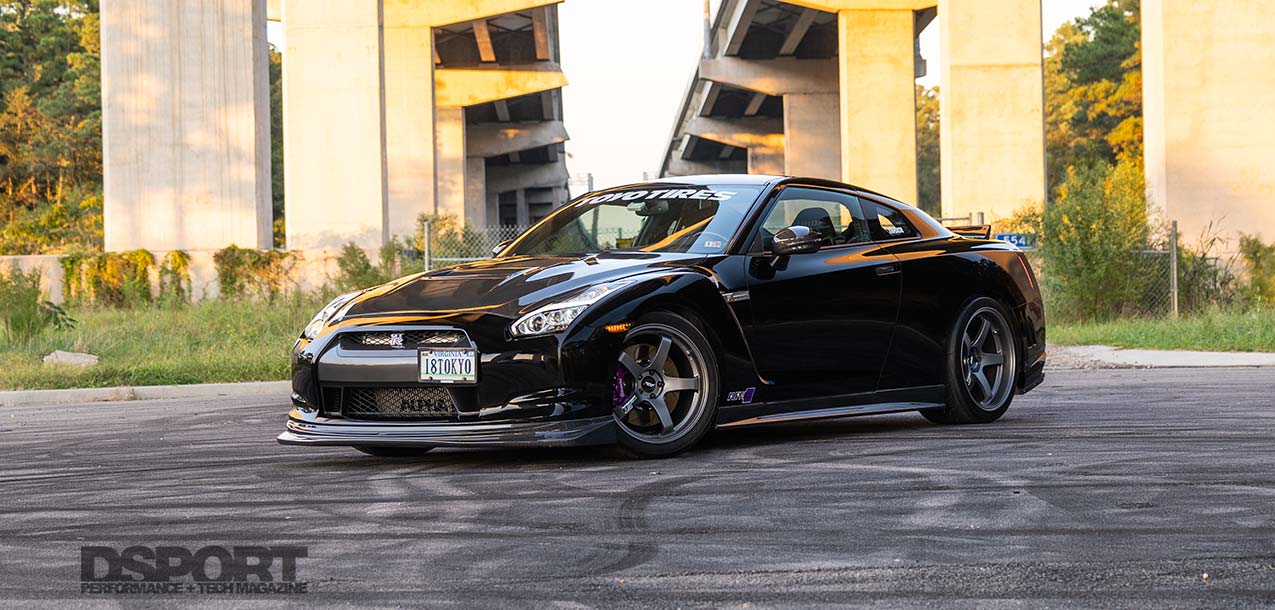 In 2007, the automotive world had an opportunity to beat most supercars for just $69,850. Priced less than half of most of its competitors, the Nissan R35 GT-R made for quite the argument when it came to performance. More power, better handling, and far more potential than the Porsche 911 Turbo GT2, the R35 was offered at a fraction of the cost. It didn't take long for everyone to recognize that massive underdog, and by 2013, the MSRP for the GT-R had inflated by 35-percent. Today, the base R35 GT-R model starts at $113,540, yet continues to be one of the most affordable, capable supercars. Navy Captain Victor Martino realized the potential in Mechagodzilla early on and he had to get himself one.
Text by Bassem Girgis // Photos by Robert Lamb
DSPORT Issue 227
---

Laying Down the Law
In 2011, the original owner of this R35 GT-R, a lawyer, was racing his lawyer friends who all owned Porsches. "The lawyer was selling the car because his Porsche buddies were giving him flack about competing on the track with a Japanese car," said Victor Martino. "The Japanese car was out-lapping some of the GT2 cars they were driving." The pressure on the lawyer was enough motivation to sell the GT-R and buy a Porsche, while Victor jumped on the opportunity to replace his JZA80 Supra TT and get the GT-R that was beating on Porsches more than double its price tag. Victor flew to the Baltimore area on a one-way ticket to see the car. Upon test driving it, he fell in love with it, transferring $50,000 into the lawyer's bank account while sitting in the passenger seat.
First Impression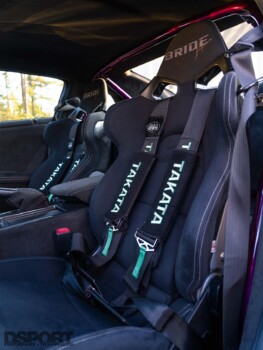 After having a world of trouble with his 1994 Toyota Supra TT, Victor was ready to move on to something better. With 13 years of failed work and thousands of dollars on unreliable shops, the R35 was the perfect new start he was desperately looking for. "The R35 was a natural predecessor to the Supra, as no other import in my opinion was close to the power potential of the MKIV Supra," said Victor. As for the new car, Victor loved it the moment he laid eyes on it. "I never saw one in person before, only in magazines." Victor loved the fact that the car was Japanese, twin-turbocharged, and had the reputation of being an absolute beast. "There was simply no other substitute," said Victor. His love for it didn't change in spite of some shortcomings. The transmission was a notable headache right off the start. "Within the first 500-miles of ownership, the GR6 transmission seal A and B failed on me," explained Victor. He had to limp out of a tunnel with a mile-long traffic behind him, skipping gears at 15 mph in the process. "Needless to say, I was mildly embarrassed to have a $100K car with less than 5,000 miles on it being passed by Toyota Corollas out of the tunnel," said Victor. With a plan in sight, Victor jumped into building this GT-R and putting a stop to any Corolla ever passing him again.

The Goal
Zero knock-off parts was always the foundation of Victor's goals. The main thing for him was reliability. He wanted to maximize its performance while keeping it a true, legal street car in Virginia where he resides. He wanted to keep the downpipes and the y-pipe, while attempting to reach the 1,000whp mark. With reliability and power laid down, Victor wanted to also address the handling with no stones left unturned. "I spend more time refining the handling of the car with some of the best parts. Why spend $50K on a stroker motor and have a stock suspension setup?" While pushing 1,000whp reliably and suspension that can back up the power, Victor also wanted to win some car shows and pick up some reputable sponsors in the process. This meant tons of attention has to be paid to the car to allow it to check off all of Victor's goals.

Making Power
Attempting to make a four-figure power number while keeping emission components on the car is no easy task, often times impossible. With the help of engine builder David Baker of Baker Performance, the VR38DETT received all of the quality internals needed to reliably reach the power goals. Victor went with the AMS Alpha 9+ performance kit. This twin-turbocharger upgrade comes with all of the supporting parts needed to make the GT-R a 9-second car, while maintaining stock-like turbochargers' spool and reliability. Triple brushless fuel pumps took responsibility of matching the additional charge air from the upgraded turbochargers. They feed Injector Dynamics 1300cc injectors with E85 ethanol/gasoline mixture. Together, with just about every supporting upgrade possible, Victor's R35 GT-R delivered 904whp at 6,100 RPM and 822 lb-ft of torque at 4,500 RPM.

The interior is all wrapped in charcoal Alcantara with double stitching, combining luxury with vicious sportiness.
Journey Reflection
While most people are satisfied when they see the completion of their car project, Victor sees it differently. "Like fine wine, modifying a car is a process that should be enjoyed and savored," said Victor. "What younger kids fail to realize is that once the project is done, you are instantly lost and no longer enjoying the process." Victor has owned the car for over 10-years, and to this day, he continues looking forward to throwing new parts on it. While the process was nothing short of magical for Victor, things didn't always go his way. "Sometimes in order to do something right, you need to do it twice or even three times," said Victor. While no car build is ever really done, Victor now owns one of the highest horsepower AMS Alpha 9+ GT-Rs with stock displacement in the world. He has also achieved multiple show awards throughout his ownership and certainly will not stop now.

The Next Stage
While Victor is more than happy with how the car drives today, an NX Nitrous Express System is definitely in the car's future. To increase driving pleasure, a full stereo system will equip the cabin, and the looks will be improved with Varis fenders on both ends of the vehicle. As for now, Victor will continue to enjoy the car, knowing no Corolla or just about any car will pass him in a tunnel again. "I want to show this DSPORT Magazine feature to my son and show him that Dad never gave up, even after multiple failures with other cars. There is an important life lesson to be learned – nothing worthwhile in life is ever easy," Victor concluded. After multiple failures building cars and tons of ups and downs, Victor showed the car-guy in him when he decided to continue fighting through and building cars. From the looks of this car, we can all agree that it doesn't matter which time is a charm, as long as you get it done right in the end.