DSPORT Issue #200
Text by Bassem Girgis // Photos by Joe Singleton
In the 1970s, Vogue said, "there are no rules in the fashion game now." That's when we started seeing the pants that are tight on top, loose on the bottom, along with some unusual, very '70s fashion trends. Japanese automotive designers may have read that issue of Vogue when they designed their all-new Toyota Celica. Instead of sticking to their traditional looks, Toyota went with a more American-muscle, no-rules design. Taking inspiration from cars like the Ford Mustang, Chevrolet Camaro, Pontiac Firebird, and Dodge Challenger, the Toyota Celica displayed a true sense of American-freedom. Although drive-in theatres, Lava Candles, and Pet Rocks may have disappeared, the Toyota Celica lives on as a unique design that is simply a pleasure for the eyes. For over 37 years, Cary Miller has been playing around with the Toyota Celica platform, and he has finally reached his goal.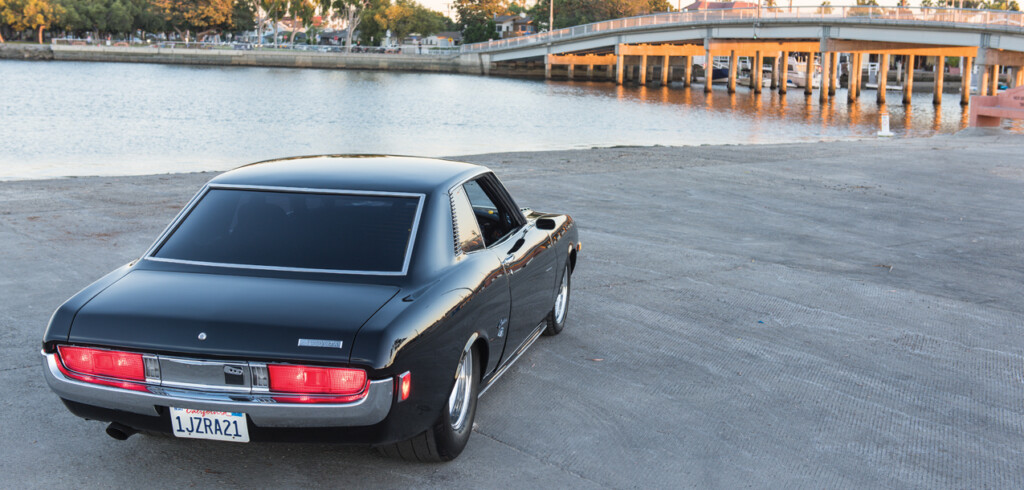 The History
Described as a cut-down version of the Toyota 2000GT, the Celica hit the showrooms in 1970. The name "Celica" is Latin for "from the heavens," as Toyota chose to describe their car. For the USA, Toyota gave the Celica the 1.9-liter engine found in the Corona, which was later increased in displacement to 2.0-liter and 2.2-liter R-series engine. The 1.9-liter 8R-G engine delivered 104 horsepower and 166 lb-ft of torque. The Toyota Celica continued evolving, looking more and more like the Ford Mustang (1973), with numerous facelifts, added technology, and engine upgrades throughout its life. In 1999, the seventh generation Celica debuted, introducing a completely new look (possibly the most familiar look we know today). Unfortunately, in 2006, Toyota realized they couldn't handle the competition of the faster, less-expensive, bigger cars on the market, forcing them to cease production of the Celica and leave behind a few pages in the history books.
$500 Deal
There are just some deals you can't pass. Flashback to 1981, Miller was a 16-year-old boy seeking his very first car. With his eyes set on a $2,500 1972 Camaro RS, his father simply responded, "hell no!" Then one day, Cary's friend came driving around the corner in a 1974 Toyota Celica. The Celica's body lines caught Cary's eyes, describing it as similar to the first-generation Chevrolet Camaro. From this moment on, Cary Miller was on the hunt for an early '70s Toyota Celica. Fast forward to this present day, Miller hasn't lived a day since his sweet 16 without at least one Celica at a time, often times many more. However, no other Celica comes closer to his heart than this 1972 ST. Cary purchased his Celica from his friend for just $500, making it the deal of a lifetime.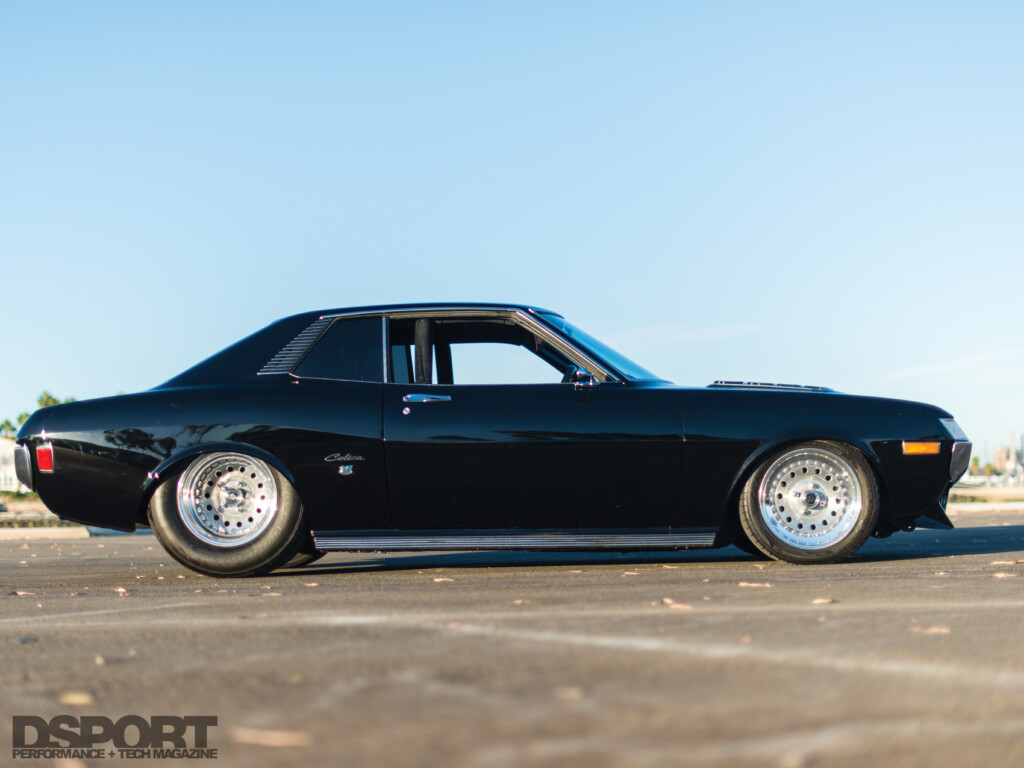 You Get What You Pay For
For $500, you can pay a half-month rent in an inexpensive neighborhood, one traffic ticket for running a red light in a major city, half an iPhone, or about a day worth of tickets to Disney Land for you and the family. For Cary Miller, this $500 got him a 1972 Toyota Celica that hasn't moved an inch in 10 years – also the best investment he could've made for such a price tag. The Celica came completely disassembled with tons of extra parts and the image of hours upon hours of hard work, blood, sweat, and tears. Fortunately for Miller, he is a mechanic, and his skills would soon allow him to build a show/drag car for almost nothing. After sorting out the pieces, Cary was ready to plan his dream car.
The Goal
Cary Miller decided to keep the unusual spirit of this model Celica, but in a completely different way. "The build is a Pro-street theme, which in the import world is pretty unusual," said Cary. "This one will get more street time over track time as a goal. But it will see plenty of track time as well." After using it for a while as a drag car with the four-cylinder 18RG engine, it was time for Miller to shake things up a bit and chase some power. Miller decided to introduce a 1JZ head with a 2JZ-GTE block taken out of a Toyota Supra into his Celica's engine bay. However, removing a four-cylinder and replacing it with an inline-six is not as easy as it sounds, so naturally, some obstacles arose.
So it Begins…
Getting the 1.5JZ-GTE in the Celica required firewall and transmission tunnel modifications. Once it was in, Cary was still not satisfied with the entire floor and the interior that was neglected for years. This opened up an entirely new door that motivated Miller to cut out the interior sheet metal and start the ¾ chassis. The chassis was custom fabricated from the firewall to the back of the car, with all custom floors, frame, and roll-cage. "The goal was to have a stock-appearing exterior and a functional stock-ish-looking interior, and maintaining the feel and looks of the original car," said Miller. It was finally time for Miller to start making power.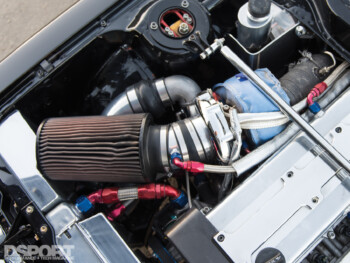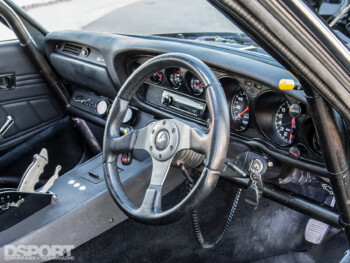 Making Power
Once the engine became the new heart of the Celica, Miller quickly realized that he needs more power. He replaced the stock 1JZ-GTE turbochargers with bigger 2JZ-GTE turbos, which were later scrapped for a single turbocharger. As the power levels got higher, the manual transmission wasn't going to handle the added stress, so a built Chevy TH350 transmission with a full manual reverse valve body and transbrake was added to the mix. The transbrake places the transmission in first and reverse gears simultaneously, allowing the engine to get up to speed to make for a powerful launch. With the new setup, Cary took the car to the track to conduct some stability and speed testing. He soon realized that a new ECU has to be added to gain better control of the engine. With the current setup, Cary's '72 Celica made approximately 550 horsepower at 18 psi of boost on 91-octane; however, this will soon change.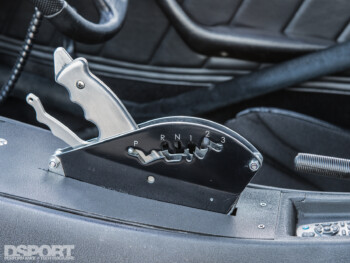 The Journey
The journey wasn't all about driving, testing, and making power, however, Cary also had his share of problems during this project. The Celica was primered and ready for paint. Shortly before making its way into the paint booth, the landlord of Cary's shop came in and asked whose Celica that was parked outside. When Miller claimed ownership of it, he was hit with the news that the landlord's husband had backed into his vehicle. The hit moved the car sideways, crumbling the rear quarter panel and costing him $3,500 in repair. This incident was quickly set in his rearview mirror, and after repairing the damage, the Celica was painted in a beautiful black 2-stage color, and all exterior components were reconditioned back to their original glory.
It's Only the Start
Although 550 horsepower in a car that weighs 2,600 lbs is fun, Cary Miller decided to pursue more power. He is currently waiting on a new PTE6766 ball bearing turbocharger, which should push the power to 750-800whp on E85 and a quality tune. "Just driving it and seeing people's reactions to it, going down the road and seeing people taking pictures of it, and the constant three beeps on the freeway have been insane," Miller concluded. This 1972 Celica has been Miller's project for 21 years. It all started with $500 and some passion. Today, this car would make Mr. Kiichiro Toyoda himself proud, but make no mistake about it, it would leave him gripping the roll-cage upon launch.