The power-handling capabilities of a properly modified Toyota 2JZ engine have become legendary thanks to nearly 30 years of engine development from many tuners and engine builders in the States. While the RB26 is a worthy competitor to the 2JZ, many are finding out that building a high-horsepower RB26 with exceptional reliability is not an easy task. Legacy JDM parts for the RB26 were designed years ago for smaller horsepower appetites. Back in the 90s, 600whp was a big number for an RB26 and 800+whp was reserved for dedicated drag cars. Most legacy RB26 JDM parts are designed for high-performance street and circuit racing. High-performance parts from Australia vary dramatically in quality from complete crap to excellent. Proper parts selection, accurate machining and precision assembly are requirements for exceptional RB26 performance. Properly built, an RB26 can survive multiple seasons in Formula D competition while delivering 1,000+whp. Thanks to a new collaboration between Ryan Litteral Racing and Club DSPORT, Ryan looks forward to showcasing the legendary capabilities of the RB26 to the ever expanding RB army.
Text by Michael Ferrara, Photos by Joe Singleton
DSPORT Issue #240
---

Bullet to Bite On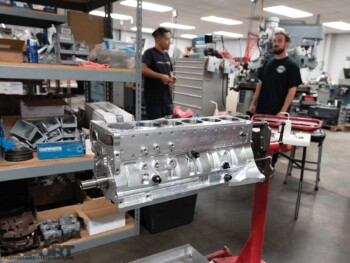 The foundation for the RB26 in the RLR S15 is the Bullet Race Engineering RB26 billet aluminum block. While the Nissan RB26 cast-iron bare block tips the scales at 66kg (145 pounds), the Bullet 6061-T6 billet aluminum block weighs in at just 40kg (88 pounds). As a result, nearly 60 pounds can be taken off the front of the S15. In addition to those looking to save some weight and add some bling to the underhood, the bare block's price tag of just over $10K (depending on exchange rate) doesn't seem too crazy in today's market. Today's market has many RB26 parts fetching insane prices. About 10 years ago, you could still get a Nismo N1 high-performance bare block for about $1,500 new in box. Today, both the original and the second-edition Nismo N1 engine blocks are no longer in production. If you can find one, expect to pay between $6,500 and $8,500. The ultimate unicorn RB26 block (RRR, GT block) can fetch $15,000 to $25,000. That's just for a bare block!
In addition to saving a bunch of weight off the nose of the vehicle, Bullet Race Engineering's billet RB26 blocks bring some upgrades to the party. The flanged cylinder sleeves can support bore sizes up to 89.5mm (requires 90mm head gasket). With an 89mm bore and a 73.7mm stroke (stock RB26), you can end up with a 2.8L engine (2,751cc). With a 77.7mm stroker crank and the 89mm bore, you end up with 2,901cc while a 79mm stroker gets you in the 3.0L club (2,949cc). Ryan's current combination is using a Callies 79mm full-counterweight crankshaft, Manley Turbo Tuff connecting rods and Club DSPORT billet 86.5mm pistons. This deliver's 2,796cc of displacement and has had zero failures since installation just before the Long Beach Formula D event.

Getting Ahead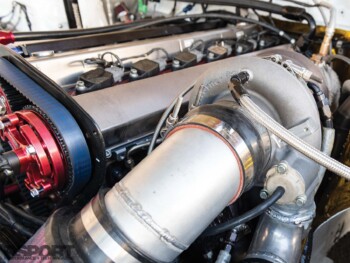 We met Ryan earlier in the 2021 Formula D season when he needed an RB crankshaft balanced. At that time, he told us of some of the issues he was having, and we gave him some advice. Just one week before the Long Beach event, Ryan asked us to look over an RB26 cylinder head he was considering purchasing to see if it was as good as advertised. When we inspected the head, we found some major areas of concern as the shop that performed the shimless bucket conversion didn't use the proper components. As a result, the valves were sunk deep into the seats which would affect both the performance and reliability in the future. Fortunately, we were able to find a good used core head and upgraded it to better than new condition with new beryllium valve seats, new bronze guides, Supertech +1mm valves, Supertech valve springs, Club DSPORT shimless conversion buckets, Club DSPORT cooling modification and a Club DSPORT CNC fully-radiused competition valve job performed with a cylinder head torque plate in place. The core cylinder head already had a Club DSPORT full-port for the +1mm valves. The Club DSPORT staff stayed late and came in over the weekend to get the head completed in just three days. Another two days were spent by the Club DSPORT staff to disassemble, inspect, clean, balance and reassemble the short block with the new Club DSPORT pistons. Similar Club DSPORT prepped RB26 cylinder heads experiencing no issues banging against rev limiters and exploring engine speeds beyond the range of the tachometer (11,500+ RPM). Reliability will no longer be an issue for the engine unless some other system induces a failure.

The Exorcist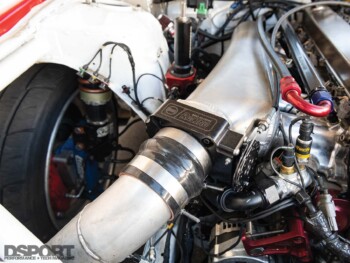 While Club DSPORT was able to deliver a bulletproof engine, there were a number of demons that needed to be exercised to allow the new engine to run with peak performance and reliability. Long-time RB engine tuner Koji Arai was recruited to sort out some of the mechanical, electrical and calibration issues affecting how the previous engine was running. A day-and-a-half was spent troubleshooting and exercising the demons before the engine break-in and tuning session began. While the amount of tuning time before the Irwindale season finale was limited, Koji was able to get a reliable tune in place that delivered over 900whp at 32psi of boost pressure. Based on the logs, the big BorgWarner EFR turbo should be able to deliver over 1,000whp during the next tuning session.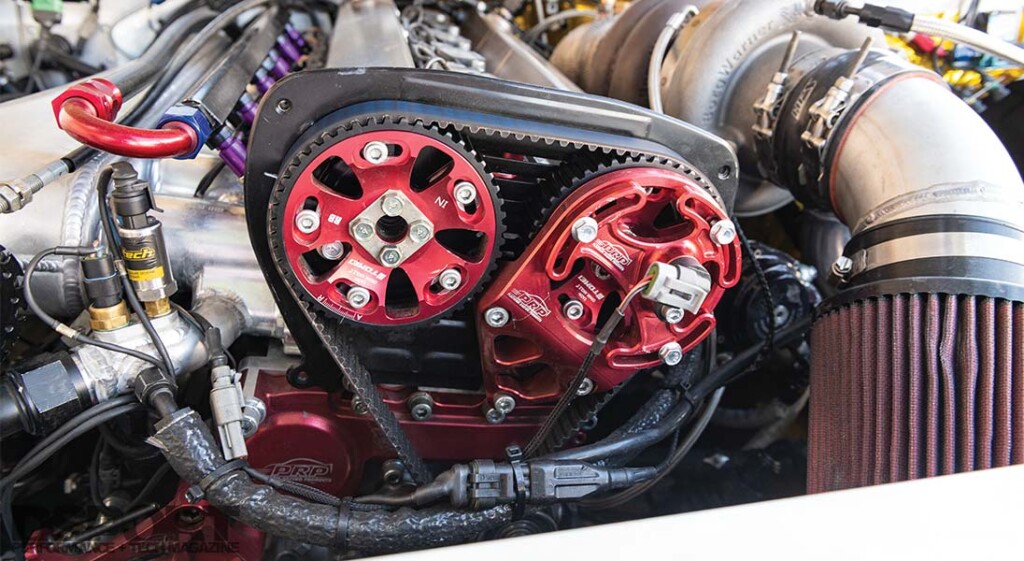 A set of TOMEI USA adjustable RB26 cam gears has been dialed in by Club DSPORT to optimize the power curve with the TOMEI USA cams. The Borg Warner EFR turbo's excellent response curve is ideal for professional drifting.
While the PowerStop braking system, Derele cooling upgrades and Feal Suspension have delivered exceptional performance with zero issues, The complexity of the RB26 engine and the care and feeding of any 1000+ horsepower engine allows for many opportunities to have an issue. Fortunately, forming the alliance with Club DSPORT on the engine build and Koji on the engine tuning will allow the RB army to become stronger than ever.

Quick-change rearends are the norm for competition Formula D vehicles. Rear mounted heat exchangers are also the current rage.
To Do List
The elevated power and engine speed levels have prompted the search for the ideal clutch for an RB26 in professional drift competition. Several options are being considered and a solution should be in the works as you read this article. In addition to having an engine that delivers exceptional performance and reliability, further refinement of the torque delivery will be taking place to allow the car to deliver more consistent performance. With the demons exercised and the power delivery sorted, Ryan will finally be able to get some serious seat time to ensure that he is in perfect sync with the car.

"Saved Money Don't Make Money" is a philosophy in practice on this S15. The attention to detail on this S15 makes it a standout in Formula D.
Place Your Bets
Despite having a 2021 season plagued with more issues than reasons to celebrate, Ryan Litteral Racing arguably delivered more value for its sponsors than many other teams that enjoyed more success on the track. RLR showed its grit and determination in 2021. Before the 2022 season, RLR will be working with PowerStop, GT Radial, Club DSPORT and a few other partners to further optimize the S15. Ryan and the RLR's team goal for 2022 is to get one event win or two podiums during the Formula D season. According to Ryan, "With the PowerStop S15, we have started an entire RB army movement, captivating the minds and attention of our fans by providing great entertainment with storytelling through social, print and digital channels. We hoped to change the dynamic of fan engagement and we've given our fans something to root for besides a 2JZ or V8-powered platform. While those are both great FD platforms, I've been an RB guy from the start and so I pursued something I could be passionate about. We have been blessed with our fans and sponsors that have showed us so much support during such a struggling season. We are so happy to be in a great position to pay them all back in 2021 with a couple podiums or event win in 2022." Speaking for the DSPORT team, we are excited to be working with Ryan and his sponsors for 2022. We will be expanding our support of a few other Formula D teams as well as some professional drag racing teams for 2022. For DSPORT readers, look forward to learning more secrets from the pros that you can use on your own projects and race cars.