Was she myopic, an airhead or just plain stupid? Whatever the case, Little Red Riding Hood was fooled by a wolf in sheep's clothing.
From any angle, this relatively-stock-appearing R35 GT-R could easily be mistaken for just another sheep in the flock. In fact, this GT-R is "the Wolf in Shep's clothing" that had previously defied physics when it ran into the 9.40s on a pair of T28-based, AMS Alpha 9-spec turbos. That sensational performance on E85, DOT tires and a full exhaust system was enough to earn the vehicle its cover spot on our December 2012 edition (#122). Fast forward nine months later and now this same GT-R has "unintentionally" become the quickest R35 GT-R in the world. If you've ever wondered if a 1000-plus horsepower, R35 GTR with 8-second performance should be your next dream car, then simply read on.
Text by Michael Ferrara // Photos by Richard Fong and Manufacturers
THE RECAP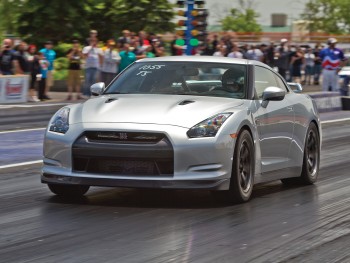 As you may recall, John Shepherd's R35 was a daily-driven, full-amenity R35 GT-R that delivered sensational performance to the tune of 9.42-second quarter-mile performance in full street trim. With the T28-based, AMS Performance Alpha 9-spec turbocharger system, ShepTrans Stage 2.5 transmission and Shepherd-built 3.8-liter engine, the vehicle exhibited a docile character until the pedal met the metal. There was nothing about the performance combination that lacked. The turbo response hit like a brick. On many levels, Shep never wanted to change the original combination.
UNINTENDED CONSEQUENCE
[pullquote]THE NEW COMBO BLASTED TO A RECORD-SETTING 8.614 ET AT 170.47 MPH[/pullquote]Since a growing number of the Sheptrans customer base are now running "big" turbochargers and developing over 1KWHP, Shep decided it made sense to upgrade the turbocharger system to generate four-digit horsepower. To reduce the amount of lag that was going to result from larger turbochargers, Shep decided to increase the engine displacement in the process. Working with a number of the tuners in the Sheptrans customer base, a new combination that would generate the power to put the car into the 8s was formulated. The debut of the setup put the car in the 8s. On its second outing, the new combo blasted to a record-setting 8.614-second elapsed time at over 170.47 MPH. That's right, zero-to-170 MPH in a littleover 8.5-seconds. Now that's a blast.